It's a dog's life / Japan
Expo 81: Face of a nation
As their cutesy, cartoon profiles – and fanbases – continue to soar, Japan's cuddly collection of corporate mascots has come to inhabit a central part of the nation's identity. We meet these celebrated creations and the people who bring them to life.
There's a moment in every conversation about Japan's legions of fuzzy, overgrown mascots when things take a bizarre turn. With Tsukasa Sakimura it comes halfway through an otherwise ordinary exchange about Miyazaki prefecture's trio of canine mascots Hii-kun, Muu-chan and Ka-kun. Dressed like oversized stuffed animals, they have done wonders for tourism and trade in remote Miyazaki, a region of 1.1 million residents in southern Japan. Since 2011 they have appeared at thousands of events, from sporting events and festivals to disaster-preparation rallies. They pose for photo-ops and sign autographs. Their images are plastered on souvenirs, cakes and labels for shochu, a locally distilled tipple. They get flowers on their birthday (11 November) and gifts of drinks and sweets. Children can't resist running up to hug them. The mascots also have a strange effect on some adults who revert to speaking like toddlers.
These Miyazaki dogs dance too, apparently. "They won a national mascot dance contest two years in a row," says Sakimura, an official at the prefecture's tourism bureau. "We send the dogs to dance school. They get tired but they don't sweat like we do. Dogs pant and stick their tongues out."
The way Sakimura says it begs for a snide comeback. But it's best to try to play along; everyone else does. No amount of questioning will get Sakimura to reveal anything about the performers or how they were recruited. He won't even tell you why he won't tell you. If you insist on knowing, he will raise his eyebrows and say: "I have no idea what you're talking about."
This is the mystique of the yuru-kyara ("loose characters"), the large, cuddly and sometimes offbeat mascots in Japan that seem to be part of the PR strategy for every municipality, government agency, industry association and snack maker. There are even smiling mascots for prisons. The characters act like celebrities, reaching out to legions of fans through websites, blogs and online social media, announcing where and when their next gig will be and making it look as if they lead lives just like everyone else. They help attract tourists to remote towns, raise awareness about little-known causes and present a loveable face for companies, organisations and lock-up facilities that could use one. Like celebrities, they also have an image to maintain. "Diehard yuru-kyara fans will insist that there's nobody inside the suit. It's part of the culture," says Hiromi Kano.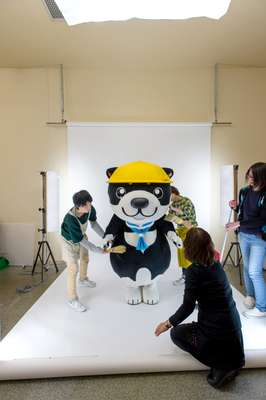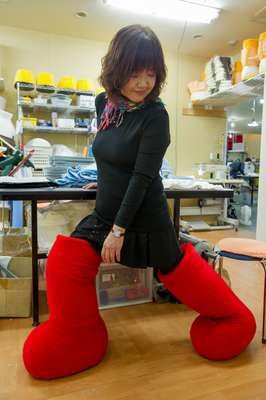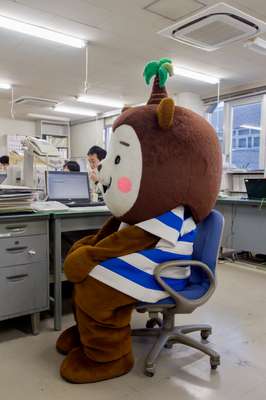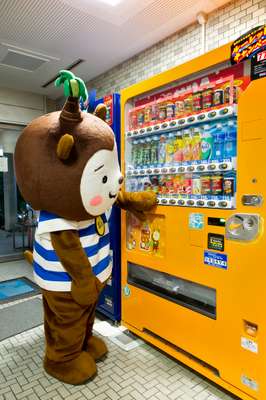 It sounds strange coming from Kano because she runs Kigurimi.biz, a factory in Miyazaki that has made upwards of 2,000 mascot suits over the years, possibly more than any other company in Japan. The Miyazaki prefecture mascots were carved, glued and stitched together a few metres from where she is sitting now.
Kano's factory in Miyazaki city is hidden away on the second floor of a building with a bowling alley and hot spring. Before mascots were such a must-have item, the operation was just Kano and her husband in a workshop in the suburbs. He would carve the head and she would cut and sew the rest of the outfit. Their output was three or four mascots a month. Now Kigurumi.biz's staff of 38 (all women) produce 20 to 30 a month, bringing in revenue of €1.5m a year.
Inside the factory, Kano lays out the ground rules. No photographs of anyone getting in or out of a suit. The nearly finished mascots standing to attention along the walls are off-limits, too. And don't even think about snapping pictures of the head of the cartoon baby representing Japan's best-known condiment brand. Her clients demand strict confidentiality but the rules are also in place because fans want it that way. To explain, Kano has to break the number-one rule of yuru-kyara culture. "If you even show the hand of the person inside the suit it can spark a massive outcry online. And it is taboo to show a person wearing the mascot's body without the head. Yuru-kyara fans are the reason our customers want mascots so we have to make sure we don't betray the fans."
The space resembles what you would imagine the workshop of a fashion brand to look like: sewing machines, cutting tables, rolls of cloth and pieces of spongy foam. Every part of every mascot is made by hand. Many of Kano's staff trained in the fashion industry, which partly explains why the suits made here have beautifully finished seams and are snug enough to dance in. They are also less suffocating than you might think. The headpiece has a built-in fan for Japan's steamy summers and suits range in weight from 3kg to 10kg – half what they once were – thanks to lighter, more breathable materials similar to sportswear. A lot of the business lately has involved overhauling heavy, unwieldy suits that were made in China at a fraction of the ¥500,000 to ¥800,000 (€3,800 to €6,000) that Kano charges.
From a shelf, Kano pulls down a pair of furry thigh-high boots and slips them on. They are the legs for the Biz Bears, Kigurumi.biz's three mascots. She does deep knee bends and lunges and then sits cross-legged in a chair. She might as well be wearing a pair of comfortable trainers. They are lightweight and soft and inside each leg there's a slipper made of foam to fit most foot sizes. Kano is so proud of them that she has carried a pair to meetings so potential customers can try them on.
The Biz Bears have given the staff, who wear the suits to events, ideas for improvements. But now that the bears have a following, Kano has to tiptoe around the difficult conversation of manufacturing mascots. When Kano wore the Biz Bear legs and skipped around the factory for a recent TV programme, fans reacted angrily. "I got booed on social-media sites. Fans were shocked that I showed only part of Biz Bear," she says.
There was a time when mascots didn't have websites or fan clubs. In municipalities all over the country, little-known characters promoted local food, history or wildlife. So amateurish were the drawings for many of these mascots that illustrator Jun Miura came up with the name yuru-kyara as a put-down in the early 2000s. The Hiko-nyan craze brought mascot mania. A cute white cat with a samurai hat, the mascot was unveiled by Hikone city to mark the 400th anniversary of a castle but a court battle broke out between the city and the artist who drew the character, attracting national news coverage and new fans.
Nobody keeps official statistics on how many yuru-kyara exist but the population seems to be growing. At last year's Yuru-kyara Grand Prix, a mascot beauty contest that attracts tens of thousands of tourists, there were 1,699 characters – 10 times the number of the inaugural event held in 2010. A win can bring fame. The 2011 winner Kumamon, Kumamoto prefecture's mischievous black bear with red cheeks and a surprised expression, has 359,000 Twitter followers and nearly 168,000 "likes" on its Facebook page and last year appeared in Paris for the Japan Expo. Anyone can apply to use Kumamon's image without paying a licensing fee. Prefecture officials now insist on a separate dressing room for Kumamon during events to keep unwanted photos of the performer inside from being leaked. Even bigger than Kumamon is Funassyi – the unofficial, talking mascot of Funabashi city – with more than 1.1 million followers on Twitter and a contract with Universal Music Japan.
Unlike Funassyi, most mascots don't speak. It's a lot easier to preserve the image of an adorable mascot and the myth that the character is real. In a parking lot in Miyazaki outside the training ground for the Softbank Hawks baseball team, one of the prefecture's canine mascots, Hii-kun, is preparing for a gig. He's in a van with a film over the windows that prevents anyone from peeking inside. As he emerges with his signature yellow citrus hat, Rena Kajihara, who acts as his driver, fixer and translator, guides him to where officials wants to get a few PR photographs. When Hii-kun wants to communicate he spells out words with his hands. "I take care of Hii-kun," says Kajihara. She playfully scolds him. "He just turned three. I give him treats, pet him. After all, he's a dog."