Pens and pencils / Global
Inking ahead
A national pride – or some might say obsession – with the handwritten has forged an industry exporting more than ever. With innovation showing no signs of letting up, we visited the sharpest tools in the pencil case.
The digital age hasn't made the Japanese any less obsessed with great stationery. It seems everyone – from the uniformed OL ("office lady") right on up the ranks – has a tidy case of pens, pencils and markers on their desk, as well as a favourite shop for renewing their stash. This is a tough crowd to please and their pursuit of perfection has made survivors out of brands such as Pilot, Mitsubishi Pencil, Pentel and Zebra. These days more than half the pens made in Japan get exported.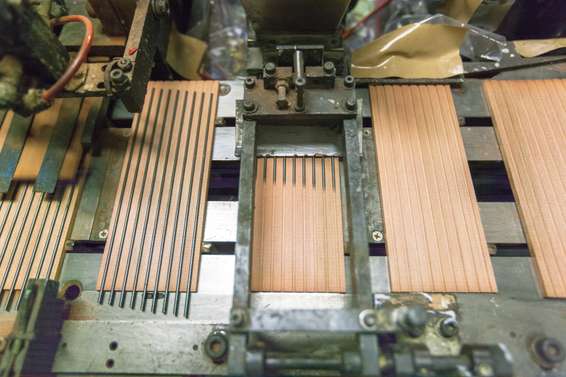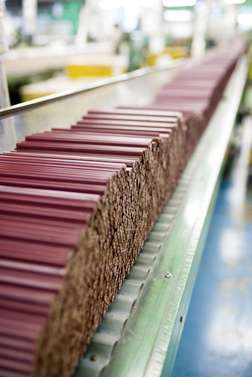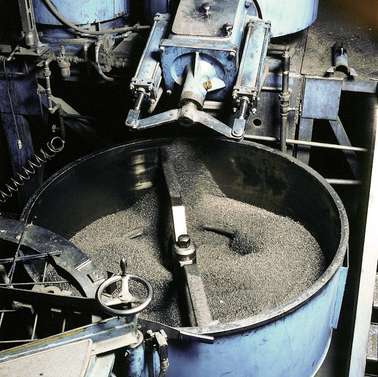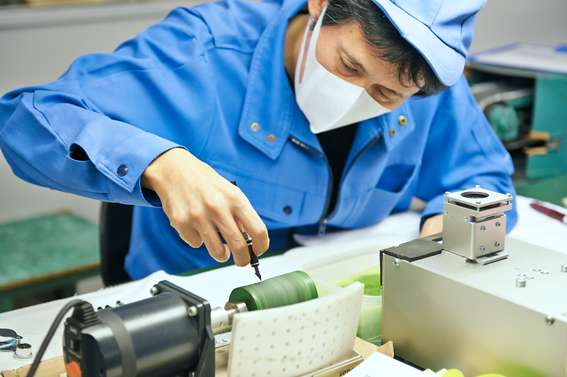 According to the Japan Writing Instruments Manufacturers Association, in 2014 Japanese brands exported a total of ¥87bn (€655m) worth of them, up 11.5 per cent on the year before.
The domestic market is also looking up. Old-fashioned mom-and-pop stationery stores might be closing down but they are being replaced by select shops catering to those who still enjoy jotting a note or two. Sales in Japan have increased 12 per cent over the past three years and are set to top ¥94bn (€715m) this fiscal year. Meanwhile, the companies tapping into this market continue to pour money into r&d, believing that even as we spend more time texting and emailing there are still improvements to be made in the realm of ink and lead.
01
Mitsubishi Pencil
Pencils
Kyo Nakayama can't stop thinking about pencils. Not the old-school wooden kind that you sharpen with a razor but the mechanical variety. A researcher at Mitsubishi Pencil's lab in Yokohama, Nakayama has been working on designing a better pencil for more than a decade. "There isn't anyone who spends as much time thinking about mechanical pencils as I do," he says. "I have a running debate inside my head while eating, when I'm out drinking – almost every waking moment."
All this pondering led Nakayama to come up with a seemingly minor improvement: a mechanical pencil with a cone-shaped tip that would always stay sharp. Every time the pencil is lifted off the page, a tiny spring-loaded mechanism inside rotates the piece of lead so the part of the tip that's wearing down is never the same for long. Released in Japan in 2008, the Kuru Toga was an instant hit with students, selling three million in its first year. So far Mitsubishi Pencil has sold a cumulative 50 million in 40 countries, spawning copycat versions from rival brands.
The popularity of the Kuru Toga surprised marketers at Tokyo-based Mitsubishi Pencil, known for its Uniball pens. "People inside the company thought it wouldn't really solve an existing problem," says Nakayama.
Founded in 1887 as a wooden pencil manufacturer, Mitsubishi Pencil is the second-largest of Japan's pen, pencil and marker producers with annual sales worth ¥55.9bn (€420m). The company invests about ¥2.9bn (€22m) on research a year. Its labs have developed pens that compensate for changes in air-cabin pressure to avoid in-flight leaks and a smooth-writing ballpoint pen called the Jetstream that took researchers 4,000 prototypes and four years to get right. Mechanical pencils haven't seen much innovation since appearing on the market in the 1960s – and that's exactly what led Mitsubishi Pencil to give Nakayama his assignment.
Nakayama reckons he made half a dozen prototypes before the product was ready. Since then his colleagues have developed a new type of lead with a hard inner core and a soft exterior that works best in the Kuru Toga. "A lot of people here were asking, 'Why go to such lengths?'" says Nakayama. "But I guess that's what it takes if you want to make something that's innovative."
To explain how Japanese pen maker Pilot invented the erasable pen, Kuniyuki Senga uses a few props. He pours boiling water into a mug decorated with birds on a black backdrop – and then waits. A moment later the black is gone, replaced by a floral pattern. Later he wipes ice water across the face of a doll and a swatch of pink eye shadow appears.
"It's like magic. We found a way to make colour appear or disappear depending on the temperature," says Senga, the company's general manager of R&D. "We used it for toys and cups to earn just enough to keep working towards an erasable pen."
It wasn't until 2006 that Pilot researchers finally succeeded. All told it had taken more than four decades of tiny improvements and countless setbacks to produce the Frixion, a ballpoint pen with a rubber-like eraser on the cap. The year Pilot launched the Frixion in Europe, it sold more than six million pieces; the following year in Japan it proved just as popular.
Taking the long view is what has made Tokyo-based Pilot Japan's leading pen producer, with ¥82.6bn (€623m) in annual sales. To protect its edge, every Frixion pen is made in a high-security factory. "This is an analogue company that's managed to survive in a digital world and we keep that in mind every day we come in to work," says Senga.
At the other end of the spectrum is Pilot's Hiratsuka factory, which produces fountain pens an hour's drive southwest of Tokyo. A lot is done by hand, from putting a point on the nib to making sure the two sides of the tip spread when pressed to paper. Not much seems to have changed since Ryosuke Namiki, the company's founder, became the first in Japan to produce gold writing tips for fountain pens in 1918.
The metal, plastic and lacquered-wood pen casings are also made on the premises. "What's our strength?" asks Tomoo Koike, a 28-year veteran who manages the facility. "Being able to do every step in the production in-house. It's been that way for this company from the very beginning."