Dinings / London
Raw and the cooked
Japanese know-how and UK produce make Dinings a must for in-the-know eaters.
Few foods travel as well as Japanese. Over the past two decades the increased popularity of its rarefied ingredients has brought the delights of sushi, soy, tempura and tonkatsu to the dining tables of the wider world. While many chefs do justice to the islands' complex cuisine, one of the simplest recipes for success belongs to Dinings, a homely hideaway in the western reaches of London's Marylebone.
Started in 2006 by former Nobu colleagues Tominori Chiba, Keiji Fuku, Masaki Sugisaki and Nick Taylor-Guy, the unassuming 28-cover gem is arranged over two floors of an Edwardian townhouse. Its kitchen turns out a hard-to-master adaptation of Japan's simple and precise culinary traditions carried off with fresh British produce, including Cornish crab, Scottish salmon and Welsh wagyu beef. The tapas-style menu flits between Japanese-born classics such as donburi (rice dishes) with sashimi, beef or freshwater eel and treats of a more European bent, such as its Tar-Tar chips: crisp, bite-sized potato creations with a choice of meat, fish or vegetable filling.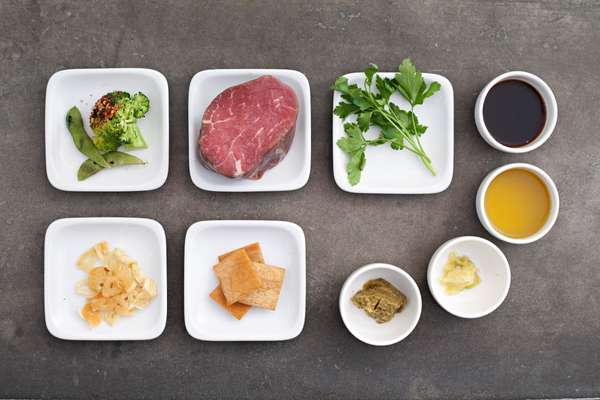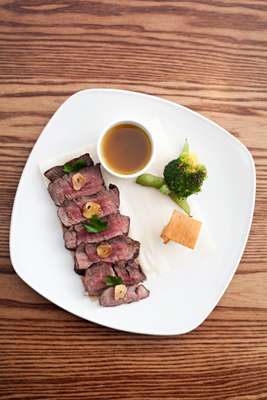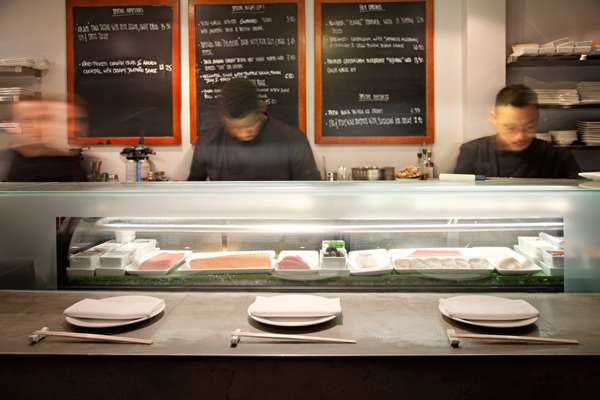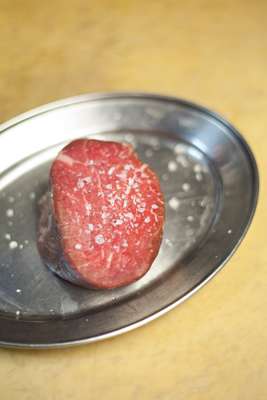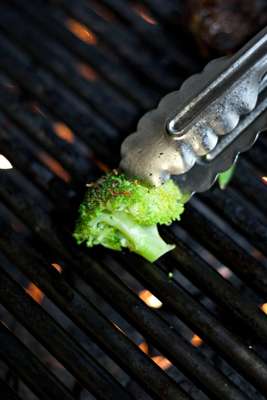 When you enter the restaurant, having doubled back after missing the small sign outside, a six-seat sushi bar provides an enticing welcome. It is abutted by a lively hot kitchen from which drifts the aroma of griddle-cooked wagyu beef and affirming shouts of "Hai!" from the hidden-away chefs. As monocle arrives, chef  Toshi  Tanio (pictured, opposite page) is applying Ito togarashi (dried chilli strands) to the signature truffle-topped cod carpaccio, while Canadian-born chef de partie Colin Hudston checks a 40-strong order for a nearby office. The 20 staff are an international set; food here may be Japanese but voices from Italy, Ireland, Poland and the Philippines abound.
The restaurant's main room is a concrete-floored space where low tables and stark white walls give way to a small wood-strutted service area. Far from uninviting, the basement hums appealingly as diners sat on the low wooden benches smack their lips and eye their neighbours' yellowtail sashimi or shrimp tempura. "The focus here is on the table and that's where we want you to look – not at the person next to you, not at a £10,000 picture on the wall," says Nick Taylor-Guy, a director of the company and one of its co-founders. "The art is on the plate."
It's tough to get a table at Dinings: solid bookings for five to eight days in advance are common during the week and the wait is longer for a weekend slot. But the restaurant's success was never assured: instead it's the determination of its founders ensured its survival and popularity.
"I know people who go to restaurants just because they have Michelin stars," says Taylor-Guy. "But why? Do they know what they do? The menu? The type of food? How do you know you're going to like it? It doesn't give Michelin stars any credence to me. "I don't know that we'd want one because we don't want people to come here just because of it. I want people to come because of what we do." If Dinings' waiting list is anything to go by, there is already an appetite for the restaurant's pared-down approach.
Sea bass carpaccio with ponzu sauce and jelly, and truffle salsa
Serves 2
Ingredients
40g sea bass fillet (raw)
30ml ponzu sauce
55g truffle salsa
30g ponzu jelly
5ml grape seed oil
5g fresh truffle slices
12 x 2cm sticks fresh chives
5 pieces of Ito togarashi (dried chilli strands)
1 sachet of agar-agar
For ponzu sauce and jelly:
25ml lemon juice
50ml soy sauce
75ml rice wine vinegar
For truffle salsa:
1 medium shallot, finely diced
1 tbsp finely chopped truffle peelings
1 tsp ponzu jelly
Salt and black pepper
Method
For ponzu sauce, place lemon juice, soy and rice wine vinegar in a bowl and mix.

For ponzu jelly, remove half of the sauce and mix with agar-agar.

Allow to cool and set. Cut jelly into cubes.

For truffle salsa, rinse chopped shallot under cold water for 5 minutes to mellow. Drain. Place in a bowl with truffle peelings and ponzu jelly. Blend and season to taste.

Thinly slice the sea bass with a mandolin and arrange on a long plate. Season with salt.

Add the salsa and chives.

Place the fresh truffle slices on the fish.

Pour ponzu sauce around (not covering) fish slices.

Arrange ponzu jelly cubes around the fish.

Garnish with Ito togarashi.

Drizzle with grape seed oil and serve.
Beef with garlic lemon soy and yuzu kosho
Serves 1
Ingredients
150g wagyu beef (rib-eye, fillet or rump will suffice)
20ml olive oil
12ml soy sauce
10ml lemon juice
4g grated garlic
15g yuzu kosho (dried chilli and yuzu paste)
3 sprigs fresh parsley
5 pieces of Ito togarashi (dried chilli strands)
Handful pink peppercorns
The method
Season beef fillet with salt and pepper and cook on a griddle until medium rare. Remove and allow to rest.

In a bowl blend olive oil, soy sauce, lemon juice and grated garlic. Add yuzu kosho and mix.

Arrange on a warmed plate and garnish with a few drops of garlic lemon soy. Put remainder of garlic lemon soy sauce in a dipping pot. Serve separately.

Thinly slice parsley and arrange over beef.

Add Ito togarashi strands and garnish with crushed pink peppercorns. Serve.