Fabrica & Airbnb / Global
Making an entrance
A collaborative exhibition between Fabrica and Airbnb at Salone del Mobile will examine hospitality and hearty welcomes. That it will all take place at a magnificent private home made Monocle only too happy to accept an invite to check in on preparations.
Be it the highly codified Japanese custom of bowing or the casual British gesture of bringing a bottle of wine, being invited into someone's home is an experience that varies wildly from country to country. But all of these rituals are comforting actions that establish mutual respect between the host and the guest.
For the home-rental start-up Airbnb these hospitality rituals are fundamental to a hugely successful business. It is also the reason the San Francisco firm has collaborated with Benetton Group's creative laboratory Fabrica to explore the theme of a warm welcome. The result of the partnership is an event called Housewarming: a four-day invite-only exhibition during the Salone del Mobile trade fair in Milan this April that will be hosted in Palazzo Crespi, a private home. "We want a series of creative moments throughout the palazzo that foster a sense of belonging," says Airbnb co-founder Joe Gebbia.
Since last November, Fabrica designers have come up with a series of 18 projects that will be dotted around the palazzo. "We looked at the ways to welcome people and interpreted them in our own way," says design director Sam Baron, who has created a large-scale paper bouquet of flowers with projections that will garland the entrance. "The house is the home of Italian aristocracy whereas what Fabrica does is work on the future. The contrast will be exciting."
The centrepiece of the exhibition is the ornate ballroom that will be transformed into a living room. It will be filled with furniture designed by the Fabrica team; visitors will be encouraged to sit back and read an elegantly designed catalogue. "Airbnb has a database of images that tells you so much about a country and stands for different cultures of seating," says designer Pascal Hien on the group's approach to designing the eight pieces that will adorn the room. "Each designer looked for their favourite furniture that was typical of a country's culture and we developed a mood from that."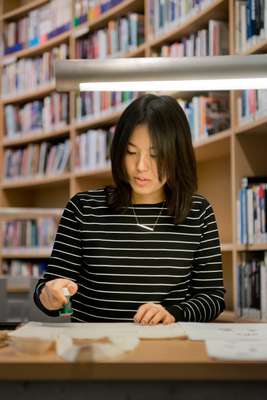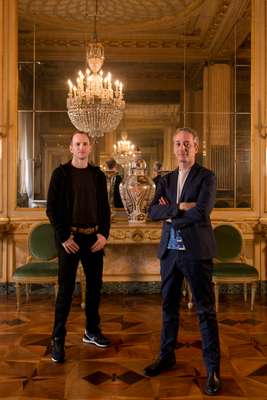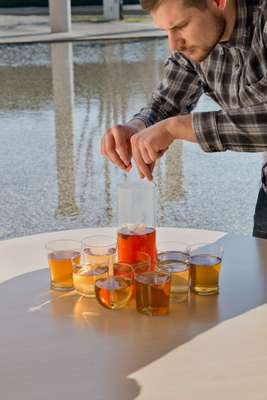 One wooden rocking bench pending approval to appear in the show is the result of the fusion of an African stool, German beer bench, Indian swing and American rocking chair; all staple pieces of furniture from each culture.
Airbnb and Fabrica will create a platform to explore the true meaning of hospitality. Gebbia sums it up: "It will be more than a show: it will be an interactive experience inviting visitors to engage and collaborate with the designers."
---
British product designer Daniel Rous found himself drawn to a very English ritual. "Making tea for people makes them feel welcome; it's a social act where people drop everything and catch up," he says. Pending approval, Rous's aim is to create a tea factory made up of a tiered glass vessel that will serve tea in different strengths.
---
02.
Giorgia Zanellato
Italy
Fabrica product designer consultant Giorgia Zanellato was inspired by her country's tradition of offering guests pastries on trays. Her idea is to have a series of trays that will become hanging mirrors that visitors can take away as souvenirs of the exhibition. Zanellato will personalise trays for visitors using paper from her hometown of Venice.
---
03.
Mariana Fernandes
Portugal
Portuguese graphic designer and illustrator Mariana Fernandes has created a silk-screen postcard-printing station. "Although there are a thousand ways of welcoming someone into a home, tourist postcards are a nice starting point because they are also souvenirs of a city," she says.
---
Chandni Kabra was inspired by the widely practised Indian tradition of pookalam: an intricate flower carpet that decorates the entrance of homes to welcome guests. The idea is that the unexpected distraction of colour and movement within the carpet and its hypnotically geometric pattern will help pull guests into her floral welcome.
---
German designer Pascal Hien approached his project from the perspective of a product designer and settled upon a humble item as a symbol of hospitality. "I have created a coat hanger from a sheet of plywood that is folded over to make it infinitely more stable," he says. Currently working on a coat-hanger stand and bench, Hien will create an interactive coat-checking installation.
---
Recognising a complex minefield of hospitality rituals in her native Japan, Maezawa was inspired by the formal tradition of exchanging business cards. But instead of cards, visitors to Maezawa's exhibit will swap unbleached cotton tote bags. Maezawa has deconstructed the phonetic Japanese hiragana alphabet into a set of 18 stamps that guests are encouraged to use to print Maezawa's name in Japanese onto the bags. She in turn will print their name and then the bags will be exchanged.