Savoir Faire / Paris
Sounds of the future
Savoir Faire is a creative agency that, with its own in-house record label Bromance, takes a holistic approach to pushing the best in French electronic music and pop. It's an outlook that suggests the music industry is still all to play for.
A disused textiles factory in the shadow of the Gare de l'Est Station in Paris has a new generation of tenant: Savoir Faire. The old heavy machinery, some of which remains, bears silent witness to its activities: managing, marketing and producing some of the most talked-about hip-hop, electronic and techno artists of the day. Among those on the roster: Brodinski, Club Cheval and Gesaffelstein, whose music Savoir Faire releases on the company's home-grown record label Bromance.
Manu Barron, former events and communications director at French music retailer Fnac, started Savoir Faire in 2008 with an initial investment of €50,000. Within four years the business was worth several millions euros. "Years ago you could make money in the music industry without even thinking but then suddenly it got very hard," says Barron. His company sets itself apart by offering artists a one-stop shop with 50 per cent of the staff focused on the creative side and the other 50 per cent on business, legal and strategy. It is unusual for so many services to be provided in the same place and this mixed economy has enabled Savoir Faire to weather music-industry storms.
Signing largely unknown young artists is Barron's preferred approach. "We start from scratch with the people we manage. To begin with we do a lot of work promoting them but then the tables turn and people start approaching us. It's like developing a brand," says Barron, rolling up a cigarette and carefully adding a filter to his neat creation.
"We have planted quite a few seeds and many of them are starting to bloom," says Savoir Faire's head of communications Elena Giustiniani. "For each of our artists there are a couple of markets where they're really closely followed. In the case of someone like Brodinski though, we get inquiries from every corner of the globe."
Barron and his team of 16 staff are always on the lookout for fresh talent and Savoir Faire has recently signed two new acts Darius (a DJ) and Papooz, whose music is described as "refined indie folk". Barron specifically aims at an international market for those he signs. The artists who sing do so in English. "Most of them have an accent but people seem to like that," he says, smiling.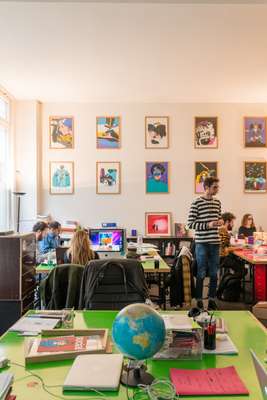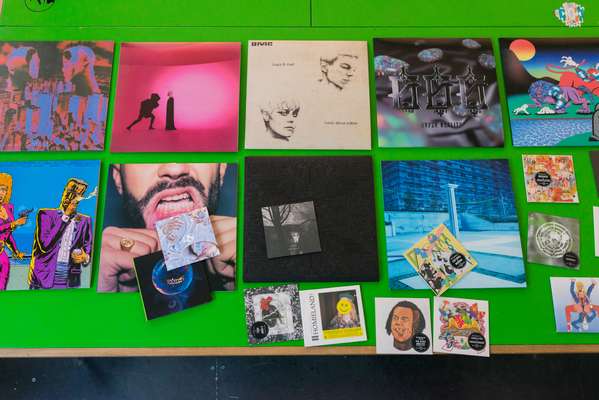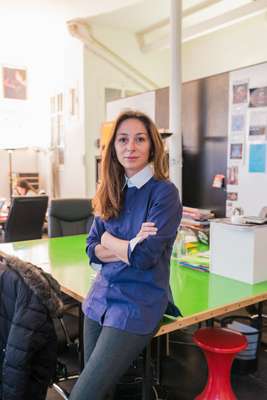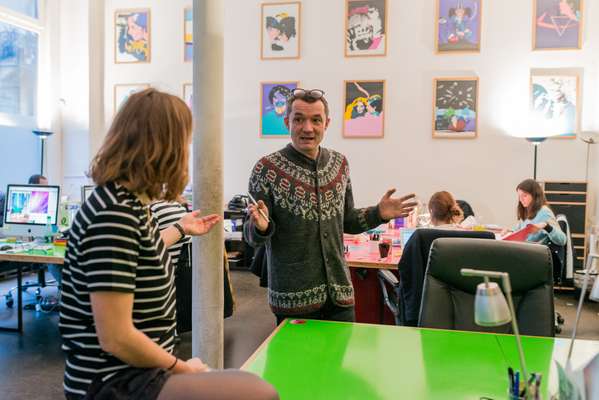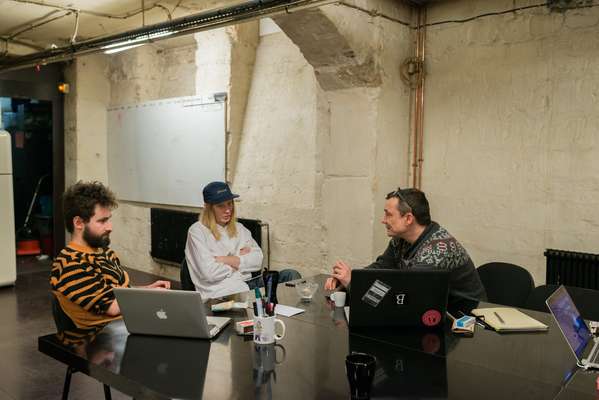 For a company that represents so many different acts in the music world, the Savoir Faire office is eerily silent. The only sound to be heard when Monocle arrives is the distant murmur of a Skype conversation to the US about a video release date. A little later there is another minor disturbance as a delivery man arrives with a large bunch of roses for Céline Zaragoza, head of the Savoir Faire agency team. "I just saved someone from a potentially very embarrassing situation," she says somewhat mysteriously.
Four large square tables accommodate Savoir Faire's main divisions: management, marketing, business affairs and communications. The work surfaces are made from recycled doors joined together at the hinges; some green, others pink. ceo Alexandra Pilz Hayot sits at a central table, overseeing the team's activities. Every so often a team member comes to her with a question or seeking approval for something, which gives her a slightly school mistress-ly air (she does not seem thrilled with the comparison). "They're so important; they're our tomorrow," she says looking affectionately at her staff. "Everyone does a bit of everything." A mini-portrait of Wonder Woman is carefully pinned to the wall behind her.
The relationship between Barron, the creative company founder, and the methodical Pilz Hayot is evidently another vital component in the Savoir Faire success story. "Manu is the ideas guy. I'm the one who implements them, although every now and then I offer my opinion on the creative aspects of our work as well," says Pilz Hayot.
Barron believes that success in the music industry requires revisiting the business plan every six months. "You have to keep adapting to the changing market conditions," he says. January marked another fresh chapter for Savoir Faire as the company offloaded activities, including nightclub management and a bookings division, in order to concentrate almost exclusively on managing and developing the careers of its artists.
Even so, Barron cannot resist trying his hand at something new: a line of streetwear called bmc, which is overseen by Savoir Faire's creative director Guillaume Berg. With his long blond hair poking out from underneath a baseball cap, Berg looks like a distant cousin of Kurt Cobain. "We're not really into fashion but we like clothes and we want the bmc collection to be in keeping with the spirit of our Bromance record label," he says, sipping a thyme infusion.
Within just a few months of its launch the new clothing line appears to be paying dividends with its items already on sale at Paris boutiques such as the buzzing Colette.
While recounting the success of this new flirtation with merchandising, Berg pores over some complicated-looking software. "I'm making a mixtape for a new project: some rap, house, techno, and I'm working in a few extracts from interviews with one of the singers from hardcore US punk band Fugazi, and also the British singer-songwriter King Krule." Berg recently fell over and smashed his front teeth on the edge of a table. A friend took a photograph of his bloodied face. "We're using the photo for the cover of a compilation of tracks under the Bromance label," he says, grinning (his broken teeth seem to have been successfully repaired).
Barron divides his time between the main open-plan office and the vast cavern-like basement, one wall of which houses a substantial vinyl collection (with no discernible common thread) soon to be joined by an even bigger collection left to the company by DJ Mehdi, the late French hip-hop and house producer who died in a freak accident back in 2011. "That collection means a lot to us," says Pilz Hayot. With beer and coffee on tap and a couple of chaise longues, this is a place where everybody can gather and listen to demos. "Being such a small team we have close involvement in each others' projects; it's kind of a family affair," says Giustiniani, who joins the impromptu gathering in the basement.
Nonetheless, retaining his staff is an issue for Barron. Savoir Faire is regarded across the industry as an excellent training ground and thus ideal for poaching from. Dozens of the company's former employees have gone on to work in different parts of the industry or set up their own production houses.
That said, Barron and Pilz Hayot have plenty to be happy about. Besides adding to the artists roster, ongoing projects include making music for adverts and films. Among them is a Johnnie Walker commercial and the latest instalment of the The Fast and the Furious action-movie franchise. Savoir Faire's management duo is upbeat about the future.
"There will always be demand for art and music. It's just a question of having the right business model," says Barron. "But in the end I just want to trigger emotions and make great music."