Fashion heroes / Global
Supply and demand
While it's the fanfare at the fashion industry's front end that grabs the headlines, it's often the smaller firms further down the manufacturing chain that are adding real value.
As industries go, the fashion business is more branding-conscious than most. Names count for a lot. But some of the biggest fashion names in the world rely on small, often overlooked manufacturers and makers who supply them with the raw materials they need. Whether they produce textiles in Japan, superior leathers in the US or shoe soles in Italy, these companies are seldom recognised for their hard work and dedication. That means it's high time to meet some of the unsung heroes.
01.
Horween Leather Company
Chicago
Horween Leather sits on the corner of North Elston Avenue, along the northern branch of the Chicago River. Spanning five floors, the building is even older than the company it houses: there was already a tannery here when Isidore Horween purchased it back in 1905. Five generations later, with Arnold "Skip" Horween at the helm and his son Nick serving as vice president, Horween is still tanning leathers for shoes, accessories and sporting goods as the last tannery in Chicago.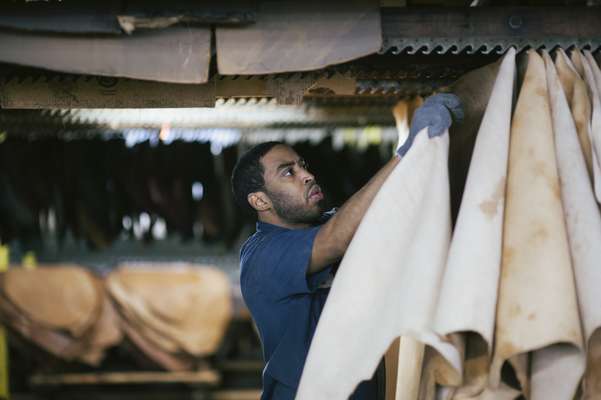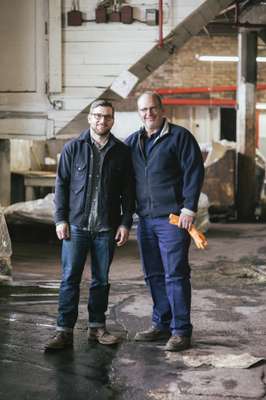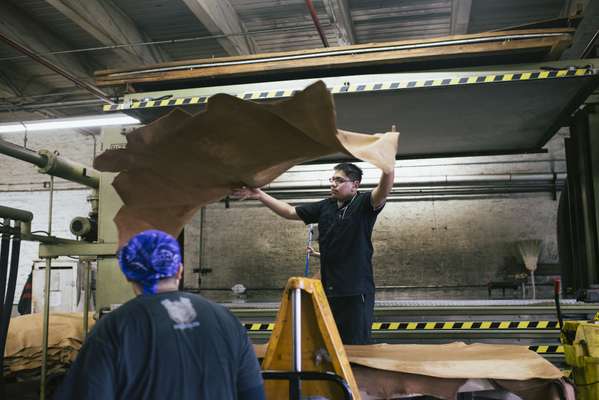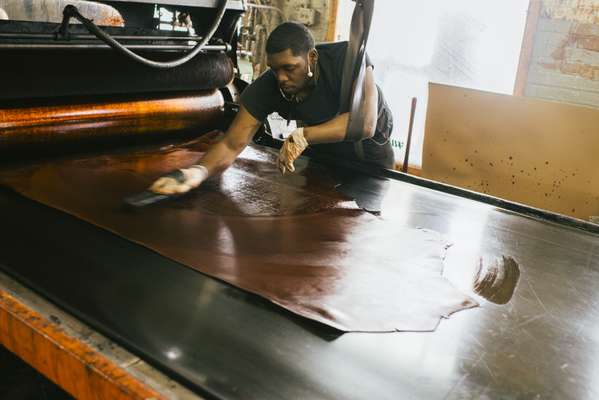 The jewel in the crown of Horween's product line is Shell Cordovan, which is a vegetable-tanned leather made from the rear hides of Canadian and French horses. "It's our most expensive product," says Nick. "But it being a six-month process and a limited supply of horse hide mean we can't keep up with demand."
The sought-after material is primarily used for shoes – 40 per cent of Horween's business – by makers such as Allen Edmonds, Alden, England's Crockett & Jones and Carmina in Mallorca. These brands are willing to pay for a superior product that takes time and plenty of man hours to perfect.
Wanting complete control over the production chain, Horween buys hides before they've been tanned, even though pre-tanning by the meatpacker preserves the material. Most leather on the market today is chrome-tanned because this process – which involves a chemical called chromium – is quick and cheap. Vegetable tanning on the other hand takes six months but is a time-honoured method that produces richer, firmer leathers. After the hides steep for two months in natural tannins they are conditioned with unrefined oils and polished. Dyes are then applied in thin coats and brushed in by hand so natural character and depth show.
While the staff take a midday break, Skip pauses next to his son. They laugh about how often they inspect the leather on other people's shoes. "It's my business," says Skip. Both have learned that business from the ground up. "Between the two of us we've done most of the jobs here at some point."
With a century-old reputation to uphold, the father-and-son team is focused on quality. Skip spends half his time on the factory floor overseeing production. "You have to see with your own eyes and feel with your own hands," he says. Examining every piece is essential: hides are sorted and batched and every one is judged by the human eye. "The hide will tell us what it can be made into," says Nick. "Was it branded; did it rub up against barbed wire; are there bug bites?"
Not being in the public eye is of little concern to Nick. "We are business-to-business," says the young vice-president. "Only recently have we become known to the consumer." Besides keeping accounts with companies such as Alden for more than 50 years, the firm has attracted newer labels such as Shinola, Detroit's watchmaker and leather-goods producer. In an industry where many choose cheaper methods, Horween Leather finds pay-off in sticking to tradition.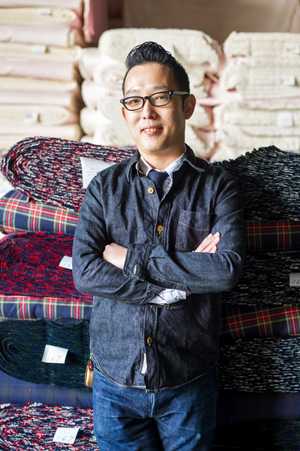 Nobuyuki Ueyama knows a thing or two about demanding customers. Although only 30 he is the president of Ueyama Group, the Japanese textile manufacturer – better known abroad as Maruwa – that supplies fabrics to an illustrious list of luxury labels and fashion brands all over the world. Nothing fazes Ueyama, who runs one of the most high-maintenance operations in the business. "The level of detail in the textile industry can be a bit obsessive," says the third-generation owner. "Or maniac, as we say in Japan."
Founded in 1948, Ueyama Group is based in the tiny town of Taka-cho next to Nishiwaki, a pint-sized city in Hyogo prefecture famed for its dyeing and weaving industries. The area once known as Banshu gave its name to banshu-ori: textiles woven from locally dyed threads. The water – so good that the drinks company Suntory is rumoured to have bought a mountain in the area to secure a source – has always been at the root of the industry and there are still 180 weaving companies and another 10 dyeing companies based here. Facing the onslaught of cheaper products from China, Ueyama has opted to stick with quality and an attention to detail that mass production can't compete with. In casual fabrics – a range of soft cotton in checks and stripes – few can match them. "Anyone can mass produce a suit shirt," says Toshihiro Arimoto, who is in charge of sales and planning. "Soft fabrics are more difficult. When you touch them you can feel the difference."
When Ueyama orders the thread for its fabrics it requests bespoke threads that most other manufacturers would consider too expensive. In Japan it asks thread mills to use machines that are more than 50 years old. At the factory the workers use five different types of weaving machines, including a state-of-the-art Italian Itema model – the only one of its type in Japan – and 20 old Japanese shuttle machines. "When people visit from abroad they can't believe we use so many different machines," says Ueyama. Although not particularly efficient it does allow for an exceptional variety of precise weaves, from jacquard to Oxford-shirt fabric.
Ueyama has the equipment and the skills to do everything apart from the dyeing and the final finish in-house, which can largely be done locally. The threads arrive in their natural state and are sent out to one of the region's neighbouring companies. For indigo dyeing, the threads are sent to Okayama or Hiroshima.
While most manufacturers will only embark on production once a bulk order is placed, Ueyama has 4,500 different fabrics and colours in stock. Arimoto has also developed his own unique thread and the company has its own clothes brand: Shuttle Notes.
Nobuyuki Ueyama has been in charge since 2011 and presides over a company that clearly takes employee welfare seriously. The Taka-cho factory, which has a staff of 40, is run by Eiji Araki whose wife, sister-in-law and mother-in-law all work here, too. Half the company seems to be related and everyone lives within a 10-minute drive of the factory. "It's important to me to create an environment that keeps the workers happy," says Ueyama. He's doing something right: only one person has left since 2007.
Along with that soft success, business is booming. Sales reach ¥5bn (€37m) a year and annual growth stands at over 10 per cent. The company now has an office in Paris and subsidiaries in the US, China and Thailand.
Back in picturesque Taka-cho there is also a sense that Nobuyuki Ueyama is protecting a precious local industry. "Just by running these old machines," he says, "we're preserving skills and techniques that might otherwise disappear."
03.
Vibram
Albizzate, Italy
Even though millions wear its products every day, most people only come across the logo of Italy's Vibram if they have to pry chewing gum off the bottom of their trainer. A leading producer of shoe soles, the company doesn't mind being overlooked by the public since its products have plenty of name recognition with the people who really matter: the hundreds of shoe manufacturers who call on it when they need a top-performing tread.
"Quality, innovation and design are our calling card," says Paolo Manuzzi, director of Vibram's soles-business unit. Each year its in-house design team creates dozens of new patterns and the company churns out 40 million pairs of soles annually. These are used on everything from boots for oil-platform workers to brogues made by Church's. Despite the firm's hi-tech sounding name ("Most people think we're American when they come across us," says Manuzzi), Vibram's roots can be traced back to 1935 and the Alps. Founder Vitale Bramani, a keen climber, witnessed a mountaineering accident blamed on shoddy footwear and sought a solution. He applied the technique Pirelli was using for its car tyres and it led to the world's first vulcanised rubber soles.
Today Vibram continues to innovate with treads, with more than 50 per cent of its 15,000 available sole types developed as proprietary models for brands. Clients include the likes of Armani, Timberland and Belleville, a supplier of combat boots to the US military. The firm spends 3 per cent of its budget annually on r&d to look for ways to improve traction and grip, and develop perfect self-cleaning soles.
At Vibram's headquarters in Albizzate, north of Milan, factory manager Mauro Caldiroli raises his voice to be heard over the din of an open mill: successive cracks and pops denote air bubbles being smoothed out of the dough-like substance. Each sole has a unique recipe that may include synthetic or natural rubber and polymers. Once a sole pattern is perfected a mould is made and then filled with the rubber mixture and vulcanised in a press.
While the bulk of Vibram's €170m-a-year business is grunt work for shoe manufacturers, the firm also has its own designs. After research into biomechanics, the company launched a sports shoe in 2005 as part of the barefoot-running trend. Known as FiveFingers, the thin moccasin, whose upper is made of a polyamide fabric, fits around the toes like a sock. That was followed up by a first fashion foray with its Furoshiki shoe. Unveiled at Pitti Uomo in Florence last year, the wraparound outsole fits snugly with ergonomic bands. Yet another indication that the Italian brand wants to stay one step ahead of the competition.