Ho Lee Fook / Hong Kong
Swear by it
Simple food with a twist on tradition is the ethos of Jowett Yu's new restaurant Ho Lee Fook. Pull up a seat – pork dumplings await.
A Chinese chef cooking Chinese food in Hong Kong isn't a rarity. But step into Ho Lee Fook (ahem, that's right) and you'll quickly realise that this restaurant is different from the noodle, barbecue and teashops that surround it. While the name itself may appear tongue in cheek to western visitors, the three characters actually translate from Chinese to mean "Good fortune for your mouth".
"Different people's perceptions of what a Chinese restaurant is can vary," says Jowett Yu (pictured), Ho Lee Fook's charismatic Taiwanese-born chef who was raised in Canada before moving to Australia to start his cooking career. While working in Sydney, Yu partnered with Chris Mark, co-founder of Hong Kong's Black Sheep restaurants. In 2014, a few years after their first meeting, Yu opened Ho Lee Fook in Hong Kong's Soho neighbourhood.
While most Chinese kitchens are hidden from diners, Yu's is open and positioned at the restaurant's entrance. Centred around the two magnificent wok burners in which many of the restaurant's regular dishes are made, the kitchen also includes a barbecue oven from which Yu and his team can be seen removing geese or ducks that have been roasted whole. Then there's the wall of fortune-bestowing golden cats that wave to customers descending the stairs into the low-lit dining room. "There's no phone reception down here," says Yu as he shows monocle around before the restaurant opens for its nightly dinner service. "But that's a good thing."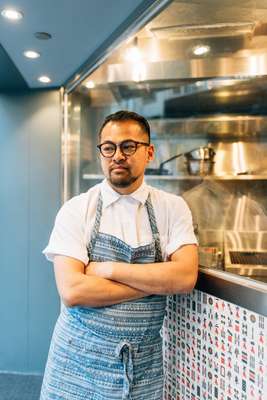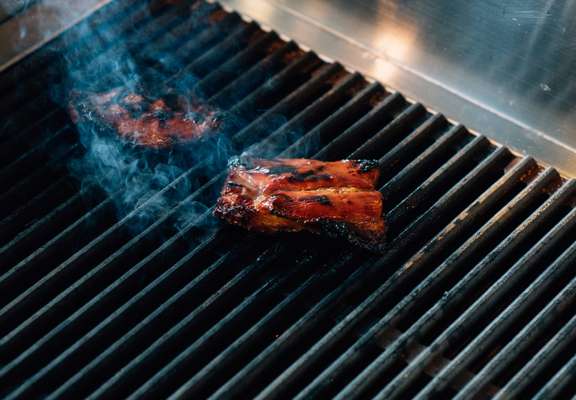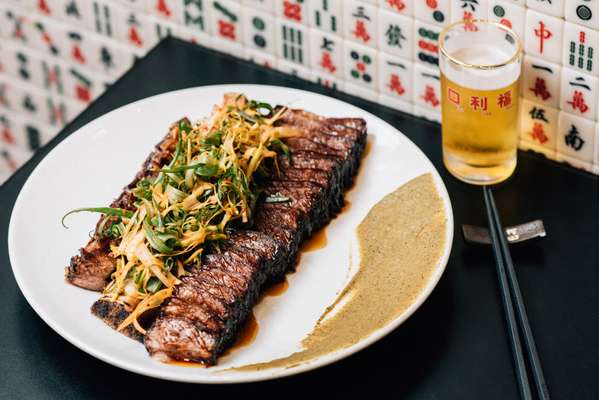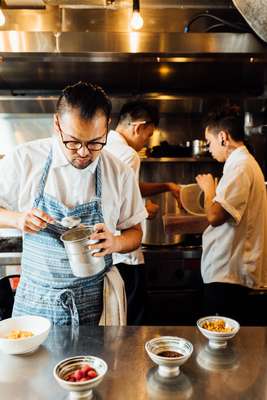 While Yu may not consider his cooking to be fancy, it's clear that Hong Kong's demanding diners do. Since opening last year, Ho Lee Fook has been packed every night. The menu is unpretentious and in true Chinese style the plates are put together with sharing in mind. But Yu has made the dishes smaller than those found in other restaurants so that groups of just two or three can sample a number of different recipes. Favourites include "Mom's mostly cabbage, a little bit of pork dumplings": hand-wrapped pork-and-cabbage creations derived from Yu's mother's recipe. "We didn't have a food processor so she kept everything really chunky," says Yu. "That's what I like about it. A dumpling should have a bit of a bite."
The char siu (Cantonese-style barbecued pork) follows a traditional recipe but is made with Japanese kurobuta pork while the roast short ribs – a large, grandly presented plate that arrives pre-sliced with accompanying bone – are made from Wagyu beef sourced from Canada.
"Here there's some Cantonese food, Taiwanese food and some Sichuan dishes," says Yu. "It's all the things I like to eat; whatever is tasty. That's what I love about Chinese food: it's so dynamic and encompassing. There's so much variety to play with. Chinese food is different all around the world."
Ho Lee Fook's menu encourages relaxed dining, with dishes such as steamed rice, seaweed and pork floss served alongside plastic gloves so that guests can shape their own rice balls. "I want people to relax, eat as much or as little as they like, have some drinks, bring some friends and share stuff. That's the whole Chinese experience. We get a bunch of food, get a group of people together and just go crazy," says Yu. "We are in no position to elevate Chinese food. I'm just adding something to the existing dialogue."
---
Roast Wagyu short ribs
Serves four
Ingredients
1 set of Wagyu short ribs
5 green shallots, julienned
Jalapeño purée
100g jalapeño peppers
1 onion, diced
25ml shaoxing wine
25ml soy sauce
30g garlic
Olive oil
For kimchi paste
25g Korean chilli powder
25ml fish sauce
25g sugar
25ml sesame oil
20ml rice vinegar
5ml chilli oil
¼ onion, diced
30g garlic
1 long red chilli
The method
Put ribs in vacuum bag with soy sauce and wine; cook in immersion circulator at 68C for 22 hours. Alternatively, replace ribs with flank steak or rib eye and start from step 2.

Char jalapeños and onion until blackened; toast garlic until soft. Add to blender and purée with olive oil.

Blend all kimchi paste ingredients until smooth.

Roast ribs in 200C oven until crust is browned. Toss shallots with kimchi paste. Add purée. Serve.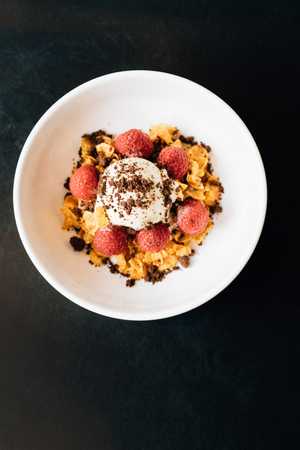 Breakfast 2.0
Serves four
Ingredients
Rocky Road ice cream
Handful of raspberries
For cornflakes
170g cornflakes
25g honey
20g sugar
65g butter
½ tsp salt
For oatmeal porridge
100g oatmeal
500ml milk
17g brown sugar
2g ground cinnamon
1g ground nutmeg
32g maple syrup
125 dried loganberries
125g walnuts
For coffee crumbs
13g milk powder
13g cocoa powder
13g coffee powder
40g flour
12g corn starch
25g sugar
55g melted butter
90g dark chocolate
The method
For cornflakes, melt ingredients in a pan; put in 150C oven for 15 minutes.

For porridge, mix everything but oatmeal; bring to boil. Add oatmeal, simmer and stir.

For coffee crumbs, melt chocolate and combine remaining ingredients. Knead then bake at 150C for 30 minutes; add to chocolate.

Add porridge to bowl; spread with cornflakes. Top with raspberries, ice cream and coffee crumbs. Serve.