My last meal / London
Cecil Balmond
Acclaimed engineer, architect and writer Cecil Balmond discusses his love of food, his mother's cooking and why one last meal would never satisfy.
"My first memory of my mother's cooking is of witchcraft in the kitchen. She would throw in ingredients and say, 'This is good for your eyes, this is good for your spleen,' and she believed it. She was an amazing cook; I fell in love with the entire process as a boy of three or four. You can't beat your mother's cooking, unfortunately, but I keep trying. When I was 13 my father got a Fulbright scholarship to visit America so I left school for six months. He wisely decided to go around the world to complete the circuit; I went through Spain, England, America, Fiji, Tahiti, Australia, Malaysia and back. It gave me a feeling of travel and the world; I remember the street-food vendors in Singapore and eating from the riverboats in Bangkok. They stick out in my mind.
I left Sri Lanka when I was 20. We were a Christian minority and my father was pushed out of a top job because he wasn't a Buddhist. I was living with my grandmother in Colombo and thought, 'What am I doing here?' I wrote to my father and said, 'I'm leaving,' took luck into my own hands and just went.
I ended up in Nigeria for three years, mainly messing around and having a wonderful time. It was the most hedonistic time of my life. Then I came to England to study; the London of that day was unrecognisable from today. It was awful eating. The cooking was banal, flat and very basic so we ate mainly Indian or Chinese food. I used to sing and play [guitar] in clubs and I travelled around Northumbria and the Lake District before I realised what a great dish fish and chips is with a pint of ale.
I discovered this place [Bombay Brasserie] almost 30 years ago when we'd just had our children. There were wonderful pictures on the wall and a great frieze of Bombay. It was lovely, very Raj and slightly opulent. It was the place at the end of a hard day where I found relief. It became a place of celebration. We'd come here for every birthday, anniversary or celebration in the family; if someone won a prize or John, my eldest, got into a rock band, any excuse, we'd come.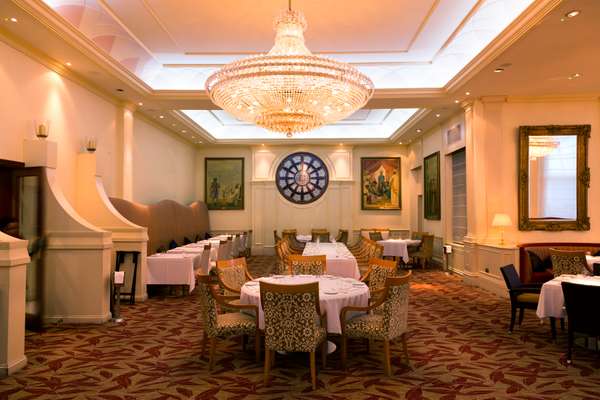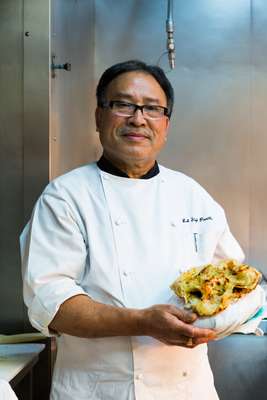 One last meal would be hard; I'd need to make a day of it. Breakfast is easy. It sounds crazy to say the Hilton hotel but everyone in Sri Lanka knows it. They have a delicate fish curry that is lime yellow and made from fish found around the island, which is fleshy like halibut but tastier. Then you have a potato curry, which is satin; there's no other word to explain it.
Lunch would be in Düsseldorf, Munich or Berlin where I've had the best Italian food: aglio e olio, which is spaghettini with garlic and chilli. I'd have two espressos to keep moving and then I'd fly to Japan to my favourite sushi place. It's just six tables and the price is truly ridiculous because they cut the poison fish [blowfish]: you pay for the privilege of risking your own life. I don't know the names of everything but it just keeps coming and you keep eating with wonderful saké. I have it warm but I'm told you should have it cold. Since it's my last meal I'll have it the way I want it."
---
The Bombay Brasserie in Kensington, southwest London, is widely credited with bringing fine Indian dining to the masses.Started by the late Adi Modi, the restaurant has turned out a sophisticated blend of delicate Bengali, Gujarati, Parsi, Portuguese, Raj and Goan-influenced dishes since it opened in 1982. Executive chef Prahlad Hegde has manned the kitchen for the past 23 years.
---
Cecil Balmond was born in Sri Lanka and is considered one of the most significant creators of his generation. Spanning architecture, design, structural engineering and art, Balmond's collaborators have included Rem Koolhaas, Álvaro Siza, Toyo Ito and Anish Kapoor.
He was the deputy chairman of Ove Arup & Partners and founded design group AGU (Advanced Geometry Unit) before starting Balmond Studio in 2010. He taught architecture at Harvard and Yale and now holds a prestigious chair at the University of Pennsylvania. In 2015 he was awarded an Order of the British Empire for services to architecture.
---
Masala sea bass
Serves 4
Ingredients
4 x 180g sea bass fillets, deboned, skin on
20g chilli powder
10g turmeric powder
80ml vegetable oil
80ml lime juice
4 sprigs of coriander
Salt to taste
For base
800g baby spinach, shredded
300g mushrooms,
finely diced
40ml vegetable oil
5g cumin
20g garlic, finely chopped Salt to taste
The method
Rub chilli powder, turmeric, salt and lime juice on sea bass fillets. Leave for 20 minutes to marinate.

Sear sea bass fillets on both sides in a pan then place on a tray and bake for 5 minutes at 180C.

Sauté cumin and chopped garlic in oil. Add mushrooms and shredded spinach. Stir-fry until soft and add salt to taste.

Spoon spinach and mushroom base onto serving plate. Add sea bass fillet and top with sprig of coriander. Serve.