Small Giants / Melbourne
Common good
Small Giants is an investment company with big aspirations, backing projects that are both sustainable and profitable. The Commons apartment complex is the fruition of its business model centred around profit and purpose.
Few founders of profit-driven enterprises will quote the Dalai Lama when asked to distil the essence of their work into words. But for Danny Almagor to "be happy and useful" is at the heart of Small Giants, an Australian investment firm committed to positive social change. "Over the years, as we worked on our business, we still hadn't quite defined what we were doing," says the co-founder and ceo. "That quote from the Dalai Lama really articulated what we were about."
Based in the Melbourne bayside suburb of St Kilda in a remarkable 1850s mansion, there is a cheery optimism among Small Giants' close-knit team. The colonial building The White House, once home to Melbourne's first town clerk, is abuzz with activity, investors and property developers mingling with the editorial staff from in-house magazine Dumbo Feather. The Australian publication, which focuses on "conversations with extraordinary people", is one of many sustainably minded brands it has invested in since its formation in 2007.
Community building is a key concern for Small Giants – but so is profit. The co-founders have found a balance by pursuing partnerships with intelligent brands committed to creating a positive social and environmental impact. "We've partnered with non-profits and for-profits; we've invested in start-ups and we've provided debt facilities to businesses that need to grow," says Almagor. "There are no real rules around it, we just try to be creative and use collaboration in the best possible way." You don't have to look far to see the impact its investments are having beyond The White House walls.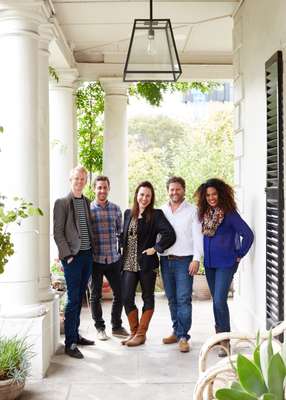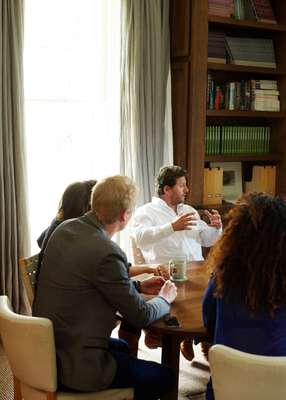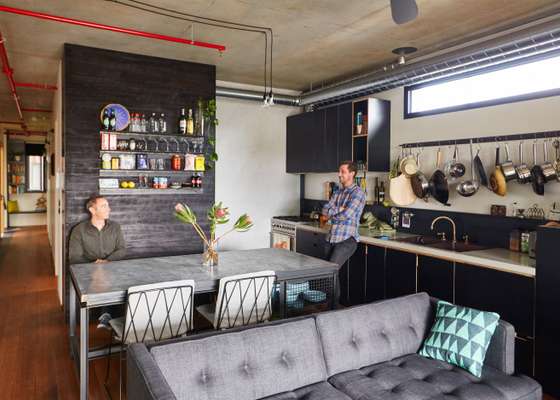 The Commons is Small Giants' successful residential development in Brunswick, a culturally diverse suburb in Melbourne. It is one of Australia's most environmentally friendly housing complexes with an energy-efficiency rating off the scale, and has become a benchmark for green building in the country. The build was the vision of Breathe Architecture director Jeremy McLeod, who wanted to bring to life an ambitious community-driven apartment complex with sustainability at its core. Aimed at an environmentally conscious customer, Breathe's design was a tour de force in reductionism, alleviating the need for air-conditioning and emphasising sustainability across its entire form.
Yet despite McLeod's intentions for the site, which he had acquired in partnership with five other architects, the project ground to a halt when the global financial crisis stifled the property market. "We had put in all this work, getting the planning permit, putting through the re-zoning – it was the first predominantly two-bedroom apartment block in Australia to have zero car spaces," says McLeod. "To then face having to sell it to a shoddy developer who could potentially destroy the concept was incredibly stressful. But we were lucky to find Small Giants, which bought it from us in 2011 and built it exactly as we had designed it."
Adam Borowski, property development manager at Small Giants, admits that taking on a project of this nature required a copious amount of optimism. "We went into a market where people want to buy apartments that come with parking bays and were telling them, 'No, you can't have a car but there is plenty of room for a bicycle,'" he says. It was the middle of summer, 35c and they found themselves having to convince customers that the concrete walls were all that was needed to keep their new home cool. Despite this, all 24 of the apartments were soon snapped up. "People would ride past and literally get off their bike, buy an apartment, get back on and ride off," says Borowski.
The Commons has also been a catalyst for more conventional Melbourne property developers to begin testing the waters with lower-impact housing. "I think the residents have started a side business of running tours for other developers," says Borowski, smiling. "There is a market out there and many more companies are doing radically sustainable developments today compared with three or four years ago."
The success of The Commons has marked a turning point in Small Giants' business model and while the company maintains the diverse nature of its investment portfolio, there has been a concerted effort to focus on community building. Its next apartment complex Oxford & Peel, which is midway through construction, takes the sustainable ideals of The Commons to a more gentrified market in trendy Collingwood.
This growing movement in green building has inspired Small Giants to further its ambitions by forming the Impact Investment Group. The organisation can pool as much as au$200m (€143m) from some 200 investors to inject capital into projects that generate social and economic value. "One of the things I am most proud of is that we have shown there is a model of investing for profit and purpose," says Almagor. "We can't change much on our own: we're just a drop in the ocean. But if there are 10,000 drops you can fill the bucket.