The Moomins / Finland
Family fortunes
The Moomins' message of tolerance and their striking look have made the loveable trolls a global brand. Monocle talks to the makers of the latest Moomins film adventure and discovers why these uniquely Finnish characters travel so well.
So, the Moomins are back. Did they ever go away? Tove Jansson's beloved characters are omnipresent in Finland, big in Japan and stand for some sort of Nordic togetherness across the world. The test for any new Moomins venture is how contemporary renderings of these Finnish fables will stay true to their beginnings. Ahead of the UK release of Moomins on the Riviera, monocle meets the guardians of a precious legacy to see how brand Moomin transferred to the big screen.
---
Hanna Hemilä
The producer, Helsinki
Finnish film producer and director Hanna Hemilä, recipient of the Finnish State's Art Award and producer of animations, documentaries and films such as Aki Kaurismäki's Le Havre, tells monocle how Moomins on the Riviera came to life.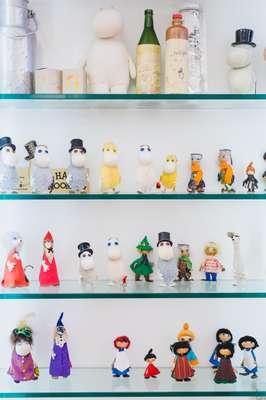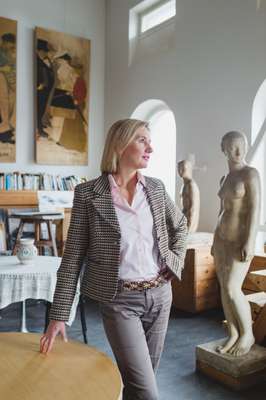 Monocle: How was the film project born and how closely did you work with the estate of Tove Jansson?
Hanna Hemilä: It all started with Sophia Jansson, who is the niece of Tove Jansson and an old friend of mine. We were talking and thought it was peculiar that no one had ever made any films based on the comic strips (the earlier adaptations had been based on the novels). I told her that maybe this is something that should be done with the French because they have a long tradition with comic strips and animation. She asked me to make a proposal and I said, "I know a very talented animation director: Xavier Picard."
M: How did you select a comic strip for the film and develop it for the screen?
HH: We made the decision to concentrate on Tove Jansson's drawings so we went back to the first comic strips. We took some time to discuss which one to pick and then chose Moomins on the Riviera. It was mid-length so it required quite a lot of work before we got a feature film out of it. The whole idea was to stay true to Tove Jansson's story and illustrations. Her lines are so special and so outstanding it would have felt wrong to change them. Everyone on the team was very humble trying to follow her art because everybody felt that this was a homage to her and her style.
M: What are the values of the Moomins? What do they stand for, both internationally and for Finns?
HH: Well, they have the values of friendship, freedom and respecting each other even though they are different. Tove Jansson started to write the first Moomin books during the Second World War. She was suffering from the war so much and this was her escape to another world where people were all different but everybody respected each other. That may be the genius of those stories.
M: How do you rate the importance of the Moomins internationally?
HH: When I went to Japan 20 years ago and saw Moomin balloons and hardly any Disney characters, I concretely understood the importance of the Moomins. Last year I returned for the Finnish film festival in Tokyo. After the screening there was a line of over 100 people asking to get my autograph. And you do feel humble when you see the line: are they really standing here because of me? It's such an incredible feeling that I brought so much joy into their lives on the other side of the world.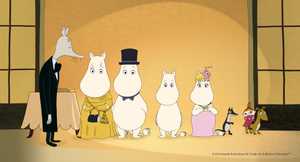 Xavier Picard
The director, Paris
French writer, director and producer, Xavier Picard is the co-founder of Paris-based animation production studio Pictak and director of Moomins on the Riviera.
Monocle: What inspired you to take on 'Moomins on the Riviera' and what message are you hoping to convey?
Xavier Picard: I love Tove Jansson's world and I loved what she always said: "I only want to live in peace, plant potatoes and dream." The Moomins are 70 years old this year but for me the story is timeless. In the movie you have a scene with a little dog and it says, "Oh Moominmamma, I have a secret. I only like cats." And Moominmamma replies, "Ah, you only like cats and the cats they love you?" Moominmamma asks the cat and when it says no she asks the dog if he'd agree to have stripes painted on his body to make him look like a cat. He agrees and the cat finally plays with him. In the end, the stripes are washed out by the sea but they continue to be friends. For a child it's just a story of a cat and a dog but as an adult you can understand another significance. It means that you can love everyone whether they're of a different colour, religion or sex. For me this is very important. These themes are universal.
M: Hand-drawn animations are rare these days; tell us about the production.
XP: As an animation director I've done some cgi animation but I wanted the Moomins to be a hand-drawn animation. We did around 1.5 million drawings on paper with pencil and I'm proud of that. The pre-production of the movie was done in my studio Pictak in Paris and the animations were done at a Chinese studio close to Shanghai. Following my instructions a team of 55 people created all the animations. All the colours and final compositing of the images were done in my studio and the post-production – sound effects and final mixes – were done in Helsinki.
M: What is your directing process?
XP: In animation you don't direct actors, you direct the animators. I first did a voice pre-recording from the storyboard then I discussed the film with the animators. I spent a lot of time directing the animators, telling them that I want this movement, this expression, this emotion. I spent about one week a month in Shanghai and we were in touch every day. M: What sort of responsibility do you have directing such well-loved characters? XP: When the Finns learnt that the movie was made by a French guy they were very worried. Why give our national treasure to the French? But now I can say they are very happy. It was a box-office hit.
M: Will it be difficult to leave the Moomin world behind?
XP: I spent four years of my life with this film and I don't want to leave it behind. We are working on a second movie. Hanna Hemilä and I started writing the first premise two days ago. All I can say is that we'll stay in the Moominvalley for the second movie and that it's based on Tove's comic strips; it's better to stay true to her writing.