El Rey / New York
Fusion power
Lower East Side café El Rey finds a personal touch with inventive Mexican fare that incorporates Middle Eastern and Mediterranean flavours.
Just shy of six months after opening, El Rey's popularity prompted founders Nicholas Morgenstern, Sam Wessner (pictured top, on left) and chef and managing partner Gerardo Gonzalez (on right) to add a daily dinner service in February. The compact café was only ever meant to be a simple coffee shop.
"It's grown a lot," says Wessner as he shows monocle around the pint-sized dining room. "Since we built the kitchen and added food it's become something different that I think the neighbourhood wanted." Despite fierce competition from the area's many restaurants and bars, the whitewashed 15-seat café in Manhattan's Lower East Side has been packed since opening its doors in 2013.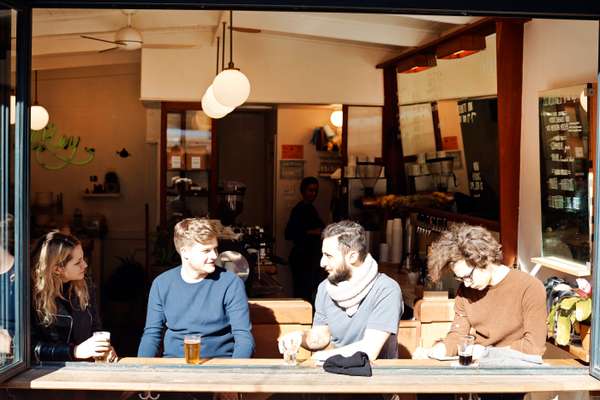 Gonzalez's food is the big pull. He grew up eating dishes prepared by his two grandmothers, both first-generation Californians who crossed the border from Mexico at an early age. Their seafood-centric Baja cuisine (hailing from Mexico's western peninsula) has left its culinary mark on Gonzalez's menu. The food draws both on his Mexican heritage and his attraction to Middle Eastern and Mediterranean flavours. His take on mole (a staple Mexican sauce) is served with freshly made za'atar bread with sumac and sesame seeds; there is also charred radicchio with Aleppo peppered honey. "It's Baja-Mexican with Arabic influences," says Gonzalez. "It's spice-driven but clean."
Gonzalez became an apprentice at The General Greene in Brooklyn in 2009 and joined Morgenstern as a line cook at the popular East Village restaurant Goat Town (more recently reopened as a refined pizza joint called GG's) in 2011. In his time there, Gonzalez tested innovative vegetarian recipes for New York's discerning and increasingly meat-averse clientele.
It's this experimental style that defines the menu at El Rey in dishes such as his interpretation of patatas bravas: twice-cooked potatoes tossed in a zesty habanero-guajillo chilli sauce, which are then topped with pineapple and a cashew cream. The novel addition is a balanced, velvety sauce sharpened with rice vinegar. All the more impressive is the fact that the food served here is produced using a single oven and stove top.
While co-founder Morgenstern now spends most days helming his latest endeavour, Morgenstern's Finest Ice Cream in the Lower East Side, Gonzalez can usually be found behind the counter at El Rey overlooking its wood-and-concrete tables. Not content with simply preparing the food, Gonzalez adds a genial air to proceedings: he greets customers by name, answers the phone and clears plates. The San Diego native credits his years on front of house in West Coast restaurants for his hospitable nature. "Also, because this started as a coffee shop, it's less formal and more intimate," he says. "Restaurants have more rules."
Co-founder Sam Wessner likes the fact that the café's diminutive size lends itself to bumping elbows with your neighbours. "You end up starting conversations and getting to know each other," he says. And since the tiny dining room draws an attractive crowd, the customers don't seem to mind much either.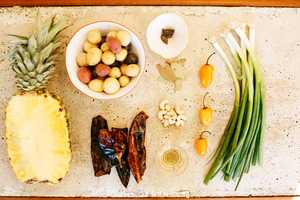 Patatas bravas
Serves 6
Ingredients
1.5kg tricolour baby potatoes
3 bay leaves
2 black cardamom pods
6 spring onions, sliced
Salt and black pepper
For hot sauce
1 pineapple, in chunks
3 habanero chilies, chopped
2ltr white-wine vinegar
5 guajillo chillies
200g chipotle peppers
For cashew cream
75g cashews
1ltr water
120ml rice vinegar
1 tsp salt
The method
Marinate pineapple, habaneros and white-wine vinegar overnight. Soak cashews in 1ltr of water overnight.

Remove one chunk of pineapple. Blend the mixture with guajillo chillies and chipotle peppers until smooth. Salt to taste.

Blend cashews with rice vinegar and 1 tsp salt and blend until smooth.

Boil potatoes in water with bay leaves, black cardamom pods and salt until cooked.

Press each boiled potato flat and fry until golden brown.

Toss potatoes in sauce.

Garnish with cashew cream, sliced pineapple, onions and pepper.
Octopus and hominy salad with black bean puree
Serves 8
Ingredients
2.3kg octopus
½ bottle white wine
1.5ltr water
1 tomato
1 lemon
1 orange
½ fennel
3 bay leaves
Pinch of salt
For black bean puree
500ml cooked white beans
1½ tbsps squid ink
4 cloves black garlic
3 cloves confit garlic
2 tbsps confit garlic oil
1 tsp salt
For salad
1kg cooked hominy (dried corn kernels), chopped
1 lime, zest and juice
1.5kg raw tomatillo (tomato husk), diced
2 tbsps confit garlic oil
1 red onion, diced
1 lemon
1 orange
120g corn nuts (deep fried corn)
½ tbsp pepper
1 long red pepper, sliced
2 tsps sumac
2 tsps Aleppo pepper
5 leaves red-veined sorrel
The method
Soak onion overnight in lemon juice and salt.

Soak hominy overnight then simmer for 1 hour until tender.

Blend white beans, squid ink, black garlic, confit garlic and salt. Slowly add garlic oil until smooth.

Add white wine to tomato, halved lemon and orange, fennel and bay leaves in water with salt. Simmer and add octopus. Depress octopus within pan using a smaller pot filled with water.

Stew octopus for 45 minutes until tender. Leave to cool. When chilled, slice octopus into thin coins.

Mix octopus with hominy, diced tomatillo, zest and juice of lime and confit garlic oil.

Spread bean puree on plate, add octopus salad and garnish with corn nuts, sumac, Aleppo pepper, red onion and sorrel. Add lemon juice.