Pipers / London
Next top modeller
The relationship between master and apprentice is based on trust and the belief of each in the talents of the other. Architectural model-maker Lee Howell is passing his expertise to Giles Harvey, in a craft that makes a little go a long way.
Unbeknownst to busy passers-by, behind an unassuming glass-and-steel door in Hoxton, east London, 55 skilled model-makers are engrossed in the creation of miniature worlds. Some fluff the canopies of tiny trees; others whittle the edges of postage-stamp-sized glass windows or carefully assemble fiddly fenestrations for Lilliputian buildings. The finished articles are architectural models 100 to 200 times smaller than the buildings they represent.
"Architecture is a big export for the UK and we think model-making can be, too," says Mark Busby, the genial business director of architectural model-maker Pipers. "There was a time when we thought we might be undercut by China. We can't compete on cost but we won on quality."
While many companies in this skilled but relatively unknown trade have beaten a hasty retreat from the UK capital's high rents, Pipers is resolute about its place in the city. With some of London's most significant architects and property developers (including Zaha Hadid, Foster + Partners, Capco and Crossrail) in its Rolodex, the company has constructed a niche with its mini masterpieces. Standing at a raised workstation on the buzzy first floor are Lee Howell and Giles Harvey. Howell, who first worked for Pipers in 1985, is scrutinising the 1.5-metre high skeleton of a tower, the full-sized version of which will be a residential building in south London. "Progression is completely down to the individual," says Howell of his young colleague's development. "Some people take longer and some are more natural. Giles is a very neat model-maker so I'm comfortable giving him the detailed stuff now."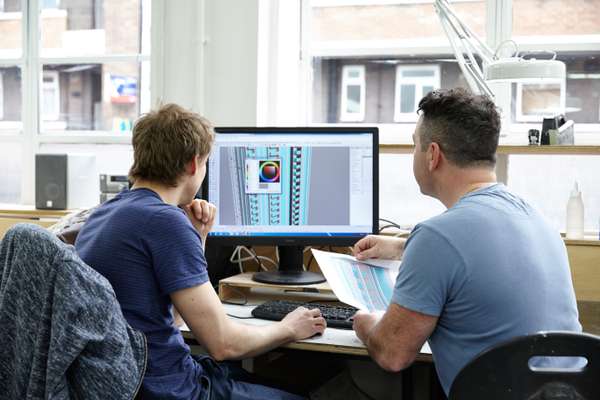 Howell's years in the industry – he also worked at model-maker 3dd between 1989 and 2004 – have given him a palpable passion for his chosen trade. "I held management positions in both companies but I missed the satisfaction of hands-on model-making," he says. "So I returned to the tools. I feel lucky to work in a profession that I very much enjoy."
This enthusiasm is something he has clearly passed on to his apprentice. "It's been interesting working with Lee because he's eager to share his knowledge," says Harvey of his mentor, with whom he has worked for two years.
Despite Howell's consummate knowledge of his trade, technology has transformed some aspects of his work. But the master-apprentice relationship is a two-way street. "I regularly ask Giles's advice on various drawing and computer aspects," says Howell, who remembers the days when this painstaking process would have been done entirely by hand.
Only two universities in the UK offer degrees in this craft but a big threat to architectural model-making is the lure of making props and models for movies. "When I worked in film, actors would take off costumes and throw them in the corner," says Harvey. "Here there's a sense of reverence for what we make."
Once architectural drawings arrive from a project manager the pair swing into action. When monocle visits, Harvey is in the process of laser-cutting floor struts of a tower before a lighting rig is fitted and the final decorations added.
From architects' drawings to completion of a model, projects can take up to four months and cost anything from a few thousand to hundreds of thousands of pounds. The purposes of the models vary, from conceptual mock-ups for architects to entire cityscapes created for planners and detailed renders designed to sell swish apartments.
Business has yet to recover to pre-crash levels but Pipers is more efficient than ever thanks to its retention of skilled staff such as Howell. It also has a clear view of what it takes to survive in a rapidly evolving marketplace. While commissions from Africa and the Middle East can hedge the firm against changes in the domestic market, the key to ongoing success is the foundation built by its next generation of skilled workers.
1968 Born in Essex
1984 Studies 3-D product design at Colchester Institute
1985 Starts at Pipers in Clerkenwell, London
1989 Joins model-maker 3DD
2004 Rejoins Pipers in its current office in London's Hoxton
1985 Born in Dorset
2005 Studies model-making at University of the Creative Arts, Rochester
2008 Works as a model-maker in the film industry
2013 Joins Pipers. Works on the model for the Google buildings in King's Cross