Homeware Top 25 / Global
The roll cool
Be it from near or far, classic or contemporary, monochrome or multicoloured, the following hotlist represents our favourite 25 design pieces in the world right now.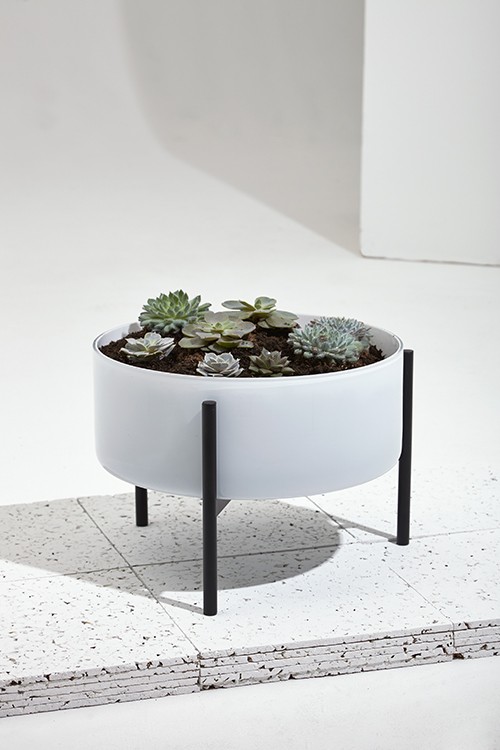 1.
Karussell  shelving unit
Pulpo
Named after a merry-go-round, Karussell is a three-legged steel structure that is as functional as any German design should be. Sebastian Herkner's shelving unit can be stacked up to three levels: its elegant mouth-blown glass trays can work as a simple side table, planter or even turn into a tiered minibar if the evening calls for it.
pulpoproducts.com
2.
Colonial sofa and coffee table
Carl Hansen & Søn
Danish manufacturer Carl Hansen & Søn may be best known for its Hans J Wegner classics but the company is also growing its portfolio of other Danish greats.
It has just reissued Ole Wanscher's Colonial two-seater sofa and coffee table, designed in 1949 and 1964 respectively. The sofa, which was made in very small quantities when first released, has caught our eye with its minimal lines and clipped armrest. "Ole Wanscher was a truly great Danish designer of his time but his career never took off globally as he collaborated with local manufacturers," says Knud Erik Hansen, CEO of Carl Hansen & Søn.
carlhansen.com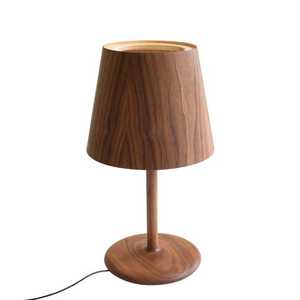 3.
Walnut lamp
Pierre + Charlotte
After 20 years creating furniture in their Melbourne studio, the duo behind Pierre + Charlotte have moved south to Tasmania. This change in pace has resulted in a new focus on smaller items suitable for shipping overseas. "This freedom means we can elaborate on the design aspect, which will include limited-edition pieces," says co-founder Charlotte Julien. Hand-finished with an oil-and-wax mix, this walnut table lamp makes for a brawny fixture.
pierreandcharlotte.com
Diiis (which means "yours" in Swiss-German) is a Basel-based design studio founded by Susanne Roser and Martina Staub in 2014, specialising in handmade products that marry functionality, simplicity and contemporary design aesthetics.
"We had the idea of creating a floating candle," says Susanne Roser of this innovative stainless-steel Buka candleholder that seemingly suspends a candle in mid-air.
diiis.ch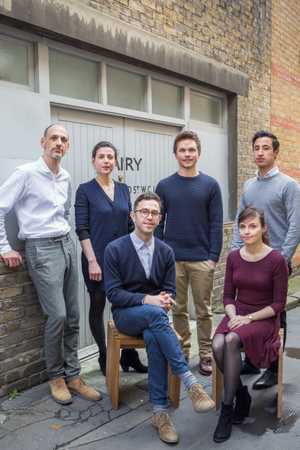 5.
Architecture
William Smalley
Anyone looking for a new home should keep architect William Smalley (pictured, on left) and his team in mind. His rich but minimal residential projects – including a barracks redevelopment in Sussex and a farmhouse in London – signal a firm on the rise. williamsmalley.com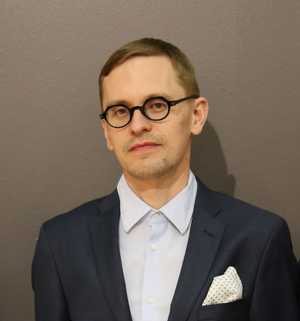 Q&A
Antti Rouhunkoski
Co-founder and designer, Poiat
Finnish design trio Poiat has developed these Coupé shelves especially for new Scandi furniture brand Woud. Based in Denmark, Woud also commissioned chairs from Kasper Nyman and tables from Nur for its debut collection. We met one of Poiat's three founders to introduce us to the brand.
How was Poiat born?
We are three designers who met at university in Helsinki. After graduating, we were working in separate offices but in 2010 we all agreed to start our own company; to have real freedom of expression.
Does Poiat work as a community?
I like to compare our structure to a football team: you have a team strategy and a style of playing, which is not individual. But then you each have a role according to what you're good at.
How did you arrive at the design of the Coupé shelves?
It's a design that we sent to a furniture competition as a proposal a long time ago. It then stayed in the archives on our hard drive for many years. When we met with Woud last year and decided to work together, we proposed this one – and they really liked it.
poiat.com; woud.dk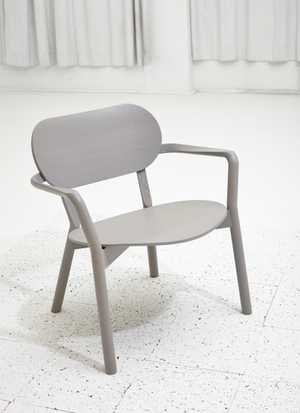 7.
Castor low chair
Big Game
Swiss design studio Big Game has created a new, lower version of its Castor chair for Japanese brand Karimoku New Standard. Designed to be extra comfortable, the ergonomics derive from a classic chair found in traditional Swiss cafés and has a transparent colour finish to show the texture of the oak.
karimoku-newstandard.jp
8.
Modular  furniture
Beynon
USM, Vitsoe, Royal System: the concept of modular furniture might seem a little postwar these days. Graphic designer Richard Davies and industrial design expert Keinton Butler (both pictured) are hoping to change that with their new furniture brand Beynon. Based in London, the collection takes on the tenets of 1950s modular furniture – adaptable, straightforward and high quality – with high-spec contemporary design. "[I really liked] the ideology of modular furniture," says Davies. "I loved the idea of people like Dieter Rams sitting down and thinking, 'This isn't working, it doesn't make sense that people can't expand to use every crevice of their house.' These designers were huge inspirations to me."
Beynon's oak or ash cube units come in three widths: 40cm, 80cm and 100cm. They are joined together with a simple locking system of pegs and a spigot (a screw buckle that can be easily loosened with a coin). Doors, shelves and drawers can be added as well as wooden plinths or upholstered seat pads to create flexible TV cabinets, stools, chests of drawers or sideboards. Beynon also runs a handcrafted bespoke line with countless choices of veneer. "Modular furniture seems to have become just for the design literate and it shouldn't be. That's why we've got two price ranges," says Davies.
The range has been four years in the making and the pair is trying to question the younger generation's throwaway relationship with furniture, created by years of shopping through catalogues. These pieces are designed as heirlooms that can be carried from house to house and added to over time. Rams should be proud.
beynon.co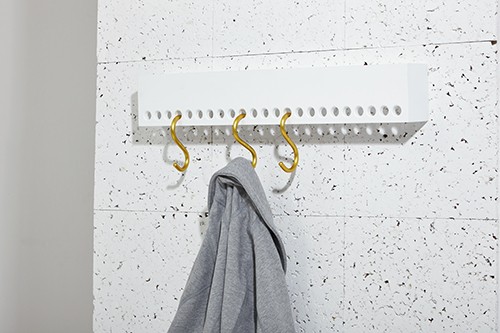 9.
So-Hook  wall rack
Nomess
The world might have gone mad for rustic wooden-peg hanging systems but there is a certain charm to a good bit of functionalism when you're hanging stuff up. Enter Danish brand Nomess. Available in five colours and two widths, the So-Hook rack is a straightforward system of holes and S-hooks, with a shelf providing a good-looking way to stay tidy, whether at home or in the office.
nomess.dk
10.
Pendant lights
Noble & Wood
Founded in 2013, London-based Noble & Wood designs homeware that combines modern manufacturing with traditional hand-finishing techniques. The Cape light, designed for Noble & Wood by UK creative agency Viewport Studio, features a brass conical shade and a simple matte glass column; a nod to the 1950s. "The honest materials and forward-thinking form make me think this lamp will stand the test of time," says founder Paul Blease.
nobleandwood.com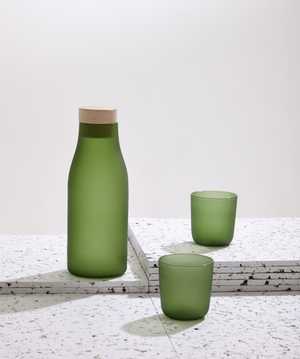 The Five collection is a mix of eastern and western influences. It was designed by Swedish brand Claesson Koivisto Rune for Japanese firm Matsuso T, melting circles and pentagon shapes to give an unusual contrast. "I want to show Japanese craftsmanship overseas through this furniture brand," says Jin Kuramoto, the design director of Matsuso T. "This collaboration reveals a new point of view for Japanese culture, along with engineering innovation and ability. I think the best way to survive is a continuous developing process, even for historical craftsmen."
matsuso-t.com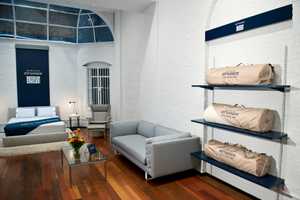 12.
Mattress store 
Airweave
This Japanese mattress topper is a favourite of Olympic athletes, passengers on First and Business Class JAL flights and guests at the Four Seasons and Andaz Tokyo. And the brand's fanbase is set to grow further with its first US shop in Manhattan's Soho neighbourhood.
airweave.com
13.
Drinking set
Internoitaliano
Started by Giulio Iacchetti, design brand Internoitaliano uses workshops across Italy to realise its pieces. The latest addition to the firm's portfolio is a set of glasses and a carafe. "I was inspired by bits of glass washed ashore on the beaches of the Venetian lagoon," says Massimo Barbierato, the designer behind the collection. Cups are made from hand-blown borosilicate glass and sandblasted by craftsmen in the Veneto; the serving pitcher has a lid in ash.
internoitaliano.com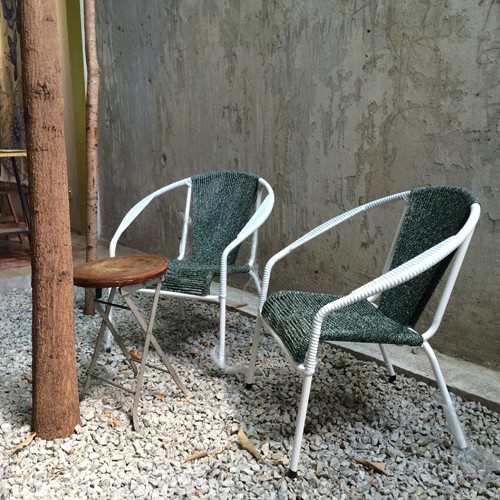 14.
Malay design 
Kedai Bikin
Three years after setting up their Kuala Lumpur-based design firm Studio Bikin, Malaysian designers Farah Azizan and Adela Askandar rolled out their retail arm Kedai Bikin in 2013. Highlights include its Shell chairs, the rattan-woven Mr Gould chair and its signature Granddaddy Lounger. "We don't subscribe to a particular 'aesthetic'," says Askandar. "We just respond to the context that we are given."
studiobikin.com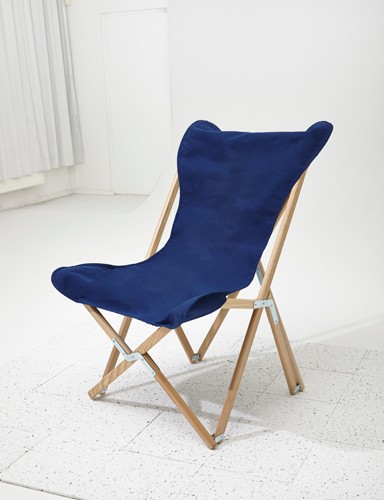 15.
Tripolina folding chair
Segno Italiano
First conceived by inventor Joseph Fenby in the 19th century for British army officers, the Tripolina folding chair gained new fame in the 1930s in Italy, where expats in colonial Libya found it useful in the desert. Today it has been given a new lease of life by Milan design brand Segno Italiano. "This is a slightly more modern version of this iconic chair," says Segno Italiano co-founder Domenico Rocca. Built in Italy's Udine chair district in the northeast of the country, it has an ash frame and seat cover in cotton canvas or vegetable-tanned leather.
segnoitaliano.it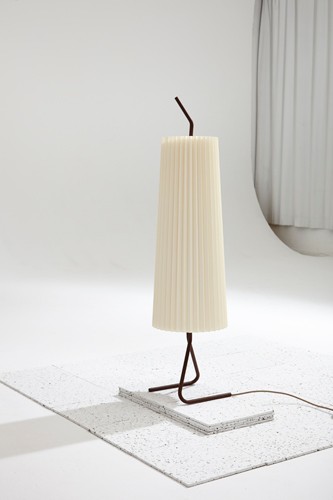 16.
Fliegenbein  SL lamp
Kalmar
The Fliegenbein floor lamp was first designed by Julius T Kalmar in 1957. Now Kalmar Werkstätten, known for its recreations of Kalmar's historic designs, has given it a second lease of life. "I'd seen the lamp on one of my first trips to Kalmar's Vienna headquarters," says Kalmar's creative director at large Garth Roberts. "I was taken aback by the odd geometry and couldn't decide whether it made me feel comfortable or uneasy. This uncertainty led me to attempt a re-edit."
kalmarlighting.com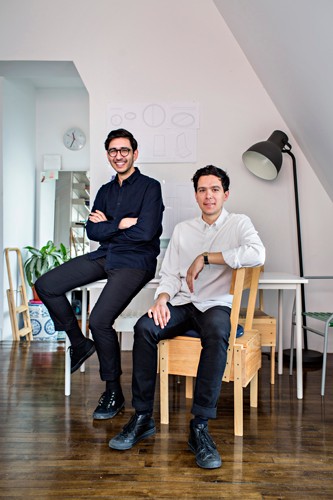 17.
Multidisciplinary design
Visibility
Designers Sina Sohrab and Joseph Guerra (pictured, from left) launched Visibility in 2012 having worked for Bec Britain and Leon Ransmeier. Although Brooklyn has no shortage of fresh, noteworthy designers, the duo made a decision to focus on concept and design rather than selling direct to consumers. They partner with manufacturers, leaving the production and sales to experienced retailers such as New York's Matter and Kontextür. "We like to spend time designing, which is why working with other companies is so great," says Guerra. It also means they can be innovative with their portfolio, designing everything from hand mirrors to chairs and desk accessories. "The way we work frees us up to be very agile," says Sohrab. Guerra agrees: "I don't see a difference between designing a chair or a flashlight. I just want to make beautiful things that are really useable."
vsby.co
18.
George Nakashima rugs
Edward Fields
Since George Nakashima's death in 1990, his woodworking techniques have been continued by his daughter, Mira, at his Pennsylvania studio. Now, for the first time, the Nakashima name is moving beyond wood to launch its first rug collection alongside 80-year-old carpet-making firm Edward Fields.
Based on her father's drawings, Nakashima – along with Edward Fields' global design director Yasmina Benazzou – has brought the late designer's work to life. "To me it's like my father is not gone," says Nakashima. "He is still inspiring us to do what we do." The mid-century-designed collection has unrefined lines and mixed pile heights in jute, silk and wools evoking the natural materials that inspire Nakashima furniture.
edwardfields.com; nakashimawoodworker.com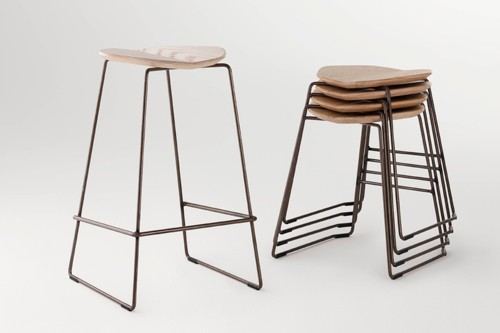 19.
Duet stacking stools
Ross Gardam
Melbourne-based designer Ross Gardam set up his studio in 2007 and does a fine turn in handcrafted furniture and lighting. These elegant stacking bar stools come in versions for indoor and outdoor use and the bases can be powder-coated in whichever colour you choose.
rossgardam.com.au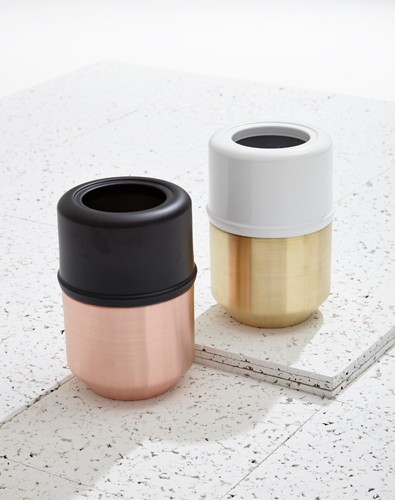 Cristina Celestino, the creative mind behind Attico design studio, has come up with a multi-use container for the home. "It was conceived as a glacette to keep your wine cool but can double as a flower vase when you're not entertaining guests," says Milan-based Celestino. Made by a family-run workshop on Lake Orta, an area known for its metalworking tradition, it has a spin-formed base available in brass or copper and a powder-coated aluminium top.
designattico.com
Nomi began life in 2013 when Australians Michael Grassi, Henry Gresson and Tomek Archer (pictured) joined forces to tackle the staid problem of flat-pack furniture. Their studio specialises in chairs and desks that are easily shipped in compact boxes and need no tools for assembly.
"When you're based in Australia you have to think about shipping," says Archer of the importance of efficient distribution. Nomi's modus operandi is to select premium materials such as American oak and employ hi-tech tools to manufacture furniture in the local vernacular. "We use the latest computer-controlled cutting machine to ensure accuracy and speed," says Grassi. While other flatpack systems might require screws and screwdrivers, Nomi's innovative joinery system allows the pieces to be put together right out of the box without any additional equipment. Adding to the enduring quality of Nomi's designs is a decidedly classic and clean aesthetic. The signature Woodstack chair (pictured, bottom) is made from solid timber and sports an ergonomically contoured backseat. Meanwhile customers can select from a broad palette of colours and make tweaks and adjustments to the original designs. "We enable such unusual custom finishes that no manufacturer would ever commit to making them in volume," says Archer. "It's in the hands of the customers as to how they choose to customise each product."
nomi.com.au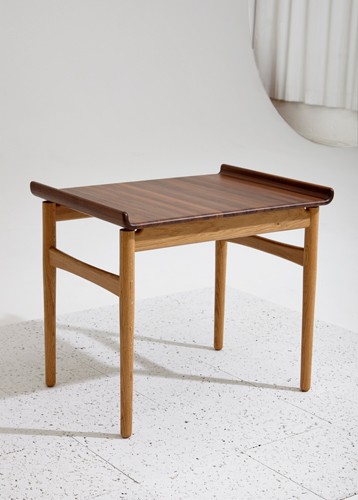 Reissued by Getama more than half a century after going out of production, this design by Hans J Wegner is a lesser-known but equally iconic piece by the Danish master. Created in the 1940s, its curved lines hint to orientalism while luscious, dark walnut updates what was originally tropical teak.
getama.dk
23.
Zutik shaker shelf system
 Alki
The adjustable Zutik shelf system – designed by Frenchman Jean Louis Iratzoki and made by Basque furniture heavyweight Alki – challenges the relevance of static storage. Arranged along a single horizontal oak beam, a combination of shelves, mirrors, coat racks, acoustic panels and a ladder can be removed, refreshed and reconfigured to mould and adapt to different rooms or a change of mind. This neat and nimble design paves the way for a long shelf life, whether it be for the office or the home.
alki.fr
Q&A 
Jasmina Grase
Studio Chudy and Grase
Jasmina Grase and Nils Chudy are a young design duo based in Berlin. We caught up with Grase, originally from Latvia, to learn the story behind their beautiful wicker collection.
How was your Meet The Wicker project born?
I wanted to show Latvians that our crafts are not forgotten; they just have to be reinterpreted to the 21st-century lifestyle. All the materials are grown naturally in our fields and woven by the Tutanu family. I wanted to find the balance between modern but classical; a small twist that would give wickerwork a new look. Involving metal workers was a logical step to turn wickerwork into functional design objects and give it a fresh look.
What makes up the collection and what sets it apart?
There's a stool, cabinet and basket that can be turned into a coffee table by the help of an aluminium top. Our favourite one is the basket; we are very proud that there is not a single spot where you could see a welding mark, it just looks like it's held together by magic.
chudyandgrase.com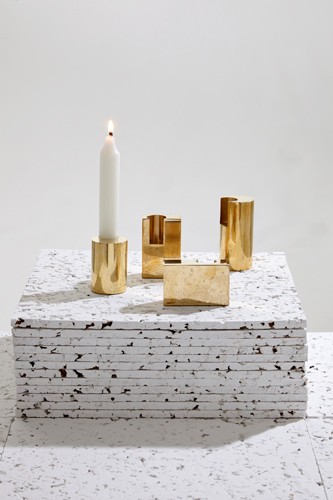 25.
Lump candlesticks
Kim Thome
"The candleholders were an attempt to make a simple, minimal product," says Norwegian designer Kim Thome of his Lump brass candlesticks. Designed in his east London studio, these elegant candleholders are handmade in a three-step process where the brass is cut to size, drilled and then sanded and polished to reveal a subtle glow.
kimthome.com