Tonko House / Berkeley
Dream factory
When such an unusual and well-drawn film is nominated for an Oscar, you wonder where it came from. That was the case with 2015's 'The Dam Keeper', an allegorical animation dreamt up by Robert Kondo and Dice Tsutsumi. Despite its San Francisco postcode, their Tonko House animation studio prioritises hand-crafted productions over technology; Monocle paid a visit to the chalkboard.
"We both went to school for illustration so working at Pixar as art directors was a dream job. In the art department we were getting to see a little sliver of the film-making process in action. This made us curious about how films got made and then we got curious about making our own films. That led us to completing our short The Dam Keeper and starting Tonko House.
It was hard to let go of Pixar; the company was an amazing place to grow up. The hard part about saying goodbye was feeling like we were leaving our family behind. But everyone there was incredibly supportive so as soon as we made the decision it felt like the right one to make.
Our first project was really about finding out if we even liked working with one another and what that could produce. We didn't have a story in the beginning; we spent about a year writing it. After we finished The Dam Keeper and we started Tonko House, we wanted to go back and reflect on our process for telling stories.
Our first three months were spent in what we called 'therapy time'. We sat down and shared as much as we could, even things that were really uncomfortable – and in fact that's when we started to break ground. We found that we wanted to tell stories that came from this honest place. That meant we wanted to dig into our personal histories – who we are as people – and to tell stories that would reach an international audience.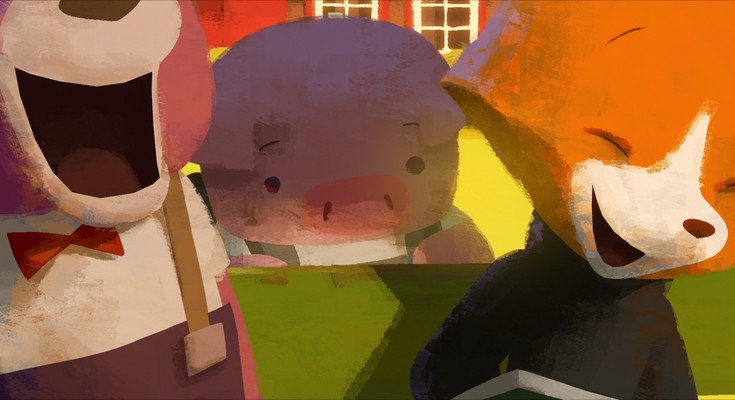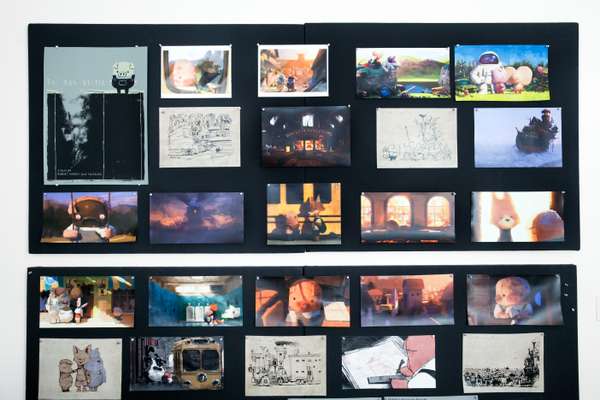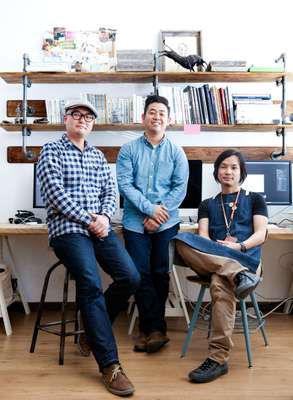 On a daily basis at Tonko House there are some things that we always like to do. For example, we start in the morning with a moment of meditation; it lasts about 10 minutes. That's really just to get us all to quieten down and be on the same page. We talk over the priorities of things we need to do that day. We also usually have lunch together.
We often spend a lot of time drawing and storyboarding. We do draw and paint on a computer quite a bit but we also have chalkboards. We love the fact that we don't get attached to anything that we draw or write there. There's something nice and basic about it.
Our desks are borrowed and we didn't want to get them too dirty so we covered them with this brown craft paper – which is useful when you need to make notes. The paper acts like a written and drawn history of Tonko House.
We keep pretty regular hours – we usually meet at 8am and work until about 8pm. We have conversations about trying to find our own balance between work and life. So much of life inspires us as creatives, writers and film-makers. We work about six days a week.
We also are trying to put 100 per cent into our personal lives. Our families are very much a part of Tonko House. We have regular dinners where we get everyone together and check if there's anything we can change.
We do travel quite a bit and sometimes when you're travelling you get different kinds of inspiration. It's one way of trying to come up with new story ideas so we're hoping that we can use our busy schedule to our advantage.
We spent a year taking The Dam Keeper to film festivals. Travelling the world to festivals was incredibly inspiring and humbling. It was very surreal. For the first six months we didn't win any awards at all then suddenly the film started to pick up a few. Being nominated for an Academy Award was unexpected; even being shortlisted was a huge surprise.
It was so good to be in that group of Oscar-nominated animated short films; the other film-makers we were nominated alongside were great, grounded people. Meeting them felt like the real reward. Being part of that group really felt special and so now we feel the pressure of the bar being raised. If anything, it focused our priorities on what really is important. Awards are great but they aren't as important as how they bring artists together."