June 2015 / Hong Kong
Expo no. 84: Freight of your life
It might be a panda en route to a zoo or cashmere jumpers heading for Beijing or Boston. But regardless of value there is a good chance it is going to be shipped through Hong Kong International Airport's cargo hub.
Sat on a vast man-made platform off Hong Kong's largest island, Hong Kong International Airport (HKIA) is edged on one side by towering green-and-purple mountains and on the other by the South China Sea. It's one of the most spectacular places to watch planes taking off and landing. And nestled into the base of this aviation amphitheatre, lined up in a neat row that flanks the south runway, are the facilities that make the airport the world's biggest air-cargo hub. Last year, 4.4 million tonnes of freight were shifted through this airport.
You can get a snapshot of the scale of the operation by just looking at the list of animals that have worked their way through these cargo terminals. Le Le and Ying Ying, two giant pandas given by Beijing to honour the 10th anniversary of Hong Kong's handover, arrived here in 2007. Racehorses turn up regularly to compete in Hong Kong's famous (and highly profitable) racing season and fresh fish is flown in daily from Tokyo's Tsukiji market, headed straight for some of the best kitchens in the city. Baby crocodiles have landed here. There has even been a hippopotamus. "I can't remember where that was going," says Kelvin Ko, the chief executive officer at Cathay Pacific Services Ltd (CPSL), which operates one of the four major cargo terminals at the airport. "We handle an enormous range of cargo."
It's not simply the range of goods (and critters) that is impressive. The cargo business accounts for nearly a quarter of Cathay Pacific's revenue. Opened in 2013, the company's cavernous seven-storey cargo terminal sits next door to the Hong Kong Air Cargo Terminals (HACTL) facility where Cathay used to do business. "We realised that we didn't have control over our destiny," says Mark Sutch, general manager of cargo sales and marketing at Cathay Pacific, about the company's decision to build its own cargo terminal. "We were taking deliveries of new aircraft and we were expanding. We knew that we were going to be in cargo for the long term and that Hong Kong was set to become the best airport for international cargo. Having control of our own hub was crucial."
Today, CPSL and HACTL each handle around 40 per cent of the freight passing through the airport. The other 20 per cent is dealt with by the Asia Airfreight Terminal (AAT). Hongkong Post operates a small and efficient Air Mail Centre around the corner. And German logistics giant DHL bases much of its Asia-Pacific business here. The first large-scale, automated terminal for express cargo in the region, up to 75,000 pieces can be sorted at the DHL set-up every hour.
One of three main global hubs for DHL (the others are in Cincinnati and Leipzig), it's from here that many packages head for 70 other locations across the region. "The location gives us an advantage," says Tony Khan, general manager of DHL's Central Asia hub, CAH. "Most of the countries in Asia Pacific are located within a four-hour flying zone meaning we can deliver shipments the same day." Many of these destinations are served by Air Hong Kong: an airline set up as a partnership between dhl and Cathay Pacific in 2002. It's the only dedicated freighter airline based in Hong Kong.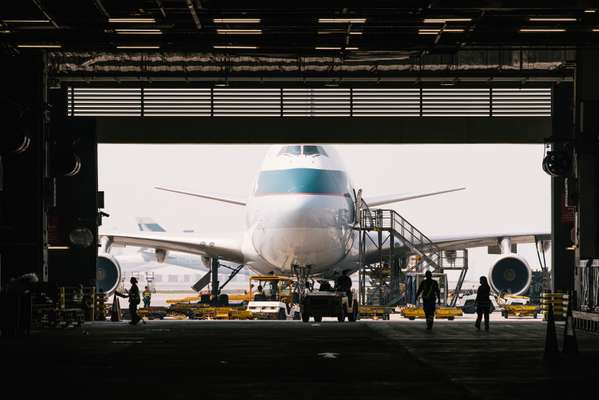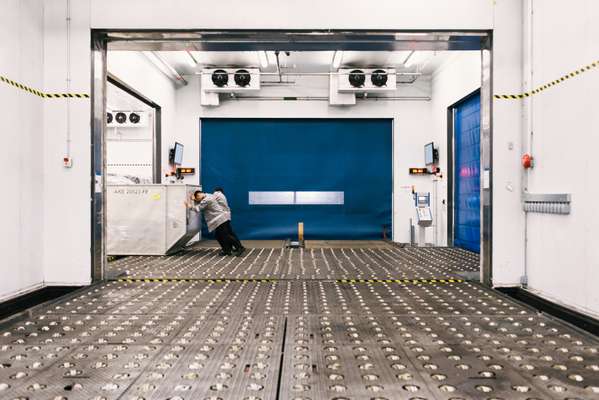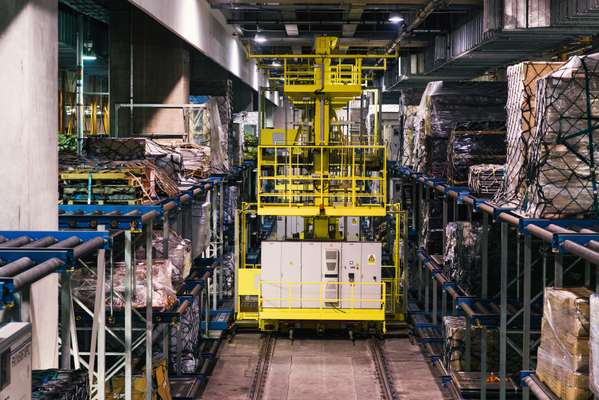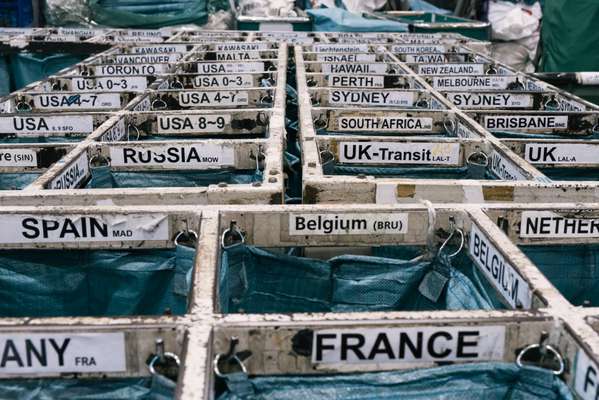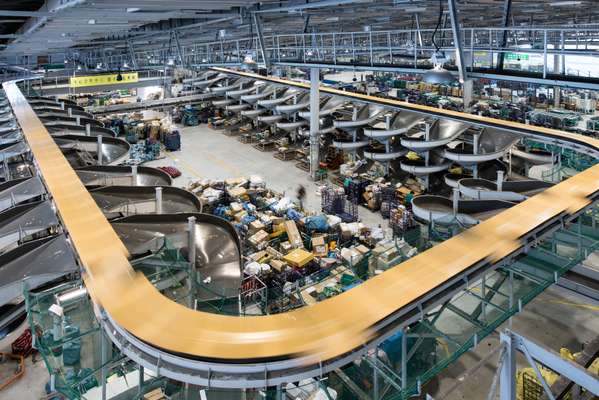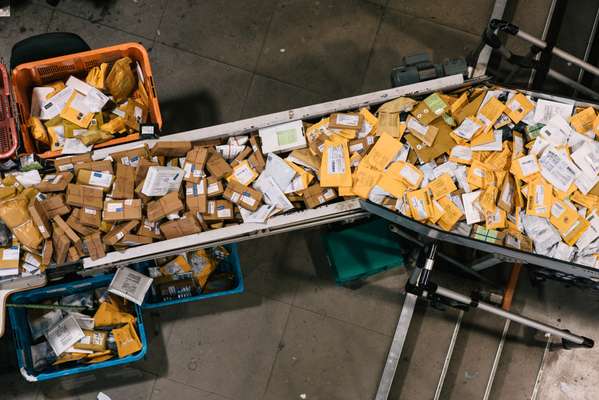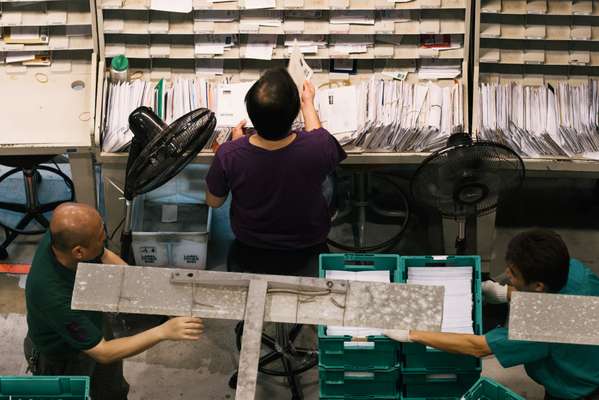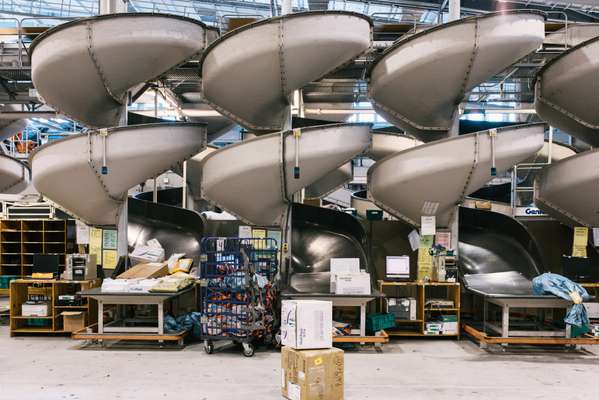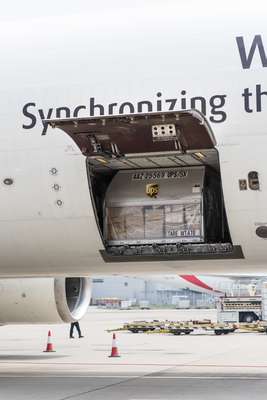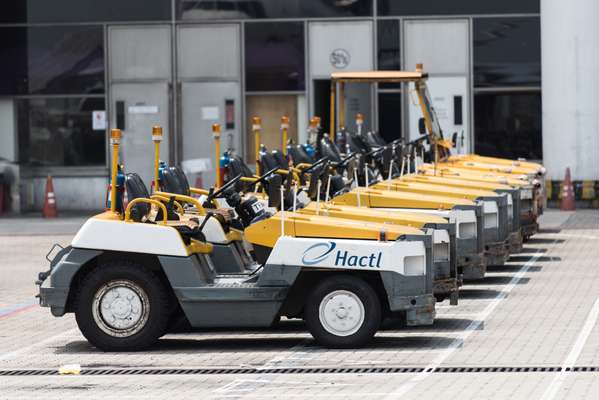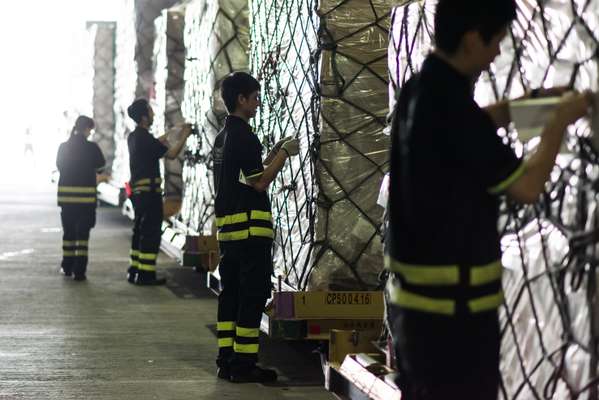 From the outside, CPSL looks like any other huge featureless airport facility. Function triumphs over form; ramps lead trucks between different access points across its seven levels and the spacious 60-space parking area alongside. The nearly windowless Boeing 747-8 and 747-400ERF freighters line up nearby, waiting to receive pallets.
Inside, there's a clear sense of urgency. But the emphasis is on quiet efficiency rather than any frantic rush. Security is crucial, says Ko, who has more than 20 years of experience in the local logistics industry. A team from Apple has recently visited to see if they can trust the Cathay team with their new sought-after watches. With so much of the US company's inventory made in China, Hong Kong seems the obvious route out to the rest of the world.
"We try to focus on our suite of products," says Sutch, who is referring to the specialist cargo that he has invested in knowing how to transport. "General cargo can be carried anywhere. High value and perishable stuff requires particular attention." Flowers, for example, and fresh food are handled at each stage by specialists who move the perishable cargo from temperature-controlled containers to a dedicated handling centre on the terminal's ground level or to the expansive 1,600 sq m cold room on the fifth floor. Tonnes of Indonesian eel arrive here, destined for tables in Hong Kong and even Japan. And at 07.00 every morning, fresh tulips land from Amsterdam. A few hours later, they're available in local markets.
As one of the few international airlines investing in dedicated freighters, CPSL can rely on business from the oil and gas industries that require heavy machinery to be sent to places such as Houston and Calgary. It is aircraft such as the 747-8 that are called into action for this important work.
Many freighters begin their journeys at night (Apple Watches are less likely to complain about a 03.00 departure than paying passengers). And as most of CPSL's business is done with "integrators" – companies such as FedEx, DHL and UPS, who pay airlines to forward their freight – the terminal follows the daily courier schedules with cargo arriving just before midnight. With a large number of passenger flights leaving HKIA just after midnight, many express packages end up on commercial flights. They can arrive anywhere from Tokyo to London in time for breakfast the next day. "Fifty-six per cent of our cargo travels on passenger aircraft," says Sutch. "The new Boeing 777s are hugely efficient in carrying cargo. And the Airbus A350s we have on order will be the same. Our cargo business is growing mainly through the bellies of passenger planes."
In the early morning, the terminal is busy handling imports, clearing freight through customs and getting cargo collected. It's not just tulips that are heading straight from the plane to the market. From 05.00, trucks are racing from the city to the airport to collect fresh fruit and seafood. The first to market often gets the best price, so there's competition to line up at cpsl's receiving dock before the flights carrying expensive products such as Japanese abalone and tuna even land.
The containers that are being unpacked and broken down when MONOCLE visits aren't big rectangular metal boxes of ocean-going proportions. The reality of the air-freight business is that everything travels in odd-shaped, man-height boxes with contours typically designed to fit inside the curve of an aircraft body. Some are partitioned, some are netted. There's even a car-rack that can be mounted onto a pallet.
It's hard to truly gauge the scale of the operation here, let alone sense the rhythm of the 1,800 people working across three shifts in the 24-hour, seven-day cycle. CPSL acts as the airlines' agent on the ground. And Ko's job is to get all of the freight onto the right plane at the right time. Staff are busy breaking down incoming cargo, building up new containers and moving shipments through the system. They deftly separate cardboard boxes at lightning speed and fold them into swathes of bubble wrap before the cargo disappears back inside containers. Sorted according to destination, each shipment sits in a bay under a screen showing the flight details. It's a set-up not unlike the desks that greet passengers. Except here, a Lamborghini is being checked in, not a suitcase. Once ready, the shipment is pulled out by a large vehicle towards the gaping mouth of a waiting freighter or the hold door of a passenger plane.
Much of Hong Kong's logistics industry relies on transshipment. Unpacked and repacked between various global destinations, cargo requires top-notch sorting and storing facilities. "Capacity is the key," says Ko. "Most of the cargo coming to Hong Kong is for somewhere else. People fly here for the connectivity. Many thought that years ago Hong Kong would lose out to China but we are still number one in the world."
At the heart of CPSL's operation are the automated bulk and container handling systems. Together, they take up the majority of the terminal's space. Spanning floors three to seven, 4,200 bulk cargo items and 2,400 containers can be stacked and stored in the most fascinating part of the operation. And there's hardly a human in sight. Instead, the pallets and containers are moved around by 18 huge elevator-transfer vehicles that clunk and whir up and down the aisles; placing cargo on rails and moving pieces in and out of the system. The CPSL terminal handled 1.4 million tonnes of cargo last year, but its capacity stretches to nearly double that.
Those in the logistics business in Hong Kong know that their location is advantageous but with hubs opening across China they cannot sit back. The city's government recently approved plans for HKIA's third runway, which will boost both passenger and cargo potential. And companies here are focusing on emerging markets such as Vietnam and Cambodia. "Not one major airline in the US has dedicated freighters," says Sutch. "Across Asia and Europe, carriers are downsizing. One of the reasons we haven't done that is because of the importance of hkia. Hong Kong is one of the best hubs because of its location in the Pearl River Delta. We're invested in that."
Backing onto the south runway at Hong Kong International Airport, Hongkong Post's Air Mail Centre occupies one of a succession of huge anonymous sheds along the main airport road. Inside, scores of multicoloured postbags bulge with e-commerce packets and parcels.
It's a simple formula: nighttime for processing inward mail, daytime for outward. Around 100 containers are handled at a time, says operations director Leo Yan Kwok-yuen.
The trick is to fill every expensive corner of the crate. Space is money but the bulky bubble packing generated by individual e-commerce items makes it hard to make the weight-to-space ratio viable anymore. As online shopping grows, capacity becomes the issue, Yan explains.
E-commerce has been a curse and a blessing, with Hong Kong's strategic location ensuring a vast amount of China business. "It's like the old days: back to entrepot trade," says Yen. "So many e-commerce products come through Hong Kong and go on by post or courier, mainly to the US and European countries."
It's lunchtime and the sorting stations await the truck from Central with the latest batch of parcels and packets, which have to make hourly cut-off times. Dominated by flight schedules, the Air Mail Centre is busiest in the late evening when most long-haul planes depart.