Greek fashion revival / Greece
Notes on a sandal
In spite of turbulent economic times, new shoots of a Greek fashion revival are bringing fresh impetus into the nation's creative industries and helping to preserve traditional techniques.
On a beautiful April day in Plaka, one of Athens' most attractive and historical neighbourhoods, life seems pretty smooth for best friends and business partners Mareva Grabowski and Dimitra Kolotoura. They are sat with 17 others in a beautiful creative studio above a loud and busy café full of young people enjoying the sun and drinking mid-afternoon iced cappuccinos.
Two years ago they set up brand Zeus + Dione with the intention of doing something for their country where, "life was literally ending", as Grabowski puts it. The vision for Zeus + Dione was to revive the rich traditions of Hellenic craftsmanship – including weaving, embroidery and silk manufacturing – to produce high-quality fashion and accessories for export to foreign markets. "After almost a year exploring the finest craft-makers in the country we realised that there was unlimited talent and fine materials in the periphery that were unrecognised," says Athens-born Grabowski. "These Greek artisans are the core of our company and we feel lucky to work with them."
Before becoming a rescuer of local craft and know-how, Harvard-graduate Grabowski spent 14 years at Deutsche Bank in Greece and the UK. With a keen sense of business, a husband working in politics, three children, some money in the bank and a secure future, she had the freedom to move on. Kolotoura was also doing well with her communication agency in London but the pair made the decision to show the world that crisis – a word embedded in Greek culture over the past few years – can be surmountable.
Gogo Aligizaki is one of the most skilled artisans they work with. She is one of the last weavers in the area of Chania, Crete. Ten to 12 hours a day Gogo works at her loom, usually making napkins for weddings or special kaftans for religious ceremonies. But ever since Zeus + Dione's owners came and knocked at her door, her style has slightly changed. The brand makes special orders and adapts Gogo's skills for the decorative elements on a belt, the neckline of a blouse or the wrists of a sleeve. "Small touches only, not to look too folkloric but keeping a sense of Greek traditional heritage," says Grabowski. "They are old motifs and techniques that pass on from generation to generation for a more modern creation, all with our spirit."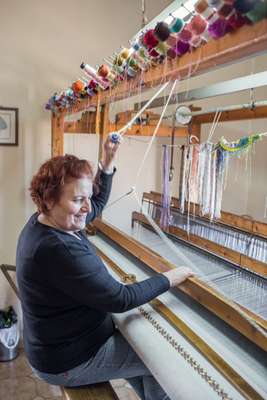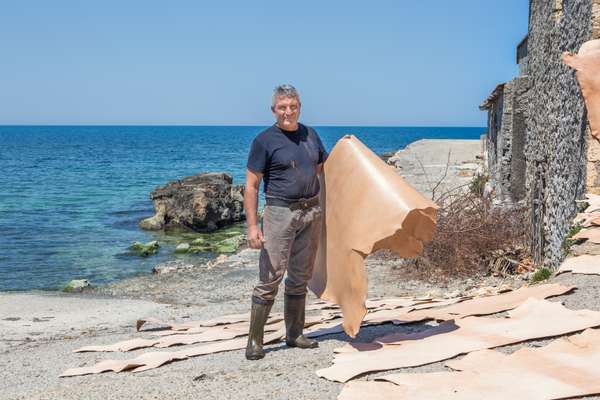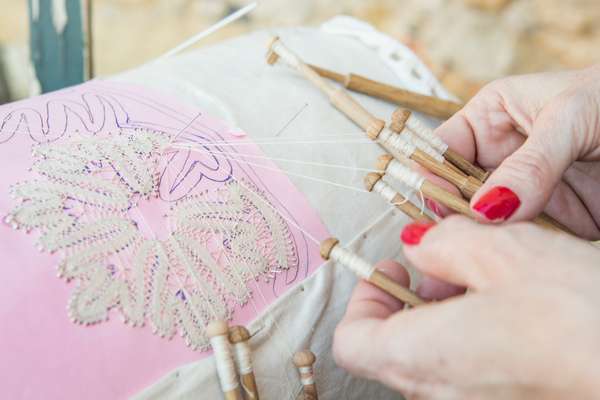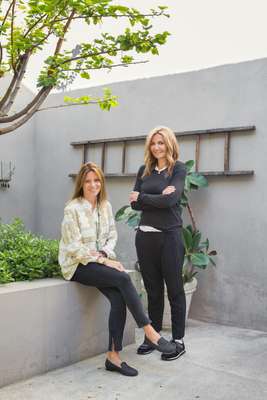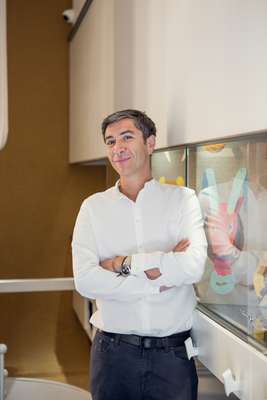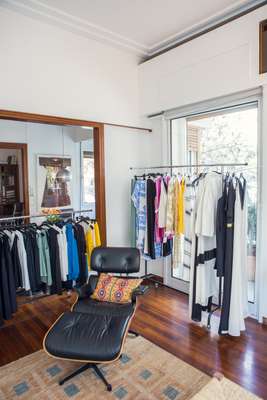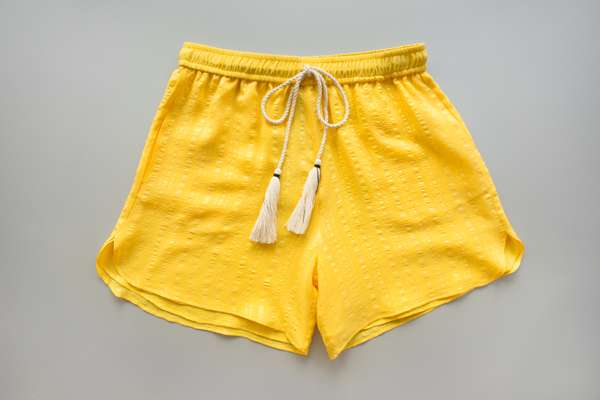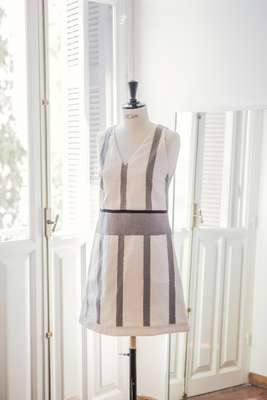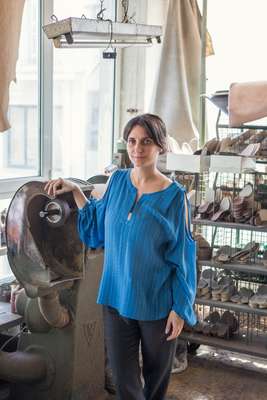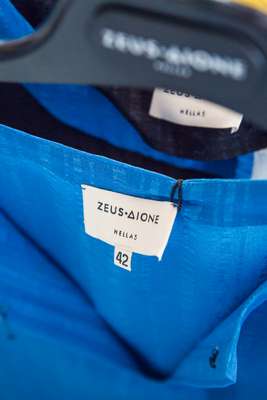 Elsewhere in Chania, at the Lyceum Club of Greek Women, a group gathers every Wednesday to teach the art of Cretan bobbin lace to the younger generation, a skill that began on the island in 1906 in the village of Gavalohori. They also make bobbin lace for Zeus + Dione's collections. The brand in turn is in the process of putting together a foundation to protect the craft through additional training. Sat on the shores of the Aegean, they are collectively setting out to show that there is more to kopanelli stitches – the curly, decorative local speciality – than doilies.
By criss-crossing the whole country, Grabowski and Kolotoura have formed a pool of artisans who are now rethinking, redesigning and redefining their craft and producing pieces that are both contemporary and timeless.
"For one year we've been travelling to identify the artisans and old techniques that were about to be eclipsed," says Kolotoura. One of the first stops they made was to Soufli, a small town in the northeast corner of Greece where silk production flourished at the turn of last century. "When we first visited Soufli, local manufacturers were very hesitant. The town's once-flourishing industry was in serious difficulties and they didn't seem to trust that this situation could change," says Kolotoura.
Nowadays, the largest producer is Kostas Mouhtaridis. His factory produces up to 1km of silk each day and more than 220km every year. MONOCLE went to the town on the Turkish-Greek border – the cradle of Greek silk – to meet Mouhtaridis, one of the last surviving silk producers. Behind a two-floor showroom his silk factory stands equipped with the latest machinery. It was created in 1975 by Mouhtaridis's father, whose portrait hangs in the middle of the space where a dozen people are busy making yarn and weaving. Most of the thread comes from China, although some is still made in the region's silkworm cocoons. The hope is that, with the help of various foundations, all thread will soon be produced in Greece again.
In 1950 the invention of synthetic silk and the fall of the price of cocoons led to the decline of silk production. Mulberry trees became fewer and fewer and after a reallotment of land they almost vanished. Although this remote part of Greece retained its reputation as part of the Byzantine silk road until the 1980s – its economy based almost exclusively on the production of high-quality silk yarn – the industry was increasingly under threat. It was only because of Moutharidis's role as yarn distributor to the likes of Armani, Versace, Dolce & Gabbana, Calvin Klein and Chanel that he was managing to survive. Yet in the face of political and social difficulties, production was dramatically decreasing. In 2007, 20 employees worked at the factory and that had dropped to just five by 2010.
It was only natural that the Zeus + Dione came to his rescue. "Mareva and Dimitra came to visit me in November 2013 saying they wanted to start a brand made of silk and revive the productionof Soufli's silk industry," says Moutharidis. "I was very sceptical and didn't believe in their project. But then they started ordering; 10 metres at first, then three months later, 50 metres. Then 100 metres, 800 metres and now a few kilometres."
Through the hard times Moutharidis had managed to keep the region's unique know-how alive and he has since helped pass it on to younger generations. Today, 10 employees are back and busy. "If Zeus + Dione month goes well, I'll go very well," says Mouhtaridis.
The Zeus + Dione masterplan is gathering momentum. This month, Grabowski will take a seat at Bill Clinton's table for the Hellenic Initiative for Entrepreneurship annual meeting. As the founder and vice-chair of Endeavour Greece – an international non-profit organisation that promotes entrepreneurs – she has high hopes for the future.
"We aspire to become a role model for many young Greek entrepreneurs who will invest in what makes this country unique," she says. "It will take a lot of similar effort to what we are doing to change our country. We will be very happy if our success helps other young entrepreneurs move out of their comfort zone and think big."
In Athens and beyond young designers are trying to turn the crisis into an opportunity and create their own truly Greek brand