Moving art / Global
Safe passage
Transporting works of art is a delicate, high-value business. As the sector expands, Monocle explored the fine art of moving priceless paintings and sculptures around the world.
The Damien Hirsts on a collector's wall, Richard Serra's slabs in Moma, the thousands of works at Art Basel: art-lovers usually think of a work's value or meaning, not how far it came or how it got through the museum doors. The art-transport business is at best invisible but it's an increasingly crucial segment of the art world. And it's growing by leaps as the art world expands.
Since the 1990s the biennial scene has exploded to nearly 100 mega-exhibitions. The art market grew to €51bn in 2014. New museums around the world pop up like chain coffeehouses and collectors are opening private museums in record numbers. There are more places than ever to look at fine art; but that art needs to get from studios or storage to venues' walls and floors unscathed.
"We work with internationalmuseums, art fairs, gallerists, dealers, auction houses, even private collectors," says Hermann Kaufmann, ceo and owner of Otrans, an Austrian art shipper. Located in the mountain town of Kitzbühel (an oddly rural location that sits amid major art-world hubs including Zürich, Munich, and Vienna), Otrans has grown to 30 employees and €4.5m annual turnover since Kaufmann took over in 1997.
His customers need to know that their treasures will arrive safe and sound, something that requires plenty of care when works are centuries old or made from difficult material. Consider Dan Flavin's fragile neon tubes breaking or Yves Klein's blue pigment shaking from a canvas like fairy dust.
Kaufmann's several phones ping and ring. "Right now we're loading things in Paris to bring to Art Cologne, and we're picking up sculptures from Erwin Wurm's studio to ship to a museum in Finland," he says. Sitting in a sunny office at Otrans's headquarters – a three-storey, 3,500 sq m building in the shadow of the craggy Wilder Kaiser Mountains – he doesn't seem fazed.
"Packing is always the main challenge," says Kaufmann, and this differentiates art shipping from general logistics. Flat works such as paintings and photographs are easiest, even if they're worth millions. "We just had a Picasso and a Chagall here," he says as he opens a wooden crate containing a Max Ernst painting; within a small wooden box is a thick layer of foam with a depression into which the Ernst fits exactly.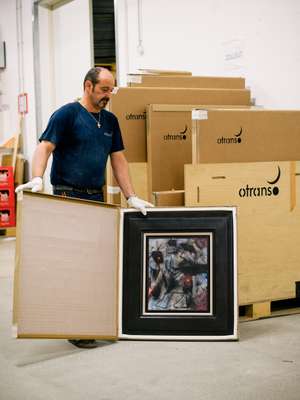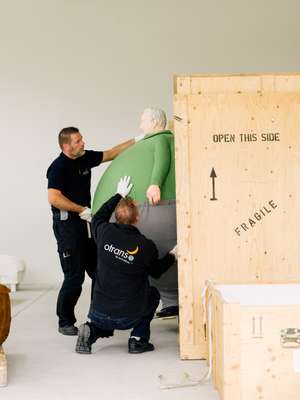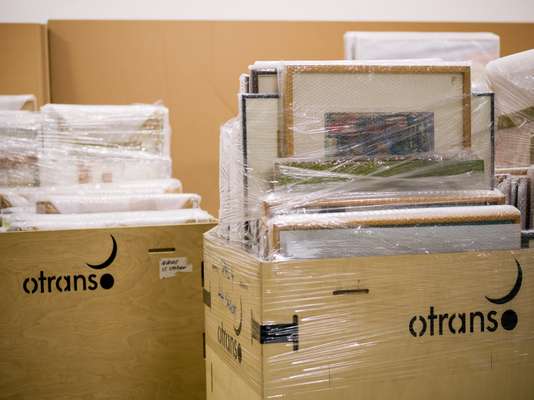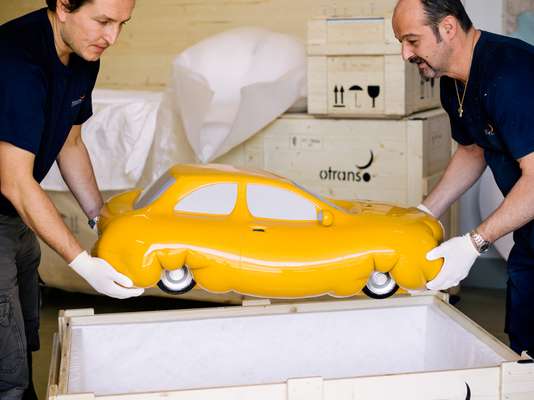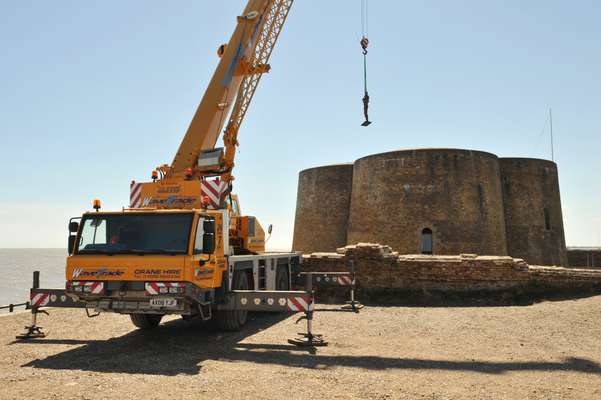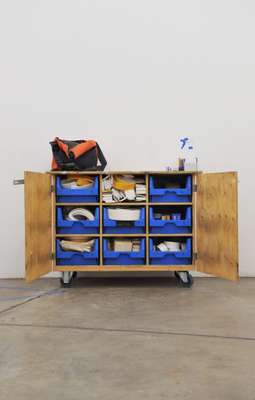 Sculptures are trickier. Depending on material, a sculpture might be nestled into a custom-foam form after being wrapped in felt; the entire structure then goes into a crate. Works such as the overblown ball-like figures by Austrian artist Erwin Wurm get custom-made crates built by Otrans's in-house carpenter but every artwork has to be assessed for its material or shape. Once a work is inside its unit it shouldn't move a millimetre. "You have to build the crate's interior life," says Kaufmann. "It's the art of packing art."
The other challenge is logistics. Otrans is one of several Austrian shippers and most clients have their regional favourites: Dietl in the US and Möbeltransport in Zürich are popular, and German firm Hasenkamp is one of the biggest. But in this relatively small industry, companies often work together.
One of Otrans's strengths is the weekly overland sweep it makes of the major European art capitals. The company's 18 trucks drive regular routes that auction houses and gallerists can count on. Art might be picked up in Munich on a Thursday or Friday, brought to Kitzbühel and transferred on Saturday, then make it to Paris by Tuesday. Everything is thoroughly vetted (always two certified drivers, tight security systems, air-suspended rides) and climate-controlled as a matter of course: art can't get too moist, hot or cold, because paint can crack – or worse.
Handlers are trained to treat things carefully to reduce the chance of damage. Luckily the worst that's happened at Otrans is a scuffed picture frame; the industry has horror stories, such as a destroyed crate which shippers then discovered contained a Lucian Freud painting.
Rosemarie Schwarzwälder, an established Vienna-based gallerist who shows at fairs such as Art Basel Hong Kong, has tried other transporters but always returns to Otrans. "I remember when we gallerists would simply carry paintings to fairs in our arms," she says. But the stakes have become higher, works larger, trips longer and more frequent. As art's price has increased, so has the cost of transport. "Transport has definitely become a cost factor," says Schwarzwälder, who's been cited at budgeting €40,000 a year for it. The larger galleries and major museums can easily spend many times this amount.
At Otrans, a painting shipped one-way from Vienna to London costs between €480 and €550; a sculpture going air freight from Europe to Hong Kong can easily run to about €15,000 (Otrans keeps only about 20 per cent of this; the rest is the likes of customs and air costs). Some gallerists ship via sea, which is cheaper but takes up to six weeks. Most art-transport companies offer an art-fair booth-building service; some offer art handling (hanging or installing the works). All deal with customs and assure that works and transport are insured, although the latter is usually covered by the museum or gallerist. The industry is showing no signs of slowing down: Kaufmann states that Otrans's business has increased by 20 to 25 per cent annually for the past few years.
In the wood shop in Otrans's climate-controlled warehouse, fresh crates await Erwin Wurm's quirky sculptures. In another room, antiques and artworks sit in long-term storage on shelving units. Closed crates, some of them empty, sport labels revealing the names of the world's top galleries. Large sculptures hide under thick felt blankets. When asked about how he feels about art transport, Wurm responds like most artists, who have loftier things on their minds, with a simple answer: "The art has to arrive safely; that's it." But behind that straightforward concept is a surprisingly complex, well-oiled machine.
---
More international art movers (not shakers):
Crown Fine Art, worldwide Crown has offices across 17 cities from London to Kuala Lumpur and has merged local movers into its international business.
crownfineart.com
Welt-Furrer, Zürich With 175 years' experience, this moving service offers everything from storage to armed escorts.
welti-furrer.ch
Hasenkamp, Köln Family-run firm that has been moving fine art since the turn of the 20th century.
hasenkamp.com
Dietl, New York This US powerhouse, established in 1991, has expanded to Chicago, Los Angeles, San Francisco, Miami, Washington and Dallas.
dietl.com
Huaxie Int'l Fine Art Freight Services, Beijing Expanding along with the world's fastest-growing art market.
huaxie-china.com
"I feel like a fish on the hook," says Ian Edwards from art-transport specialist Momart. He's tugging on his harness, perched on the 12-metre-high edge of Aldeburgh's Martello Tower, sandwiched between the sweet water estuary of the Alde and the choppy North Sea. Where once cannon-fire roared and soldiers patrolled during the 19th-century Napoleonic wars, a new kind of watchman will be guarding the quatrefoil-shaped Suffolk stronghold from now on: a 649kg Antony Gormley sculpture called Check.
"It is 'checking out' the skyline," says the British sculptor, who created the piece as one of a series of five sculptures for the Land project celebrating the 50th anniversary of the Landmark Trust. "For this mass of brick I wanted a sharp crystalline form that carries human feeling. I wanted it to have an ironic but quite specific feeling of resistance, a suspicious uncertainty about what might appear on the horizon." The iron sculpture's squared shoulders and folded arms point towards the gravel path leading up to the secluded tower, while its face gazes out to sea.
Today's journey started at Momart's east London warehouse at 06:30 but really the sculpture's voyage began 11 days earlier, on a Thursday morning in Gormley's north London studio. Among an array of invaluable artwork, Momart technical project manager Danny Gayle is carefully lifting Check, bound around the neck, waist and shoulders, into its crate with a forklift.
The crate is a custom-made creation by head of packing Mark Haron and his team, who call themselves the "Momart Miracle Squad". Each bespoke crate must withstand shock, chemical atmospheres and varying temperatures. Haron, who has been with the company for 22 years, has packaged everything from Damien Hirsts to Van Goghs.
Just the other week, Gayle had been delivering a Monet, Rothko and Picasso to London's Christie's. "You don't want to be starstruck working this job but being in a room surrounded by paintings worth a quarter of a billion, that did it, I must admit," he says, his eyes growing wide, while waiting for the van to arrive to pick up the packaged sculpture and deliver it to the warehouse.
Gormley has been working with Momart for more than two decades, liaising with technical project manager Neveille Redvers-Mutton. "We have developed a very good system of assessing every work's needs in terms of packing and the provision of the right inner-case environment to make sure that the work leaves the studio and arrives at its place of destination in the same condition," says Gormley. It's a practised art. Under the direction of Kenneth Burgon and Peter Brayshaw the firm, established in 1972, has been carrying out specialist services from art transportation to installation and storage for private clients, galleries and cultural institutions such as the V&A.
"We are a logistics business but it doesn't feel like it," says commercial director Brayshaw. "It feels like we are part of the art world. There's no simple 'take box A to location B'. We are partners to artists." In fact, most of Momart's art handlers are also artists. "Artists work here to be close to world-class art." With an annual turnover of £17m (€23m) Momart is in charge of about 4,000 projects a year – covering over 2.4 million kilometres – ranging from a £150 (€205) cross-London transport to a major exhibition of over £1m (€1.4m).
"It is a buoyant market place," says Brayshaw, beaming as he talks about the Henri Matisse exhibition recently flown over to New York's Moma, the repatriation of Maori relics for the New Zealand government and the Danish Viking warship they moved for the British Museum.
"There is an excitement about making a sculpture that can live out there among the waves and the wind, the rain and the snow in night and day, whether looked at it or not," says Gormley. "It will be like a standing stone, a marker in space and time, linking with a specific place and its history. But also looking out, having a conversation with a future that hasn't happened yet." Back at the tower Check stares out to sea, immune to the fuss that brought him here.