Herrenknecht / Stuttgart
Driller thriller
Urban roads and country highways may be getting more congested but there is light at the end of the tunnel. The epic business of taking transit underground is enjoying a technological boom and things are only getting bigger – and longer.
It is a perfectly still spring day on the southern outskirts of Stuttgart: birds chirp and rays of sunshine bounce off the roofs of cars on the nearby roadway. But beneath the surface here in the district of Möhringen there is a thunderous gnashing as a giant machine works tirelessly to transform this German metropolis from the inside out. Deep into a yawning hole bored through the Filder plateau, a supersized drill is carving out a 9.5km-long passage that will eventually connect a new central railway station to Stuttgart Airport to the south. The Filder Tunnel is an essential part of the sweeping Stuttgart-Ulm rail project that national provider Deutsche Bahn says is the largest railway expansion the state of Baden-Württemberg has seen since the 19th century. Residents have been promised that the €9.8bn undertaking will shorten train journeys, free up valuable urban space and connect to a high-speed European route from Paris to Bratislava.
"This is extremely important to German infrastructure," says project manager Andreas Rath. "We're creating a modern rail route that will be able to compete with air and car travel."
Two kilometres into the tunnel the air is warm and dusty and workers manning the s-738 multimode tunnel-boring machine (TBM) have to yell to communicate over the din. Nicknamed "Suse", the 2,000-tonne, 120-metre-long rig is in essence a mobile tunnelling factory. Tailor-made by German manufacturer Herrenknecht, the world leader in tunnel-boring technology, it busts through geological layers with a rotating cutting wheel and spews the debris on to conveyor belts at its rear. It then advances via hydraulic cylinders that brace against the reinforced-concrete tunnel shell, which is in turn lengthened by technicians segment by segment.
Today the Filder tunnelling operation appears to be running smoothly but it is still hazardous. If something unexpected happens, either geologically or technically, it could be not only dangerous but costly, too. Take the case of "Bertha": made in Japan by Herrenknecht's competitor Hitachi Zosen, the TBM was chewing its way through a highway tunnel in subterranean Seattle in late 2013 when it hit a steel pipe just 20cm in diameter and got stuck. Two years on the machine is still there, undergoing repairs while delays, bills and controversy mount.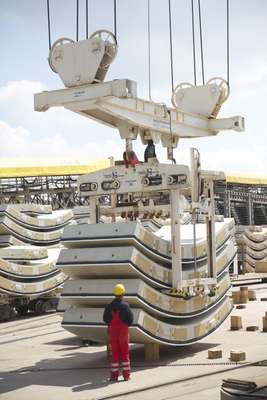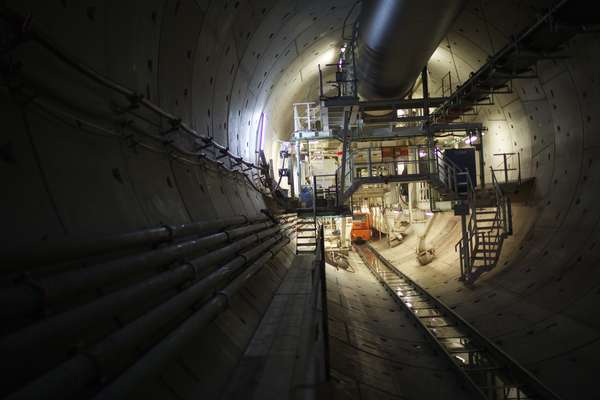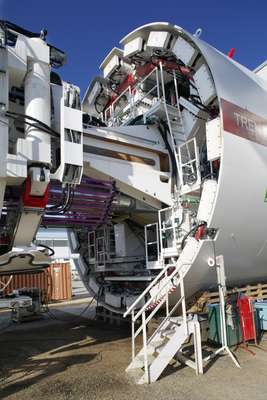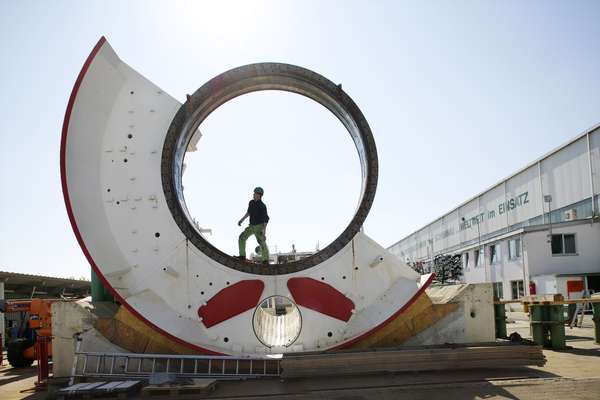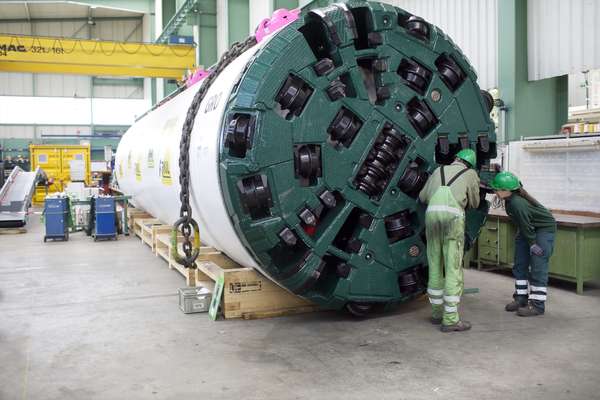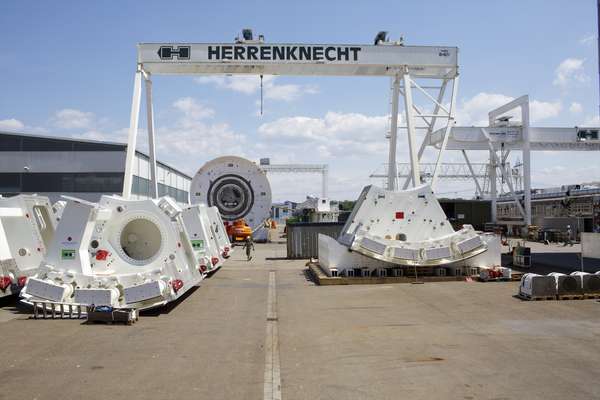 Here in Stuttgart, however, Suse's operator Florian Berger looks relaxed as he watches progress on the multiple screens inside the control cabin of the support deck trailing behind the tbm. "Today is a good day," he says. "We just replaced the cutting rings two days ago so we're moving fast – 5cm per minute." That might not sound like much but it means the tunnel grows an average of between 10 and 20 metres a day. And with an outer diameter of nearly 11 metres – roughly three-storeys high – the extracted earth is piling up faster than the trucks can carry it away.
So how did tunnel-boring machines get to be so huge? The answer lies in the bucolic village of Schwanau, less than two hours south of the Filder Tunnel near the French border. It might seem an odd location for a giant to sprout and grow but industriousness and innovation are fundamental to the culture of the southwestern state of Baden-Württemberg. It has become one of Germany's most prosperous regions thanks to big names such as Porsche, Daimler and Bosch.
It was here that Martin Herrenknecht, an engineer, founded his company in 1977 with just a handful of employees. Initially developing machines for pipe-jacking, the firm today makes TBMs ranging in size from 10cm to a whopping 19 metres, constructed and serviced by some 4,800 employees worldwide and drawing a revenue of about €1.1bn in 2014. Martin still comes to work every day.
A sense of confidence and ease permeates the company's expansive factory grounds, where Aretha Franklin blasts cheerfully from a radio as workers prepare their enormous creations for shipment to cities around the world. Spokesman Achim Kühn calls it "the Cape Canaveral of the underground". From the smallest of parts to the electrical wiring and painstaking digital design, every step of manufacturing is immaculately planned and executed. "It has to be," says chief engineer Werner Burger, who laughs at the suggestion that his job must require extraordinary patience. "It's not patience but rigour that's required.We're on tight deadlines."
That's because demand for bigger, faster and safer TBMs is constantly increasing, says Burger, looking up at a towering example bound for Mexico. "In both established cities and those that have developed quickly in recent years, the above-ground traffic infrastructure capacities have often already been reached, which means quality of life suffers," he says. "So the trend to move public transportation and utilities underground is naturally very strong." And for cities that already have existing underground infrastructure, this often means going deeper still to accommodate new developments.
These are subterranean challenges that about 240 of Herrenknecht's largest machines are currently tackling around the world. Among the most notable endeavours is Europe's largest infrastructure project, London's Crossrail, which will increase the city's rail capacity by 10 per cent. TBMs also play a major role in extensive new rail lines in China's Pearl River Delta and in the first road tunnel beneath the Bosphorus, connecting the Asian and European sides of Istanbul.
While all of these are exciting, many Herrenknecht employees are still basking in the Alpenglow of one particular rail project: Switzerland's Gotthard Base Tunnel, the longest in the world at 57km. Four of the company's TBMs were used to break through 85km in the project, set to open in 2016.
The next frontier for Herrenknecht could be Africa, which has seen comparatively little tunnel development. Last month, former German president Horst Köhler, who has long been engaged in European-African relations, visited the company headquarters in Schwanau to learn more about the technical possibilities for improving infrastructure there.
But in a company accustomed to superlatives, will there eventually be limits? "There is a movement towards bigger and bigger diameters for tunnels that can accommodate multiple purposes like roads and rail," says Burger. "There are limitations but they are hard to define because they still need to be tested.
"There are few technological areas today that are undergoing such dynamic development or that have as much allure as tunnel construction. The only thing that's stayed the same is the ground." One thing is certain, though, he says: "It will never be boring."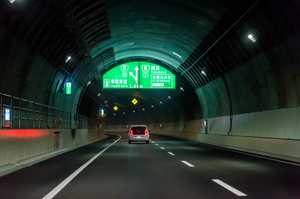 Road ahead
Yamate tunnel
Tokyo has constructed the perfect case study of what a well-placed piece of tunnel engineering can do for a city. Built in three phases over a decade and completed in March this year, the 18.2km Yamate Tunnel is Japan's longest road tunnel, with two lanes for traffic running in each direction. It is a massive feat that involved burrowing up to 30 metres beneath city streets and a riverbed at a cost of ¥1.3trn (€9.6bn). Kawasaki Heavy Industries built the TBM that was used to carry out this formidable task.
Before the tunnel opened, drivers would have spent at least 40 minutes in stop-and-go downtown traffic to make the journey between the city's western and southern fringes. Now it is possible to bypass all that congestion and shorten the trip to and from Haneda Airport. "The tunnel probably cuts your travel time in half," says Metropolitan Expressway spokesman Shuichi Koyama.
The Yamate Tunnel is the last section of Tokyo's Central Circular Route and the latest addition to the Metropolitan Expressway's 310km network that runs above ground on stilts or underground in the tunnel, looping around central Tokyo and branching out into the suburbs.
As a project leading the way in transit planning, it is packed with safety features. There are CCTV cameras every 100 metres; more than 700 fire detectors and sprinklers; digital traffic-information boards to warn of congestion and accidents ahead; fireproof evacuation passages every 250 metres; and giant ventilation stations to dilute the toxic fumes that build up from vehicle exhausts.