Wooden high-rises / Stockholm
Timber towers
With a radical vision for the future of residential architecture, property developer Folkhem is building Sweden's tallest wooden high-rises. The apartment blocks are chic, eco-friendly and quick to construct; they smell good, too.
Early one Monday morning Arne Olsson is sipping black coffee in the offices of Folkhem, the property developer that's championing an unusual type of residential architecture. Despite his soft voice and unassuming grey suit, the owner's vision of the future is a revolutionary one. Under a programme called Stockholm in Wood, Folkhem intends to build 6,000 new apartments in the Swedish capital made entirely from timber. The company has sought planning permission for 22 locations, ranging from Stockholm's city centre to the suburbs and three sites are now nearing approval.
In a city suffering from a housing shortage, Olsson's plan is attracting atten-tion – not least because building high-rises in wood is still an unusual prospect for many. It's long been a popular material for single-family houses but only a handful of developers have considered wood appropriate for larger projects.
Folkhem has offices in the Stockholm suburb of Sundbyberg, inside the country's tallest wooden development. The eight-storey structure, designed by architecture firm Wingårdh Arkitektkontor, was completed two years ago; as the very first wooden high-rise it serves as a flagship of the possibilities of the medium.
The Strandparken project (literally meaning waterside park) is the result of an inadvertent journey that began in 2005 when the city allocated the lot to the company for the construction of two apartment buildings. "We ran into trouble because the local Green party did not like the project," says Olsson. "That's when we came up with the idea of building the houses all in wood, to make them more environmentally friendly. And the party liked it."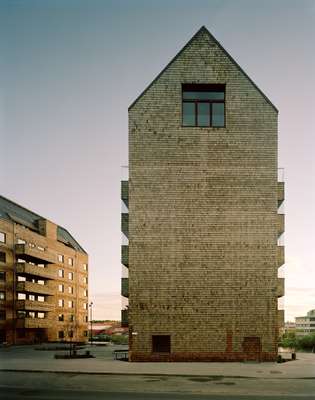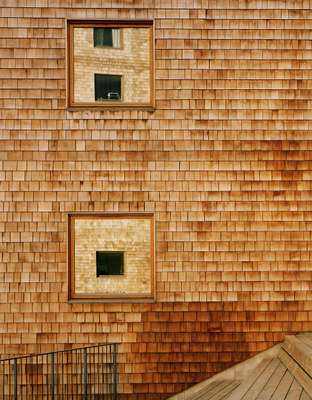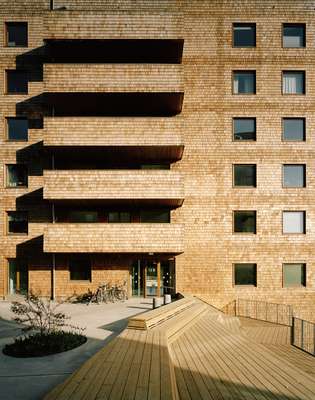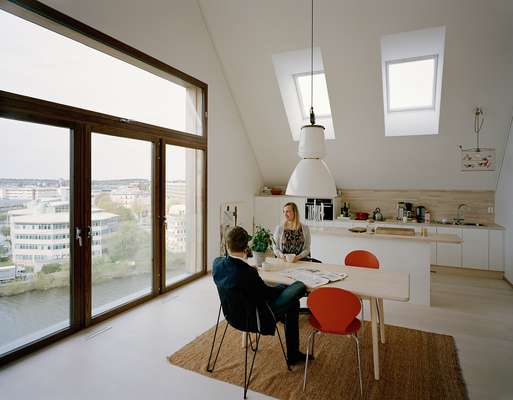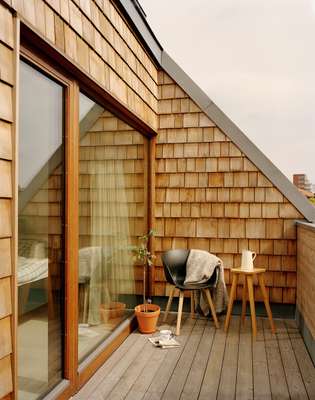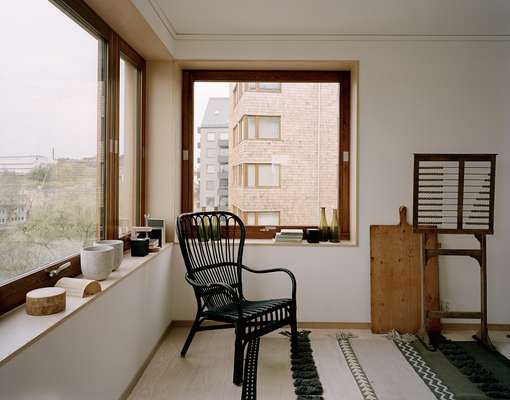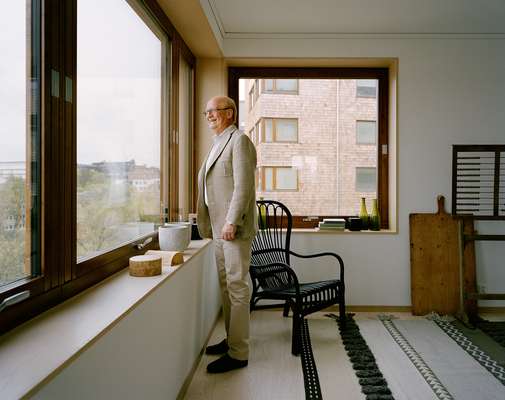 After that, Folkhem decided to make wooden buildings its niche. "We're a small company and we can't compete with the big players by doing the same thing they're doing," says Olsson. Sandra Frank, the company's marketing manager, adds that "we decided to build the best possible houses from an environmental standpoint because that's the route society will want to take in the future".
Sandra takes MONOCLE to the top floor, where Carina Sule and Rasmus Rahm live in a three-bedroom apartment with their three-year-old son, Aldo. They have lived here for six months and are still enjoying the panoramic views of Stockholm that the building's large windows offer. Sule, an architect and Rahm, deputy executive director of the Stockholm School of Entrepreneurship, like to stand by one of their windows in the evenings to watch planes take off from the nearby Bromma Airport.
"That's one of the things about living here: it's very quiet. We never hear the neighbours," says Rahm. "And it smells nice. That's what people often notice." Indeed, the first thing that hits you when you enter the building is the smell of freshly chopped wood that clings to the walls. For the couple's son, breathing has become much easier since they moved in. He has suffered from asthma his whole life but staying in the apartment has apparently greatly reduced his symptoms.
"Aldo's cough was gone within 48 hours and he hasn't needed his inhalator since," says Rahm. Sule thinks this might be because the air inside is much drier and there are fewer toxins in wooden buildings than in traditional concrete ones. "Of course we don't know for sure that it's the house that did it. But the health benefits of living in wooden houses should definitely be researched," she says. Building in wood is not, of course, a new idea. Until the late 19th century, wooden houses were common in Scandinavia – as were devastating fires that sometimes destroyed whole apartment blocks. In 1890, wood was banned as a material for apartment buildings so developers turned to other, newer materials. "Since then, we've basically only built concrete houses in Sweden," says Olsson. "So much know-how has disappeared during that time."
According to Olsson, an important step was the development of cross-laminated timber (CLT) in the early 1990s, which has made wood much safer to work with. CLT is a wood panel made from three or more layers of lumber that are stacked at right angles and glued together. The result is a solid, fire-resistant material.
"The fire department here isn't worried. Solid wood doesn't burn; it just chars on the surface but the construction stays intact," says Olsson. Another advantage of wooden high-rises is a short construction time (roughly half the time of an equivalent concrete structure). They are also more energy efficient, have lower carbon emissions and a smaller environmental impact. Wood is also lighter to transport than concrete and is entirely renewable. In addition, the use of timber references Scandinavia's long wood-building heritage. In a forest-rich country such as Sweden the commercial benefits are untold. Which raises a question: why aren't more developers looking into the possibilities of building in wood?
"There are no formal obstacles but there are no incentives, either. It's up to the politicians to create possibilities," says Olsson, now standing in his apartment in Strandparken and gazing at the jetty below, where a group of scouts have docked their small sailing boats. "Our politicians need to start creating demand and offering perks. For instance, builders who produce lower carbon dioxide emissions get to buy land for a lower price."
Right now there are no plans for such legislation but the notion is quickly taking root across northern Europe. "Countries such as China or India could lead the way, to show that they're doing something for the environment," says Olsson. It's an idea worth considering, especially when the results can be as visually appealing as Folkhem's.