Briefing / Global
Food
Briefing
From Auckland's burgeoning culinary scene to a Madrid newsroom turned restaurant, here are our tastiest finds.
Step up to the plate
Global
Surprise is on the menu this month with coffee from a hole-in-the-wall in New Zealand and a restaurant, shop and gallery popping up in an old newsroom in Madrid. We also sup cider in the Big Apple and break ground in Byron Bay's growing food scene. Join us on our worldwide tour of where is best to eat.
---
East Auckland food scene
New Zealand
Until Mark Wallbank and chef Che Barrington opened their restaurant Woodpecker Hill, the dining options of Parnell and its inner-east neighbours Grafton and Newmarket had become staid thanks to an ageing population and drab retail options. However, in recent years things have improved thanks to good housing stock and schools, which are proving increasingly attractive to young families.
For a caffeine fix, Lee Hyung serves perfect flat whites and single-origin filter coffee from a hole-in-the-wall called Camper on a back lane in Newmarket. At Connor Nestor and Charles Williams' café Ceremony in Grafton, expect single-origin filter coffee in custom mugs and brioche sandwiches from its tiny kitchen under the stairs. Here, as in east Auckland in general, familiarity is the biggest pull. "We treat our customers as we do our friends," says Nestor.
Three east Auckland stop-ins:
1.
Woodpecker Hill
Barbecued meats are combined with a delicate Thai touch.
woodpeckerhill.co.nz
2.
Ceremony
Start the day with a breakfast sandwich of pork-and-fennel sausage, egg, cheddar, slaw and Sriracha mayonnaise.
ceremony.company
3.
Camper
The beans often come from Rocket or Red Rabbit roasters but the blends change. Barista Lee Hyung is on hand for recommendations.
2-8 Kent Street, Newmarket
The former newsroom of Madrid's El Imparcial newspaper is buzzing with life again after a group of restaurateurs banded together to transform the forgotten space into a Spanish restaurant, shop and gallery. It's a short stroll from El Rastro (Madrid's Sunday outdoor market) and a palatial marble staircase takes you to a first-floor space that is divided into four sections.
Dine in one of two eating areas, savour some Spanish wine in the separate bar or peruse the shelves of the shop, which offers independent magazines, ceramics and homeware. "Lots of people tell us that they feel like they're in a very beautiful home," says co-owner Ignacio Rodríguez. A small cinema and boutique hotel are also in the pipeline.
elimparcialmadrid.com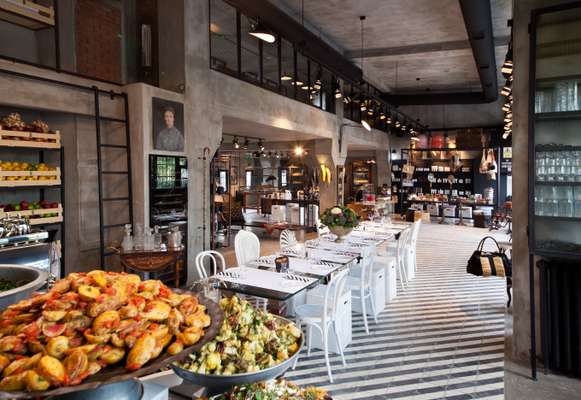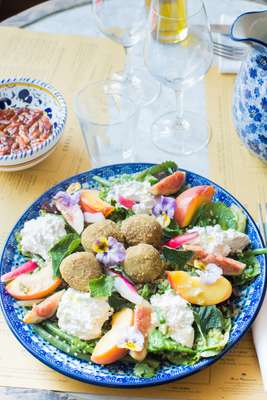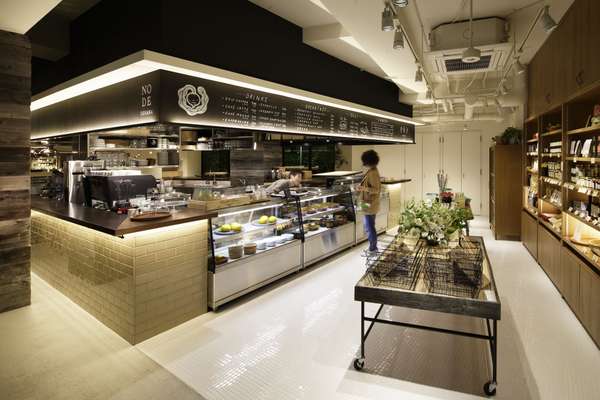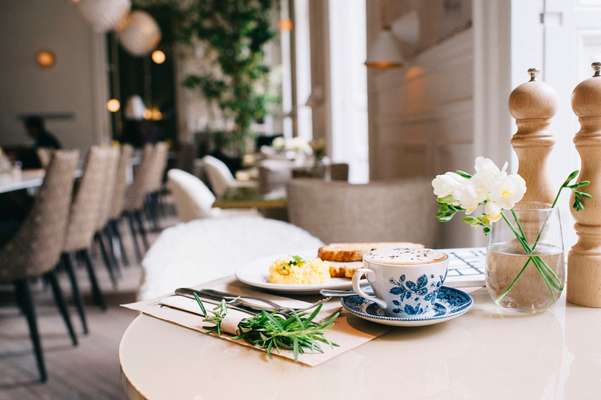 ---
To "wassail" in old English means to either toast someone's health or drink riotously, both of which are conceivable in New York's first dedicated cider venue of the same name. The sleek bar by the entrance is a good vantage point from which to eye up the space's unblemished stainless-steel taps that serve New York State's best ciders alongside others from the likes of the Basque Country and Normandy.
There are more than 90 drafts and bottles to choose from but it's chef Joseph Buenconsejo's vegetarian menu that threatens to overshadow its fruity ferments. Try the roasted cauliflower with black garlic, crushed cashews and the asparagus with crushed hazelnut, egg yolk and mushroom ragu.
wassailnyc.com
---
I Should be Souvlaki
London
Londoners hankering for Greek eats should head to the nattily named pop-up I Should be Souvlaki. Founders Chris Caudle and former Monocle staffer Tom Calvocoressi are serving their signature skewers in various locations across the UK capital over the coming months.
---
Milco coffee grinder
Tokyo
Coffee grinders can be cumbersome and hard-to-fathom space-wasters but not so this handy offering from Milco. Made from hardy Zelkova wood, this adorable Japanese-made grinder has a capacity for just enough beans (10g) for a single cup of the black stuff. The Takumi Shimamura-designed piece has ceramic burrs that don't alter the taste of the beans while its stainless-steel handle can be detached and stowed for easy storage or portage.
milco.co.jp
---
Among the second-hand car dealers and repair shops of Istanbul's Maslak Oto Sanayi district lies Sanayi 313. Renovated by brothers Enis and Amir Karavil, the restaurant and design shop opened this year and houses a range of tasteful brands, including products from Anndra Neen, Cutler & Gross and Mad et Len.
The kitchen is run by chef Muge Ergul (formerly of Gram in Istanbul). Saturday brunch is the best time to try his creations.
sanayi313.com
---
The Farm started when Tom Lane and his family moved from Sydney to Byron Bay. When Tom found his daughter Matilda munching on green beans she had planted in their garden, he decided to grow vegetables on a larger scale and acquired 32 hectares to do it. "Our mantra is grow, feed, educate. We're growing a community," says Tom. He and his wife selected other businesses to join them: there's Three Blue Ducks, The Bread Social and a yoga studio.
thefarmbyronbay.com.au
---
In Tokyo's Yoyogi Uehara district, Japanese railway firm Odakyu and architecture firm UDS have created a new development concept. Node Uehara has live-and-work space upstairs, a café, bar and deli on the ground floor and a restaurant in the basement. Food comes from farmers along the Odakyu Line that runs from Shinjuku to Odawara. "At Node Uehara, residents can meet friends and have a good meal," says Tina Minami Dhingra, the project's community director.
welcometonode.jp
---
"There are almost 30,000 ham producers near Parma but fewer than 100 may be valuable," says Ciro Cristiano, the chef at Ober Mamma. It's the second restaurant from the Big Mamma group and opened in Paris this summer. "Here most Italian restaurants are trying to please French tongues," says co-founder Tigrane Seydoux. "They will add cream in the Carbonara because French people like cream. We will teach the French how to eat Italian." This summer salad of falafel, fig and peach is testament to the fresh Mediterranean fare on show.
bigmammagroup.com
---
Q&A
Lucía Beloqui
Nutrifresco Fish Supplies
Porto
Sisters Lucía and Carolina Beloqui's colourfully pre-packaged cook-at-home vegetable boxes were launched to help Uruguay (the country with the highest rate of beef consumption globally) start savouring its greens.
Why start the company?
Coming from a family of farmers, we wanted to promote healthy eating. Our country has high-quality raw ingredients but we lack a culinary tradition when it comes to eating seasonal vegetables; Uruguayans consume less than half the recommended daily portion of vegetables. In 2013 we decided to create a brand that would market locally grown produce.
Where do you source your vegetables?
We only work with producers who live nearby. For us it's crucial to build a trusting relationship with every one of them.
How important is the branding of Cook?
It's essential. In Uruguay vegetables are mostly sold in bulk and few food brands invest in packaging. We on the other hand have partnered with a graphic-design company named Mundial to create a strong visual identity around our kits.
cook.com.uy