Report / Rio de Janeiro
Ready for a close-up
As Globo, Brazil's most powerful broadcaster, celebrates its 50th birthday, there are whispers of it becoming a monopoly. With its coverage of next year's Olympics high on the agenda, we paid a visit to find out how it stays atop the TV podium.
It is tempting to go for the grand analogy when you're standing in Carlos Henrique Schroder's large corner office. It looks across serried satellite dishes and stacked mid-rises among the verdure of Jardim Botânico to the postcard favourites of Rio de Janeiro beyond. But we'll leave the "all the world before you" judgements to your own imagination and allow Schroder, director-general of family-owned Globo since 2012, to tell us how he's celebrating the 50th birthday of this broadcasting behemoth. (Grupo Globo also owns O Globo, Extra and Expresso newspapers, all independent of the TV station.)
Like most big bosses, his eyes are scanning the horizon rather than the rear-view mirror. "The best part of celebrating 50 years is that it gives us the opportunity to show what we want to do in the next 50," he says, craning forward in a white leather Barcelona chair.
Despite being coy about the quality of his English, the spry 56-year-old soon talks in terms of "legacy", "content" and "fidelity" to describe Globo's output and the station's relationship with and responsibility to its viewers.
Across the 200-odd channels on Brazilian cable TV, Globo has 14 that include five for news from global to local and three for sport. The rest are for lifestyle, re-runs and the infamous telenovelas, the colossi that trample all Latin American schedules and viewing figures before them. Of Brazil's population of 200 million, 91 million tune in to Globo every day, which may be somewhat surprising in these days of multi-platform options. The figures, reach and power of Globo dwarf the opposition: Record, its main competitor, has just 13 per cent of the audience share. "But we have to follow very closely how and what people watch," says Schroder as he explains plans, by year end, to roll out multi-device streaming and catch-up services. "We have to be very close to people; maybe this is a new world."
On the Rua Lopes Quintas is the news HQ of Globo's Rio operation and at the top of it sits executive director of journalism Mariano Boni, an old newsman in this new world. Not that old (he's 46, with 24 of those years spent at Globo) but he wears the years of reporting for (and now running) GloboNews with a droll, hangdog detachment. It belies his triple-phoned busyness and eagle-eyed glances at the broadcasts flashing through his screen-stacked eyrie. "Ah, I might look old media but I move fast," he says with a grin and off we go, fast.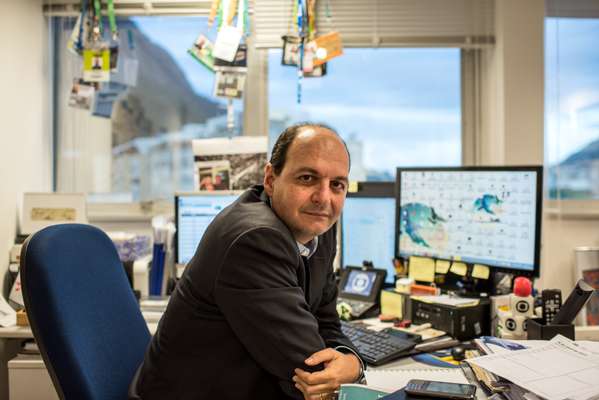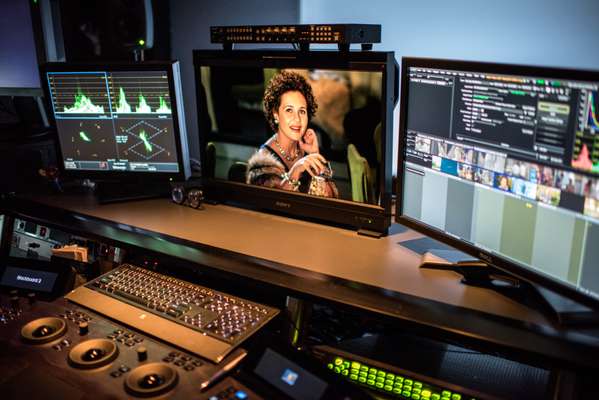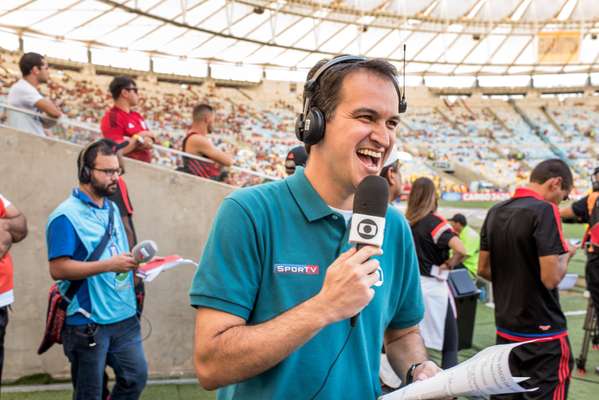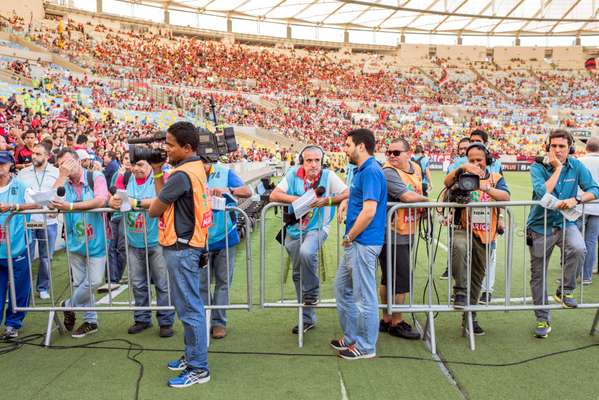 Boni's better when he's walking and talking, West Wing-style, through the labyrinth of GloboNews corridors, lifts, broadcast studios, production offices, meeting rooms, make-up suites, control rooms and card-swipe access gates. The five Globo news channels are aided by 123 affiliate stations dotted across Brazil's vastness. According to Boni, in the absence of bona fide Globo staff on the ground, these affiliates "provide a reporter, a cameraman and a driver to get to the scene and report faster than any other radio, newspaper or magazine".
This seems like a pillar of old media, these local kennels of keen newshounds, so does Boni consider the emergence of social media as competition? "Oh yes, but when you see a burning plane on the internet you don't know if it happened five minutes ago or five years ago. We have to be fast and accurate."
Speaking of which, we're in the main newsroom for Jornal Nacional, Globo's flagship nightly newscast. Although staff are shared with other daily bulletins and reportage programmes, the hangar-like space, one end of which is a single screen the size of half a tennis court, is buzzing with the industry of gathering, fact-checking and scriptwriting the news; phones are cradled in the neck as notes are taken. There is the twitching of news nerves everywhere. But they don't just twitch in the newsroom: such is Globo's hegemony that Brazilian viewers, especially its younger Twitter-happy punters, are often primed to pounce on anything they see as trumped-up or hushed-down by the broadcaster.
Boni keeps an eye on what viewers are saying on social media, not just about the news but about how Globo is reporting it. Brazilians are aware of the filter through which they're watching themselves and the rest of the world. What sort of a challenge is that? "Not everyone is engaged, just the haters and the lovers – everything's 'great' or 'shit' – but that's modern life," he says with a shrug.
Some Brazilians talk of Globo as a monopoly. It's not but its competitors are frail and failing. Main TV competitor Record is seeing falling share and major newspapers are firing staff. Brazil has a huge but not a captive audience and so with fewer rivals for eyeballs, fears for journalistic veracity surface.
"I look out of my window and see competitors dying; newspapers and TV, they are out firing people, shrinking the operation, but we are not," says Boni, looking up into the glare of Jornal Nacional's studio lights, "I think we are dealing with history: how will history judge what we do? It's a huge responsibility and we can't make mistakes."
Boni is proud of what he helped create here with well-honed squadrons of staff under his stewardship. But is he also wistful about that old crowded and competitive news marketplace? "I have been here for a long time and know that it is in the DNA of the company to make the best news every day, properly checked for the people of Brazil," he says. It is the only answer among dozens offered that tastes a little of a press release.
So Globo grows and not only because everyone else is shrinking: because it does things very well, has enviable staff numbers and a stranglehold on the advertising market. Brazil's top football league books in matches to follow Globo's telenovelas. And this is Brazil and we're talking about football. Globo has also recently been accused, like a hard-nosed landlord, of cranking up its advertising rates some 60 per cent since 2010.
No one can really say if Globo has won the battle for news, drama and everyday lifestyle television that's familiar all over the world but perhaps its rivals have become bruised enough by the battle to be sitting out the next round. Globo's half-century as a family-owned Latin American success story definitely has the feel of "the first 50 years" rather than – as so many other media companies are finding – the prelude to the crisis, the crunch, the crossroads.
You might not pick up the signal but you'll definitely see at least some of the broadcaster's next small entry into the record books: Schroder and his legions of producers, directors, cameramen and runners will be televising next year's Olympics. So how will Schroder celebrate the station's forthcoming birthday? "I'll be tuning in," he says with a smile. Naturally.
Q&A
João Pedro Paes Leme
Executive director of Esportes Globo
When did Globo start training for the Olympics?
Actually we started back in 2009 when Rio was chosen as the Olympic city. Brazil had already been chosen to host the World Cup so Globo decided to focus on both events as one challenge. This perspective gave us an understanding of how to communicate these two major events, how to inspire people and how to develop the best tools for the job.
How good a warm-up was the World Cup for Globo's sports team?
It was fantastic to get an insight into how hard it can be to cover a major sports event. Of course there are specific issues related to football in a country such as Brazil where people are fanatics about their clubs and about the Brazilian national squad. But the whole structure of the World Cup – logistics, warm-up stories, relationships with partners and other stakeholders – was so huge that we are basing our Olympic project on what we learnt. The differences, of course, are related to the specifics of the Olympic Games with 205 countries instead of 32 and 42 sports instead of just one.
Is the pressure slightly off because the Olympics aren't football?
I wouldn't say so! But the way we will approach it is different. Brazilians are passionate about sport in general. As you know, the outcome for the Brazilian team in the World Cup was very frustrating. So maybe sports such as volleyball, gymnastics and swimming will feel a little bit more pressure to perform really well. It's not a coincidence that the organising committee is selling more volleyball than football tickets. It looks like there is still some trauma in relation to the Seleção.
A couple of your football commentators are very passionate and subjective, so can we expect the same from your Olympics team?
Football in Brazil invokes more passion than any other sport. And Brazil has never won a gold medal in the Olympics. So the passion and the natural pressure because of what happened in the World Cup will play an important role in motivating the audience and the commentators.
Every year there is a sport that the host nation loves, having never really noticed it before. Which do you think Brazil will adopt?
Maybe archery because Marcus Vinicius, one of our athletes, is performing really well in some international competitions. But my guess is that Brazilians will fall in love with new idols from traditional sports such as beach volleyball, gymnastics, swimming and judo.