Report / Savannah
Revival school
The Savannah College of Art and Design produces graduates full of inspiration and savvy – and the surrounding city feels much the same. Monocle visited for a lesson in considered development.
It's a scene that plays out every Thursday evening in the world's art capitals: canapés and drinks are being served to visitors as they mill about in a stark white space. They are perusing paintings and prints such as Kristian Stojek's cheeky image of an eraser with the words "shit happens" and racy photography that includes Lauren MacLean's picture of a naked girl sitting in a pink bathtub. The only difference here is that most of the visitors are students judging each other's work, the drinks are non-alcoholic and the venue isn't an art gallery: it's Alexander Hall, the building that houses the painting department of the Savannah College of Art and Design (Scad).
The casual observer may well be familiar with the picturesque town of Savannah, Georgia, which was the backdrop to Forrest Gump among other films. Cobblestone streets and charming squares draped in Spanish moss make for an atmosphere of the old world but change is afoot underneath the chocolate-box exterior. International education power-brands such as New York University and Columbia have clashed with communities that accuse them of displacing "mom-and-pop" businesses in favour of new multimillion-dollar facilities. But Scad is doing the opposite: enriching its surroundings by repurposing old buildings and filling them with keen students from all over the world. It has a good reputation in the area. "They are definitely an asset because they have become so engaged with our community," says Savannah mayor Edna Branch.
It wasn't always like this, of course. Paula Wallace, an elementary-school teacher in Atlanta, noticed the lack of an art school in the southern US in the 1970s. "I wanted to create a place for students in the arts so that they could make a living doing what they love best," she says. Wallace selected Savannah for its warm weather and proximity to the water; the Savannah River runs through it and the city looks east to the Atlantic and south to Florida. "Savannah has the charm of the natural environment and also the history of buildings that are on a very human scale. People feel very comfortable."
With the proceeds from an educational textbook she wrote with her mother and cash from selling her VW Beetle, Wallace helped fund Scad's incorporation in 1978. The school opened the next year with eight majors and 71 students, taking a portion of the city's old armoury building. It was the first of numerous historical structures that Scad would eventually gain control of and renovate. "That first summer we had classes, we had fans – no air-conditioning, just fans – and [in winter] there were radiators but no central heating," she says.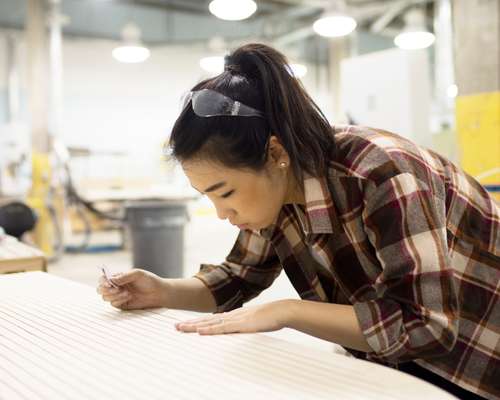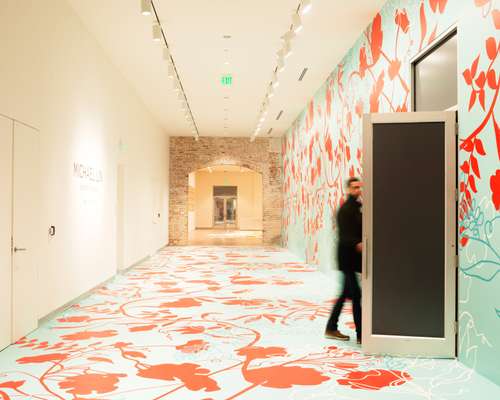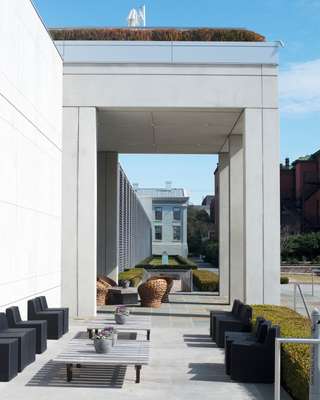 The art school played a significant role in revamping a city that, in the late 1970s, was in a state of decline. Schools were left empty as residents moved to the suburbs; retailers on Broughton Street, the city's main thoroughfare, left due to the growth of suburban shopping malls. "Imagine Broughton Street, a strip that has more than 100 business fronts, and it had 90 per cent vacancies," says the school's preservation specialist, Bob Dickensheets. "Imagine both the Trustees Theater and the Lucas Theater empty, wasting." Today Broughton Street is brimming with independent businesses such as The Coffee Fox, a café owned by a Scad alumnus and professor, as well as branches of J.Crew and Marc by Marc Jacobs. Further down the street is the Trustees Theater, acquired and refurbished by Scad. Across the road, what was once the Maas Brothers Department Store is now the home of Scad's Gutstein Gallery and Jen Library. Refurbish and repurpose: the school's watchwords.
Scad has proved to have an allure that goes far beyond cobblestones and southern manners: several of its lecturers have relocated to Savannah from big cities. While it is common in the US education system for institutions to attract industry talent, at Scad the process feels modest and pragmatic despite the names and reputations involved.
Michael Fink, dean of the School of Fashion, was once the women's fashion director at Saks Fifth Avenue in New York. Executive director of Scad museums and exhibitions, Laurie Ann Farrell, also moved to Savannah from New York, where she had been a curator at The African Center. "I think the big draw for me was the ability to parlay my experience to the benefit of students," she says. Other teaching staff have made the move from even further afield: Denis Antoine, a menswear designer, crossed the Atlantic from London to take up a teaching role in the fashion department.
And here comes the cavalry. André Leon Talley, a longtime American Vogue editor, visited the school after hearing about Scad through one of his interns. Talley fell in love with it and invited some eminently name-droppable talent – among them Tom Ford, Miuccia Prada, Oscar de la Renta and Vivienne Westwood – to come and talk to the students. Artists including Carrie Mae Weems, Kehinde Wiley and Nari Ward have exhibited here. "I like that this becomes a laboratory for students to look at things and even question their own work or get ideas for what they're doing," says Ward.
Wallace, back on campus in her office – which exudes equal parts southern charm and contemporary design – talks up the opportunities on offer while maintaining a realistic outlook. "They learn from these successful people," she says. "The work ethic, the fact that you're respectful to other professionals and that you work hard yourself; they learn these things so that when they step into a professional opportunity after Scad it's not a rude awakening or a surprise."
Marcus Kenney has lived in Savannah for more than 20 years as a Scad alumnus and artist. We meet in his studio, an old house he picked up for $40,000 (€35,000) and that is home to a number of works in progress. Kenney reckons he couldn't have succeeded without the city. "Savannah seemed like a good place to make art and that's inspiring," he says. He also recalls how Scad offered him opportunities to interact with major artists – such as performance artist and sculptor Nick Cave – that he wouldn't have had in a big city.
According to many Scad alumni, what sets the school apart from its sister art colleges is the hard work it puts into preparing students for life after graduation. "It has marketed itself in a different way," says Katherine Eton in the café at the Scad Museum of Art. The 22-year-old master's student did her undergraduate studies at Scad and returned to the school for her higher architecture degree because "it showed that it equipped students with different skills".
It's quite possible that Savannah could still have been in decline today were it not for Scad's vibrancy, which has helped to reshape it and open its doors to the world. "There has been a great boom in the city," says Wallace. "There have been these opportunities – for both residents of Savannah and tourists – that have come about because of the collective of Scad. That collective impetus has meant that the city now offers things – shopping, entertainment and dining – that wouldn't have been possible in Savannah before."
Studying: BFA in photography
From: Palm Beach
"The photography building at the school is incredible. It's five storeys tall and offers plenty of studio space and darkrooms. We have so many great facilities here."
Studying: Master's in industrial design
From: Shanghai
"The photography building at the school is incredible. It's five storeys tall and offers plenty of studio space and darkrooms. We have so many great facilities here."
Studied: Master's in architecture
From: Chicago
"When I heard about Scad it was about having a creative career, not just going to art school. So it is about learning how I can turn my artistic skills into a profession."