Report / Berlin
Sunny disposition
Berlin's new urban lido in the post-industrial RAW-Gelände district is a welcome summer retreat. But it's not just where the German capital's 24-hour party people head to cool off: a whole community, young and old, is laying claim to its luxury loungers.
At 08.30 on a Sunday, entering Berlin's RAW-Gelände, a former industrial area where trains were once repaired, feels somewhat out of step. Partygoers are stumbling out of the area's rough-hewn buildings that house nightclubs and the last echoes of techno double-thump are mixing with the morning birdsong. But at Haubentaucher, an outdoor swimming-pool complex now in the heart of RAW's longstanding club district, Sunday mornings start with "om": poolside yoga kicks off promptly at 09.00.
This popular class is just one sign that Berlin's nightlife scene is, well, growing up. Haubentaucher covers an area of 7,000 sq m and contains a heated pool, beer garden, sun deck with lounge chairs, sandy beach and indoor concert venue. Yet it is the pool that's the real focal point.
"Our focus is completely on daytime business," says Jan Denecke, one of Haubentaucher's four venue operators. Together, he and his partners came up with the idea of opening a pool when the developers who own RAW-Gelände approached them looking for ways to use this strip of land. "They were trying to find tenants with creative potential and came up with our names," says Denecke. No great surprise there: Denecke and his team ran the incredibly successful Strandgut beach bar on the River Spree until 2012.
Haubentaucher is in many ways a paradigm shift for Berlin, which has a long tradition of raucous DIY clubs (think of the early incarnations of Tresor, Cookies or WMF) and equally raucous beach bars. The lido opened in April this year; the season's first hot days a few weeks later saw 8,000 Berliners show up to enjoy the facilities. The next week, an ice-cream market organised by Denecke attracted lines stretching round the corner to the Warschauer Strasse Bridge.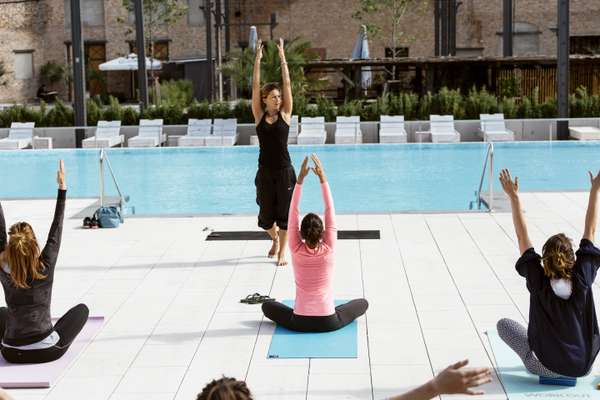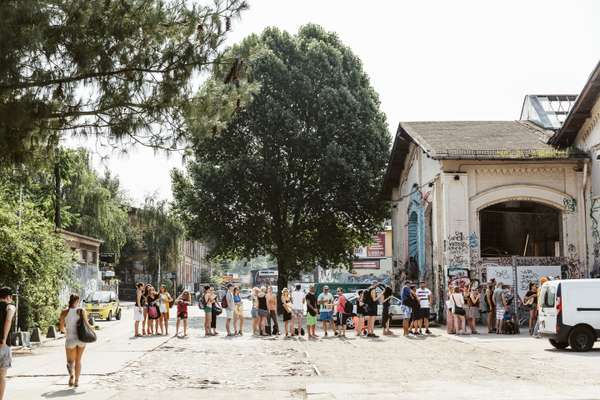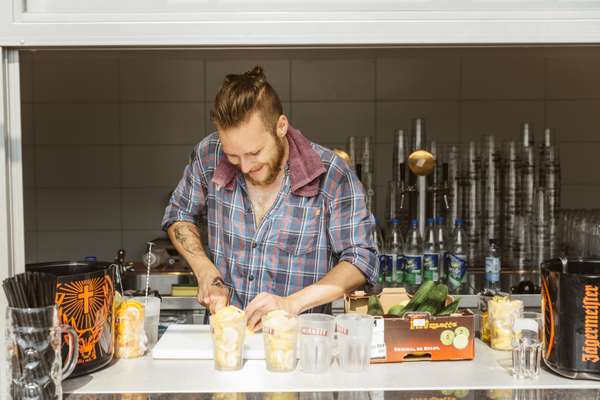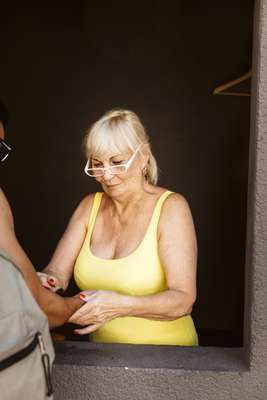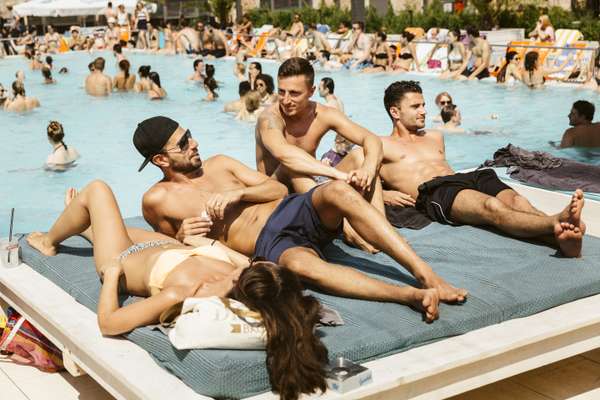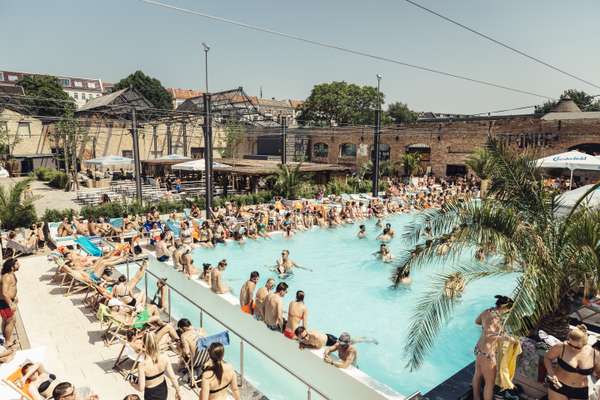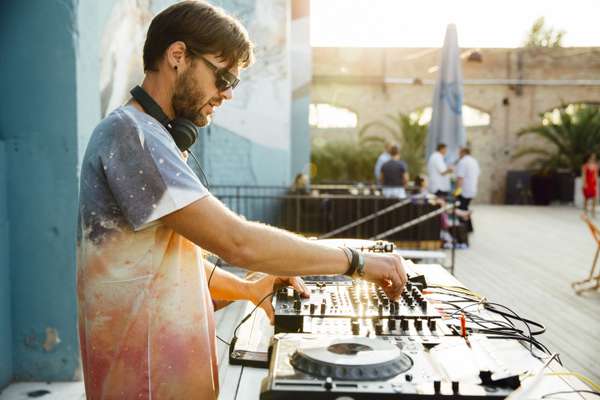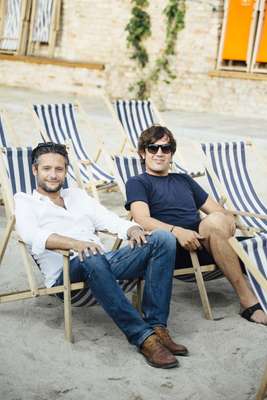 Clearly Berlin was ready for a departure from the all-night waterfront parties the city is famous for. "We've managed to hit upon something here," says Denecke. "There's a community that was waiting for something like this."
Daniel Lente, the one among the four partners who organises Haubentaucher's events, agrees. "On Sundays a DJ usually starts playing at noon. You see a lot of Berliners with kids, the mum drinking an Aperol spritz and listening to music. It's a meeting point for people who went out a lot 10 years ago and their friends who still do."
Haubentaucher's neighbours at the raw-Gelände include well-established techno clubs, skate park, climbing wall and street-art gallery. The pool was developed over several years, transforming a landscape of typical Berlin urban decay into an outdoor oasis in a city where most public outdoor pools are municipal and not terrifically attractive. "Four years ago this was a wasteland, a place you wouldn't want to go at night," says Denecke, remembering his first visit in 2011.
The four realised the project without an investor: each partner has another job, meaning that none of them are under any acute financial pressure. Besides, huge investment wasn't necessary. The roofless walls of a half-demolished hall on the site now offer a frame for the pool, allowing Haubentaucher a built-in separation from its surroundings. Azar Moorad, another of Denecke's partners, came up with a sleek-with-rough-edges design concept, which architecture firm Lehmann+Lieschke brought to life.
Shipping containers are home to changing rooms while an oversized, colourful mural of a bird on the hall's exterior wall ingeniously alludes to the venue's name. Haubentaucher is a water bird called a crested grebe (and in the Bavarian dialect a humorous insult too, one that an spd party member famously called Angela Merkel in 2007, meaning she catches her prey underwater).
As with many urban-renewal projects in Berlin, Haubentaucher ran into some neighbourhood resistance. The Friedrichshain district proudly retains a good dose of grit and the pool is visibly more upmarket than its direct neighbours. "We had some criticism but it was louder while we were building," says Lente. "Now the locals are coming and enjoying the pool." The fact that weekday admission is only €3 (€5 on weekends and when a DJ plays) helps keep things egalitarian.
Haubentaucher has been a big Berlin summer hit, tapping into a previously unvoiced demand. But with their years of experience running Strandgut, the partners know it's seldom a good idea to do too much too quickly.
After the pool season dies down, says Lente, "we might have a Christmas market, maybe a pop-up restaurant but we'll take a break in January and plan the next season before reopening." Taking it slowly – how very grown-up.
More Berlin water(ing) holes
Badeschiff
Set in the River Spree's east harbour, this heated floating pool offers epic views of the TV tower and the famous Oberbaum Bridge. There are also wooden terraces for lounging, a beach bar, DJs and, in winter, Finnish saunas. The Badeschiff made a big splash when it opened in 2004 and has been going strong ever since.
Strandbad Wannsee
At Berlin's southwestern edge is Europe's largest lido, a 1,275-metre stretch of fine light sand on Wannsee lake that's become a Cultural Heritage site. Changing facilities are situated in 1920s buildings, contributing to an old-school feeling that on hot days you're likely to share with many people.
Liquidrom
Not an outdoor pool but a unique indoor thermal bath that's long been a favourite with spa lovers, sauna enthusiasts and the curious. The main pool features underwater lights and music ranging from jazz to electro, while spa treatments and a café are also on hand. This place is for chilling, not sport, and be warned: not everyone wears swimsuits.
Starting a pool club in Berlin
Team: At the beginning there were eight: four partners, a secretary, an accountant, a construction site manager and a corporate event manager.
Costs: The major cost was building the swimming pool, which took around a quarter of the total start-up capital.
Opening times: On a sunny day from 10.00 to about midnight; on weekends no specific closing time.
Branding: The corporate design was done by graphic designer Oliver Lehner, a friend of the partners.