Oficio Studio / Las Letras
Working from home
When a husband-and-wife team decided to transform their apartment behind Madrid's Paseo de Prado into a space in which they could live and work, little did they know that the project would provide so much comfort.
"Downsizing doesn't always have to be a retreat," says David Iglesias Resina as he plunges his blade into a tanned hide and carefully cuts a long narrow strap. Perched on the other side of the worktable, his wife Melina Carranza Maciel is also concentrating, soldering a small brass clasp to an elegant handbag. "In our case, smaller has meant better," she adds without averting her concentrated gaze. The couple moved into the long-abandoned space two years ago, following a mutual decision to start afresh. They have been busy building their small leather-goods brand, Oficio Studio, and have been furnishing a comfortable home here ever since.
"As far back as I can remember my family was always dedicated to leather," says Resina. "My great-grandmother owned a bag factory in the 1950s in the centre of Madrid, which I eventually took over." Unfortunately, tough economic times saw the factory close down, something which the native Madrileño admits left him disillusioned. "I didn't want to have anything to do with leather for a decade after that." Nonetheless, several years later he opened a small bicycle-repair and leather-accessories shop in Madrid's thriving Las Letras district. "There was still this nagging urge to try again, to change the model, to do it better," he says.
It was here that he met his future wife, who breezed into the shop one day and took a shine to his handmade selection of satchels and rucksacks. The Mexican-born architect was also looking for a change of pace and had started to take an interest in making leather goods, teaching herself by deconstructing vintage bags and sewing them back together. Mutual interest sparked a loving bond and also paved the way for their beautiful brand, which pays homage to the classic leather accessories of a bygone era. "We're inspired by the old carry-bags of doctors and the collegiate schoolbags that were once the standard carry-all in Spanish primary schools," says Resina.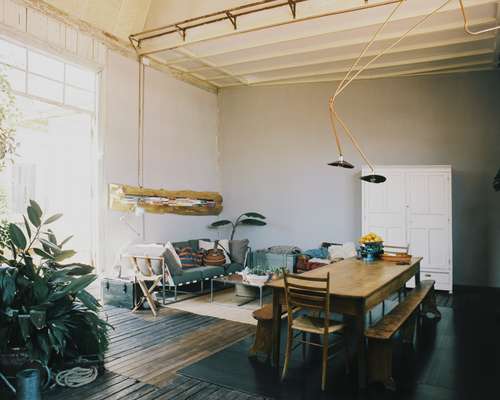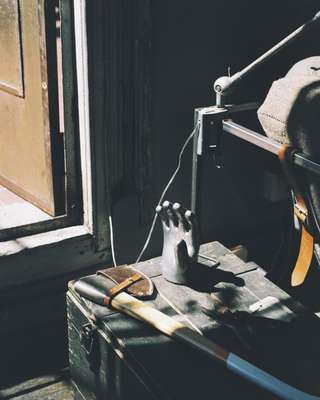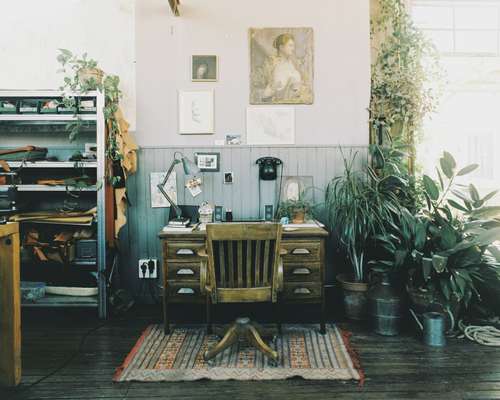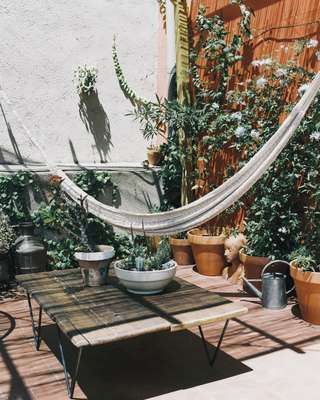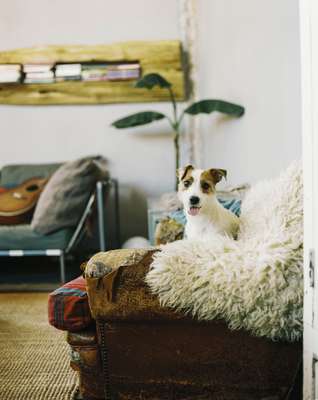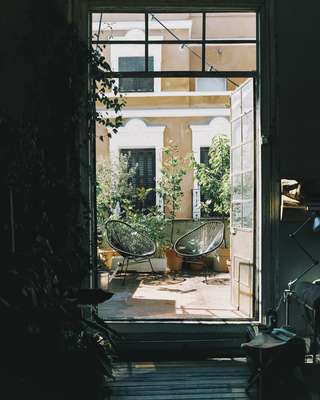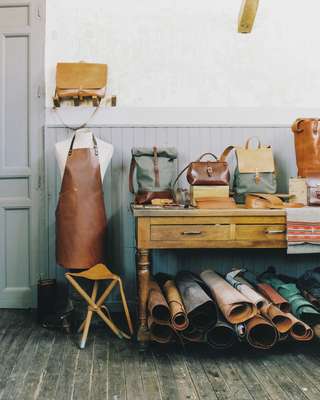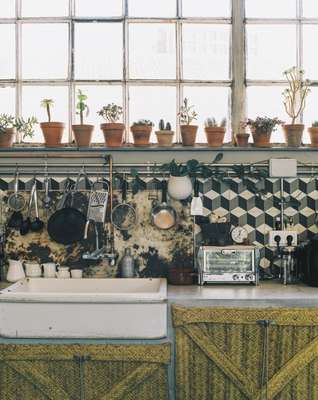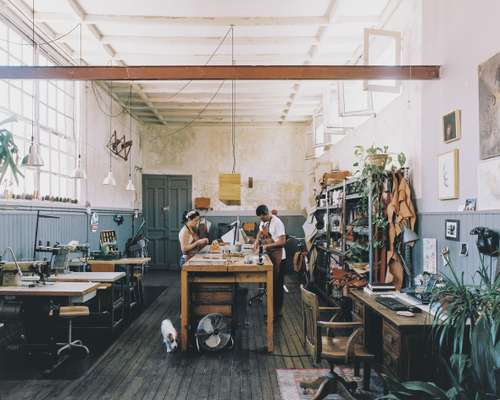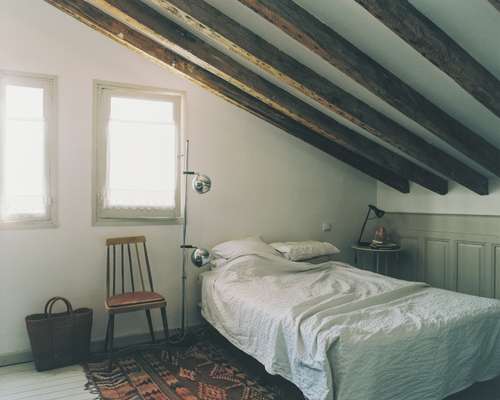 Amid wooden tools, bottled oils and wisps of leather off-cuts, a selection of other slowly made accessories includes leather aprons, wallets and purses, as well as the odd stool, bicycle bag and pieces specially commissioned by customers from London to Singapore. A few metres from their neatly organised workspace sits a kitchen and living area, coloured by the multi-hued spines of books – pointedly there is no television. The couple's combined workspace and home is not just an expression of their desire for a slower pace; it also catalogues the gentle evolution of their mindset since moving here.
Tucked away behind the museums and galleries of Madrid's Paseo del Prado, the three-storey building was built in the 1860s for a large Spanish family. It has been passed down to future generations who eventually divided the property into several standalone residences. Initially the studio of a sculptor, Resina and Maciel's long open-plan apartment was last occupied by a little-known Asturian painter who moved out in the late 1990s. After it had endured more than a decade of disrepair, the couple discovered the space alongside Resina's shop. At the time Maciel was looking for a workspace to hone her new craft making leather bags and Resina's retail venture had become bogged down in tedious routine. Attracted by the high ceilings and the small sun-drenched terrace, they viewed the plan to transform the forgotten flat as an opportunity for both refuge and relief.
"The shop was beautiful, both physically and as an idea, but the repetitive mechanics of running a small business on my own and the distraction of constant bike repairs stopped stimulating me," says Resina, who initially planned on using the larger living space to cope with the overflow of repair work. "For four months I was running up and down the rickety stairs between the shop and the home studio, until one day I realised I was just spreading myself too thin. I decided to concentrate on one thing – and to do that one thing well."
After shuttering the street-level shop, the pair focused on creating a space that was conducive to both comfort and creativity. The transition was far from smooth. "We had to install a kitchen and bathroom, and repair the ceiling just to make the apartment habitable," says Resina, who together with Maciel also restored old relics of furniture and designed original pieces and fittings. The coffee table, light fixtures and sofa were all welded together by the couple; the cushions were cut, filled and sewn together with the antique sewing machines that line the wall of their workshop. A prominent collection of potted plants adorns the living area; the foliage adds colour to the warm, wooden furnishings and tempers the industrial machinery and tools that dominate the other half of their quarters.
"After working in an office and shop, you're first grateful for the lack of constant distraction," says Maciel of the more secluded space. Customer visits are by appointment only but so many people seem to fall in love with the space and the couple's close attention to detail (not to mention their dog, Pedales) that they often return with an interested friend when collecting a finished bag. This constant flow of curious customers arriving on their doorstep has seen their client base gradually expand; a measured growth model that is preferred for being more personable, modest and old-fashioned – much like the collection itself. "We like it when people come and visit us, even if it means that we lose a little time in the workshop," says Resina. "It's important that we don't lock ourselves away completely."
He and Maciel are adamant that striking the right work-life balance has become easier because it is no longer complicated by a time-consuming commute. "The only danger is that we're always home and toiling away on a new piece. This may isolate us from the outside world but it also means we have sufficient time to perfect the process and ultimately the product."
Both talk openly about the virtues of starting over again. Having learnt from the past, they can barely contain their contentment about being able to build their new brand on their own terms. It may be a smaller-scale, self-managed venture with limited scope for growth but as Maciel tells us from her plant-strewn terrace, building comfort into the new daily grind has eased pressure and spurred creativity. "Why would we want to over complicate things?" she says, with a smile.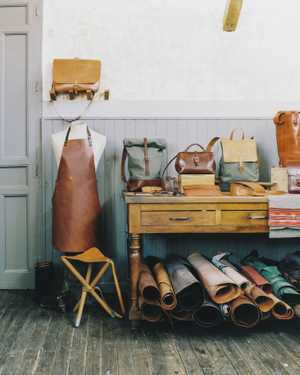 The couple source their leather from a family tannery in the small Spanish town of Villarramiel near Palencia. The fifth-generation tannery uses artisanal chemical-free processes and vegetable oils giving each hide a more organic feel and colour. "Naturally tanning the leather means that it matures much like a piece of quality wood," says Resina.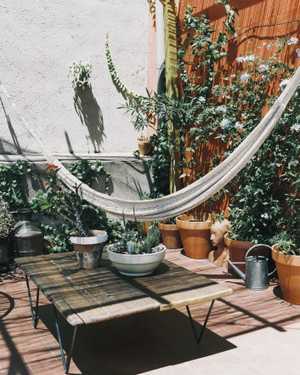 Located a stone's throw from prestigious art houses such as the Prado Museum, Thyssen-Bornemisza and the Herzog & de Meuron designed CaixaForum, the Las Letras district was once the stomping ground of Spain's golden-age literary greats, including Miguel de Cervantes and playwright Félix Lope de Vega. In recent years it has established itself as the capital's new design district, with a mixture of eclectic galleries, furniture and design shops and the interior design festival DecorAccion, which transforms the neighbourhood each June.