Briefing / Global
Art market: Frieze
Briefing
Universal Design Studio lays out the setting for this year's London art fair.
Q&A
Universal Design Studio
London
For the second year running the Shoreditch-based creative consultancy Universal Design Studio have designed the structure for the Frieze London art fair taking place from 14 to 17 October. Monocle spoke to the directors to find out about building something in the middle of Regent's Park that feels more like a gallery than a tent.
What's going to be new for this year's Frieze?
Hannah Carter Owers: The bones of the design have stayed the same but we have designed a new entrance pavilion and entrance sequence, a new publications area and reading room and we have the Petersham Nurseries restaurant taking the mezzanine.
Does there always have to be something new?
HCO: The galleries are doing a huge volume of business at the fair and we need to consider how people and galleries work within the space. But Frieze is also an event and a spectacle; of course people want to be entertained and they deserve something new to experience each year.
Frieze is in Regent's Park in the autumn; how do you remind people of where they are?
Jason Holley: Regent's Park is beautiful and we were keen to find ways of bringing the park into the fair. We have done this in a number of ways: from creating an entrance experience which is in dialogue with the tree canopy – framing and drawing attention to the transition between the park and Frieze – to creating windows in the restaurant areas.
How do you blur the lines between different uses of the Frieze structure?
JH: Frieze has two main visitor types: the collector, artist or gallerist for whom the fair is about the buying and selling of art, and the cultural tourist for whom the fair is an opportunity to get a snapshot of current art practice. This mix of visitors is essential for the success of the fair. These visitor types can collide in interesting ways but they can also rub up against each other in uncomfortable ways. Identifying these moments and separating or encouraging these collisions has been a major part of our design.
There's an argument that successful design is design that people don't notice at all; what does this do for the ego?
HCO: It is true that good design does not need to be seen. It can be felt or sensed. It's not great for the ego but Jason and I are too busy to have egos!
JH: Yes, I guess quiet design may not be good for the ego but it is good for the soul. I think it's important that we strive to improve the quality of the spaces we inhabit. It frustrates me to see so many spaces being created where the quality of the experience is overlooked in favour of the visual.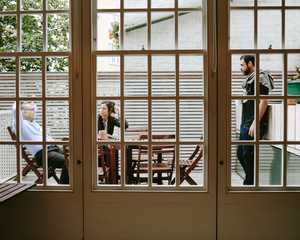 Art central
London —
EXHIBITION
The bare walls of the three-storey house at Catherine Place near London's St James's Park are deceiving. You'd imagine an artist's residency to be a patchwork of paint pots and portraits yet the 2007-established Delfina Foundation is a blank canvas for the international artists, film-makers, writers and curators it harbours.
Every quarter, up to eight residents are invited to live and work at the Foundation for a season. This summer, Palestinian author Atef Abu Saif, Bombay-born curator Gitanjali Dang, Peruvian mixed- media artist José Vera Matos and Brazilian painter Marina Rheingantz beat hundreds of applicants to some of these coveted spots.
"I like Delfina, you feel part of a family," says Abu Saif, who came to London to work on his sixth book; a novel that's trying to show a different Gaza, "one where you have heroes"; the Gaza you don't tend to hear about. "Each week we have a session where we talk about our work; discussing the story, playing with ideas." By the end of their stay the group will put together an exhibition at the Foundation and bring colour to the white walls. "It's going to be an experience," says Dang.
Director Aaron Cezar launched the Foundation following the closure of Delfina Entrecanales's 1988-established Delfina Studio Trust in 2006. "It was an exciting possibility for me to set up a new opportunity for residences in London," he says. "You have amazing fairs like Frieze and major institutions like the Tate but actually there are still very few places for artists to incubate ideas and develop their work. The Delfina Foundation has been working to address this."
The Foundation's fundraising exhibition Then for Now, curated by Chantal Joffe and Sasha Craddock, will open in time for October's Frieze art fair (14-17) and showcase 18 Studio Trust alumni artists, including Turner Prize nominees Mark Wallinger, Jane and Louise Wilson and Mark Titchner. "It's a show where artists are giving back and returning to their roots," says Cezar. "These artists have the opportunity to support another generation in London."
delfinafoundation.com
'Then for now' exhibition
Date
9 October to 14 November
Opening times:
Monday-Saturday, 11​.​00-18​.​00
National pride
Montevideo —
AUCTION
The Castells family began a modest trade from the holds of docked ships in the first few decades of the 1900s; now this Montevideo auction house's monthly sales are renowned. A change in tides in recent years has steered the pieces away from the traditional European lots toward Uruguayan work. "We now focus on national art as we believe there is great potential and talent here," says Juan Castells, a fourth-generation auctioneer.
A total of 90 lots of national paintings will be on offer at the sale, including modernist works from Pedro Figari and the moody strokes of Juan Storm, as well as high-earners from José Cúneo and Manuel Rosé.
Highlights
José Cúneo
"Moon" (pictured), oil on canvas, 100cm x 73cm
Estimate: €62,300
Pedro Figari
"Pericón in the field", oil on cardboard, 35cm x 50cm
Estimate: €25,900 to €34,500  
Manuel Rosé
"Shadows in the Garden", 1925, oil on canvas, 80cm x 64cm
Estimate: €8,900 to €13,300