October options / Global
Inventory no.87
From Finnish gin to charming cookware and notable stationery, this October select showcases our favourite autumn finds.
1.
Teapot and cups
Round Square Teaware
Taipei-based designer Chuntso Liu's porcelain teapot is a balanced and beautiful sight. Only available in a distinctive light grey, the set's cups are rounded with small squared handles. The double-layered insulation keeps the contents warm and the surface cool enough to carry with ease.
koan.com.tw
---
"We found a little studio on Brick Lane, discovered our skills and knowledge seemed to complement each other and before we knew it Vitamin released its first range," says director Chris Vernall, who founded the London-based brand with his brother Andy in 2004. The ceramic K Lamp is handmade by potters in Stoke-on-Trent and fitted with an LED bulb. "It's a simple product made with traditional techniques," says Vernall.
vitaminliving.com
---
It's inconceivable that many acts of domestic cookery are beyond Crane's robust (and exceedingly heavy-duty) new range of cookware, which launched this summer. Each piece is sand-cast and topped with matt-black enamel, then fired at temperatures of 840C. Cast in a 175-year-old foundry in France's Picardie region, the shapely designs come courtesy of RCA graduate Barnaby Tuke and are made of 30 per cent recycled metal. Each cast-iron piece is chip proof and scratch resistant – in fact, dropping one is more likely to damage your kitchen floor than your new pan.
cranecookware.com
---
London-based architect Tom Housden founded his studio Hand&Eye in 2011 to rediscover a hands-on approach to product development. "I missed the immediacy of being involved in manufacturing and design by prototyping," he says. These domed matt-glass Duo lamps were originally conceived with a terracotta base but have achieved new allure in this recently released blue-glass finish.
handandeyestudio.co.uk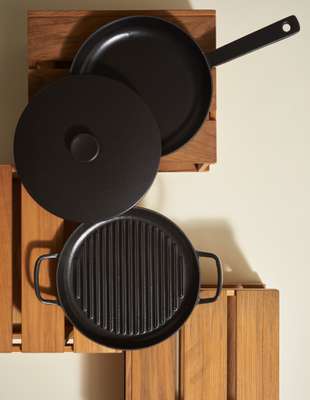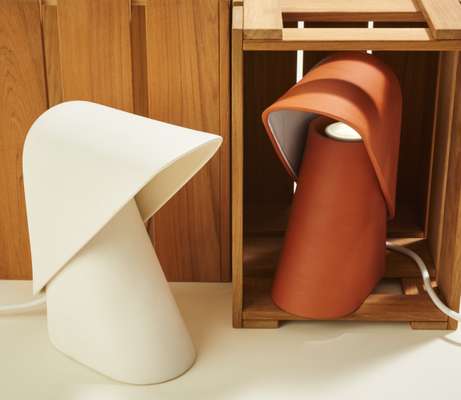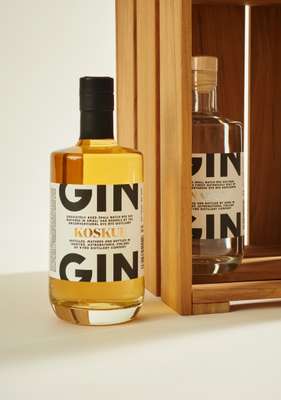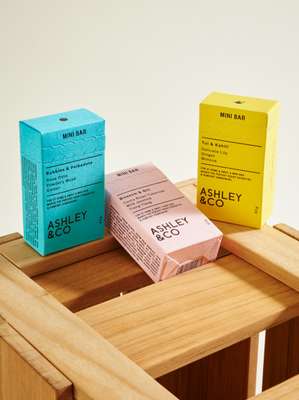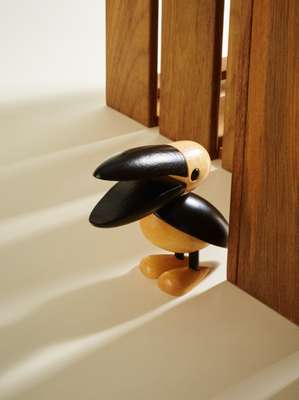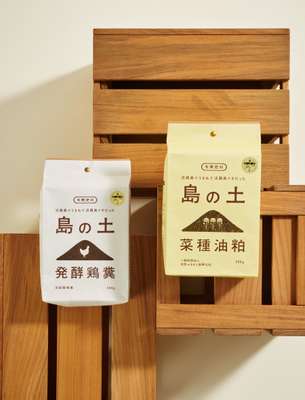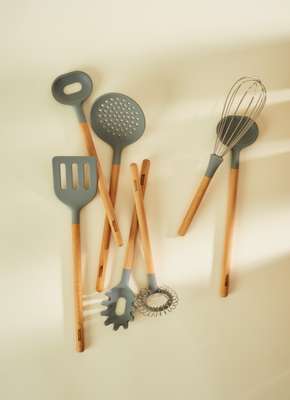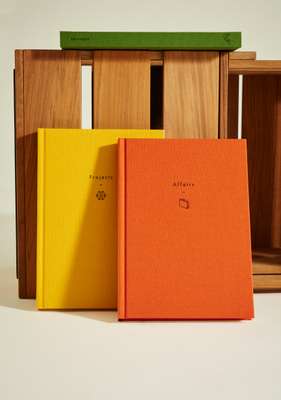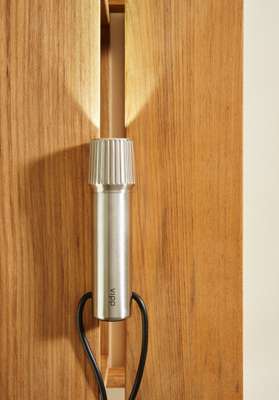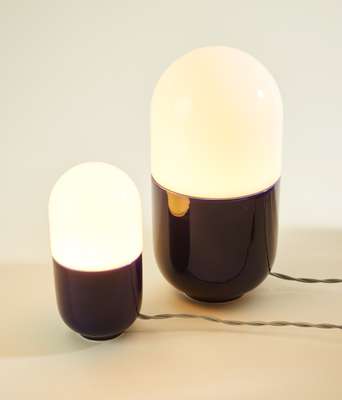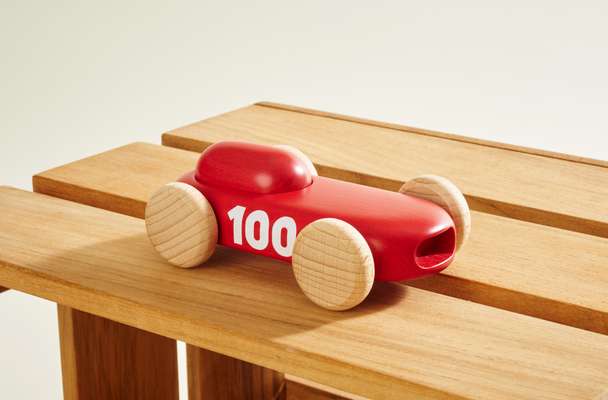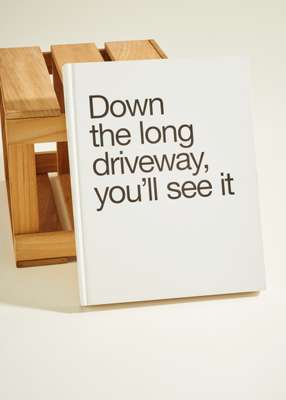 ---
5.
Gin
Kyrö Distillery Company
Finland's proximity to Russia may lead you to believe its residents are more devoted to the pleasures of vodka than gin. Since 2014, however, Kyrö Distillery Company has produced the latter to stunning (in more ways than one, if over consumed) effect. The clear Napue blend features Finnish specialities numbering sea buckthorn, birch leaves and cranberries, while the just-released Koskue concoction is a rye gin that boasts a more honey-hinted appeal.
kyrodistillery.com
---
Esben Gravlev has worked with an array of promising young designers since starting his company in 2010. This new selection of natural critters is mid-century modern in style and harks back to the iconic toys made by fellow Dane Kay Bojesen. The rabbits in smoked-finished oak have maplewood ears and are equal parts heartwarming and hardy. But, if we had to choose just one curio from the pleasingly tactile collection, we'd put this beaky pelican on the bill.
luciekaas.com
---
This flame-red racer is designed by Norwegian firm Permafrost and, despite speedy sales, is one of just 100 produced to date. The four Oslo School of Architecture graduates behind the studio also have an award-winning buggy and high chair to their name. However, it is the brand's range of wooden playthings – including mini offshore oilrig, shipping and archipelago sets – that have united adults and children in adoration.
permafrost.no
---
Copenhagen-based Vipp's story starts in 1939 when Holger Nielsen invented a pedal bin for his young bride's hair salon. In 2006, chief designer Morten Bo Jensen took the helm and has continued to light the brand's innovative path. The studio now creates handy pieces, including this flashlight. "Our ambition is a world with fewer but better products," says Bo Jensen. "It's about evoking function over form and staying power over fading trends."
vipp.com
---
9.
Cosmetics and Soaps
Ashley & Co
Kiwi fragrance firm Ashley & Co continued its international expansion to Singapore this summer with its elegantly packaged cosmetics. These Mini Bar soaps are chemical-free, with natural antiseptics, including grapefruit seed and aloe, and are made from goat's milk and manuka honey.
ashleyandco.co.nz
---
10.
Book
'Down The Long Driveway, You'll See It' by Mary Gaudin & Matthew Arnold
After two decades in France and the UK, photographer Mary Gaudin returned to her native New Zealand to capture images of the nation's remaining modernist homes – a mission inspired by the destruction of many such houses after the Christchurch earthquake in 2011. Named after a throwaway phrase in an email sent to Gaudin when she arranged access to one home, the captivating collection peers beyond the dwellings themselves to explore the lives lived within them.
downthelongdriveway.com
---
For a beard worthy of epic praise, try Greek brand Hommer's hemp oil-based grooming range. With a name that refers both to the ancient poet and the French word for man, these beard shampoos, wipes and oils are specially concocted to be gentle to sensitive skin. What's more, they smell good: the products contain sensuous wood, bitter chocolate and vetiver scents.
hommer.gr
---
12.
Kitchen set
Office for Product Design
German porcelain specialist Rosenthal's three-year collaboration with the Hong Kong-based Office for Product Design has produced this tasteful kitchen set of more than 20 pieces. Available in grey or green, the kitchen utensils are made from beechwood, stainless steel and silicone and include whisks, spatulas, parmesan graters and pastry brushes.
officeforproductdesign.com
---
13.
Notebooks
The School of Life
From ruminations on the first inklings of a new business idea to hasty shopping lists for the final ingredients for dinner, committing an idea to paper should be a pleasurable pursuit. These colourful A5 jotters from Alain de Botton's School of Life are linen-bound exemplars of such joy. Organised into books devoted to affairs, journeys, projects and night thoughts, these Writing as Therapy Journals are a characteristically charming offering from the London-based company.
theschooloflife.com
---
In opposition to the notion that beauty comes from within, these smartly packaged containers from Umamu actually hold fertiliser. Art director Yuma Harada of Uma Design Farm empowered the farmers on Awaji Island of Japan's Hyogo Prefecture through his branding of the product, which is made from the vegetable waste in the region. A cultivated choice for the green-fingered.
umamu.jp