Residence. Danish embassy / London
Style envoy
If a nation's embassy is about projecting its character onto the world stage, Denmark's London mission is a masterclass. It combines modernity and an outward-looking philosophy while offering visitors just the right amount of Danish home comfort.
Ambassadors to London don't tend to live where they work. Instead, many embassies in the UK capital perch in grand Georgian buildings with the official ambassadorial residence located elsewhere. The Danish embassy, however, was purpose built and the brief given to illustrious architect Arne Jacobsen in 1969 was to unite the country's chancellery and residence under a single roof. The project challenged Jacobsen to tell the passing public something about his native Denmark. The great architect died in 1971 but his building has done just that since its completion six years later.
From street level the building, located on Sloane Street in Knightsbridge, southwest London, appears to be the same height as its neighbouring townhouses. In fact it has two additional storeys: on the fifth floor is a large roof terrace for entertaining and above that on the sixth are the ambassador's living quarters. As well as solving the inconvenience to staff and visitors of dealing with scattered embassy addresses, this building was seen by planners as a chance for Denmark to construct the way it is seen by visitors.
Modernist in design, the embassy bears much resemblance to Jacobsen's better-known structures of the 1950s and 1960s, including the National Bank in Copenhagen. Yet its rounded corners, tinted glass and pod-like units suggest a less formal and more futuristic approach to modernism.
"It's very functional, not flashy like traditional residences in Belgravia that have been remade [from period properties]," says Claus Grube, the Danish ambassador to the Court of St James. Grube has held his post since 2013 and lives here with his wife Susanne Fournais. "The building is a window on Denmark, showing our thinking, mindset and technological capabilities," he says. "It shows Denmark to the British as a modern society." The embassy was never just an aesthetic project.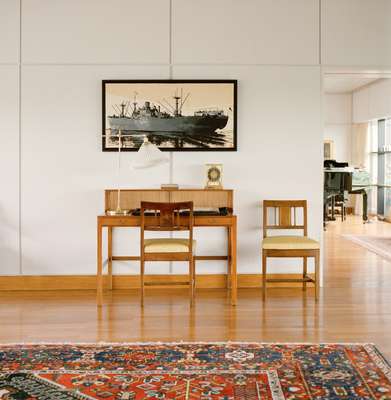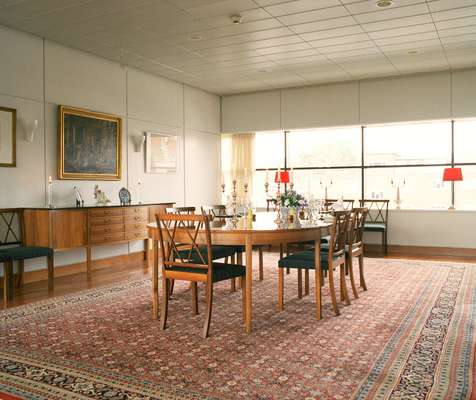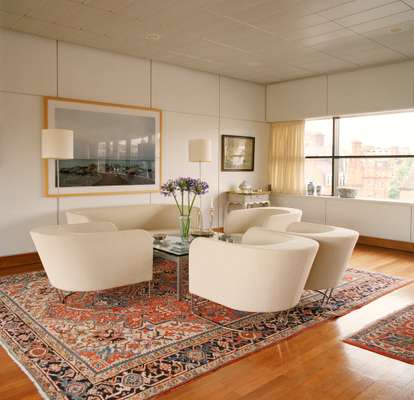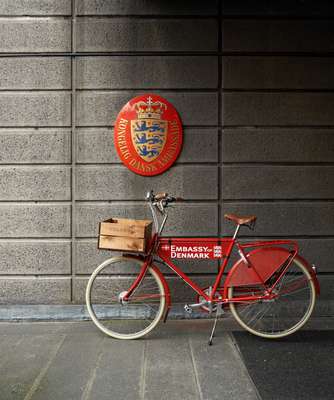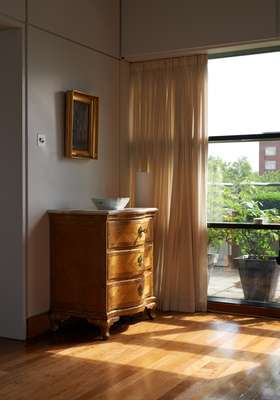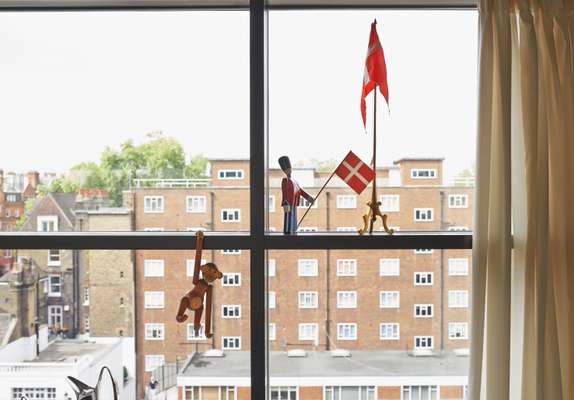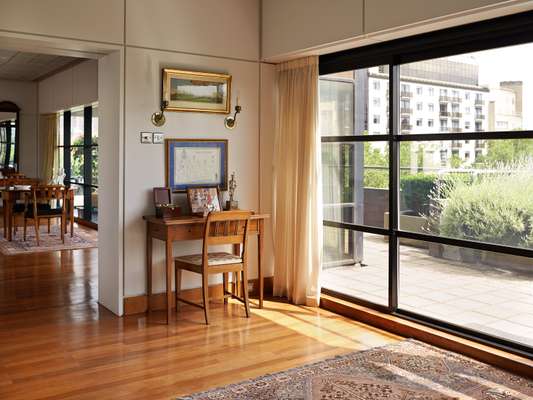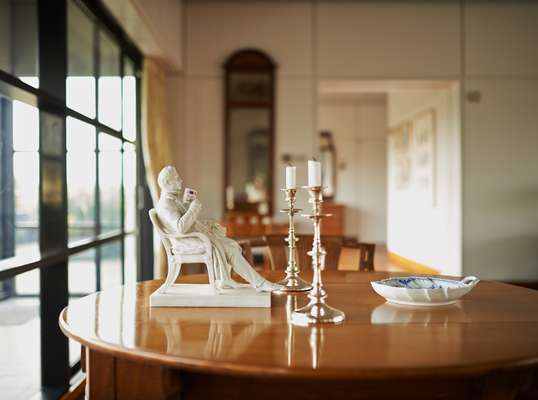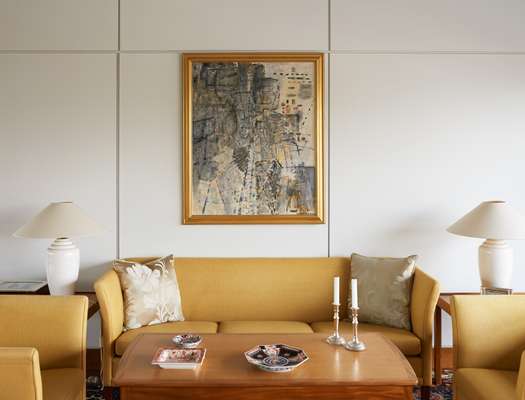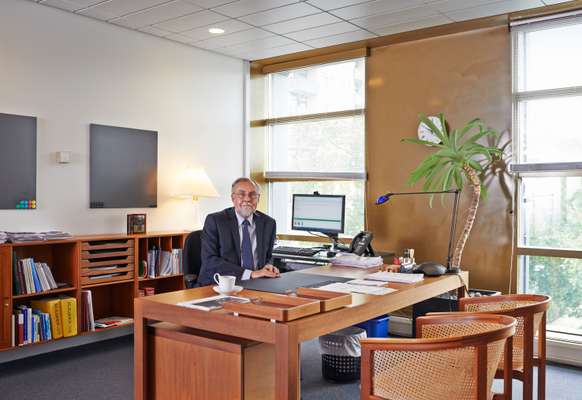 When it was built the engineers adhered to the stringent energy standards of their native Denmark rather than the looser regulations of the UK (especially in the 1970s). Hence the extensive double glazing and insulation, making it a statement of Danish engineering as well as design.
Those accessing the embassy and its offices head past an array of security bollards – installed a decade ago following the publication in a Danish newspaper of cartoons depicting the Prophet Mohammad – to the main entrance on Sloane Street. Visitors to the residence, meanwhile, walk around the side of the building down Hans Street to a metal gate crowned with electric fencing. Through this gate is a hint of the national branding to follow: two eye-catching Danish bicycles painted bright red.
To the rear of a large brutalist courtyard are four Jacobsen-designed mews houses, where the embassy's cook, office manager and a diplomat live. The layout of the embassy and its courtyard mirrors the older buildings opposite Hans Street, respecting the surrounding Georgian architecture. A small foyer on ground level gives visiting dignitaries an initial taste of Denmark's soft power through soft furnishings: a brace of Egg chairs upholstered in dark blue with a contemporary photograph hanging on the wall between them. The chairs are all Jacobsen's own and were made by Danish firm Fritz Hansen in 1955. The picture is by Per Bak Jensen – one of Denmark's most prominent photographers – and is on loan to the London embassy along with a second elsewhere in the residence, having been exhibited in London when Denmark held the EU presidency for 2012.
Danes based in the UK, politicians, civil servants and ambassadors squeeze four at a time (stomachs permitting) into two lifts when visiting the ambassador's residence. Getting upstairs can be a lengthy process come Christmas, when the guest list frequently runs to more than 200 names.
There's no doubt that the building's dark, some say impersonal exterior is an acquired taste. "Some people think it's too imposing," says Grube. "But others say the outside is fantastic: a strong statement of 1970s Danish architecture." Regardless of the impression from the street, however, "they all agree that inside it is light and comfortable".
In fact, stepping out of the lift, the contrast is marked. The residence's floor plan is just one room wide, comprising three double-aspect reception rooms with polished wooden floors and white walls throughout. The wide doorways each conceal a sliding door, a trademark space-saver from Jacobsen.
Tastefully pitted antique mirrors are suspended above writing desks, tables, chests of drawers and other furniture. Some of it is antique, such as the rococo tables and chairs from 1760 in the second reception room. Other pieces are mid-century modern, including seating by Kasper Salto. Grube points out a coffee table in the first reception room. "It is a classic Danish design [by the old Danish firm Snedkerhuset] so I kept it, even though it has a scratch."
Grube's father supplied machinery to Denmark's furniture manufacturing industry, including to Fritz Hansen, for whom Jacobsen created an enviable and still-lauded collection. "I grew up with this furniture," Grube says.
While the Ministry of Foreign Affairs is responsible for selecting the residence's furniture, Grube and his wife have added their own touches. The vast windowsills overlooking the courtyard double as shelving for his whalebone and soapstone figurines from Greenland and a set of Krenit bowls from the 1950s that, he says, are "now back in fashion". There are also small black-and-white patterned pots by Home Collection and a pair of silver Georg Jensen carafes. The classic Boye wooden monkey hanging from the windowsill is also an artefact from Grube's childhood.
Alongside Per Bak Jensen's large photograph are contemporary works by Grube's wife, a maritime painter, as well as a set of impressionistic watercolours by Margrethe II, the queen of Denmark, that hang close to the lifts. "We try to combine contemporary Danish art with some of the things that have been used since the beginning of having an embassy in London around 250 years ago," says Grube. Despite his foreign posting in London, the Danish diplomat clearly feels at home with the mix.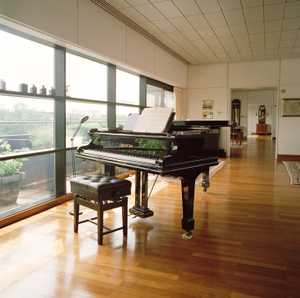 "Our objective is to show how Denmark is today," says Danish ambassador Claus Grube. "It's not just a fairytale country where we make bacon and butter."
Links between the UK and Denmark go back a long way but they haven't always been friendly. Next year will be 1,000 years since King Cnut laid siege to London; during the Napoleonic Wars, the Royal Navy's bombardment of Copenhagen (that happened twice) pleased the Duke of Wellington so much he named his horse after the city.
Recently things have been much more cordial. On display here are letters from Winston Churchill, written when the UK helped Denmark during the Second World War. "We try to use the rooms as a kind of underlining for the relations with the country we work with," says Grube.