Q&A. Joshua Roth / Los Angeles
The fine print
What can the art world learn from a Hollywood agent? Monocle inspects the chances of a team pairing brands and blue-chip artists.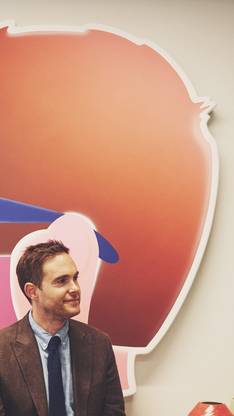 Last February, United Talent Agency (UTA), which represents Angelina Jolie, Johnny Depp and the Coen Brothers, announced that it would be launching a fine-arts division, the first Hollywood talent agency to do so. Unsurprisingly, the art world wondered if the agency was trying to replace gallery representation, at a time when artists have been moving galleries to get the best deal. MONOCLE travelled to Beverly Hills to speak to Joshua Roth, the head of UTA Fine Arts, before the agency unveiled one of its first projects: an installation at the Los Angeles County Museum of Art featuring a film collaboration between director Steve McQueen and Kanye West – who left Creative Artist Agency – for UTA last March.
Monocle: When did you think there was a market for a fine-arts division at UTA?
Joshua Roth: Artists get approached all the time by third parties outside of the art world – media, entertainment and fashion brands – to collaborate and come up with products, and there was really no one actively trying to help them filter the opportunities. I eventually thought there had to be some system in place where someone could take all of these opportunities and help bridge the gap between the art studio and the rest of the world.
M: Do you think that the agency's traditional role is changing?
JR: For years Hollywood agencies were just representing actors, writers and directors. Now it's a different thing. The agencies are involved in helping build brands and in consulting with major companies about entertainment-oriented initiatives. The way that we do it here, which is a very collaborative environment, just makes it the right kind of place to work with visual artists.
M: So you don't feel that you're trying to replace galleries?
JR: No, not at all. It's really interesting that you say that because a lot of people wonder. The art world is like news media: there are a lot of people with different expertise that occupy different parts of that universe so the galleries do something that UTA doesn't do.
M: How do you expect UTA Fine Arts to be viewed by galleries and the art world?
JR: I expect it to be viewed as a complementary service to artists' representation. UTA Fine Arts is something that exists separately, but alongside galleries, and it's really designed to supplement an artist's ability to connect with projects that exist outside of the gallery sphere. We are looking to help artists with entertainment and media-related issues, whether it's film or television projects, documentaries, brand associations or collaborations.
M: What percentage of the business will be brokering artist collaborations?
JR: It's going to be a nice part of it. We have direct lines into our branding and digital groups, and our licensing groups, from Google to Apple to Chanel to automobile companies. And to the big companies that are calling our people all the time, saying, "Here are things we're looking to staff with people. Who can you recommend to us?"
M: Are brand values and artist values the same? Some people might think not.
JR: I just want to see things that are an additive to their career, so when we look at projects or opportunities we're really trying to figure out if this is the type of project that is going to benefit that person's career long-term.
M: Can you see the danger of artists being too commercial, appearing too pop?
JR: We're trying to help an artist make a decision for their careers. These artists are very career-oriented people, and they think about doing things other than just making an artwork appear in a gallery. They're not just thinking about how they make a sculpture or painting that lives inside an exhibition in a gallery. The idea of "too commercial" is a very relative term, where you have an artist, for whom it makes sense to have a documentary film or a graphic novel, or to collaborate with a brand. Once again, it goes back to: does the brand feel like this artist benefits them? Does the artist feel like the brand helps or increases their identity?
M: What percentage of the artist's fee would you get?
JR: It varies. Licensing has a standard market of commissions and they are – depending on projects – between 10 and 25 per cent.
M: Which artists who operate in the commercial realm do you think make a good example for this business?
JR: There are so many examples of artists who have these dynamic careers that consist of more than just making an object. I look at Maurizio Cattelan and I see him making a commentary on different issues of a geopolitical or art historical context that are very clever or very thought-provoking. He is so brilliant in the way that he envisions this conversation between the artist's studio, the artist's collaborations and the rest of the world, and I think he's the type of person. There are also younger artists, like Alex Israel (see self-portrait above), who have done things. He's had a great sunglasses project that is complementary; he created a line of glasses, named after the LA freeways that are available commercially.