National Icon / Vienna
Conchita Wurst: Austria's new face
Since winning the 2014 Eurovision Song Contest, Conchita Wurst has become a global star. Yet despite her new-found acclaim she refuses to accept iconic status – and is never happier than when she's in her own capital city.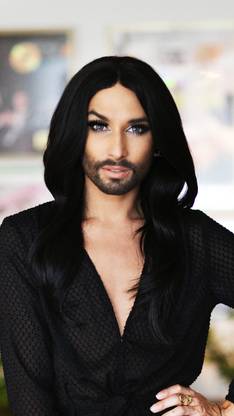 Her countrymen dubbed her the "Queen of Austria". She has sung at the Vienna State Opera, performed for the European Parliament and appeared as part of a Bank Austria advertising campaign. Dubbing her a cultural icon, the UN secretary-general Ban Ki-Moon praised her message of tolerance of diversity. Her wax figure stands in the Vienna branch of Madame Tussauds. But Conchita Wurst, the glamorous bearded winner of the 2014 Eurovision Song Contest, is utterly convinced that she's not a national icon. Drag queen, yes (Conchita is the stage persona of Thomas Neuwirth) but a symbol of her native land? No.
"I'm an Austrian and I'm a national singer but I'm definitely not an icon," says Wurst. "Cher is an icon, or Tina Turner. If I get the chance to have a long, successful career, at a certain age people might call me an icon but I'd still say, 'No, no, no.'" How about ambassador or agent of change? No again. "There are so many people doing outstanding things when it comes to human rights," she says. "I'm just an artist who takes to the stage to entertain – but I also give my opinion."
Wurst's coquettish modesty could be an example of the enduring – and often endearing – contradictions that seem to lie within many of her fellow Austrians. Talk to any Austrian about their country for long enough and pride emerges but it's often coupled with self-deprecation and a slight inferiority complex (blame a difficult history). Austria is also a place where people with otherwise conservative values can accept or even embrace the offbeat and over-the-top – think Falco and Arnold Schwarzenegger – and where a person can have both lederhosen and skintight black-leather pants in their closet.
So it's not such a stretch to find that Austria is proud of this charismatic bearded "lady" (in real life, by the way, the beard is impeccably groomed if a little less black than on screen). But Wurst remains modest: "Many people would say that I changed the image of how other people see Austria now. My reaction? I don't think so. I did nothing but be true to who I am, singing my heart out."
What Wurst cannot deny is that her look, her fiery rendition of "Rise Like a Phoenix" and the rallying cry of "We are unstoppable!" as she accepted the Eurovision trophy have changed the conversation in the Austrian and European mainstream about gender tolerance and acceptance, as well as LGBT rights and the politics behind them.
Wurst grew up as Neuwirth in Bad Mitterndorf, an idyllic mountain town of 3,000 in the Styrian Salzkammergut. "I was about six when I realised I might not be so bad at singing," says Wurst, explaining that as a child she imitated Shirley Bassey and otherwise idolised and emulated female singers such as Turner, Celine Dion and later the Peruvian legend Yma Sumac. Although she knew early that she was gay, she was 14 the first time she saw someone in drag. "I didn't realise you could be in drag outside of Carnival," says Wurst, laughing. "I had a great time being a 14-year-old gay boy doing drag twice a year."
At 17, Wurst dropped out of a fashion-oriented high school in Graz to move to Vienna. She appeared on the singing-contest television programme Starmania and a friend later asked if she'd host a burlesque show. "Of course I'd host in drag," says Wurst. "I was practising my make-up one day, I hadn't shaved and I thought, 'I've never looked better.'" Letting the beard grow back each week didn't make sense so it stayed, becoming a controversial but unique and effective signature.
The Eurovision win catapulted Wurst into the public eye. More than a year later she's still omnipresent: her face beams from newsstands and ads, she was the host of the 2015 Eurovision Song Contest's green room and was a headliner at this year's Life Ball (one of the biggest AIDS charity events in the world, which takes place annually in Vienna city hall). Meanwhile, tracks from her eponymous debut album echo through the valleys. Unabashedly pop but with a surprisingly wide range, the album appeared in mid-May and quickly hit number one in Austria, going platinum in less than two weeks.
For all the offers and invitations to international music, fashion, media and pride events – which the wasp-waisted 26-year-old navigates without losing her head (she ignores "haters", she says) – it seems there's no place like home. Last autumn, Bad Mitterndorf made Wurst an honorary citizen, the mayor putting up a plaque on a small bridge in honour of Wurst's message of tolerance. (Her teary proclamation at her Eurovision win? "This night is dedicated to everyone who believes in a future of peace and freedom.") She performed for people she grew up with, sang for her grandmother and the town butcher even made a sausage in her honour: the "Conchita Wurst Wurst". In Vienna she still works with a close posse – her hairdresser is her best friend – and it is here, in the Austrian capital, where she feels most at home. "Vienna is romantic," she says, thinking for a while, then smiling. "Vienna is dramatic."
Romance and drama: essential elements in the Austrian imagination and things that no self-respecting queen should ever be without.