Report / Köln
Garden Party
We visit the world-leading garden trade fair where budding makers are challenging the supremacy of cheap imports.
"The owls are our bestseller," says Nancy Jiang, founder of gardenware firm Nanjing Justar, as she points at the eerie plastic birds that line the top shelf of her stand at this year's Spoga+Gafa garden fair in Köln. We won't be clearing room on our terrace for this unwise purchase but Jiang is just one of 2,024 exhibitors showcasing their collections of garden-themed designs at the city's Koelnmesse event space. Over three days, Jiang's creatures keep company with the likes of chairs from Switzerland's Schaffner and grills by German barbecue giant Weber. Some 37,000 visitors from 108 countries roam the halls for glimpses of the lawnmowers, Nordmann fir trees and furniture sets that will deck out lawns in 2016.
"This is the biggest trade show in the world for this segment," says Katharina Hamma, chief operating officer of trade-fair organiser Koelnmesse, while noting that three decades on, Spoga+Gafa remains at the forefront of the industry. "The garden is becoming more and more like an outdoor living room," she adds, noting that this year an entire hall is devoted to barbecues. "It's not only a summer trend anymore: it's a year-round trend." German firm Rösle saw this coming when it launched a barbecue line four years ago. Founded in 1888, the kitchen-utensil specialist transformed its booth into an Alpine escape with a chalet, where waitresses wearing dirndls serve grilled sausages to sample.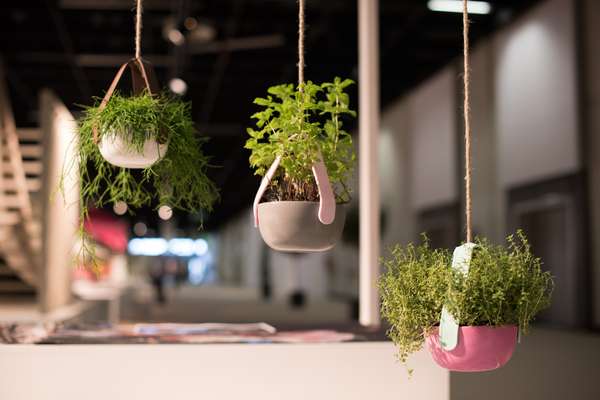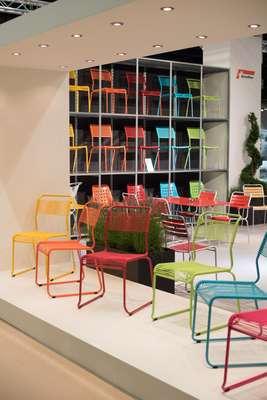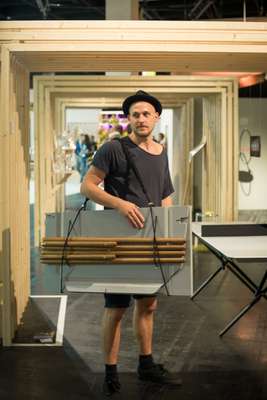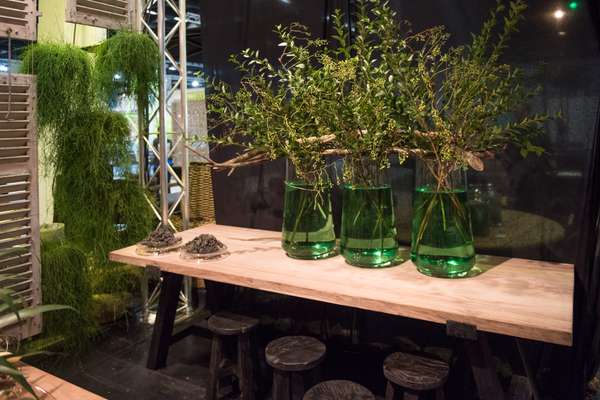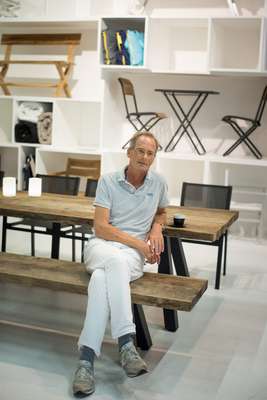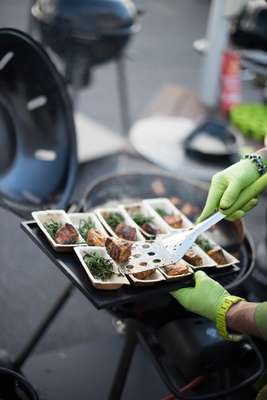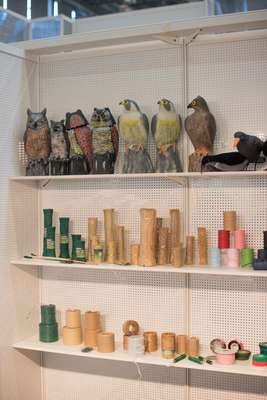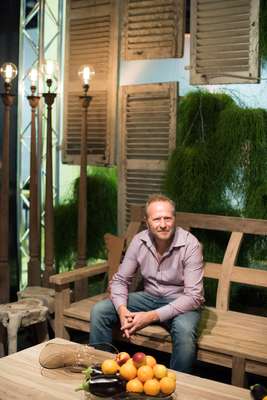 "The world is coming to us here," says Lars Houe from Danish brand Houe. His chairs are made of bamboo combined with colourful click-on plastic pieces; they were developed with a Lego-expert and can easily be customised. "We're trying to bring fun into the world," he says. "Garden furniture is not moving that much. If you go into fashion you're going to struggle as a small Dane but in garden furniture, doing something you really mean, it's going to succeed." Bamboo was also Jokjor's choice of material for its minimalist hanging plant pots. "It's called the Sling," says Boudewijn Roest, co-founder of the year-old Dutch business.
Across the way is Jan Kurtz, whose furniture firm from Affalterbach has been showing here for 20 years. "The new trend will be giving natural materials a second life," says Kurtz, who ensures that about 90 per cent of his furniture is manufactured in Europe. "We use oak from old houses that are 60, 70 or 80 years old, so there's a lot of history."
Belgian design brand and fair newcomer Gommaire also uses reclaimed and recycled timber. "It all began because I wanted new furniture for my shop," says former florist Gommaire Cleybergh, pointing at the shelving unit he made to meet this need. He collaborated with his husband, Bert Verelst, to create a debut collection and turned his Antwerp home into a showroom. Now a fully fledged designer, Cleybergh aims to create furniture that's as suited to the garden as the home.
Back to basics: that's what this year's outdoor furniture is geared towards. The beauty of a set of well-made wooden chairs is that they'll last. "Maybe for 100 years," says second-generation Martin Schaffner of his Rigi chairs made of ash. Among premium brands the wish to manufacture close to home is increasing, as is the notion of investing in products that will improve with age. Production may still be mostly China-centred but in Köln at least, a more cultivated attitude is growing.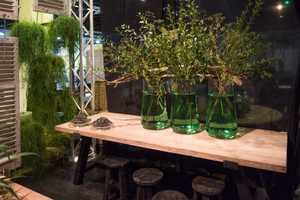 01.
Gunnar Søren Petersen
Snak table
"I got inspired to create a camping table while I was in Roskilde, Denmark," says Gunnar Søren Petersen, the winner of the Spoga+Gafa Unique Youngstar award. His table is made of plastic, brass and wood.
gunnar-petersen.com
02.
Gommaire
Alan Easy Chair
Launched in January by Gommaire Cleybergh and Bert Verelst. This teak chair is one of many standout timber pieces, ranging from benches to tables.
gommaire.com
03.
Jan Kurtz
Bradford table and bench
The German manufacturer collaborates with in-house designers. This year the brand presented pieces made from reclaimed wood, including a solid-oak table and bench.
jankurtz.de
Known for its Rio chair, Italian brand Emu has added a new product to its range. The Ciak is a foldable director's chair by German designer Stefan Diez. It has a lightweight aluminium frame and high-performance fabric.
emu.it
05.
Cane-line
Frame shelving
The new sideboard by 28-year-old Danish design company Cane-line shows that the boundary between indoor and outdoor furniture is blurring.
cane-line.com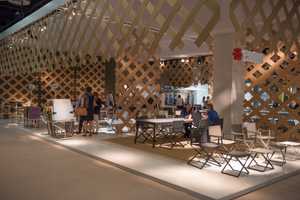 Q&A
Ernesto Musumeci
President
Emu
Ernesto Musumeci is the president of Italian outdoor-furniture brand Emu, which has been crafting award-winning designs for more than 60 years.
How has the garden-furniture industry changed?
In the past five years the big change has been the invasion of "good enough" products from Far East manufacturers. This has triggered a need for differentiation and a clear identity for companies.
How long have you been coming to the fair?
For the past 10 years.
How will the industry develop in the coming years?
Outdoor furniture is becoming more and more multipurpose, invading the boundary of the indoor environment.
emu.it