Residence / Batroun
Home comfort
In the cool mountainous village just north of Beirut, a chef and a fashion designer have transformed a traditional stone house into an idyllic, immaculately designed weekend retreat. The good news? This is just a blueprint for an entire franchise.
Those who grew up around Batroun, an area an hour or so north of Beirut, know the feel of the old houses here and still carry fond memories of them. Food campaigner and chef Kamal Mouzawak and fashion designer Rabih Kayrouz are among them. The pair's latest renovation project has taken them to new heights – 1,100 metres to be precise – where their property in the village of Douma is nearing completion. That, however, is when the house will stop just being their home and become a place that guests can rent. And the setting is precious: this immaculately rendered 19th-century house nestles in the breathtaking Batroun Mountains, where there's an agreeable breeze and the average temperature dips to 10c below that endured in stifling Beirut.
The house, which is called Beit Douma, impresses with an imposing stone façade and distinctive yellow-and-red shutters. Inside there are vaulted wooden ceilings, soaring arched windows and numerous antiques; the effect is of a home from another era. Every inch is carefully conceived and there is a series of connected, airy communal spaces in which to read, rest or eat. The kitchen remains the centre of the home where visitors can enjoy a delicious breakfast prepared by the housekeeper, or entertain neighbours who pop in to gossip about village life.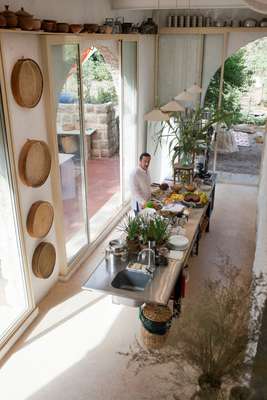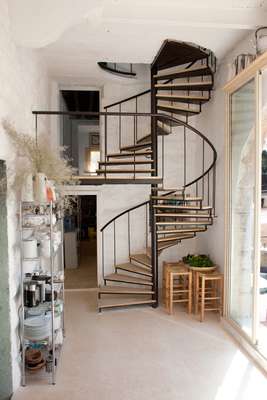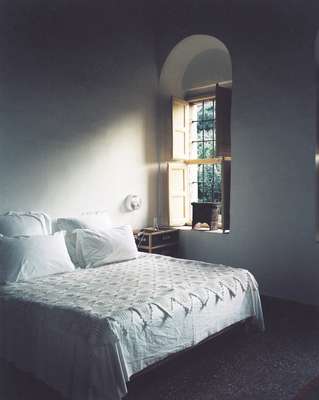 This warm, sociable space is stocked with fruit from the kitchen garden as well as locoum (Turkish delight), chocolate cake, kibbeh (Levantine meatballs) and fresh lemonade. Even a glass of tap water is elevated by the presence of Duralex carafes, covered in crocheted doilies that are made by women in the village.
One reason why Mouzawak and Kayrouz's renovation works so well is that while no effort has been spared, much of the expense you would associate with doing up a house has. The overall ethos is relaxed, comfortable and fuss-free. The house is capacious enough to entertain and contains five pastel-coloured en-suite guest rooms, each with a view of the soaring mountains that surround the property. "The decor in this house is disarmingly simple but refined at the same time," says a visiting neighbour. "It's inspired by rustic style and comfort. The most simple objects have a timeless charm: old brass utensils, earthenware, Arabic sofas, flowers, wicker baskets and mismatched tables."
"In the past every Lebanese person summered out of town," says Mouzawak. "Everyone had a family home they could go to for the weekend. Today very few people have kept hold of them and they've become almost impossible to find.
"Since the Lebanese Civil War [1975 to 1990], people don't have the same means. The house at Douma is under our names but the next ones will be franchises of sorts that will be managed by partners," he adds, chopping parsley for the evening's tabbouleh. "We will oversee the style and atmosphere."
This beit ("home" in Arabic) really does feel like a home away from home, where Lebanon's legendary hospitality is readily offered. "Beit Douma is a house where you can come alone on Thursday, have two friends join you on Friday and then decide to organise a lunch for 40 people on the Sunday," says Mouzawak. But it is clear that he is keen to observe heritage and tradition in what will soon become a commercial venture. "We're not interested in observing a professional code. We're not pros when it comes to serving food – the chef is a former parking valet. We had hired a proper chef at the beginning but that didn't work out: he was too restricted by rules."
That is why you'll never see a fancily made bed, logos on the towels or a kettle and sachet of instant coffee in your room. Mouzawak is frank in his disapproval of such things. "Do you have that stuff in your own home?" he asks. "The answer is 'no'. So Douma won't have it either. We want Douma to remind you of your grandmother's house."