Master & Apprentice / Istanbul
Making the cut
More than just places for a trim, the barbershops of Istanbul sit somewhere between confessional and symposium. The men behind the chair, therefore, train for years to become dedicated specialists with chat as keen as their razors.
There is a saying in Turkey that's used as parents hand a budding apprentice over to the master who will lead them on their way in the world: "The flesh is yours but the bone is ours." That aphorism was still ringing in Huseyin Akbay's ears when he left rural Konya in 1980 and turned up for work at a barber shop in downtown Istanbul. "I started here when I was 12 years old, sweeping up hair, fetching cay [tea] and brushing off jackets," says the master barber. "I gave my first haircut to my brother. It was a Sunday – the one day the shop was closed. I thought the trimmer would automatically level out his hair. You can imagine how that turned out."
Cornedor is the kuafor that Akbay now runs with his white-haired former master, Ismet Yaman, whose name is written in swirling font on the window. Akbay points to a time-tinted photograph of himself on display: a teenager in an over-sized smock, broom in hand, stood on the same draughts-board floor. He has since become one of the most-trusted barbers on Istanbul's European shore. Cornedor, with its marble basins and genial banter, is an old-school tidy-up frequented by Beyoglu's finest, from consulate clerks to surgeons and young designers.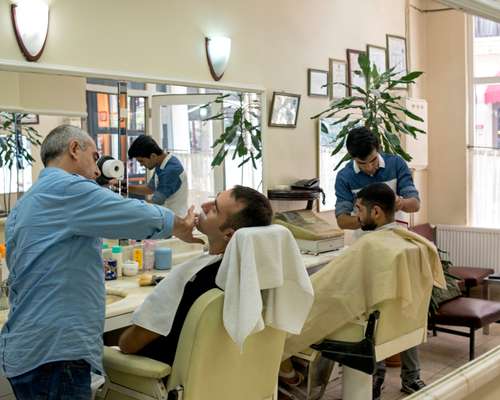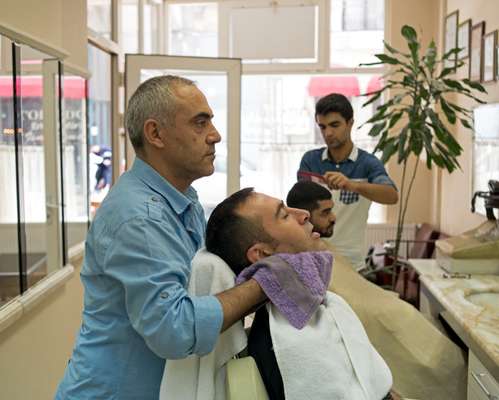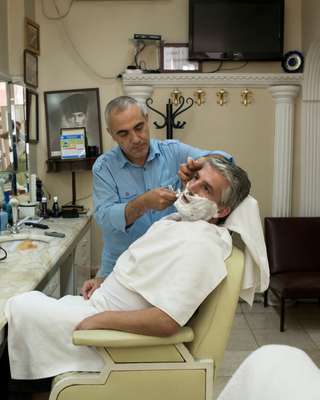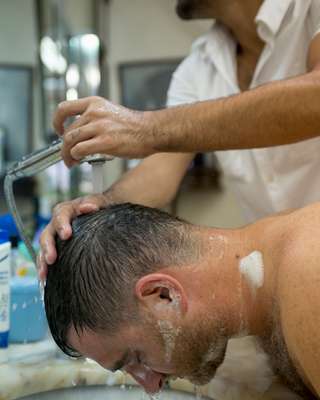 Now Akbay is passing on his hard-won wisdom to 19-year-old Aydin Simsek. "Your attitude towards the client is very important," Akbay tells his apprentice, ever attentive but considerate of the foam-faced customer with a blade to his neck too. "They need to become a member of the family because that relationship is what keeps them coming back."
Born in Batman in southeast Turkey, Simsek is typical of many young people who migrate from rural Anatolian towns and villages to be swept up by the big city. Today, rather than a life dictated entirely by barbering, apprentices attend college where Turkish and maths classes supplement lessons in hair-dyeing and treatments for women. On-the-job training is still vital: "Cornedor is teaching me to be bold," says Simsek. "You need a lot of confidence to do this job well."
These shops have always been spaces where the intrigues and idiocies of the day are aired and chewed over. Politicians are written off or revered, gossip is shared among men; to paraphrase novelist Orhan Pamuk, a barber who shaves you in silence is no barber at all. For the apprentice, years of serving tea and sweeping shade into lessons in the correct way to lather a face and the slap-and-snap back rub that marks the end of a decent hair cut, until he acquires certification from the Guild of Barbers. Until then his blade is laid only on his master; the process is therefore built on mutual trust.
Older barbers also know they are a constant in a changing city. Cornedor could never survive, we're told, had owner Ismet Yaman not bought the shop in the 1990s (Soho House is a few doors down and nearby rents are rocketing). The business was started by a Greek master barber, who taught Ismet before being driven out in anti-Greek riots in the 1950s. Akbay started sweeping hair the year the military coup upended Turkey. Through all these seismic shifts, the barbershop abides.
As if on cue a longstanding customer enters for his morning shave and greets the master with an embrace. He has been coming here for 25 years and Akbay used to dust off his coat as an apprentice; today it is Simsek's turn to make tea, watch and learn. Blinking at his freshly shaved face in the mirror, the client grins. "Everything changes," he says, drumming his fingers on the basin, "except this marble."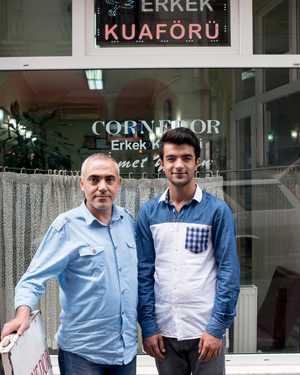 Master & Apprentice
Master
Huseyin Akbay
1969 Born in Konya
1980 Moves to Istanbul and begins apprenticeship for master barber Ismet Yaman
1982 Cornedor opens in its current location on Mesrutiyet Caddesi, Beyoglu
1993 Receives his certificate from the Guild of Istanbul Barbers
2001 Qualifies as a master barber
Apprentice
Aydin Simsek
1996 Born in Batman
2008 Moves to Istanbul with family
2012 Begins initial training as a barber
2013 Enrols at barber college in Taksim and begins apprenticeship at Cornedor