How I Manage / Florence
Style counsel
When Raffaello Napoleone took over at Pitti Immagine, Florence's Pitti Uomo was a moribund trade fair. Having revitalised both it and the city's fashion business, he shares his wisdom on the leadership skills needed to help start a renaissance.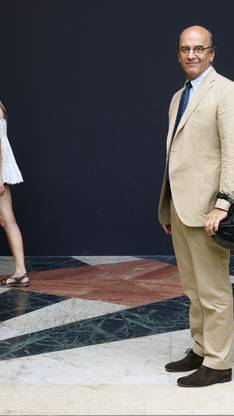 Milan may be synonymous with Italian fashion but don't tell that to Raffaello Napoleone. A native of Rome, he has worked to elevate his adopted home of Florence into a key venue on the annual fashion calendar through his role as CEO of Pitti Immagine, the organisation that twice a year puts on the pre-eminent menswear trade show Pitti Uomo.
"People forget that back in 1951 the first fashion show in Italy was hosted in Florence," says the 61-year-old, ensconced in his office a stone's throw from the city's Santa Maria Novella railway station. "You had Pucci and Gucci here. Milan and its catwalks came later, in the 1970s and 1980s. What's more, today you still see leading fashion houses, Italian and foreign, making things here in Tuscany: leather goods, clothing, shoes, you name it."
Napoleone once considered a career as a diplomat and it's easy to see why as he recounts the early years of Italy's post-war fashion boom, when the Tuscan capital hosted the womenswear shows and Valentino and Mila Schön courted the press and wealthy buyers. He is the perfect ambassador to promote this cradle of the Renaissance and its place in the crowded annual calendar of fashion events, when hordes of journalists and buyers continent-hop from one fashion week to the next.
Before beginning his tenure at Pitti Immagine in 1989, Napoleone worked at Ferragamo in Florence, running its personnel department where he discovered his talent for selecting candidates. "When hiring, it comes down to first impressions. You look the person straight in the eye, shake their hand and assess their character. Are their responses precise? Is there hesitancy when they answer questions? In my current job with Pitti, I look outside the fashion industry because I want people with a fresh perspective. They need to be well-rounded, multi-lingual, cultured and curious. I don't think it's healthy when you have people who are too narrowly focused, whether it is in fashion or in the tech sector. It's best to have a broad training."
His first impressions of Pitti Uomo, which debuted in 1972, were less than enthusiastic when he took part as an exhibitor with Ferragamo: "At the time we saw it as a run-of-the-mill trade fair. Anyone with a business card could get in and simply wander around. The presentations were dull."
Napoleone felt that Florence needed to raise its game to compete with the major fashion centres. "By the 1980s we weren't seen as a fashion player anymore but we still had this wonderful resource, being a capital of art and architecture. This was our advantage: the image of Florence – good taste, good food, the Italian lifestyle."
His strategy was simple: to increase Pitti Uomo's visibility by leveraging the city to attract visitors. In addition to exhibit booths inside the walls of the imposing Renaissance Fortezza da Basso, the trade show now puts on a plethora of runway shows and cocktail parties throughout town in exclusive settings such as the Villa Corsini gardens. Napoleone began to charge admission and devised a plan to ensure Pitti Uomo would exhibit the best emerging talent in menswear from home and abroad. This year Pitti saw over 24,000 buyers in attendance and the number of exhibitors has grown from 400 when he joined to nearly 1,200.
To manage the conflicting schedules that can arise when Pitti's events clash with the London menswear collections that precede it or the Milanese shows that come after, Napoleone is not above chartering a jet or high-speed train to ferry attendees straight to their seats. To keep tabs on trends, up-and-coming designers and event logistics, Napoleone relies on a team of more than 50 people. Besides menswear, staff organise a variety of trade shows during the year that include Taste – a popular premium-food fair – and Fragranze, a gathering of artisanal perfumers.
Managing the organisational headaches at Pitti Immagine requires staff who are always on their toes. Napoleone likens it to his weekend passion: sailing regattas. "I find that the sport is a perfect analogy for business. If you're putting together a crew to race you need to identify people who are not only prepared to execute their given tasks but who will not give up in the face of adversity. Because one thing that sailing teaches you is, even if you fall behind in a race, the wind could change in your favour at any moment."
In Napoleone's role, extensive research is a must. He and his team scour trade fairs big and small specialising in everything from workmen's clothing to technical fabrics to see where the industry is moving; they search shops in key cities to unearth new niche brands. "You need to work constantly, benchmark with your competitors – I go to fairs from Frankfurt to Las Vegas – to be certain that you have your finger on the pulse and see where society is going in terms of the bigger trends. That's why I'm interested in recruiting people who are, above all else, inquisitive."
The rules
1.
What time do you like to be at your desk?
Between 09.30 and 10.00, since I take my daughter to school first.
2.
Where's the best place to prepare for leadership: an MBA school or on the job?
On the job first. Then go deeper with short speciality, executive courses depending on your field.
3.
What's your management style?
Delegate but verify. I've learned to allocate more over the years. I have an experienced team who I trust with the tasks given to them.
4.
Are tough decisions best taken by one person?
You can't be a dictator. You first have to listen to everybody – ask for suggestions, advice – and then you decide.
5.
Do you want to be liked or respected?
Both. I think respect is not obtained by being forceful in your approach. If you are fair and just you'll be appreciated by your team and earn their esteem.
6.
What does your support team look like?
We are a big team. It's not about being the top man in a company and I share a PA with my colleagues, who co-ordinates travel for work. I look after my personal errands.
7.
What technology do you carry on a trip?
I'm Apple-addicted: iPhone, Apple Watch and an iPad to read news. For taking photos of interesting finds I use a digital Leica.
8.
Do you read management books?
Yes. I like case studies, biographies such as Steve Jobs'. I skim and pick out chapters I'm interested in. I like to broaden my scope: Edward Glaeser's Triumph of the City and Richard Florida's The Rise of the Creative Class to understand trends.
9.
Do you run in the morning? Have wine with lunch? Socialise with your team after work?
When I can, I take my daughter by bike to school. Wine, never. After work I'll go for an aperitivo with my managers.
10.
What would your key management advice be?
Be curious, always.