My last meal / Berlin
Wim Wenders
Wim Wenders extols the virtues of German cuisine at his favourite haunt.
"My first memory of food is sitting on the back of my dad's bike. My mother was on a bike as well and we were cycling out of Düsseldorf, which in 1948 was flattened, bombed ruins. We took a ferry to the other side of the Rhine and rode for a couple of hours in the countryside to meet farmers. My father traded jewellery for a bag of potatoes. The bag ended up on the back of his bike and I rode back on the front bar between his knees. I was crying because I was so uncomfortable. But the precious potatoes were on the back and we ate them for weeks. I was three years old.
I've had an office and apartment in Berlin since the early 1970s, even when I lived in America. The culinary aspects of the city then were pretty grim. There were Prussian places where the main food was greasy sausages and heavy German things; they've disappeared. I discovered Florian when it opened. It serves southern German cuisine from Franconia, a region in northern Bavaria. Their speciality is Rostbratwürstchen [small roasted sausages] and sauerkraut. The ingredients come from Franconia and it's special here. When friends visit from far away, like America or Japan, I take them here because they don't know German food; it was long underrated and not really famous for anything except sausages. Even in the sausage department, this restaurant is better than anywhere else. The Tafelspitz – boiled beef – is amazing.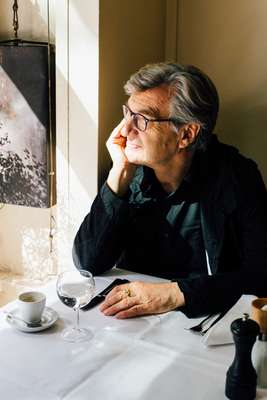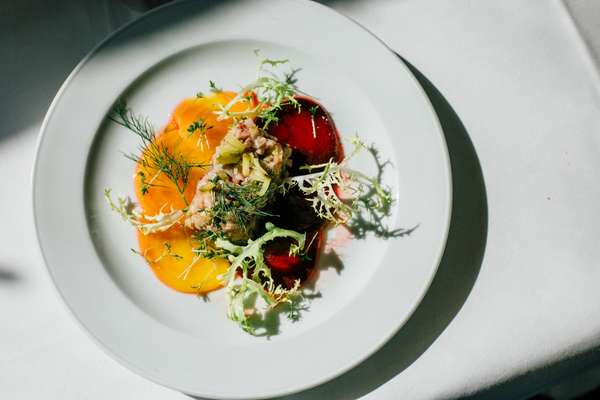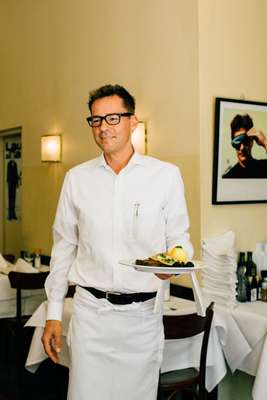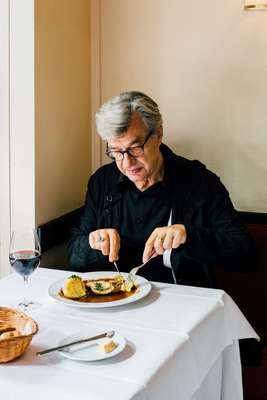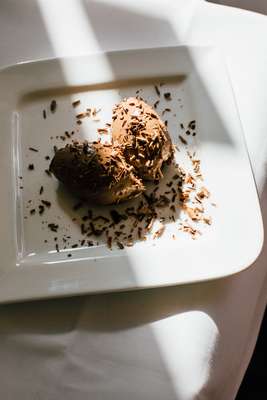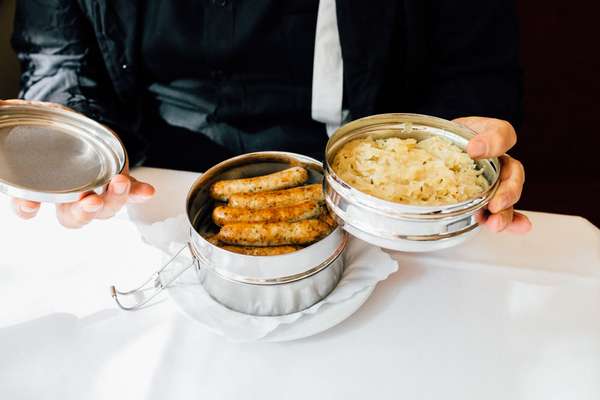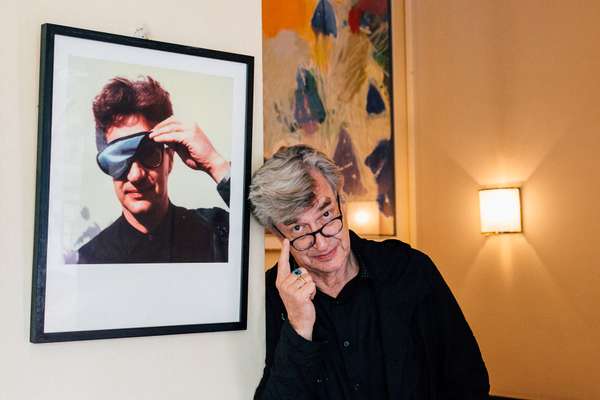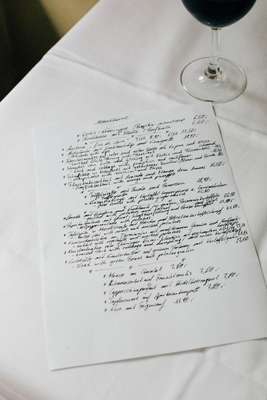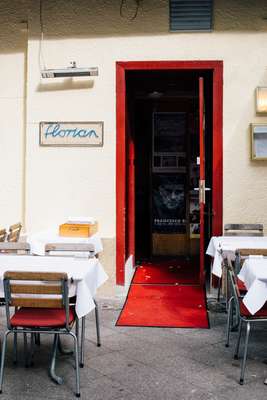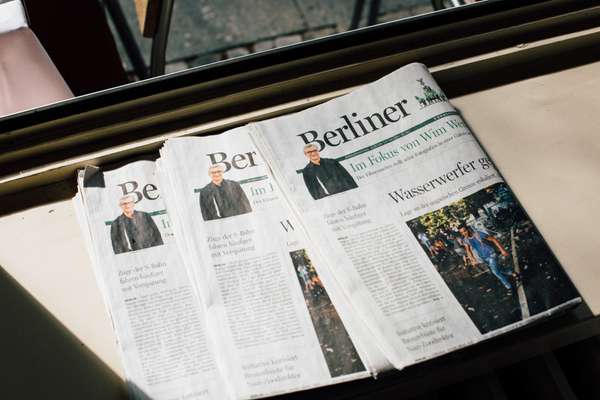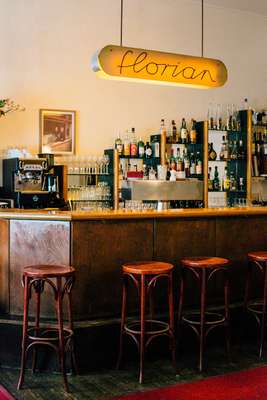 I don't even have to look at the menu: I know what I want. I lived around the corner and for 20 years I ate here almost every day. Once I find something, I am very loyal. I now live in Mitte so I only come once a month or so. Last meal? I'd have it here because it's the place I have the longest relationship with.
I don't like fancy cuisine too much. There's one big photograph in my show [an exhibition at Blain|Southern Berlin]: it's a panoramic wide image of an asparagus field. White asparagus is my favourite food in Germany; it grows next to Berlin but also in the Rhineland. We always had it when I was a kid with potatoes and melted butter. Later, when the Wirtschaftswunder [postwar prosperity] came, we had ham with it.
I've taken pictures since I was six. My father gave me a camera; he was a surgeon but also an amateur photographer. I wanted to become a painter so photography was nothing special, it was just there. I only took it seriously from the early 1980s. It was spring of 1983 when I was travelling a lot in the American southwest and I had to get used to these bright colours; I wanted to lose my fear of this light. Until then I'd only photographed in black and white.
Photography doesn't coincide with my film work anymore. As a film-maker I'm a social animal with 100 people around and have been quite adventurous with digital production and 3D. But as a photographer it's essential I'm alone and I shoot analogue. There's nothing retouched. On a long day of shooting I'll travel with a Thermos; most of these places are lonely and I can't get a coffee. Every now and then I'll bring a Stulle: a small sandwich.
The [Blain|Southern Berlin] gallery is around the corner from Potsdamer Platz, a place that is still a mystery to me. In the first two pictures in the exhibition you can see its transformation. They show Potsdamer Platz as a junkyard. For a long while it was just that; pieces of the Berlin Wall and leftover trucks. It didn't belong to anybody. Then it was a huge lake, because groundwater came up during excavation. It was amazing to see the centre of the city transform from no-man's-land to a junkyard, to a lake and now a place with high-rises and movie theatres – in 25 years.
The independent film world is shrinking fast and can only survive if a need for narrative films remains. Blockbuster cinema offers formulas; every second movie is a seventh or eighth sequel. It's like with food: it's a matter of what you are offered. The more you get a certain kind of food, the more you depend on it. Slow food is a luxury, fast food is not. And that's the same with blockbuster films. They're fast food for the eyes."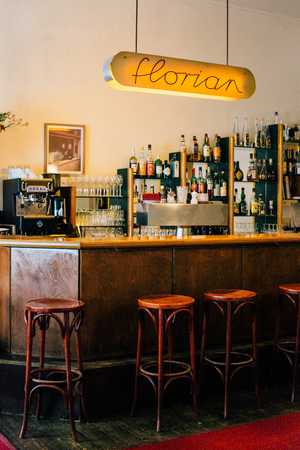 Open since 1982, Florian is a west Berlin institution. Its Franconian cuisine – dishes such as Schweinebraten (sausages and sauerkraut) – is one draw. Another is that the unpretentious lived-in interior spaces (old carpets, an oak bar) feel like home but better. The restaurant's name comes from Florian Geyer, a freedom fighter who led peasants during the German Peasants' War in the early 1500s. A photograph of a young Wenders hangs on the wall.
---
To start: Matjes (soused herring) salad with red and yellow beetroot.
Main: Franconian pork roast with a potato dumpling and gravy.
To finish: Mousse au chocolat.
To drink: Château Lilian Ladouys, Saint-Estèphe bordeaux and water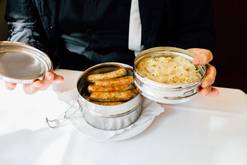 Franconian pork roast
Serves 4
Ingredients
1kg pork neck (single piece)
200ml white wine
200ml apple juice
250ml apple vinegar
4 onions 1 bunch soup greens (carrots, parsnip and parsley)
1 sour apple
15 prunes 1 tbsp juniper berries
Pinch allspice
5 cloves
1 tbsp black peppercorns
1 tbsp flour
The method
Finely chop soup greens, onions and apple, then boil in broth with other ingredients (except apple, prunes and flour). Marinate meat in broth for two days.
Remove meat from broth and pat dry. Strain broth.
Sear meat in hot oil. Separately, brown vegetables, stirring constantly. Pour broth back into a baking tray, add meat, cover and braise at 180C for 2 hours.
Remove from oven; strain juices and gravy. Heat latter again, thicken with flour and reduce by half.
Serve with baked apple slices and prunes.