Working Life / Los Angeles
Artistic licence
Ed Ruscha helped define the 20th century and his pictures have burnt themselves into the world's retina. As he prepares for a new show in Berlin, Ruscha welcomes Monocle into his Culver City studio to talk work and inspiration.
"It's good to be organised; that's how I work. I don't have a routine. I come in every day but no routine. I can work at night, I can get into that working late thing; I can be here till three in the morning if I have the urge but normally I knock off at night. But I come in to the studio every day.
This building was built by Howard Hughes; they built aircraft parts here in the late 1940s and then it became an automobile repair shop and then last thing it was a movie prop house where they rented objects like bronze buddhas and marble statues and Indian movie posters and God knows what else – and then I moved in.
It's had a loony legacy. In my old studio all the books were stacked on end which meant I could never read the bottom ones, so I thought this time I'd go legit. It goes from 'California' to 'Automobiles' to 'JG Ballard'. It gets specific. Invariably there are books that don't fit any category; sometimes they're the best ones.
The next show I'm doing is in Berlin. Metro Mattresses are pictures of mattresses I found on the streets of LA and sort of added things to them so each one represents a particular find on the street. They've been abandoned and here in the studio the photographs have been just sitting here for years as well and I've looked at them and never been inclined to make any art out of them but recently they were interesting somehow. There's something pitiful about them, discarded on the streets. I've done a series of paintings about that in recent years, 'Psycho Spaghetti Westerns', which were broken tyres and things. People come along and see these mattresses and paint graffiti on them or slash 'em up; they have to leave their mark on them. With a stroke of a paintbrush I've made them look more abused, that's the thing. I took complete artistic licence with these things: they get messed with.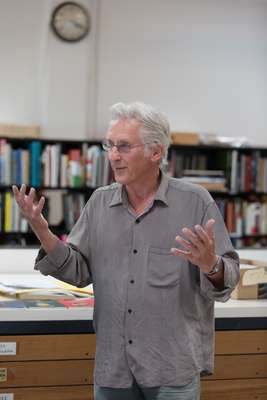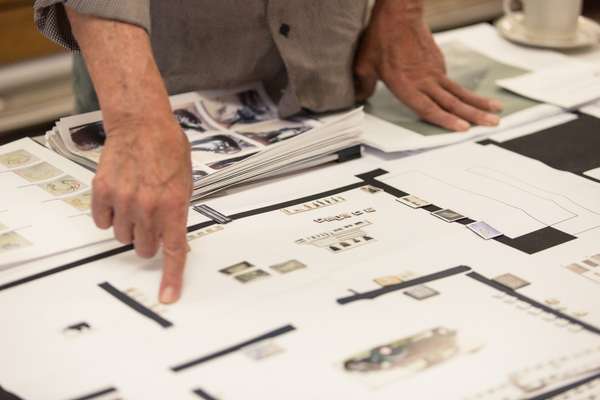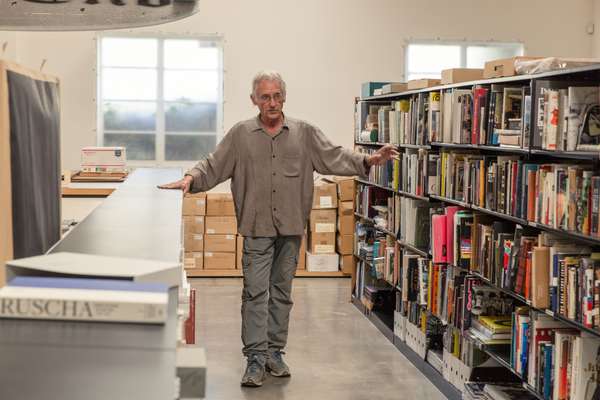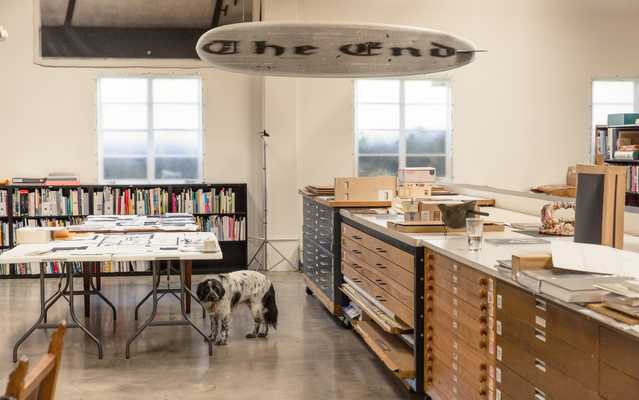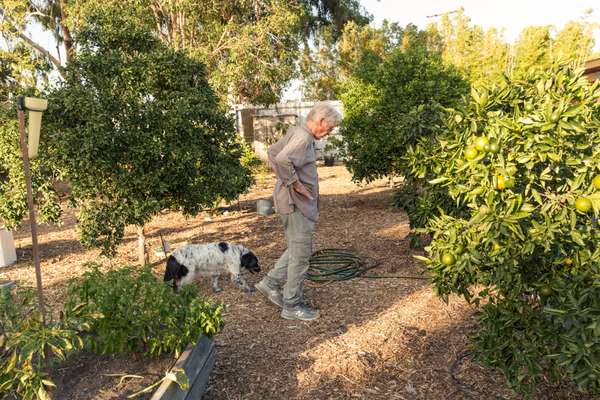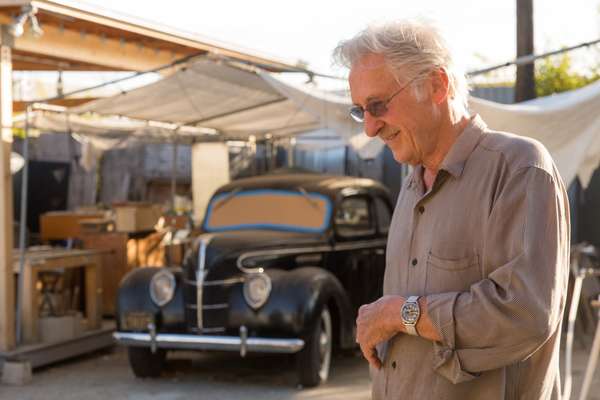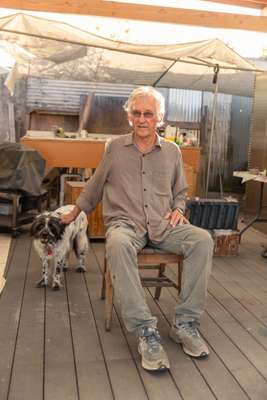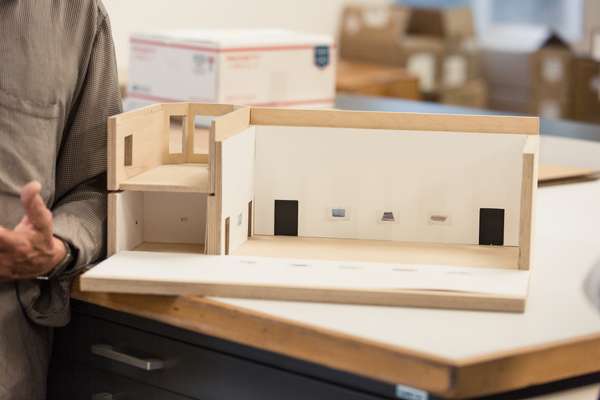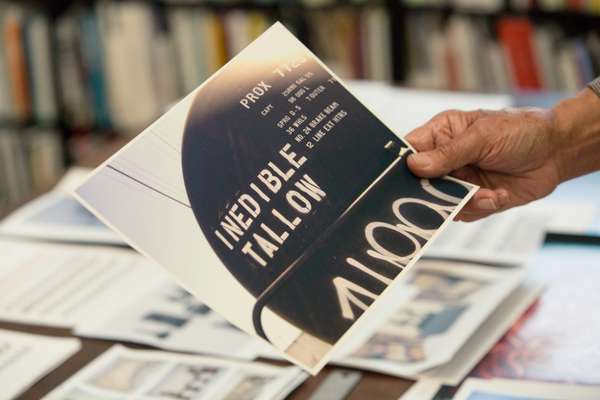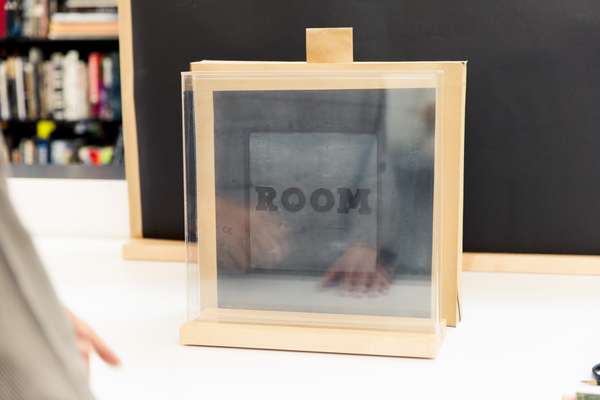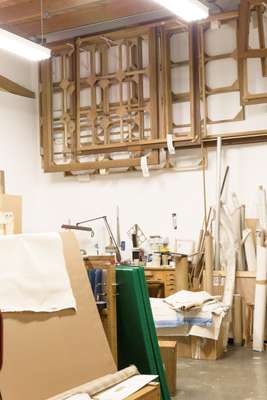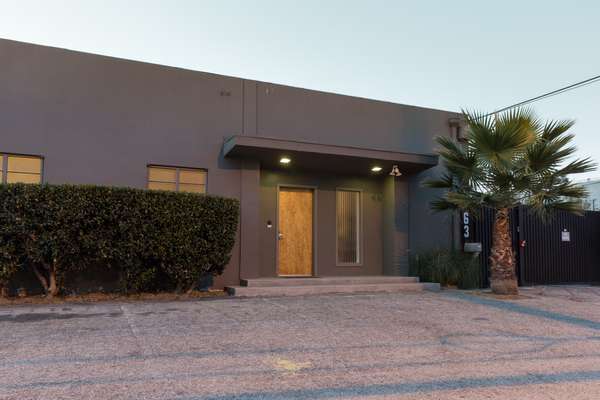 It can be slow. I might have seen these things on the street eight or nine years ago and I'll take a look at the photographs, check in every now and again, observing, without feeling like I want to make art out of it, and then eventually I end up making something. I'm not out to write my own history, I just follow one thing to the next and that's where it takes me. These things are not master-planned, if you know what I mean. I normally respond to things on the street, they seem meaningful to me and seem like they have not been investigated so that's what makes me want to work on them. There's no agenda, there's no way to really follow it, it involves spontaneity and you're always looking around a dark corner. And that's OK too; you don't have to go round looking for disorder, it'll happen to you soon enough and it can feel good and you'll want to keep on working on that.
In terms of subject matter, what starts you off is either obvious or obscure but sometimes the subject matter has an empty blandness and a boringness to it that actually supports the idea of making art out of it. That can be attractive. I grew up eating Sun-Maid raisins every day. When I was at school I was encouraged to look into things that are personal to me and I looked at that box, of the design with the Sun-Maid raisin lady, for so many years that I thought the only way to get this out of my system is to paint a picture of it.
People ask what I am going to do next and I say, 'I don't know what I'm gonna do next!' But there's a nervous energy that's got to be expended so I might do something that I've done before, I'll just be spinning my wheels, before the next thing. I get a lot out of reading but I get things out of picking things out of the air that are disjointed and don't have beginnings and ends, that are fragments of thoughts that somehow say, 'Make a picture out of me.'
Of course people get in touch if they know my work and suggest things for me to paint, road signs and stuff. Things get sent in. Look at this one, 'Sustainable Crushing', and blank signs, 'Inedible Tallow', this one of Pahrump, Nevada with Kim Wanker running for mayor. This is a few years old; I'm sure Kim is already in office. It's all highway stuff. I guess it's an urge people have, to tie you in with stuff that they think is similar.
"I like to ditch out and go to the desert where I've been going for 50 years and I could work out there too but it's very removed from the speedy life that happens in the city. I guess I feed off the accelerated lifestyle I have here that wouldn't happen in the desert. Along the way I'll see something I like that'll wedge into my thinking and make me want to make something out of it. It can just happen at any time, anywhere that these thoughts occur to me. Inspiration and all that? It's difficult to describe.
I don't stare at a blank canvas and wait for something to happen. But that's the way I was taught in art school, 'Stare at that canvas for long enough and you'll want to do something to it.' Everyone was painting abstract pictures and then I found myself wanting to comment on real-life things, like Sun-Maid raisins for instance, and make something out of it, something that didn't necessarily involve mixing paints together and making abstract images. I mean that was done so well by so many artists back in the 1950s and 1960s that, God, there was hardly anything else you could do to further that discussion. So I'm not totally sold on figurative art; I'm into it, yes, but there are all kinds of ways to make art and unconventional ways to make art – and there's a lot of people around doing it.
"I did a series of paintings with flames in them. The burning part came from an urge to take a subject that had already been established by myself and doing something else to it. I don't have an experience somewhere personal to me that involves fire. It's beautiful; it can have a dramatic effect to it. Somehow it got in there and I worked on it for a while. Do you know that painting 'Ophelia' [by John Everett Millais] that's in Tate Britain? That's what my 'Los Angeles County Museum on Fire' is based on. It's a pre-Raphaelite picture and the subject was viewed at an oblique angle. Somehow I felt that that was my Ophelia; it even had some of the same colours in it and the same misfortune in it, there's something mythical about it and something timeless.
A lot of times driving is good for thinking but it can happen at any time; I don't need to go searching for ideas, I don't start at 9am and say, 'Right, it's time to search'; I come in here a lot and don't produce anything or I might start something and it doesn't get finished for five days. I'll just be collecting paper clips or something for three days and then suddenly a few things get done. There's no rhyme or reason to it but that's how it happens.
It's equally satisfying, I guess, to be working on a canvas and having finished it. It's both. I tell myself it's the end result, it's not a means to an end; but hell, it's a means to an end too. You know, getting there's half the fun; like driving to the desert. Sometimes it's not fun, it's more an ordeal but I like things that finally resolve themselves.
In terms of work, you know it's so habitual that I don't know I'm doing it. Looking back on the years I'll say, 'I've been doing this a long time' and I don't exactly know what 'it' is. I don't have a rule in my life that I have to go into work every day but my work centres around it. I like to keep things going so I find myself in this little hamster wheel, but it's not bad. I'm happiest when I'm on my own. I don't mind it. I never get bored. I know people who do and I wouldn't want that to happen to me. There are too many things. It's a whirling dervish. It just keeps going and I don't intend to stop it. Whatever comes along the 'pike I'm happy to see happen."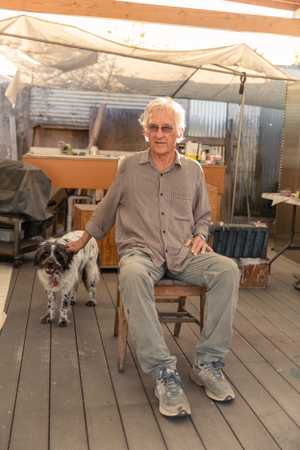 Life on the street
Ed Ruscha's CV
1937 Born in Omaha, Nebraska.
1956 Moved to Los Angeles and attended Chouinard Art Institute, graduating in 1960.
1960s "Falling Chiclets", "Standard Station", "Burning Gas Station" and "Los Angeles County Museum on Fire" became famous.
1970s Started using sentences and phrases instead of words in his work, starting with "It's Only Vanishing Cream" and "Sand in the Vaseline".
1980s: By the middle of the decade his text work had become instantly recognisable, "Wen Out For Cigrets N Never Came Back" laid over a night-time grid of illuminated streets summed up the mood.
2000s Mountain ranges and blocky buildings defined his work at the start of the 21st century.
2005 Represented the US at the 51st Venice Biennale with a 10-painting series, "Course of Empire".
2015 Metro Mattresses opens at Sprüth Magers, Berlin, in November. Ruscha is currently working on a show that will open at the Gagosian in London in October 2016.