Report. Soft Power / Iceland
High fliers
With a careful eye for detail, Icelandair has helped tourism overtake fishing as Iceland's key industry and promote the country as different and dynamic.
Dawn is breaking as Hengill, a Boeing 757 named after an Icelandic volcano, lands ahead of schedule at Reykjavík's main airport. Keflavík International Airport is already bustling as Icelandair flights from North America arrive, creating a well-orchestrated line of landing lights that stretch into the sky beyond the end of the runway. Within an hour each arriving jet will offload more passengers and be cleaned, catered, refuelled and refilled with passengers headed onward to mainland Europe. The scene repeats itself in the afternoon when all of the jets that went to Europe return to Keflavík and are readied to start their journeys to the US and Canada.
Speed and precision are both of the essence at the privately owned airline. You might not think a ruffled pillow or a jagged headrest would be too big a mishap in today's less-than-thrilling airline-service world but for Icelandair details are a key part of its soft-power play. The aim is that the white-blue-and-gold aeroplanes in the fleet make Iceland proud when they touch down at the other end of the line.
"We teach our passengers the Icelandic words on the napkins and on headrest covers, how to pronounce them and what they mean," says Thordis Anna Oddsdottir, director of onboard retail and service, who is sitting in an office full of what an outsider might describe as propaganda. It's a clever and well-designed assortment of everything that would go into a passenger's experience onboard. If you were to peruse the seat pocket during your flight, you'd learn the Icelandic word for climate: loftslag. It's smartly printed, with a colourful explanation, on a paper bag.
Not surprisingly, hints about the climate (and volcanoes) are a recurring theme on the items placed throughout the cabins. "All of this really creates the Icelandic experience onboard and it brings out curiosity in our passengers," says Oddsdottir. "They get curious and they want to know more." This, Icelandair staff say, has brought the country into better focus for those who might only be on board an Icelandair flight to transit at Keflavík.
Around one million people visited Iceland last year but 2.6 million flew on Icelandair through its hub during that same period. The airline moves far more people through the airport than it actually brings here to stay. Passenger numbers keep rising and officials at the airline say this translates into a huge captive audience who are ready to be convinced to think of Iceland when planning their next holiday.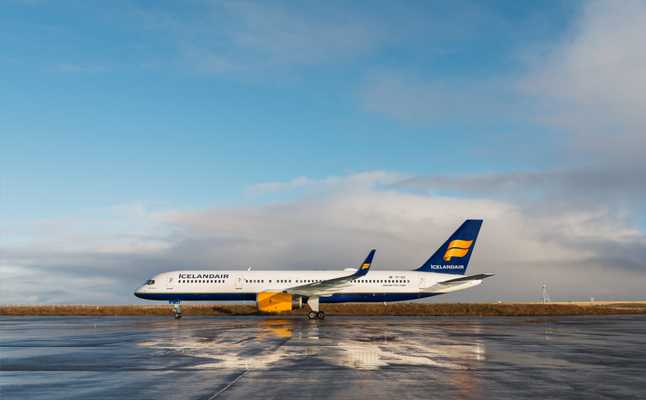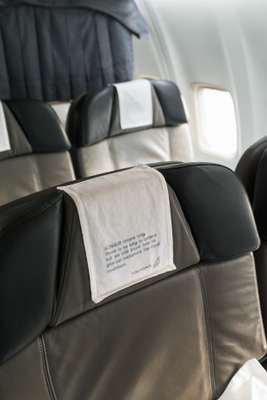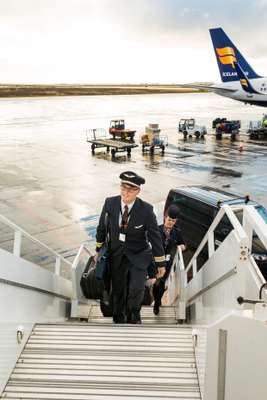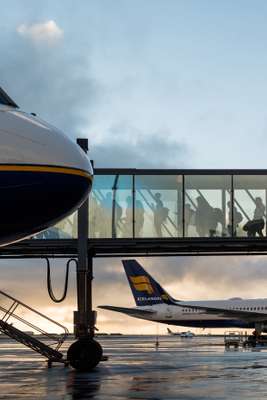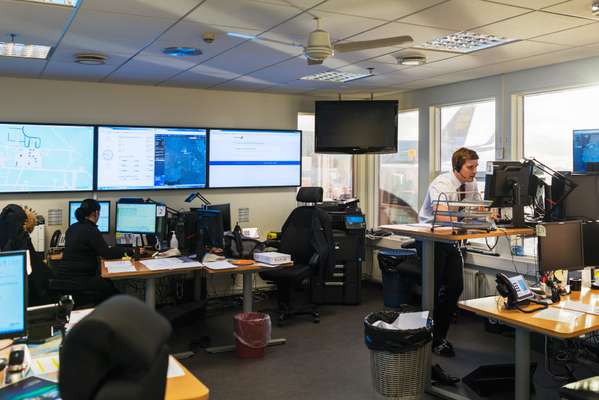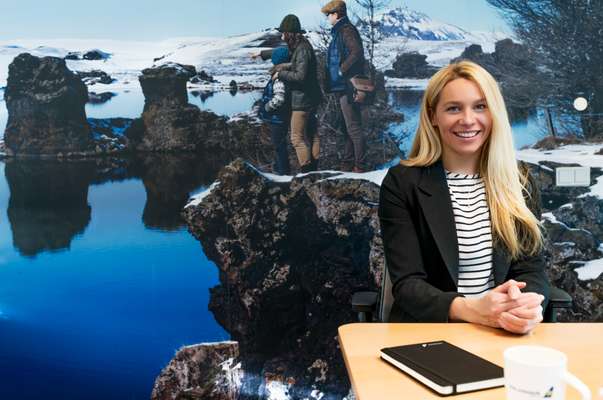 But the past few years have not been without difficulties. CEO Birkir Hólm Gudnason took up his post in 2008, the year the Icelandic economy disintegrated in a banking crisis. "We had to lay off a lot of people and streamline," he says, while sitting in his office at Icelandair's headquarters in Reykjavík. "Then, of course, in 2010 we had the volcanic eruption and we couldn't really believe it because we were just waiting for a normal year."
With the country's brand in shambles and facing the eruption of Eyjafjallajökull, Gudnason knew what bearing the nation's name meant. "We didn't want the image of Iceland to be that Iceland was closed," he says, explaining how it was crucial for the airline to keep running safely during the volcano crisis.
One week into the eruption, the airline, the government and the tourism authority attempted to fight back by creating a campaign called "Inspired by Iceland". Focusing on the country's active and natural beauty, Icelandair ran picture-heavy adverts across the markets it served, spinning Iceland's extreme environment as a chance for visitors to have an adventure unlike any other.
The campaign was part of a shift in thinking for an airline that had primarily focused on getting Icelanders to and from the island. With the financial collapse, many locals couldn't afford to fly. Getting new customers from North America and Europe onto Icelandair jets was key.
In the years since, many here tout "Inspired by Iceland" as the campaign that shifted the economy to tourism. Now a visitor boom is playing a large role in bringing Iceland out of an economic slump – the number of tourists today is twice what it was in 2010. In hindsight Gudnason jokes: "Never waste a good crisis."
At every turn, be it the boarding music, the locally distilled spirits or the Iceland-inspired Christmas menu, Icelandair finds ways to inspire passengers with the idea that a trip to this country will be an adventure. Commenting on the rising number of people who come for a visit, Icelandair's station manager Halldora Arny Vidarsdottir shares her thoughts as she spruces up the pillows and headrests on a flight that will soon depart for Minneapolis: "Some say the volcano saved the economy in Iceland. But people are changing the way they travel – not everybody just wants to go and lie on a beach. They want to see something different."
Meanwhile, the airline's fast-expanding route network surely has something to do with the uptick in transit passengers.
Icelandair has never been state-owned but it clearly has a place in the nation's foreign affairs. This is evident when MONOCLE meets Gunnar Bragi Sveinsson, Iceland's minister for foreign affairs. Sveinsson had returned from a state trip to Helsinki on an Icelandair flight just an hour earlier. "By marketing our nature, our people, our literature and our culture they have done very well," says Sveinsson of the airline. "Everything is linked together – the nature, the tourism, the fact that we are an almost fossil-fuel-free country. This creates an image that is important for Iceland to keep. If you look at what we politicians are talking about abroad, I am absolutely sure it's the same image that Icelandair is trying to promote."
These days tourism has surpassed fishing as Iceland's main industry. While not all of the credit goes to Icelandair, it's clear that the small island nation's reputation and economy wouldn't be recovering this strongly were it not for a flag-bearing airline that knows the power of getting things done.
"It's the Icelandic viking culture," says Gudnason. "You finish the job. If you go out on a fishing boat you don't come home until the boat is full." Regardless of whether the loftslag is on your side.