Christmas shopping / Bassano del Grappa
Make merry
Festive treats as warming as the city's ubiquitous drink.
This year our Christmas-shopping quest has taken us to the picturesque banks of the Brenta River in the Veneto region of northern Italy. In Bassano del Grappa, traditional craftsmanship has combined with centuries of trade to give this prosperous yet down-to-earth city a unique mix of independent retailers and producers. From the grape-based liquor that shares the city's name to jewellers, fashion and furniture shops (not to mention many aperitivo stops to keep your strength up), Bassano has something for any stocking.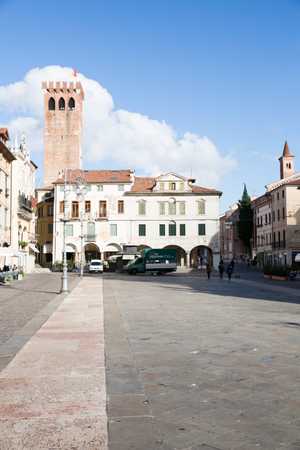 The highlights
Go savoury with Bottega del Baccalà's salt cod or indulge your sweet tooth at patisserie Dolce Bassano.
drink: Hop between Poli Grappa Museum and Grapperia Nardini for a sharpener.

Books: Get lost in Libreria Palazzo Roberti's many chambers or linger with a fresh orange juice among the shelves of Caffé dei Libri.

Fashion: Get an eyeful of Bassano Optical's frames or some smart womenswear at Zoe.
The airports of Treviso, Verona and Venice are all nearby but a direct one-hour train link from Mestre makes Venice Marco Polo Airport the most convenient option for intercontinental visitors to fly to. If you're planning to drive, Treviso airport is less than 50km away. Bassano is 250km from Milan, 260km from Innsbruck and 400km from Munich.
Hotel Belvedere: The Hotel Belvedere is the most traditional option and boasts a warm, old-school ambience. Suites come furnished in classic or Venetian style, while the tiled-floor lounge has the feel of a grand living room with its upholstered chairs, plump leather sofas and piano. Head down the panoramic Viale dei Martiri – with its stunning view of the Val Brenta and the Alps in the background – to reach the city centre in about 10 minutes. Nothing beats Palazzo Remondini in central Piazza Libertà for location: the 17th-century palazzo includes only four rooms, so make sure you book well in advance. Bassano has yet to receive a hotel of the kind it deserves but rumour has it that a luxurious new option is in the works on the western bank of the Brenta.bonotto.it; palazzoremondini.it
1
Libreria Palazzo Roberti
Bookshop
In 1993 Lino Manfrotto, who was a successful producer of photographic equipment, eyed up the beautiful Palazzo Roberti as a residence for his family. The 17th-century building was bound by ministerial decree to remain a bookshop, so his daughters Lavinia, Lorenza and Veronica duly became booksellers. Across its four storeys the palazzo includes a frescoed hall, as well as a labyrinth of walnut-furnished rooms dedicated to specialist titles, where experts are always on hand. There is also a stationery shop selling Koh-I-Noor pencils and Fabriano jotters.
palazzoroberti.it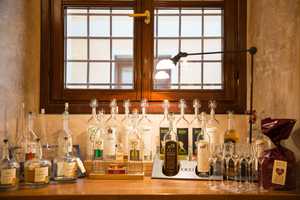 2
Poli Museo della Grappa
Museum/Liquor shop
A few steps from the Ponte Vecchio, up Via Gamba, elaborate copper alembic stills welcome visitors to this 15th-century palazzo. It houses the vastest collection of grappa in Italy and a shop for all Poli's own spirits. The distillery, headed by siblings Jacopo, Barbara, Giampaolo and Andrea Poli, produces the strong drink in nearby Schiavon. Made from the skin and seeds of fresh grapes, for centuries grappa was considered a medicine for ailments including the plague. It won't cure a cold but can warm you up come winter: the Poli Barrique, aged for 13 years, does the job nicely.
Bassano del Grappa owes its name to the nearby Mount Grappa but the potent liquor of the same name is inextricably linked to the city. Fifty-five of the 130 Italian distilleries that produce grappa are in the Veneto region. It is made from grapes including moscato, chardonnay and pinot and must be over 37.5 per cent alcohol.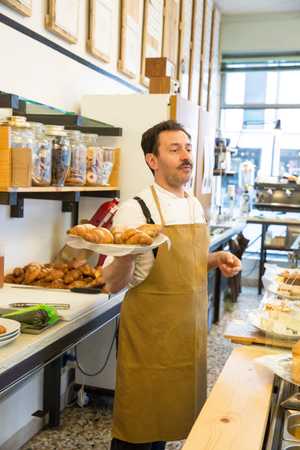 Colazione in Bottega, Cafè
Federico Parise's café at the southern edge of Bassano is great for white chocolate, pistachio or cream croissants and Ethiopian coffee. Most ingredients are from small producers within 10km. The airy space is open all day for anybody to perch in the company of the café's friendly, fluffy dog Giulio.
Vicolo Bastion 5/7
3
Grapperia Nardini
Bar/Liquor shop
Italy's oldest grappa distillery, Nardini has been at the end of the Ponte Vecchio since 1779 and is a Bassano staple almost as much as the wooden bridge itself. Founder Bortolo Nardini distilled door to door before settling here. Bassanesi come for the likes of MezzoeMezzo, a mix of Nardini's Campari-like rosso, rhubarb and soda water.
nardini.it
Wine bars
Three aperitivo stops
Aperitivo (a drink after work and before supper) is an unmissable daily appointment in Veneto. Drop your bags and check in at the following.
Enoteca Mariga
Sit at the long communal wooden table to best appreciate the friendly atmosphere of this enoteca; the cheerful staff can help navigate the extensive wine list.
+39 424 505 334
Enoteca Bar Breda
Pair small sandwiches, cured meats and cheese with a chilled prosecco in this small bar on a narrow alleyway.
+39 424 522 123
Osteria Terraglio
The cellar here is all about small producers – chef Alessandro Bortoli looks after the kitchen.
+39 424 526 158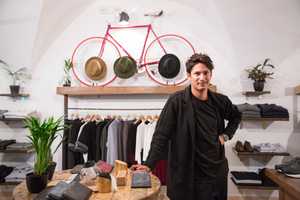 Verona-born Wooden has outposts across northern Italy and its Bassano venture opened in 2014. The bright space is kitted out with wooden shelves and tables. Joining Wooden's crisp men's shirts and trousers, new spin-off Paper caters for women with Alberto Morelato's Japanese and Nordic-inspired designs.
woodenstore.it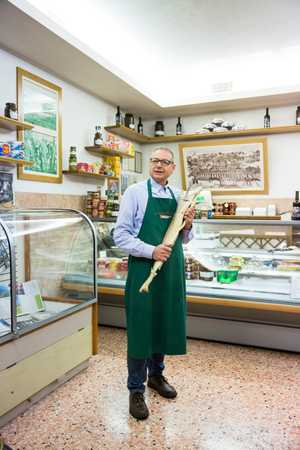 5
Bottega del baccalà
Fish shop
The Baccalà alla Vicentina – stockfish with polenta – was a budget dish but is now one of Italy's most prized delicacies. Having inherited his father's shop, Pierantonio Concato got rid of the knick-knacks it used to sell. In the window is the dried cod the shop focuses on now, while behind the counter is herring, sardines, capers and tuna. Concato makes baccalà using traditional machinery: after passing through the hefty rolls, the Norwegian stockfish is soaked in water for three days to get the perfect consistency.
+139 0424 523 847
The team behind Bassano Optical have three eyewear shops in town but this is the space where bigger brands are set aside and the owners' favourite labels are put into clear sight. The team's selection favours Japanese and American brands and, hidden in drawers of the walnut-root cabinets, are specs from Moscot, Linda Farrow and Oliver Peoples, and sunnies from Céline. On the walls of this historical building there is a lively circus-like 16th-century fresco, which provides a compelling counterpoint to the typically Bassanese chequered floors.
bassanooptical.it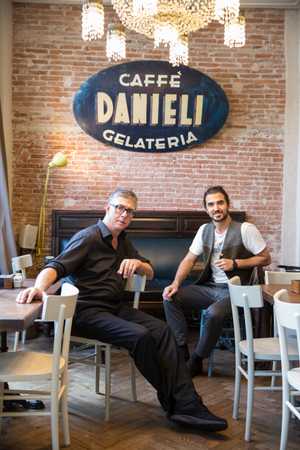 Danieli, Restaurant
Piazza Garibaldi's café turned into the perfect lunch stop-off two years ago. Brothers Edoardo (pictured, right) and Leone Miotti inherited the space from dad Achille (left), who helps out at the bar, while chef Gianpietro Senatore whips up delicious dishes such as pumpkin soup with quail eggs.
+139 0424 525 551
Florence-born Cristina Crespina moved to Bassano 18 years ago and opened Zoe. Filled with labels from Petit Bateau to Marni, the shop stocks Linda Rodin's essential oils, socks by Japanese brand Antipast and minimalist jewellery from Milan's Lil. Nearby is a space dedicated to unconventional wedding dresses.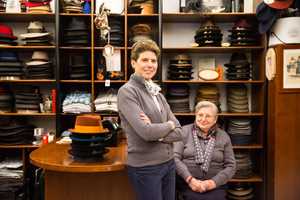 Seamstress Elisa Guglielmin's passion for Tyrolean attire led her to start selling her handmade clothes in the late 1950s. The tiny boutique's focus has now shifted to elegant hats but Austrian and German traditional clothes haven't been abandoned. Daughter Sonia Petri manages the space, which is crammed full of colourful Borsalino hats, Irish flat caps and Alpini hats. There's also Alpini memorabilia such as pins and medals, and in winter leather gloves by Neapolitan label Boerio come out of their boxes.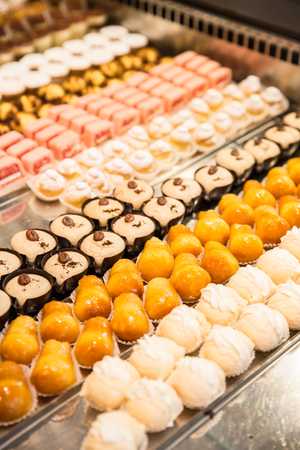 In 1992 confectioner Mario Sarri and his wife Sabrina Bonon opened Dolce Bassano to showcase his pastry creations. The shop has bright macarons and 45 exquisite varieties of chocolate. Made from South American beans, the chocolate swooshing in the nearby workshop's tanks fills narrow Vicolo Bonamigo with tempting smells. Together with eight helpers – some of whom are apprentices – Sarri makes all the little delights that are tidily arranged behind the counter. The soft cream-filled meringues are a highlight.
pasticceriacioccolateria.it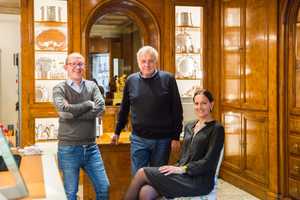 This jeweller recently relocated from a main square to a quieter side street but Mariano Favero still stands firmly at the head of the family business he founded in 1973. Favero designs all of the brand's pieces, which are made on site by four craftsmen, and his son Matteo (pictured, left) is in charge of the shop. To expand on its classic range of diamond-studded necklaces, earrings and rings, the jeweller has recently started branching out into the world of men's accessories, including elegant cufflinks. Looking for something unique? Each piece can also be customised.
faverojewels.com
Started in 1993, boutique Sear's is headed by founder Mario Bonamigo with the help of director Nicola Moro. Born in a family that owned fashion shops across Bassano, Bonamigo decided to focus on menswear for his own space. From denim to outerwear, sports to accessories, Bonamigo's selection includes Penfield hats, RRL jeans and Filson coats – as well as his own clothing range Abcm2. Upstairs, tailor Paolo Zanotta makes bespoke clothing upon appointment; book on the last Saturday of the month to get treated to a shave on the ground-floor barber chair.
searsbassano.it
This Bassano-born company started making kitchen appliances in 1954 and now specialises in kitchen-tops and induction hobs. If you're looking for something smaller there's Brescian label KnIndustrie's kitchenware, plates and cutlery, as well as its Rodolfo Dordoni-designed pans and Bolzano-based homeware brand Schönhuber Franchi's graceful glasses. Its beautiful showroom on the western bank of the bridge – an area now undergoing redevelopment – was previously a hotel, and still features a stately garden that is sometimes used for receptions.
alpesinox.com
Tipic, Bar
Venice-born Rita Castiglione spent 10 years in Milan working in the creative industries before opening her Tipic Ficusbar in Bassano. Here she chalks up her changing inventory of small-cellar wines from Veneto, Trentino and beyond on a blackboard that records her dynamic seasonal stock. Come aperitivo, punters often spill out onto the piazza in front of the minimally furnished bar. Whether you pick a fresh spritz or a bubbly prosecco, be sure to pair your glass with a crunchy crostino covered in buttery mortadella.
+139 334 871 5566
This corner of the porticoed Piazza Libertà has been a bakery for 70 years. Having taken over the pint-sized shop in 1974, Dolores Contarin and her family renamed it Bottega del Pane to match the original sign under the arches. At the time the bakery kneaded only its famously fluffy pizzette but since then, production has expanded to include biscuits, pizza and 50 varieties of bread. "People tell us we're an institution," says Contarin. Come Christmas there's panettone – whose dough is hand-worked for months in preparation – and a wintery version of the typical ciambellone bassanese.
bottegadelpane.com
Despite sharing a name with the famous Italian design brand, Bassano's design shop Alessi isn't limited to silvery lemon squeezers. Founded in 1954 by a different Alessi family, this firm also works as an interior architecture practice. Alongside Scandi staples such as Carl Hansen chairs you'll find Italian classics such as Artemide and Flos lamps.
alessimobili.it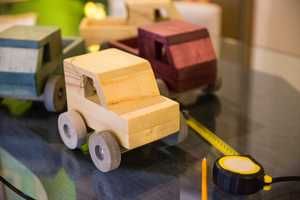 15
Fora s-ciapo
Wooden furnishings
With a name meaning "odd one out", this atmospheric carpentry studio is a welcome change from samey chains. Self-taught woodworker Paolo Bresolin abandoned his office job and dedicated himself to his passion. Delve into this small shop to find toolboxes, wooden toys and birdhouses, as well as tables and shelving units.
+139 328 301 8880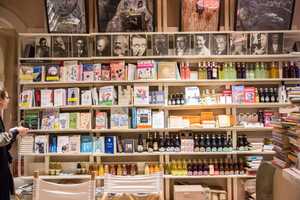 16
Caffé dei Libri
Bookshop
Classical and jazz music plays at the peaceful Caffé dei Libri. Sat on directors' chairs, visitors can sip cappuccinos while flicking through a paper, overlooked by portraits of philosophers. Born in 2009 out of Maurizio Munaretto and his wife Monica Piniello's idea of the perfect reading space, the café also hosts meetings with authors and events that include aperitivo-themed language group Spritz English. Expect nicely packaged treats including Baladin beers and Maglio chocolate. The shelves are heavy with graphic novels and cooking books and there are also photos, prints and bags by local artists.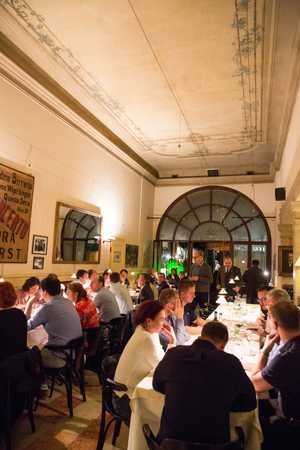 Ottone, Restaurant
Ottone has the quick and cheerful service of the birreria (public house) founded here by Austrian brewer Otto Wipflinger in 1870. Today the restaurant's low-hanging lamps and dark-wood art deco furnishings add a homely fin-de-siècle mood to proceedings. The chunky tuna tartare is excellent.
+39 424 522 206
17
El Bocon del Prete
Delicatessen
In 2013, Andrea Dalla Rosa started a deli with Alberto Fantinato. It sells jams, oils and conserves from spruce-fir shelves and stocks wine and beer from small Veneto cellars. A baker brings loaves to the shop, while a cook from Massanzago makes the pair's recipes into their pasta sauces.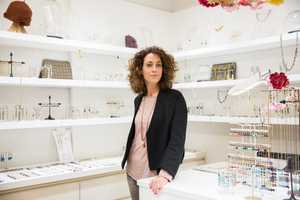 For her gold-plated brass jewellery, Silvia Pepoli takes inspiration from her travels around the world. In France, she garnered a taste for art deco aesthetics while in India she learned about stones. Pepoli's great-grandfather set stones for the Tsar; today necklaces, earrings and bracelets are available for all.
pepelu.it