Residence / Seoul
Remade in Korea
The South Korean capital's traditional tile-roofed homes were, until recently, in danger of becoming a thing of the past. Now a modernised, 80-year-old house in one central neighbourhood has proved there is still life in the classic Korean 'hanok'.
Located between the western wall of Seoul's Gyeongbok Palace and the slope of Inwang mountain is a labyrinthine district of single-storey buildings and narrow alleyways. On one of these nondescript streets is a modest-sized house that was once destined for a date with the bulldozer but now hints at new thinking on traditional Korean architecture.
In 2011 the hanok, a classic Korean house, in the Chebu-dong neighbourhood, had seen better days. The roof leaked and the structure was "full of do-it-yourself renovations", recalls Robert Fouser, an American Korean-language professor who has long been involved in historical preservation in the city and who oversaw the original phase of the house's reconstruction (but who has subsequently moved back the US).
Fouser purchased the property that year with the intention of reviving it while also improving on what he calls its "1930s style". Over the decades little had changed in this part of town, known as Seochon, because of building restrictions and later its designation as a redevelopment zone. In South Korea that usually means the complete demolition of a community.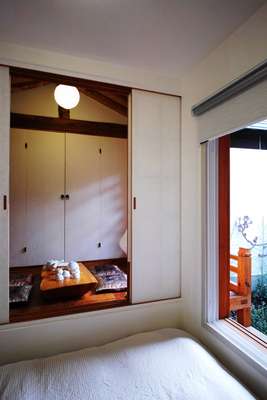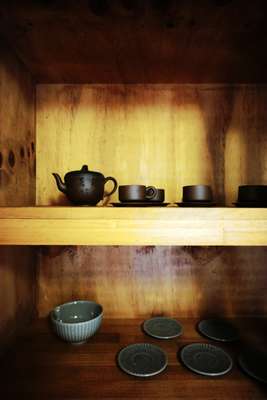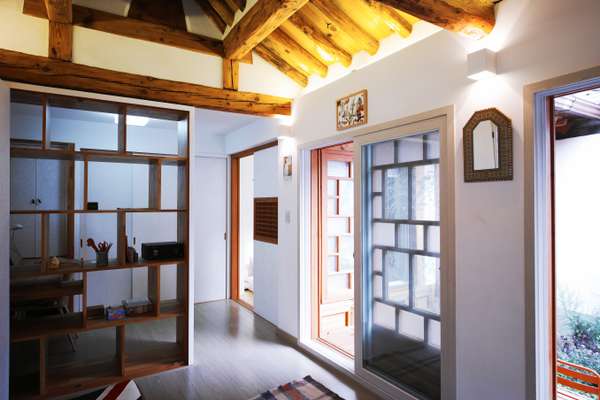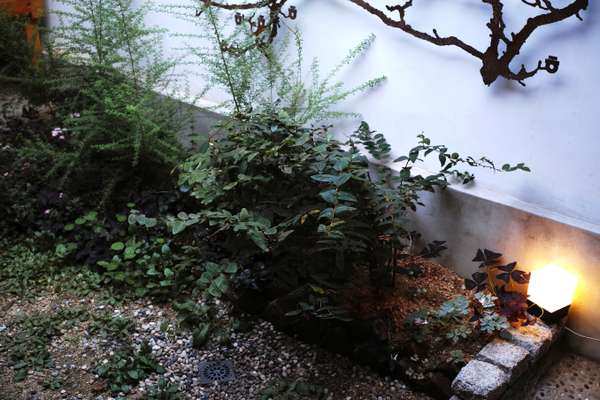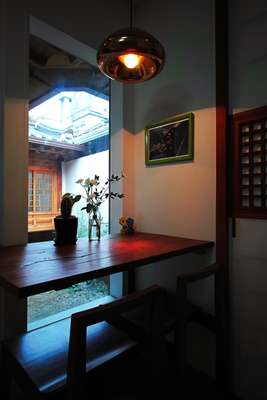 "These neighbourhoods were going to be all apartments," says Fouser, who has called Seoul his home on and off since the early 1980s. When the redevelopment plan was scrapped in 2010 it left behind something rare in Seoul: a swathe of mostly untouched, early-20th-century houses. Many of the homes built a century ago here were inspired by the classical hanok built during Korea's Joseon dynasty but, unlike the larger countryside version, these structures had to fit the tight confines of the capital.
City hanok, like the one Fouser bought, are characterised by their brick-and-stone exteriors, clay-tile roofs and U-shaped floor plan. All rooms open out into a courtyard called the madang. Along the perimeter of this space is a wooden walkway, the twenmaru, by which residents can access any room.
During the winter coal burners were used to radiate heat throughout the hanok, a necessity considering it had uninsulated walls and drafty windows. Today sliding paper-covered doors mean rooms can be transformed from separate rooms into one large space. Plumbing was not a feature of the city hanok so inhabitants relied on public bathhouses.
The Chebu-dong house had lost much of its character – for instance, a concrete outhouse occupied the madang. It needed gutting, says Fouser. "It's sad but necessary."
The house was rebuilt with the sage advice and craftsmanship of carpenter Hwang Inbeom, a Seochon resident with a passion for breathing new life into the oldest structures. He took Fouser to what seemed to be a hanok graveyard on the outskirts of Seoul, where they rummaged through piles of wooden beams, window pieces and stones, all parts of old homes that met a more typical fate. "The stones we selected for the exterior wall of the hanok were once part of a famous kisaeng [geisha] house," Hwang says.
Today the only original features of the Chebu-dong hanok are its red-pine framework and stone foundation. "Everything else had to go," says Hwang. He sourced handmade ceramic tiles for the roof and constructed wooden walls with insulation. To strike a balance between the classic exterior and making it liveable in terms of 21st-century needs, Fouser turned to architects Hwang Jinha and Park Jimin. Park, who says she had never worked on a hanok before, designed the modern kitchen and western-style, tub-equipped bathroom. "I don't see a hanok as a house that needs to be conserved but rather one that fits contemporary life," says Park.
For some homeowners, the construction of any hanok isn't complete without a sangnyangsik: a ceremony with shamanic and Buddhist influences in which a beam inscribed with the date in Chinese characters is installed at the highest part of the house's interior. Around 300 guests came to the house's sangnyangsik and in traditional fashion, bottles of makgeolli were sprayed on the hanok's frame for good luck.
"It documents the house and it celebrates that most of the woodwork is done," says Fouser. It also gives thanks to the hanok's spirits "for protecting the workers and the house".
Robert Fouser
Saviour of the Chebu-dong hanok
If you ever need to endear yourself to new neighbours in a foreign land, you may be hard-pressed to top Robert Fouser's achievement. The professor of Korean-language education has long been involved in historical preservation in Seochon and the reconstruction of his hanok has inspired others.
Since its completion in 2012, several other renovation projects have begun in the neighbourhood, including the construction of four brand-new hanok across the alley in what was once a parking lot. Fouser says that by embarking on this restoration he has gained a greater insight into Korean architecture and met a host of interesting and caring people.
Hwang Inbeom
Master carpenter
For Hwang Inbeom, nothing beats the satisfaction of working with wood. He began his career 19 years ago restoring former royal palaces and Buddhist temples. He now specialises in reconstructing older homes, including the Chebu-dong hanok. He says the hardest part of his job is not the manual labour or the hunt for materials but "convincing people that hanok can still be lived in today".
Hwang notes that, for many younger Koreans, the notion of a hanok conjures up memories of visiting grandparents in their cold and dark homes in the countryside. He hopes that, by demonstrating how these homes can at once be traditional and modern, other potential hanok-dwellers will see that high-rise apartments aren't the end-all for urban living.