Report. The big interviews / Global
The Interview Series: Jerry Storch
The pioneering traits that helped Hudson's Bay Company open up Canada for trade centuries ago are still evident as it expands its retail operations worldwide – a legacy that newly installed boss Jerry Storch intends to harness to the full.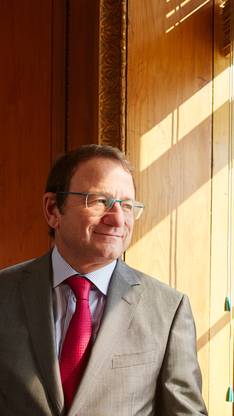 Jerry Storch
CEO, Hudson's Bay Company
Hudson's Bay Company (HBC), founded in what is now Canada in 1670 as a trader of furs, is North America's oldest corporation. It is intertwined with the history of Canada itself; many towns were established in part as trading posts for the company in the 18th and 19th centuries. Today, Toronto-based Hudson's Bay Company operates the biggest network of department stores in Canada and is one of the country's most treasured national brands.
For CEO Jerry Storch, who took up his post in January 2015, the challenge is to ensure heritage doesn't stand in the way of progress and profit. So far it appears not to have done: HBC expects a rise in total retail sales from CA$8.2bn (€5.7bn) in 2014 to CA$11.5bn (€8bn) this year.
Expanding the reach of some of the world's most well-known retailers is an area in which Jerry Storch has form. As chairman and CEO of Toys R Us, he transformed the troubled toy brand into a company worth $13bn (€11.9bn), leading its expansion into Eastern Europe and China. And as vice-chairman of Target, the US-based discount chain, he oversaw its online arm, turning it into a $1bn-a-year operation.
Under his watch, HBC has continued its ambitious strategy of expansion, snapping up department-store chains and launching new ones in North America and Europe. Two of the oldest luxury department stores in the US – Saks Fifth Avenue and Lord & Taylor – are now firmly in the company's fold. This year two of Europe's largest department-store brands – Germany's Galeria Kaufhof and its Galeria Inno subsidiary in Belgium – were added to the stable.
Monocle: What are some of the challenges faced by a heritage brand such as HBC in the competitive department-store sector?
Jerry Storch: We have embraced our history but also tried to capture what's unique about our company. We are constantly innovating and trying new things. It's a very urgent culture; people move quickly and there's always something going on. Speed is one of the most important competitive advantages that we have; we identify opportunities and act swiftly. And we are thrilled by the opportunities we see ahead.
M: How has HBC balanced the demands of online retail with the appeal of its physical department stores?
JS: In this internet era it's more important than ever that the physical experience in the department store is fantastic. So we have invested heavily and elevated the service we offer and our customers have rewarded us with one of the best performances of any department store anywhere in the world. Our online offering is still in a nascent stage, even though we're growing very rapidly. It grew 66 per cent last year.
But it's a very synergistic business. In Canada what's truly interesting is that so many customers choose to return products bought online to the stores themselves. So our strong physical presence in Canada and the heritage of our brand mean that we're a trusted partner in the e-commerce business here.
M: Off-price discounted retail has proved a particular source of opportunity for you in the past few years. Why is that?
JS: Yes. Off-price retail is a growing sector around the world. It sits in an interesting position between discount brands such as Target or Walmart and the traditional, full-line department store. But many new entrants to the sector don't, we believe, have the heritage or the history that we do. With Saks Off 5th [which launched in 1990] we have a clear position against other high-end, off-price retailers.
We have just opened a new off-price concept called Find at Lord & Taylor, which is based on the infrastructure we have with our Saks Off 5th off-price business. It will be aimed at a younger audience with a more moderate price point. So we continue to launch new products and brands every day.
M: HBC has recently finalised a deal to buy Germany's largest department-store brand Galeria Kaufhof. What will your expansion into Europe bring to the company?
JS: Galeria Kaufhof is a great department store. It reminds us a little of how Hudson's Bay operated five or 10 years ago. We're going to follow the same playbook in Germany. The stores are in great shape but they haven't had innovative investment and we'll be bringing that. We'll change the dynamics of the stores; not just make them look prettier. For example, the women's shoe departments in the Kaufhof stores currently tend to be relatively small and self-service. What we've seen is that customers respond well to high-end service. Additionally with that backbone of a €3bn company we are able to launch Saks Off 5th in Germany. This is an access point where we can grow our off-price business.
But let me emphasise that in any country we deal in partnership with a local team. The most frequently cited example [of how not to do it] is Walmart's entry into Germany. People say that it didn't pay attention to what the Germans were saying. Everything we want to do, our team in Germany agrees with.
M: You have mentioned taking "smart risks". How difficult has that been for the luxury sector since the 2008 economic downturn?
JS: The luxury segment was among the hardest hit because it's easy to give up on things you don't need during a difficult economic time. Saks [which HBC acquired in 2013 for $2.9bn (€2.6bn)] definitely had a big downturn during the crash. More recently Saks Fifth Avenue has been affected fairly dramatically by the large currency shifts that have taken place. But as the economy has become stronger so has the luxury market. We are a growth company; and as we look to the future we feel that no country is off limits. We don't think anyone compares in scope, breadth or quality to Hudson's Bay Company. We have continued to stand head and shoulders above the competition.