Report. The big interviews / Global
The Interview Series: Michihiro Maeda
As a child he had a dream job: testing toys for his father's firm. Today Michihiro Maeda has taken the company to new heights and made its key product, Sylvanian Families, a toy destined for future success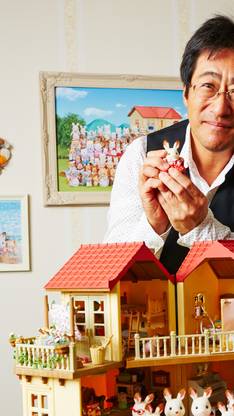 Michihiro Maeda
CEO, Epoch
In the two decades that Michihiro Maeda has led Japanese toy- and game-maker Epoch, the company's anthropomorphic animal figures have gained a global following. Maeda's father, Epoch's founder Taketora Maeda, developed the concept of animal families living in a timeless idyll into a product line but his son is the reason Sylvanian Families is sold in more than 50 countries, up from just 10 less than a decade ago.
Launched in 1985 as nine families and one house with 11 pieces of furniture, the collection is now extensive enough to fill an entire catalogue: 40 animal clans with mums in pinafores, dads in dungarees, a gaggle of children and an array of homes, cars, boats, boutiques, household appliances, food and costumes that you could spend a small fortune on. The franchise has even expanded to two Sylvanian theme parks and three restaurants in Japan (and a MONOCLE magazine cover too).
Maeda, 57, never intended to join Epoch but in the late 1980s the company was on the verge of collapse. It had lost money for two years straight and was about to extend the streak to a third when he quit his job at Japanese technology firm nec to help his father save the company. The tough decisions were a crash-course in business for the younger Maeda and in 1995, seven years after signing up, he took over from his father.
When Maeda meets MONOCLE, he is in good spirits. His mood could be down to his hour-long morning workout but it's more likely thanks to the company's annual financial projections – roughly ¥22bn (€166m) in revenue, nearly double the level of the mid-2000s.
Monocle: The name Sylvanian Families – from sylvan meaning "of the woods" – doesn't sound like a toy made by a Japanese company. Was that intentional?
Michihiro Maeda: It was a coincidence that my father's right-hand man, who was the head of R&D in charge of developing Sylvanian Families, had grown up partly in the US and spoke English. Luckily, it's a name we can use globally.
M: Under your watch, the company's business has gone global. How did that happen?
MM: The turning point was in 2008. We acquired the US distributor of our toys and the factory in China where they were made. We had no idea how much we would benefit but it meant we had control over the global supply of Sylvanian Families products. The year-end holiday is when the toy industry does most of its business. With our own factory we can plan ahead, stocking up on products all year, and respond to demand shifts.
We also took control of distribution in one of our biggest markets. Before that, we were selling Sylvanian Families in around 10 countries, mostly in the US and UK, a bit in France, Italy, Switzerland and parts of Asia. Now it's more than 50 countries and Sylvanian Families make up 70 per cent of our annual revenues.
M: Was there a sales strategy that worked in all markets?
MM: In our biggest markets we noticed word-of-mouth from speciality toy outlets and family-run shops was important before expanding to general chain stores such as Müller in Germany, Aeon in Japan or Walmart in the US. A few years ago we realised we should show consumers the goal of collecting – an entire town. We asked shops to let us create Sylvanian Families dioramas and we proposed play tables where kids could try out sample products.
We wanted to give children a feel for the Sylvanian world. When a toy is in its packaging, you have no idea whether you'll like it until you actually play with it. We really started focusing on doing this in every country from around 2007 or 2008 and we realised that this common strategy was having an impact. And that allowed us to expand into new markets.
M: You joined Epoch in your thirties from a tech firm. Was it hard to learn the toy trade?
MM: I already had a knack for knowing which games would be popular and which would flop. As a child I was my father's personal lab animal. He brought home all kinds of games – football games, baseball pinball or prototypes still in development. He would ask me what I liked and didn't like about the games, what was fun or boring and where I would make improvements. I would tell him what I thought would make the games a lot more fun. When I was in junior high and high school, I wrote reports for him. I never gave a game a perfect score and sometimes I could be harsh. One of our senior executives still remembers receiving my reports. My father told me he didn't expect me to take over his business; but having me analyse games turned me into a toy expert at a young age.
M: How do you keep tabs on the trends in different markets?
MM: I travel a lot. I am overseas about 130 to 140 days a year in 20 countries. Being away so much, I have to make sure I convey my vision to every corner of this company so I speak to the entire staff for five hours during a once-a-year ceremony for new employees.
For the past seven years, I've taken the entire company – about 240 people – on a long-weekend trip. I don't drink alcohol at all or do that kind of socialising so the company trip is the best time for me to mingle with everyone. We have been to Okinawa, Miyakojima and Guam.
M: A recent work by artist Mimsy showed Sylvanian Families figures having a picnic while armed, hooded terrorists lurk nearby. What do you think about your products being used to create such sinister dioramas?
MM: I didn't know about that. Wow! There are so many ways for consumers to express themselves nowadays. It's a good thing that our customers are so creative with Sylvanian Families characters but when it is so far removed from the concept behind the toys, it's hard to accept. This is probably not the last time we'll have a problem like this.