Report / Global
The rules of Yule
It's the most wonderful time of year so there's no need to over complicate Christmas. All you need are good friends on two legs and four, seasonal tunes and some heart-warming flicks – all topped up with plenty of festive spirit (hic!).
By late afternoon on the day before Christmas you'll be putting your finishing touches to the tree. You think you won't but you will: a Christmas tree is a work in progress that seems to undress itself or change its clothes at will. Is it alive? Let's replace that bauble with an angel and that painted pine cone with a cheeky cherub and we're almost done.
Why not pour yourself a glass of wine and drop the needle on some Nat King Cole before you light the fire? You'll have your bone-dry kindling to hand and your logs graded from baby's arm to elephant's leg (we're talking girth here) and if you get some Swiss friends to help you with your stack, so much the better – for they are the experts in log-husbandry.
While you're singing bearishly along to "The Christmas Song (Chestnuts Roasting on an Open Fire)" there's a ding-dong from the doorbell: a troupe of carol singers are merrily on high. Really high.
After a few rousing choruses of carols and a smattering of The Pogues with Kirsty MacColl, they're inside and all over your glühwein and mince pies. Pointing them in the direction of the neighbours is your best bet for finishing your wrapping and settling in front of a movie. Byeeeee!
After speeding through the gift wrap with a helping hand from the spirit of a Japanese shopkeeper – always helpful – you're ready to throw a couple of the larger logs on the fire, pour yourself some Nikka whisky and press play on a couple of old Christmas favourites.
The Muppet Christmas Carol, anyone? I thought you'd never ask. Lady and the Tramp? You've seen and loved it so many times you can afford to nod off before the finale… but watch it! Have you hung your stocking on the fireplace and put out the brandy and mince pies for Santa Claus? Once that's done, it's bed – to sleep, perchance to dream of reindeer dancing through the stars. Have you been good this year? Tomorrow will tell.
---
Good morning and Merry Christmas! Look in your stocking – it's a handsome new hat! Time to roadtest it with a stomp through the woods with the hound. No wonder he's so happy, this snow on Christmas morning is a treat for the paws. And lucky he unwrapped his new coat in time for a trot. Next stop is the steamy kitchen for stirring the bread sauce, prepping the brandy butter and chucking the pheasants in the oven. Do not even think about attempting this without a bloody mary and Frank Sinatra's The Christmas Album on the hi-fi. Job done.
What are you doing? Time for Christmas ablutions before the big part of the big day: lunch with your guests. And what goes down well with a sugi-scented bath? Christmas on Big Island by the Blue Hawaiians. Tiki-tastic.
As you open the door to your guests you'll be very glad you wore your fancy red Christmas trousers – if they're in this good a mood, imagine how much they'll love lunch. The champagne is poured; the devils on horseback are sizzling on the tray. It's time to unwrap your gifts.
You're a bit too old for a Christmas list but luckily someone has been listening to your unsubtle mutterings about Scrabble Deluxe, Patrick Barkham's wonderful book Coastlines, Nicolas Godin's solo LP Contrepoint and a print from Paul Slater – cheers to that!
After the gong and the hours-long lunch that follows, you'll need some exercise and naturally the post-prandial walk turns into a snowball fight.
Room for refreshment? Let's try for some Christmas cake and cocktails to take the edge off, followed by a snooze in front of The Philadelphia Story. You've had a big day; sweet dreams.
---
Oh, you're already reading this and I'm still in bed. Hang on a moment, will you?
The hound gets his walkies, this time to the pub with pals to plot a sporting afternoon. But first: pints in front of the fire. Time to take those extra gifts, too. Who doesn't want something new from the Mastersons?
Before the conviviality gets out of hand, you'd better move on; what's good to wear for a cold, clear day at the races? That new hat'll do very nicely. Collar up, scarf wrapped; feeling lucky?
And they're off! Whether you win or lose at the races you can guarantee an amusing afternoon on your shooting stick taking a nip from your hip-flask while cheering on the fillies. Horses, people – come on!
And out for a relaxing supper with your pals. After adding up your winnings, it seems like you can afford… oh, some chips. But why not wash them down with something bubbly?
---
You'll need to preserve your strength a little for this end-of-year bash you've been invited to; take the phone off the hook to a soundtrack of wintry classics; Van Morrison's Veedon Fleece is as warm as it sounds.
You're off to a marvellous party but it's hard to know quite how danceable your dandy tweed suit's going to be. And how hot. Why not have a pre-taxi negroni (made with Mondino for extra winter spiciness) or two and decide. Oh, it's a polo-neck night after all. They never need ironing and God knows where you'll end up.
This party's amazing! It's midnight and the fireworks are illuminating people's faces like you're in a funfair; time to take someone for a twirl – two glasses of champagne, please. Dammit, they're out of glasses. Well, the bottle'll be fine, sir.
This new dance move you've just invented – let's call it the Horny Wallaby – is really causing a stir. Woooooo!
Your carriage awaits; can you get in unaided? Almosssht. You've made lots of new friends – look, there's two with you now (or is it just one?); ask the driver to put on some Rod Stewart or some Kylie, you've rarely felt so good...!
…oh, hang on.
---
Wow, who knew you had such reserves of energy to go out all night, take what is really only a glorified power-nap and get up for a bracing run to the beach where you manfully stripped off and went for an early-morning dip in the bracing and brackish waves? Good boy! Hang on, do you even live near the beach?
And then, of course, you wake up in your warm bed with music still playing in your slightly sore head. Nothing breakfast and a little list of New Year' resolutions can't fix. Oh, maybe tomorrow.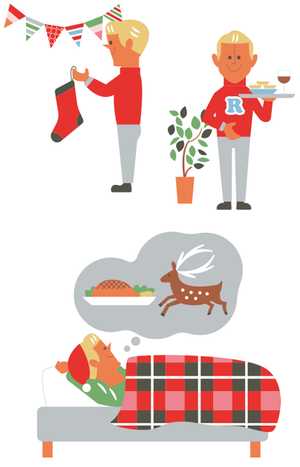 The English Ghost
Peter Ackroyd's anthology of spectres through the ages is quite enough to make you glad you're all snug indoors. Now, what's that tapping at the window?
Wolf Hall
Hilary Mantel's historical yarn that works wonders as the nights draw in, unless you fancy the real thing in...
SPQR
Most of Mary Beard's history of ancient Rome takes place before anyone had even heard of a crib.
Headlong
Michael Frayn's art-historical caper is a brilliant exercise in farce best read aloud across the parlour.
We Think the
World of You
People and their dogs drawn together; David Remfry's book is gift-tastic.
Coastlines
Patrick Barkham takes his readers on a magical wander across coasts; easily enough to make a whole New Year's worth of walking resolutions.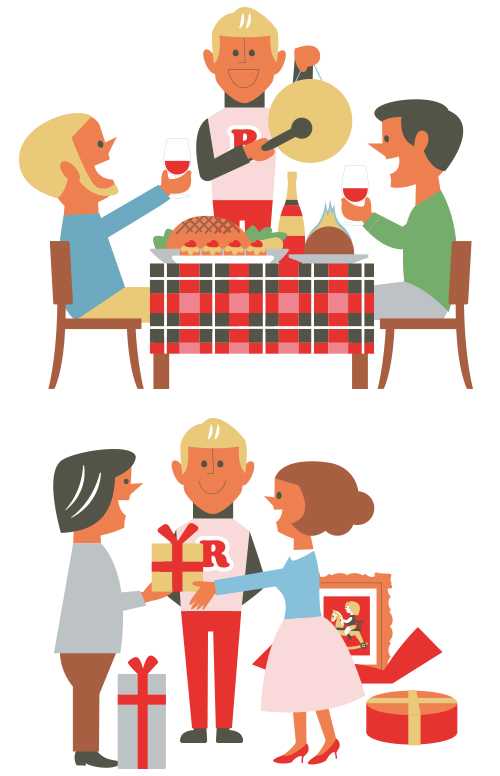 Apologues by Masayoshi Fujita. The hypnotic xylophone virtuoso sounds as if he's playing icicles.
Tinsel and Lights by Tracey Thorn. The finest contemporary pop take on Christmas.
The Christmas Waltz by Nancy Wilson. This oozes seasonal spirit from every octave – and Nancy's version is even better than Frank's.
Officium by Jan Garbarek & the Hilliard Ensemble. The contemporary saxophonist and the traditional choir take sacred music somewhere heavenly.
Veedon Fleece by Van Morrison. Van's winteriest set is as warm as it sounds.
White Winter by Kim Bum Soo & Lena Park. K-Pop's two finest vocalists pop on their antlers for a seasonal giggle under the mistletoe.
Christmas with Nat & Dean by Nat King Cole and Dean Martin. Almost untouchably Christmassy.
Casino de Paris by Serge Gainsbourg. The re-issued classic comes ready-drunk, so you don't (necessarily) have to be.
Quality Street: A Seasonal Selection by Nick Lowe – because every Christmas needs a naughty St Nick.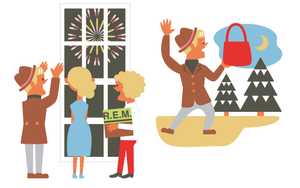 The Lady and the Tramp
Disney's finest hour is a romance to make you trade in your turkey for spaghetti.
8 Women
François Ozon's fatale-strewn farce makes any other Christmas seem stress-free.
Doctor Zhivago
The timeless epic is snowier than St Moritz and pulls more heartstrings than Tiny Tim's tears.
The Muppet Christmas Carol
Michael Caine scrooges away against Jim Henson's Dickensian heroes in a fuzzy Christmas winner.
The Philadelphia Story
Katharine Hepburn, Cary Grant and James Stewart eat up the screen in a romantic caper that spawned countless copies.
White Christmas
Bing Crosby and Danny Kaye fool about expertly for Irving Berlin.
In Bruges
Brendan Gleeson and Colin Farrell make a charming mess of Christmas as hitmen lying low in Belgium.
The Snowman
Raymond Briggs' animated dream is seasonally perfect.