Briefing / Global
Art market
Briefing
Auctions in Los Angles, the Gajah Gallery in Singapore and more.
Well hung
Embracing the contemporary
Last October, Gajah Gallery moved into its new home on Keppel Road, in a warehouse footsteps from Singapore's seaport. "Visitors have to walk past the wholesale retailers before arriving at our gallery, where they'll experience a drastic change," says director Jasdeep Sandhu of the showroom's lofty feel, courtesy of its 5.5-metre-high ceilings.
When Sandhu founded Gajah in 1996 it was one of the first commercial places in Singapore to host contemporary art. Its stature grew, leading Sandhu to move to bigger premises and more ambitious projects. Recently the gallery collaborated with sculptor Ashley Bickerton and showed at Art Basel Hong Kong and Art Stage Singapore. Its new location – almost 600 sq m – is double its previous size.
For February, Gajah is casting the spotlight on Indonesian artist Yunizar. "He is among the most widely recognised Asian artists and is part of the legendary Jendela Group," says Sandhu. "He was initially known for his paintings but his sculptural practice is now flourishing."
gajahgallery.com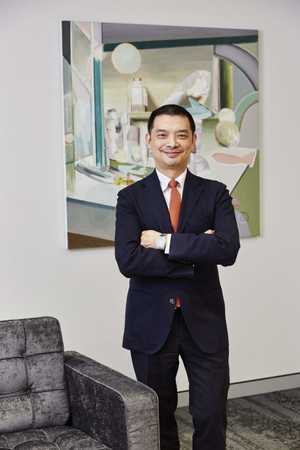 Q&A
Dick Quan
Art collector
Sydney
Sydney-based Dick Quan is among the most respected contemporary-art collectors in Australia. The medical doctor traces his lineage to the first western physician in China, as well as the first Chinese artists that toured Europe. In addition to running his own medical practice – Holdsworth House – Quan also sits on the board of the Museum of Contemporary Art Australia Foundation.
First, how did your art collection start?
It began when my father gave me an Edo Japanese print on my 21st birthday.
What types of work do you collect?
My collection of more than 100 works is constantly growing. I like being involved with an artist's growth and love video works, and have a renewed interest in post-internet artists including Melbourne's Michael Staniak, New Zealander André Hemer and Brisbane-based Hiromi Tango. In fact I bought a Tango installation called "NatureNurture" for my new practice and had to raise the ceiling to accommodate the piece, which spans four walls plus the ceiling.
Pieces from your collection can also be found in many galleries nationwide. Why is it important for you to share your artworks?
I believe in loaning to museums and to parts of the world without access to contemporary art, such as Australian country towns. Art doesn't live unless it is seen.
What hangs in your bedroom?
So much; I'm subsumed in a world of art. I have visual artists Pierre et Gilles from France, Russia's AES+F and Australian-Chilean painter and writer Juan Davila, among others.