Briefing / Global
Asia
Briefing
Building a new state capital in India, South Korean entertainment and a political dynasty in the Philippines.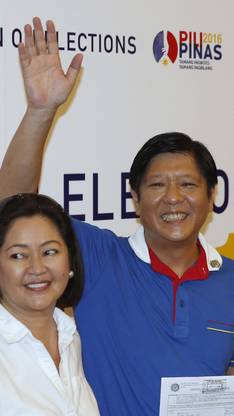 Stated intention
India
[CONSTRUCTION]
Building a new city from scratch is a huge project but the leaders of the southern Indian state of Andhra Pradesh are undaunted. Work to create a new state capital, Amaravati, is in its early stages but authorities hope to complete the central business district by 2019. And their ambition doesn't end there: they have high hopes for what will be India's newest city, looking to create no less than a rival to Singapore.
Not that the Singaporean government seems too concerned, having helped to draft the master plan of Amaravati. The project is part of India's long-term design to build 100 smart cities; urban spaces that are hi-tech, healthy and connected. Amaravati will be built on sustainable principles, with large tracts of green space to offset built-up areas.
The challenges of creating a new city in India, however, cannot be underestimated. The most important element is land acquisition, which is notoriously difficult. Currently the site is mostly given over to arable farming and, while the Andhra Pradesh government has managed to acquire about 12,500 hectares from farmers, it still needs another 1,200 hectares. Another issue is money. It is estimated the city will cost up to €3.8bn based on the land and basic infrastructure alone and authorities have been tight-lipped on how that money is being raised.
Prathima Manohar, founder of think-tank The Urban Vision, says that while the vision sounds appropriate it depends on how the plans are implemented. "You can build the buildings but it doesn't mean there will be quality of life. How will they actually get people to want to live there? How to create soft infrastructure in a new place is the key challenge."
---
Projecting power
South Korea
[FILM]
Like most of Asia, the Chinese are addicted to South Korean entertainment. In a boost to Seoul's soft power, China is now helping to make its films thanks to a new co-production deal and free-trade agreement that lowers investment barriers in the industry.
Tech giant Alibaba's new film group has already announced its first investment, in a South Korean movie called "Real". Kim Rak Kyun, director of global business at the Korea Creative Content Agency, says it's a win-win deal:"Chinese investors can request casting of Korean actors who are popular in China, and Korean companies will find it easier to enter the Chinese market."
---
Q&A
Yoichi Funabashi
Director, Rebuild Japan Initiative Foundation
Japan
The former editor in chief at Japanese national daily Asahi Shimbun, Funabashi established his Tokyo-based think-tank in 2011. The institute cemented its reputation with its first report in 2012, a six-month investigation into the causes of and responses to the triple meltdown at the Fukushima nuclear power plant.
Are Japanese leaders your target audience?
It's not only top government officials: we want to influence the next generation of leaders. That's why for every project we form a committee of experts in their thirties and forties. We also want to help people understand Japan's public agenda so every report is published in both English and Japanese.
Do you choose topics that you know will make headlines?
Most are topics that I've been thinking about for years. Public discourse is still not welcomed by the government here; Japan needs a troublemaker and we are happy to play that role.
Why is financial independence so important to you?
Most think-tanks here are affiliated with financial institutions or the government and they chase their masters' agenda. We are determined to pursue our own agenda. Our money comes from the private sector and donations.
Your current project is about rediscovering Japan.
Japan is too absorbed with catching up with the West. That's a problem. Japanese lifestyles and our post-disaster culture of resilience are things we could share with the rest of the world.
---
Unhappy returns
Philippines
[POLITICS]
A political dynasty is taking shape in the Philippines despite the sins of the father. A national holiday on 25 February marks 30 years since the authoritarian Ferdinand Marcos was ousted as president yet, as the celebrations take place, his son, the senator Ferdinand "Bongbong" Marcos Jr, will be preparing to run for vice-president in May's elections.
It caps a remarkable family comeback: matriarch Imelda Marcos hopes to remain in congress and both her daughter and nephew are running for office. A clean sweep would underline the futility of an anti-dynasty bill backed by outgoing President Aquino but struggling to become law.