Recipe. Lurra / London
Basque in the glory
What next when you run a successful Basque restaurant? Open another one next door. We meet the team.
Reprising a successful first restaurant is a tall order. But that didn't faze Nemanja Borjanovic and Melody Adams when they decided to add a new space to bijou Basque joint Donostia, which they opened in Marylebone in London in 2011. They had set a high benchmark: Donostia's spare decor, small scale and faultless service (not to mention a menu that features delicacies such as crisp cod cheeks) caused a stir when it first opened.
The pair's roomy new 70-cover premises are also in Seymour Place. Lurra – Basque for "land" – opened in late 2015 and is a fitting follow-up. The dinning room is a whitewashed, marble-topped affair with pale wooden furniture and pistachio-green upholstery selected by Adams. A shelf of design books at the back adds a homely touch, while the brass balustrade leading up the oak staircase, pointing to another 20 covers upstairs, is an elegant touch.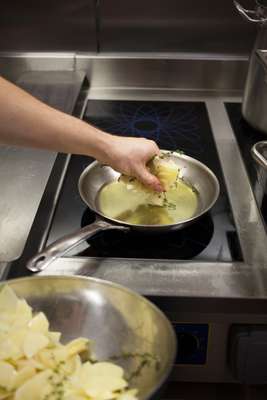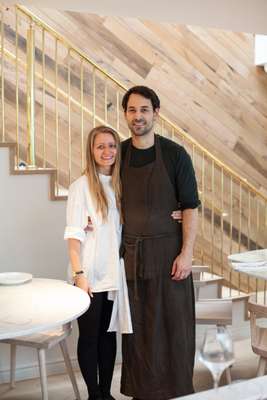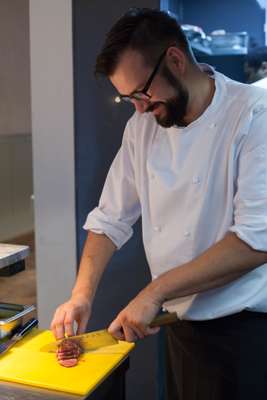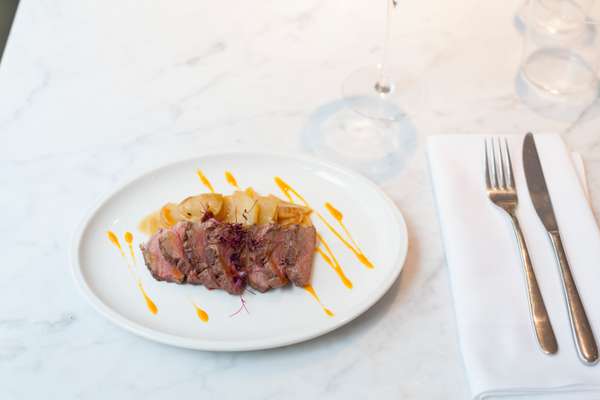 Like Donostia before it, the kitchen is overseen by Polish-born executive chef Damian Surowiec, who cut his teeth at Barrafina in Soho. The ingredients and dishes have retained their simplicity and honesty. The difference at Lurra (roll the "r") is the hardware: there is a heavy-duty robata-style grill in the centre of the open-plan dining room. "It's the heart of the kitchen and we cook over cedar charcoal," says Surowiec. "Almost nobody has these in London," he adds, nodding towards the fire-red peppers sizzling on the grill. "To find the right peppers you have to get them from Spain – from Galicia or Guernica."
The peppers are just the tip of the iceberg when it comes to the produce that Surowiec carefully sourced before opening Lurra. During a year-and-a-half of painstaking research, the chef went to San Sebastian and elsewhere on numerous research trips and shook hands with the suppliers of items including cococha (hake tongues), chorizo, solomillo pork and jamón.
This is more than a job to Surowiec. Talk quickly turns to the colour, marbling and pH of his meats, and at what temperature you can expect the fat to melt. Not to mention the various merits of grilling a turbot whole. Sourcing and cooking are a real passion; this shines through in the detail and flavours of the grilled octopus with piquillo sauce and the 14-year-old Rubia Gallega prime rib.
"Opening a restaurant on the other side of town would have been obvious if we wanted to roll out a concept," says Borjanovic. "We don't want to be another chain," adds Adams. Like Borjanovic, she worked in finance before a chance visit to San Sebastian ignited the idea of starting a restaurant. Opening a second space so close to the first was a happy accident. The couple fell in love with the new site as soon as they saw it. "Business-wise you don't want to canabalise yourself but 80 per cent of our bookings are still by word of mouth," says Adams.
Like Donostia before it, Lurra is a simple formula flawlessly executed: attentive owners and an obsessive chef are united in a mission to serve the best Basque produce they can find. It's a recipe we're glad they've stuck to.
Recipe
Solomillo with pobre potatoes 
Ingredients
1 large potato
½ medium onion, sliced
4 cloves garlic, cut in half
1 bay leaf
Few stalks of thyme
100ml extra-virgin olive oil
1 egg yolk
100g solomillo
(ibérico pork)
Salt and pepper
The method
Cut potato into ½cm thick half-moon shapes. Mix with onion, bay leaf, thyme and garlic.

Heat oil to 100C and add potato mixture. Cook until golden. Remove from pan and drain oil.

Grill or pan-fry solomillo until medium rare. If you have a meat thermometer, cook pork until it reaches 56C.

Drizzle egg yolk over the potatoes, season to taste then serve with the sliced solomillo. Serve.
Recipe
Squid stuffed with prawns and chorizo
Ingredients
3 medium-sized squid (roughly 500g each)
120g chorizo
120g peeled prawns
3 tbsps shallots, diced
1 clove garlic, diced
1 bay leaf
30ml olive oil
1 egg yolk
Handful chopped parsley
Handful chives
Salt and pepper
The method
Pan-fry the prawns until pink, then dice.

Cook chorizo for 5 to 8 minutes in the oven at 180C then cool, dice and set aside.

Sweat the shallots in the olive oil with the garlic and bay leaf until soft. Remove bay leaf.

Mix with prawns, chorizo and chopped parsley and chives. Season to taste.

Leave to cool then add egg yolk. Mix well.

Stuff the squid with the mixture, then grill or pan-fry for 2 minutes on each side. Serve.