Briefing / Global
Business
Briefing
Food-focused pop-ups in Dallas, shock-absorbing stabilisers in Tokyo and co-working spaces in London.
Use your noodle
Tokyo
[TRANSPORT]
The demaeki is one of the great underrated Japanese inventions. This shock-absorbing stabiliser sits on the back of a Honda Super Cub and for decades has allowed delivery boys to transport bowls of sloppy noodles without spillage. It was dreamt up by Shoji Toma – whose family owned a Tokyo restaurant in the late 1950s – and brought to life by manufacturer Ebisu.
Today former Ebisu employee Tetsuhei Kojima runs one of Japan's two demaeki makers, based in Tokyo. Business boomed when traffic laws changed in the 1960s. "Sushi and Chinese restaurants started using demaeki as a safe solution," he says.
---
Earning a curst
Sydney
[EMPLOYMENT]
Bourke Street Bakery – long considered Sydney's best artisan baking company – launched The Bread & Butter Project in 2013, a social enterprise providing training for refugees and asylum seekers. "The model is inspired by an enterprise I worked with on the Thai-Burma border, teaching refugees how to bake," says founder Paul Allam. "We've transplanted that model to the Australian marketplace."
The project turns out all of Bourke Street Bakery's wholesale bread and all of the outfit's profits are reinvested in 12-month paid traineeships, accredited by the state technical college. The stint covers producing handmade sourdough but it also equips trainees with an understanding of Australian workplace standards. "Our goal is that every graduate secures local ongoing, full-time employment," says Allam. "So far each has."
thebreadandbutterproject.com
---
Q&A
Wim Ouboter
Founder, Micro Mobility Systems
Italy
Ouboter founded Micro in 1996 with the aim of creating the ultimate vehicle for distances too far to walk but too short to cycle: the push scooter. Following nearly two decades of success, Micro's Emicro One scooter is the company's first move into the electric-mobility market and is due to be rolled out in 80 countries this year.
What is the thinking behind the Emicro One?
Our philosophy is urban mobility in combination with public transport. Governments in megacities are looking for solutions for the future because there will be more and more traffic and pollution. You can't take a bicycle onto the train during rush hour but you can take a scooter – these are space-saving vehicles.
How does it work and what does it look like?
It's made to look like a regular scooter so it's small, portable and easily folded up. We didn't want to make a big-wheeled electronic model. The software – made in Switzerland – is the secret to this scooter. There's no electric assistance when you're going under 6 km/h but when you kick the scooter up to, say, 10 km/h, it adds 2 km/h and it goes to 12 km/h. It's an incredible riding experience because you have no push button or accelerator. You feel like you have a tailwind.
Who are your target consumers?
Urban adults aged between 25 and 35 as they make some money and appreciate the technology.
What are your future plans?
We're developing a very, very small electric car, which is not such a big step now that we've worked with electronic engineers and have know-how about batteries and motors.
micro-mobility.com
---
Unlimited options
London
[WORKSPACE]
London's booming property market is pushing up office rents faster than in any other city in the world. That's where the Camden Collective comes in, Camden Town Unlimited's award-winning regeneration project launched to support businesses in the district. "We find disused places and turn them into workspaces for the start-up community," says CEO Simon Pitkeathley.
It has now transformed the former National Temperance Hospital on Hampstead Road into a free co-working space, after the building had fallen into disrepair. Architects Co-DB and Rara were brought in to give the old hospital a makeover. "We worked with pastels and jazzy colours," says Rara's Dan Nation who, with James Sale from Co-DB, designed the new space with birch flooring, a hanging garden and new lights by resident start-up Tala. The new place can house 200 workspaces.
camdentownunlimited.com
---
Last resort
The Caribbean
[ECOLOGY]
In summer 2015, record amounts of sargassum (pungent seaweed) washed up on Caribbean beaches. With many calling it a threat to tourism there is a rush to find removal solutions that will protect marine biodiversity. French company CDO Innov is hoping its AMP – an amphibious vehicle – will help. It doesn't damage wildlife and the CDO turns the collected sargassum into biomass, "transforming an inconvenience into an opportunity for the future", according to marine-division manager Cédric Chupin. CDO has sold the AMP in France and Guyana and is in talks with governments and hotels in the Caribbean.
---
For starters
Dallas
[RESTAURANTS]
Near Dallas's interstate highway, a busy lunch hour at Trinity Groves is ending. Founded by restaurant mogul Phil Romano, the project describes itself as a "restaurant incubator". Budding chefs and pros with new ideas are encouraged to apply; if successful they'll get mentorship plus money to transform a unit. Romano's aim is to add to Dallas's culture of innovation by choosing concepts such as Kitchen LTO, which rotates chefs every six months.
"You get chefs, who have been trying hard to go solo, making it," says Uno Immanivong, founder and chef at Chino Chinatown. "It's a pumping pop-up."
trinitygroves.com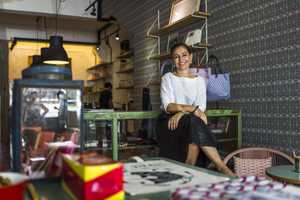 Bright ideas
Kuala Lumpur
[DESIGN]
Lisette Scheers sips a black coffee in the café that has become an integral part of the shop she opened two years ago in one of Kuala Lumpur's more fashionable suburbs. She rattles off her recent efforts at Nala: rolls of printed fabric, a concession in Japan (with Isetan in Shinjuku), an art academy, a line of children's stationery and Nala-branded tiles.
A Dutch citizen who was born in Singapore and brought up in Malaysia, Scheers (pictured) returned to her childhood home with a degree from the Royal Academy of Fine Arts in Antwerp (where Dries Van Noten and Ann Demeulemeester studied in the 1980s) and a successful career in advertising under her belt. After founding her own agency and helping brand one of Malaysia's leading food businesses, she started creating stationery products. She named the line Nala, after her daughter.
The cards, envelopes and books are inspired by the motifs and colours of the Peranakans: people of mixed Malay and Chinese descent whose culture is unique to Malaysia and Singapore. "I've always wanted to design plates and cups by deconstructing the style and putting it back together in a contemporary way," she says.
The store is spread over two floors of an old shophouse in a colourful street that includes a curry house, architecture firms, mechanics and a hardware store. The big sellers are Scheers' totes and overnight bags with hand-drawn motifs. Malaysians, she says, are becoming more appreciative of good design. "We have so much going for us and nothing is done with it," she says. "[I'm] teaching people to love what we have."
naladesigns.com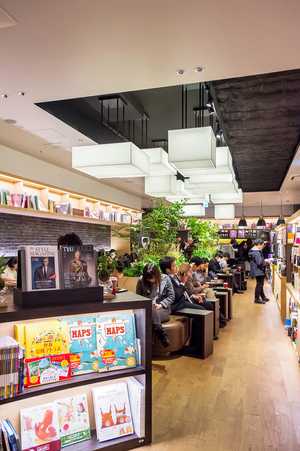 New chapter
Tokyo
[RETAIL]
In the suburbs of Japan's cities, train stations have become de facto commercial centres. Yet even with the foot traffic, it's often hard finding a well-stocked bookshop. Not so at Urawa station, north of central Tokyo, where Urawa Tsutaya Books recently opened.
The shop is run by Culture Convenience Club (ccc), whose Daikanyama Tsutaya Books concept is behind a revival of the bookshop in Japan. Open from 07.00 to 00.30, the wood-lined space has 70,000 titles on food, travel, business and art, as well as magazines and stationery.
Urawa Tsutaya Books is steps away from the platforms: at one end of the basement-level space, commuters pass through the station's turnstiles. "You usually go through a train station to go somewhere else," says CCC's Hiroshi Shimada, who manages the shop. "We wanted to make it a place to gather."
Alongside the bookshelves are sofas, a coffee shop, a convenience store, a shoe-repair kiosk and ATM machines. For some it has become a regular stop. "The bookshops near my home all went out of business," says Yukie Idei, a 28-year-old school administrator. "This is where I change trains so I'm here almost every day."
ccc.co.jp