Briefing / Global
Culture
Briefing
Choice cuts from the world's creative minds.
Grills on film
Our cities might be riding a culinary crest but nothing comes close to the restaurants in literature and film. Oh for a table in a Guadagnino scene. 
By Robert Bound
When it comes to hospitality, the culture business does well because it knows how to enjoy itself. The art parties where the bubbles never cease; the set visits where the stars are the catering trucks, tyres bulging under platters of untouched filet de boeuf en croûte; those long, chablis-happy literary luncheons that set in and the legendary record-label expense accounts: "What a lot of 'flowers' you've bought this month, boys!" (Sadly, this is a thing of the past in the music biz's straitened times.) Langan's, The Ivy, Balthazar, The French Laundry, Nobu: over the years, the list of places you go if you aren't paying is strong and rich-sounding.
But how good are the bars and restaurants that novels and movies themselves dream up? Maybe you'd go for a heart-starter at Casablanca's Rick's Café Américain, gorge yourself on the peanut-butter soup with smoked duck and mashed squash at the impossible-to-get-into nouvelle nightmare Dorsia from American Psycho and then have a chocolate-fudge sundae at Sandy and Danny's favourite hangout: the Frosty Palace diner from Grease. Or would you crash through a bottle of pastis with Hemingway and Fitzgerald at the Dingo Bar from A Moveable Feast and head half-cut, headfirst to your date at Katz's Deli from When Harry Met Sally...? That place seems to have some deeply satisfying dishes.
I thought of food on film when watching an early screening of Luca Guadagnino's wonderful new movie A Bigger Splash the other day. The film is a thing of crazy energy in which love and madness are equally beautiful and bewitching and wet and wild in the Italian director's dazzling sun-soaked world. Ralph Fiennes and Tilda Swinton are a pair of fiery suns, the burning centres of gravity in a universe that seems to spin with doomed energy. Other than Fiennes' charmingly barmy record producer dancing through a tasty little Italian villa to the Stones' "Emotional Rescue", one of the finest scenes in the film takes place in the sort of rustic outdoor restaurant you happen upon in the Italian countryside. A grill on bricks; a well-fed chef-proprietor showing you to a table with a burly arm; candlelit tables under the trees in open fields. From field to table and back again. Signore Guadagnino, shall we go for supper? How I wanted to eat there. How often I will pause the dvd on that scene to inspect the details.
Of course, it's as nothing compared to the spaghetti speziale from the most romantically foody scene of them all – Lady and the Tramp – but it's in the same tradition. Hospitality, fictional or not, is part and parcel of these golden moments. Inevitably, I'll see you all down the Mother Black Cap. "Two large gins, two ciders. Ice in the cider."
---
Q&A
Diccon Bewes
Author
Bern
Diccon Bewes' map anthology is a 500-year journey through Switzerland's history and culture. It includes 80 cartographic efforts that define a country with four national languages, 26 cantons and, as Bewes puts it, "countless varieties of cheese".
What makes Switzerland such a mappable country?
It's almost as if the natural 3D splendour of Switzerland inspires 2D representations of it. The country was mapped in detail from an early age. Not just for traders and merchants but also pilgrims and scholars, all needing a map to guide them through the Alps. If it had been a flat country on the edge of Europe it wouldn't have been such a great place for map-makers.
What about the research process?
So many people claim history is dull but then love looking at maps. With that in mind I started scouring archives in Switzerland for the weird and wonderful, the engaging and entertaining. Most of the maps came from cantonal archives, principally the one in Zürich, which has the largest cartographic collection in the land. Others came from private collections and corporate archives, as well as a few from abroad.
Which is your favourite map?
The Bärenkarte of Bern in 1700 is wonderful. Not just because it shows Canton Bern in the shape of a bear but for what it doesn't show. The neighbouring canton of Fribourg is left off the map completely, as it would've spoiled the imagery of a big and powerful beast. Maps don't always tell the truth, especially when politics are involved.
Which is the most surprising map in the collection?
Without doubt the pig map from 1944. While the rest of the world was rather busy, Switzerland had time on its hands so decided to count all of its pigs. And cows, sheep, horses and goats. Not only that but they made a map to show where all the pigs lived and which breeds were where. It is made with typical Swiss attention to detail, despite the difficulties of the period. There was, of course, a serious reason behind the animal census. Switzerland was surrounded by the Axis powers and cut off from the rest of the world. It had to know how much food it had; it was a question of survival. The map wasn't strictly necessary but luckily for us it survived. A wonderful piece of social history.
---
The close-up
Just try looking away
Michelle Chong from TV series The Noose; she played news anchor Adrianna Wow along with a merry cast of caricatures including Chinese migrant Lulu, Filipino domestic helper Leticia and tiger mom Nancy Goh.
There has been nothing like The Noose before, which spoofs everything from dour politicians to overzealous mothers. It holds a mirror to the ridiculous aspects of Singapore life, while a skit-based format makes sketches eminently viral.
"By keeping it very current and updated," says Chong of the formula behind The Noose's success. From 2014 she took on a more active role in scripting and directing her skits. What about perpetuating stereotypes? "I don't worry about that because you can't get away from that in comedy; these are all real characters Singaporeans can relate to."
The Noose won Best Comedy Programme twice at the Asian Television Awards and was nominated for an International Emmy in 2011. Chong left in 2012 because she preferred being in production than in front of the camera. She returned to The Noose in 2014 after getting more control of the creative process. And we'll be seeing more of Lulu, who's getting her own film this year. Lulu The Movie is being made by Chong's production house Huat Films. "It's about taking full ownership," she says.
---
The Show
What we're tuning in for
Ambitious Argentinian eco-thriller set in the swamp town of Corrientes. The 12-part series, which is part The Pelican Brief and part Erin Brockovich, is expected to be the first drama from Argentina to travel widely outside South America.
Cromo is centred around idealistic scientist Valentina, who is murdered after exposing a series of environmental crimes in the Iberá wetlands. Valentina's husband Diego and his research partner return from an expedition in the South Pole to solve the mystery of her death.
The show stars Emilia Attias (Against Blood) as Valentina alongside Germán Palacios (Possible Lives) and Guillermo Pfening (Forgotten). It is produced by Buenos Aires-based production company Historias Cinematográficas, which is run by Luis Puenzo (who directed Oscar-winning feature The Official Story in 1985) and his children Lucía Puenzo (XXY) and Nicolás Puenzo (The German Doctor).
Launched at the Toronto International Film Festival in September, the Spanish-language thriller aired in Argentina at the end of last year. It is being sold to global broadcasters by French film-distributor Pyramide International.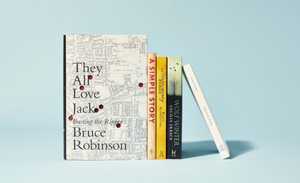 1.
History
They All Love Jack
Bruce Robinson
A painstaking yet visceral account of Jack the Ripper's life, murders and legend that reads like a reaction from a recently aggrieved party rather than a work of history. Robinson's line is unswerving, amusing and potent.
2.
Journalism
A Simple Story
Leila Guerriero
Every year the Argentine village of Laborde holds a national malambo dance contest. Winning means fame but a cruel fate: the winner can never dance again. Revered journalist Guerriero takes us inside the life of a malambo dancer in this fast-paced piece of New Journalism.
3.
Fiction
An Unnecessary Woman
Rabih Alameddine
Our narrator is elderly Aaliyah, who lives alone in Beirut and remembers everything: childhood, marriage and the civil war. The constant on her journey is the translation of books into classical Arabic, a labour of love that defines a beautiful novel.
4.
Thriller
Wolf Winter
Cecilia Ekbäck
A mutilated corpse, corrupt priests and deceitful neighbours. When a suspicious death strikes a village in 17th-century Sweden, young mother Maija seeks to uncover the truth. Ekbäck's debut is an intelligent Scandi-noir with a foreboding atmosphere.
5.
Memoir
Nicotine
Gregor Hens
Taking his long-held (albeit recently kicked) smoking habit as a starting point, Hens ambles between philosophical musings and anecdotes of life-defining moments where his beloved Pall Malls have been present – whether perched on a car bonnet in Germany or a hostel bed in New York. A charming longform essay packed with intimacy and wit, it's addictive stuff.
On Record
Sounds from around the world
Lissie's best record of major-chord, horizon-chasing, country-flecked California rock yet. "Sun Keeps Risin'" is a fine hope-springs-eternal ballad; "Hero" has eyes on the California stars; "Ojai" is a bit Stevie Nicks doing First Aid Kit. But Lissie was there years before the Swedes.
Sunflower Bean
Human Ceremony
Fuzz, guitars, choruses, haircuts, cheekbones, attitude. We've been waiting around for a great new NY indie band and finally! Just in time for booking that festival in 2016. Sunflower Bean are a Brooklyn three-piece that aren't quite too cool to get into a studio and lay down an album of 11 spiky, dreamy, instant classic tracks. Style loves substance after all.
Beatie Wolfe
Montagu Square
Pure and simple; a short, sharp flip-it-over-and-listen-again LP of well-made, expertly played, beautifully sung chamber pop (named after Lennon's old gaff, in which it was recorded).