February 2016 / Tokyo
Expo 90: Movers and cocktail shakers
Classic Japanese bars, with their soothing lighting, knowledgeable and immaculately turned-out bar staff and loyal clientele, have remained blissfully resistant to change. What are you having?
The interior at the Old Imperial Bar in Tokyo hasn't changed since 1970. The staff still wear bow ties and the regulars, several in their eighties, can expect their usual order without so much as a glance at the menu. Guests can still order a Mount Fuji: a gin, egg white, lemon, pineapple and sugar concoction, topped off with a maraschino cherry, that has been the Imperial's signature cocktail since 1924. Four seasoned bartenders stand behind the polished cherry-wood counter, all carefully watching the room. They would no sooner think of rushing their customers than leaving them with an empty glass. Timing is everything.
This is the world of the classic Japanese bar, a refreshing antidote to bartending showmanship, intrusive music and rotten interior design. These low-lit, unchanging oases offer customers somewhere to relax, safe in the knowledge that they won't be bothered by a badly made martini or unnecessarily flamboyant cocktail-shaking. The drinks are skilfully executed, the glasses just so and the ice chiselled. The word you hear again and again is kodawari, or "pursuit of perfection". This relentless attention to detail has produced some of the finest bars in the world; pockets of expertise that represent continuity in a city that constantly chases novelty.
At the Old Imperial the noise level is set at a soothing, conversational hum. "Talking to people is as important as making the cocktails," says Yasuhiro Katsumata, one of the chief bartenders, who has put in 16 years at the Imperial Hotel. "They come here to chat about things they don't talk about at work: it might be personal, it might be about golf. It's my job to listen." It's also his job never to forget a regular customer's preferred order: "You can ask once but never twice."
The Old Imperial still has original fragments – wall tiles, a mural and a standing light – from the 1923 incarnation of the Imperial Hotel designed by Frank Lloyd Wright. There is also a small table from the room occupied by Marilyn Monroe in 1954 and photos of visitors such as Cary Grant and Danny Kaye.
After 34 years at the hotel, Shigeyoshi Kagami is the longest-serving of the bar staff. "People don't come here for the depth of the menu: they come for the service," he says. "You have to understand the customers and how they want their drinks. If you don't do that you can't do the job." Japanese barmen are famously good at measuring with their eye and Kagami, who has an easy charm, can make a sidecar or gimlet in his sleep. Plus, like every member of staff here, he has his own way of making a martini (the Imperial's standard is a 9:1 gin-to-vermouth ratio).
Quietness and understatement are the defining qualities of the best Japanese barmen. "People appreciate that silence," says Naoki Hasegawa, a barman at Bar Non Non, a nine-seater establishment inside the literary Hilltop Hotel. "I'd almost say it's a wabi-sabi quality: delicate and quiet." His colleague Shin Onuma, who has spent 25 years working at the bar, says, "In terms of conversation, you need knowledge and skill to make your customer relax. It's more about listening than talking."
"Japan has the tea ceremony [sado] and it influences bar style here: it's quiet and precise," says Kazuya Watanabe, a former chairman of the Hotel Barmen's Association in Japan. "Overseas it's more about performance and entertainment." Watanabe is a legend in Japan's bar trade. The first barman to be awarded a Medal of Honour by the emperor, he has worked at the Keio Plaza Hotel in Shinjuku for more than 30 years, from where he oversees its numerous bars and lounges. The main bar is Brillant – by name and in nature – and opened in 1980; it retains its superb colour-saturated interior by Riki Watanabe (no relation).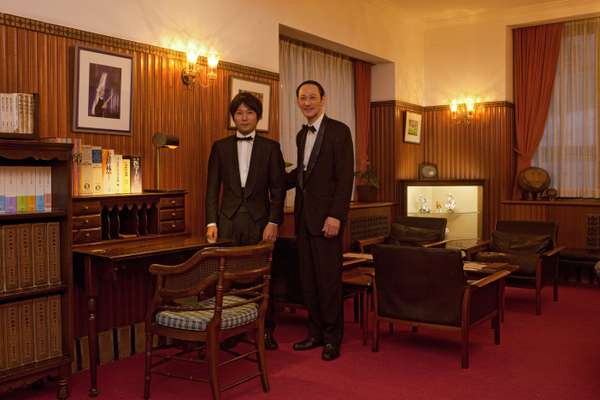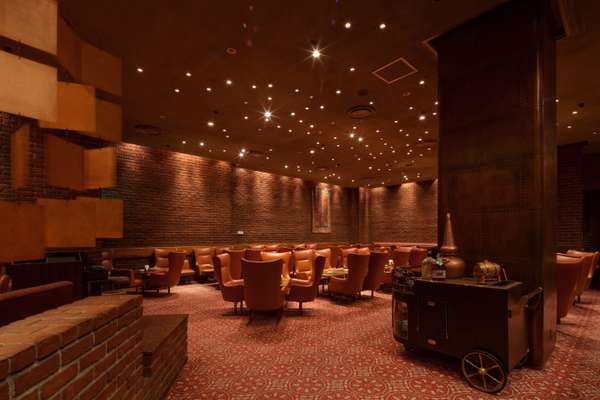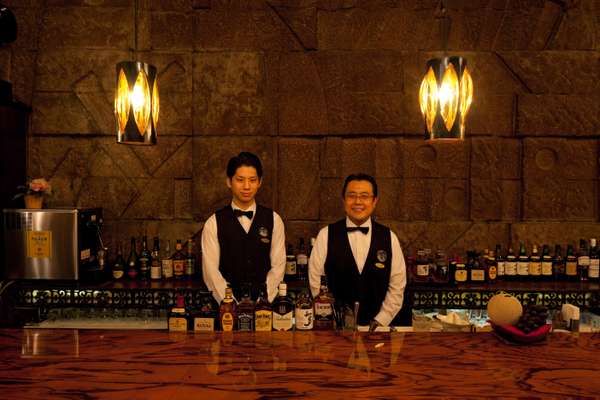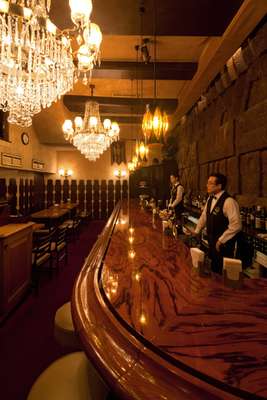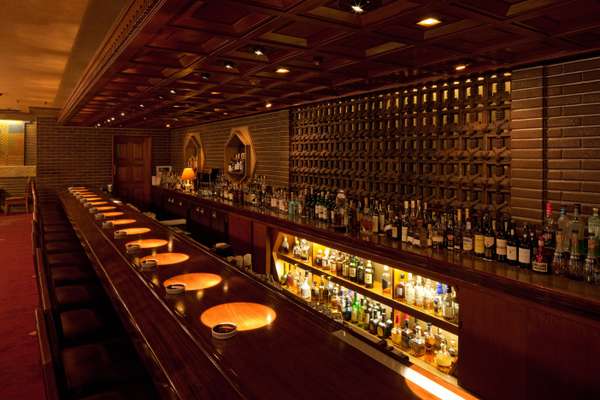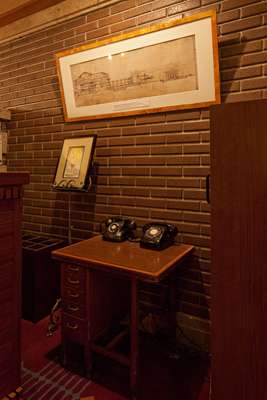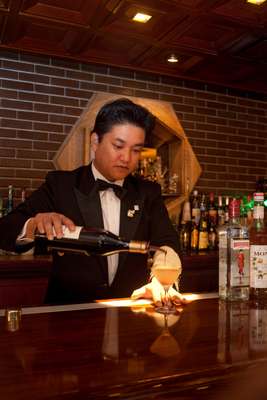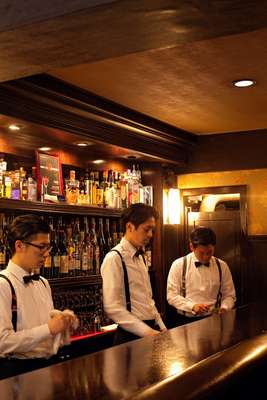 "Hotel bars have their own style," says Kazuya. "We have such a broad range of customers that we can't be as detailed as a smaller bar." He is being modest: the precision and quality of bars at the Keio Plaza – including the delightful 45th-floor Polestar, a gem designed by Isamu Kenmochi – is superlative. Staff have to look after hotel guests and regular customers; at Brillant customers have 600 unfinished bottles of whisky on hold in the bottle keep.
Watanabe has seen many changes in drinking habits over the years. When he started most people drank whisky with water or mizuwari. Cocktails came to the fore during the bubble economy in the mid-1980s, then wine, then low-alcohol drinks and fresh-fruit cocktails. Watanabe works hard to keep up. He also visits wineries and distilleries: "I need to see and feel these places for myself." Like many others in the business he likes to go to Bar Orchard in Ginza, where the skilled proprietors quietly perform wonders with a blowtorch and liquid nitrogen.
All the bartenders agree that Ginza is the apex of Japanese bartending. "The level is so high there," says Onuma of Bar Non Non. "When I go there it's half-learning, half-pleasure. All the world champions, all the successful players are there. If you are recognised in Ginza you've made it professionally." Ginza bars are called machiba (town) bars to differentiate them from hotel bars and these are the heart of what people think of as old-school Japanese bar culture.
One of the most revered men in the Ginza bar world is Hisashi Kishi, whose Star Bar Ginza is among the elite of the elite. It's a small place with 300 whiskies. The members of staff are immaculately turned out and the ice is hand-cut with a wabocho (Japanese knife). "We didn't really know there was anything special about Japanese bartending," says Kishi. "It's something that people outside identified." He says that what is true about Japanese bars is also true of Japanese culture. "Japanese are meticulous about details," he says. "Look at the Shinkansen; there is an almost fetishist pleasure in making it run without delay. It was only when they sold the system abroad that they realised nobody else cared that much." Japanese barmen, he says, "like to push the rules as far as they can without actually breaking them".
Kishi got his start in a hotel bar as a student and was hooked. He went to bartending school in Shibuya and was told that he was a natural for Ginza. "It is the ultimate meeting point of food and drink. There are 3,000 bars and restaurants in an area only 1km long and 500 metres wide. Thirty years ago Ginza was even more unique. The customers were running huge corporations but they would talk about their war experiences, about the tough times they'd endured and how they started their businesses."
Kishi says there was a turning point when the internet and social media started opening up this world to a new audience. "In Japan, a bar is a unique place; it's not for everyone. It's only recently that some people have started venturing down dim stairs to places like this, particularly young people."
Kishi has won numerous awards: as well as being an International Bartenders Association world champion he was made a Gendai no Meiko (Contemporary Master Craftsman), has a Medal of Honour and is the president of the 5,000-strong Nippon Bartenders' Association. He is also the last person to boast about it.
"Japanese bartenders don't show off and nor do the customers," he says. "A small compliment from the customer will be gratefully and quietly received. Sometimes I've been at a bar seminar and a foreign bartender showcases a skill, say making a sphere of ice. I'm looking at the ice thinking, 'It's not finished, it's not perfect, it's not even round.' But the bartender is still showing off. A Japanese barman would never do that. I'm not criticising but that is a big difference."
Kishi sees the merit in perfecting the basic skills but is also willing to open the door to new ideas and is now sharing his talent at his own bartending school in Ginza. As for the use of words such as "mixologist", "It's just new terminology to describe something we've been doing for years."
Over in Shinjuku, Suntory Lounge Eagle has one of the most startling interiors of any bar in Tokyo. It's set over two basement floors and the upper floor has a long wooden bar, chandeliers, a backdrop of stone from Fukushima and an eagle motif on the wall. Almost nothing has changed since the founder, Toshimitsu Tsugawa, opened the place in 1967.
"Things were different back then," says manager Takashi Sasaki. "Isetan department store was the biggest building in the neighbourhood and a bar with all-male staff was unusual outside a hotel." There are 13 staff now, all in bow ties, led by Yukio Uehara, a benign presence who has been in the business for 30 years. He can read the atmosphere perfectly. "Some people don't want to talk, some do; it's our job to judge."
"We've been on this street for nearly 50 years and some people had never even noticed us," says Sasaki. "But the internet has changed things so much; people can see what it looks like before they come in." The interior is a huge draw but many people come because they've been doing so for years. "Everyone's surprised by the interior and the great customer service," says Sasaki. And the prices are surprising too: a whisky highball is just ¥250 (€1.90). The Eagle opens at 17.30 and within an hour it's full. It's a mixed crowd: heavy-smoking salarymen, women eating solo at the bar and young groups who come to see the retro interior.
"Everyone is treated equally," says Sasaki. "We have more young customers these days but it's not chaotic or loud like a university bar: we ask people to respect the ambience. It takes a lot of time and money to keep this place. We haven't changed much and people don't want us to change." When the bar needed a new pendant light, staff scoured antique shops for a matching one. Detail is all-important here.
Now that change is everywhere, staying the same suddenly seems fresh and modern. Flashy skills and innovative cocktails can never be a substitute for heartfelt service and a comfortable atmosphere. Watanabe sums up the attitude of the best Japanese barmen: "Hospitality comes first: your attitude and the care you take to look after the customer. Skill comes second." Uehara agrees that the job is all about making the customer happy. "You always have to put on your best face," he says. "Customers are all having good and bad days too but when they leave I want them to think, 'I'm glad I came here.'"