February's finest / Global
Inventory no.90
Our hospitable haul offers soaps to scrub with, sake to raise a toast, a lamp to set the mood and a scent-ilating incense burner for creating just the right atmosphere for entertaining.
Italian brand Turms shares its name with the Etruscan god who protected travellers and its portable shoe-care kit ensures any voyager's footwear is always properly looked after. Made from dried linden wood, the bright shoetrees adapt to any shape or size. For on-the-go retouches, the heel of the tree hides a handy brush and a tin of wax packed with carnauba, beeswax and orange and almond oils.
---
2.
Wooden boxes
Hata Shikki Ten
Smooth to the touch and easy on the eye, these colourful, stackable wooden boxes are created by Hata Shikki Ten, a small family business based in Japan's Ishikawa prefecture. Third-generation Manabu Hata works with Tokyo design duo Mute and craftsmen in his mountainous region to carve these pretty desktop tidies from castor-aralia trees felled in the lush forests of Hokkaido.
---
3.
Building blocks
Areaware
Chicago-born designer James Paulius was inspired by New York, the city he now calls home, for this set of architectural building blocks. The game of infinite combinations adds hanging gardens to his first wooden playset, created in 2013, with physics and geometry in mind. "I wanted to make Garden City more immersive, more imaginative," he says.
---
Brazilian architects Domingos Pascali and Sarkis Semerdjian designed a lamp that can cast light in five different directions – yet its primary focus remains simplicity and sustainability. Named after Semerdjian's wife, the Ani lamp comes in blue, red, yellow or green and features a colourful detachable steel arm that interlocks with a weighty freyo wood base, with no need for screws.
---
Designers Jamie Wolfond and Sam Anderson founded New York's collaborative studio Good Thing in 2014 and have teamed up with Brooklyn duo Visibility for this cheerful series of compact mirrors. Partially dipped in bright rubber, these looking glasses make for playful accessories – especially in the pocket-sized mask, pear or circle shapes.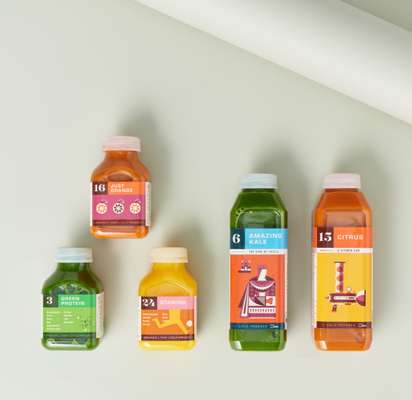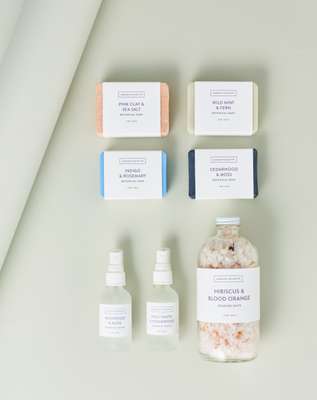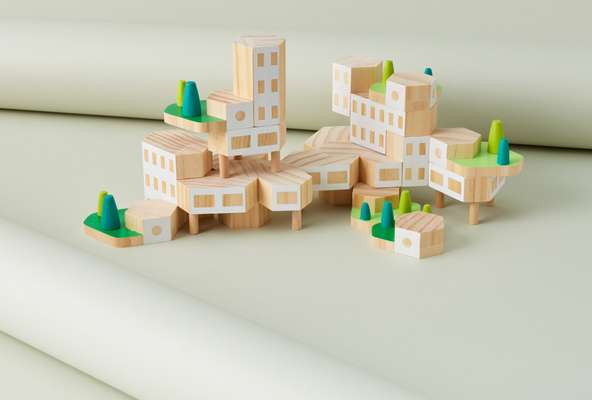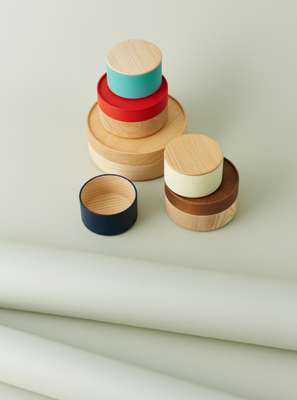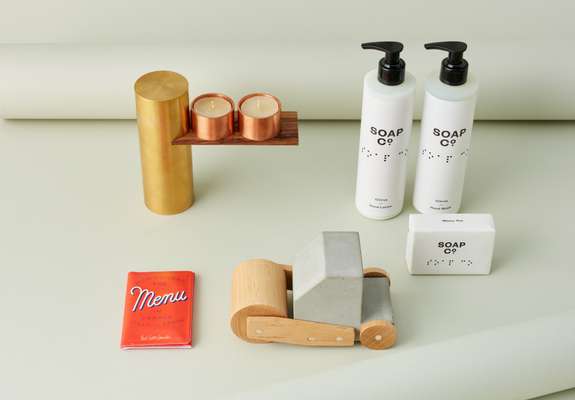 ---
A nice label doesn't always mean a good wine but a tasty tipple in savvy packaging is always on our wish list. We raise our glasses to this new design by South Korean studio Content Form Context for Miin. Brewer Haeng-sook Choi started making rice wine in 2006 using a 1,000-year-old recipe. The drink's subtle flavour comes from unsweetened grains, while the curved calligraphy on its labels is inspired by ancient maps of the Joseon Dynasty.
---
These natty Californian fragrances are made in-house by Linda Rae Sivrican, who owns Fiele with her husband Mutlu. She sources the perfumes' key ingredients from around the globe to create her signature scents. Dark Indonesian patchouli mixed with tonka bean and vanilla-and-cacao absolutes are used in the brand's fragrances; wild-grown cedar from the Himalayas, Morocco and Virginia feature too.
---
This ceramics set proves that traditional craft needn't be constrained by old-fashioned design. Fired at the Yano kiln – the oldest in Tokushima prefecture's Otani-style pottery scene – these coloured bowls and plates will fit any kitchen, whether formal or laidback. By using an extra layer of glaze, fifth-generation owner Koichiro Yano gives his creations a satisfyingly matte look.
---
Based in Helsinki, Taiwan-born designer Chia-En Lu inaugurated his brand Gaa with this series of copper and rush-weaved baskets. Following a tried-and-tested 280-year-old technique, the rush grass is culled, dried, sliced and weaved on a mould. A tight geometrical pattern and pleasingly minimal shape add a Scandinavian touch to proceedings.
---
10.
Candleholder
Yellow Diva
In the outlawed Australian gambling game Two-up – now only permitted on Anzac Day – players bet on which side a pair of coins will land. Designed by David Walley for Melbourne-based Yellow Diva, this candleholder is named after the game but thanks to its weighty polished-brass base balancing a blackwood shelf, odds are its two beeswax candles will always remain flame-side up.
---
11.
Hand lotions and soap
Soap Co
Maker of delicately perfumed wares Soap Co's mission is not just to soften hands. The social enterprise started in the UK's Lake District selling soaps concocted by blind or disabled people and now its products are popular across the country. Braille, a subtle touch on minimal packaging, makes for a tactile reminder of the brand's ethical commitment.
---
Wallet-sized and handsomely designed, How to Read the Menu in France, Italy and Spain will help you navigate the pitfalls of dining on the move. It is easily tucked into a credit-card slot and makes a trusty resort for deciphering any menu, whether you are in the mood for a thick piccata di vitello or a crispy écrevisse.
---
Never shall this toy end up in the hands of a toddler throwing a tantrum for, while it's sure to bring cheer to an adult's desk, its concrete body would wreak havoc in a child's bedroom. Designed by Dresden-based creative agency Paulsberg, it's part of a set that also includes a cement mixer.
---
14.
Soaps, sprays and salts
Midnight Collective
Portland-based Ursula Wurster launched Midnight Collective in an old industrial building with her creative partner Tim Kamerer. The pair now dabble with unexpected combinations and ingredients to create soothing formulas such as these popular hibiscus-and-blood-orange soaking salts and wild mint-and-fern soap.
---
15.
Incense holder
Cinnamon Projects
The Circa incense holder is no slow-burner when it comes to atmosphere and its spicy incense creates an excellent first impression in any room. The tray and heavy moveable disk are handmade from brass in New York for a sculptural look that works as a gleaming decorative piece too.