Briefing / Global
Media
Briefing
This month's audio and visual highlights
Truth is out there
Egypt
[INTERNET]
Egypt's turbulent media landscape is being shaken up once again. Since former dictator Hosni Mubarak was overthrown by street protests in 2011, journalism in the Arab world's most populous nation has swung between wild extremes: the revolution initially provoked unprecedented freedom of expression, only for the current regime of president Abdel Fattah el-Sisi to crack down harshly on reporters and usher in a new era of censorship and repression.
Now a new generation of digital pioneers is trying to carve out alternative spaces on the internet in which opinion, debate and critical news pieces can flourish – free of the state-imposed red lines which restrict newspapers and other traditional media formats. "The hunger for a different kind of media is coming from journalists themselves as much as it is from readers," says reporter Mai Shams El-Din, who has covered Egypt's online media scene for Mada Masr, itself one of the country's most courageous independent news websites. "Journalists are so exhausted by having to write the same things, within the same limits, every day, that they are seeking out fresh ways to produce and distribute their work."
Efforts to create a vibrant media scene beyond the mainstream have so far met with mixed success. Mada Masr, which publishes articles in both English and Arabic, has won plaudits for its investigative work but found itself the subject of attention from the security services as a result; popular web platforms such as Qoll (Arabic for "Say"), which started out as a home for young comment writers committed to offering diverse perspectives on the news, has at times been forced to close temporarily before reopening in an attempt to stay one step ahead of the state.
"Self-censorship is the biggest challenge," says El-Din. "It's not direct intimidation that scares us: it's the unspoken threats that we all have to work under, the threats that have no shape." The fight for a free media in Egypt is set to continue for a long time; whatever the eventual outcome, it is the digital pioneers that will be on the frontline of the battle.
---
Alternative online media outlets making waves in Egypt:
Qoll
Arabic-language website attracting tens of thousands of readers. Started out as a platform for opinion pieces, now concentrates on exploring media issues.
Yanair 
Online news portal that collates and distributes social-media content from opposition activists and has broadcast videos that are usually suppressed in the mainstream media.
Kasra 
A BuzzFeed-style lifestyle and gossip site, one of several outlets promoting new forms of media creativity via a softer and less political tone.Mada Masr: Egypt's most important bilingual online newspaper, covering a wide range of stories from a largely pro-revolutionary perspective.
---
It's nice to see a CD player back in a system. Or rather, hear it. "High-definition" file-based sound is nothing compared to the detail and dynamism achieved by spinning a disc. And then there's the satisfying clunk and click of metal and machinery. The rest of the Technics Ottava SC-C500 is all contemporary connectability – so fear not, kids. Battleship-build quality rounds out our favourite hi-fi on the market.
---
Britsoft: An Oral History, from London publisher Read-Only Memory, charts the rise and fall of the British video-game industry from the 1970s to the 1990s in a compellingly intimate way. With no overriding narrator, 35 personalities from the "quiet revolution" tell their own stories. We are pulled into the bedrooms of coding teens and, above all, made privy to the movement's innocence and magic.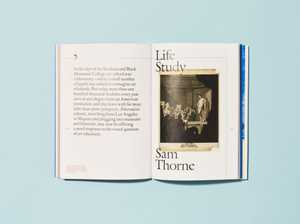 Q&A
Jason Farago
Art critic and magazine editor
New York
Last summer saw Jason Farago launch Even, a triannual magazine that shines a light on global art via long-form exhibition analyses and Paris Review-like interviews. Its first two issues have included a discussion about originality with painter Luc Tuymans and a look at the artistic and political implications of the forthcoming Louvre Abu Dhabi.
Why did you decide to launch a print magazine?
Online platforms are simply not a conducive medium for rigorous thinking about the meaning and importance of art. Instead of thumbs-up critics' picks, we set out to produce substantial reviews, taking in multiple exhibitions that would clarify the changing geography of the art world. It became very clear very fast that we could only do that sort of thinking on paper.
What is it like launching an art magazine today?
Challenging but certainly do-able. Whatever struggles generalist print titles are facing, niche titles can do very well under the right conditions: if they fill a gap in the discourse and if the magazine is substantial enough – and designed well enough – that people will want to buy and collect it.
In the first issue you wrote that today, art is either the subject of overblown claims about its world-changing power or is reduced to a "selfie backdrop". What can art achieve and how should we write about it?
Art is neither decoration nor social work. We need to look at it with a bifocal lens: zoom in and examine individual artworks but also account for those artworks inside the institutions and discourses that shape them, or else we fall into a detached aestheticism. Counterbalancing aesthetic and real-world concerns is one of our prime commitments.
Who is your reader?
People who are visiting a number of exhibitions and want to think seriously about art but are struggling to get a foothold. Why can't writing about art be accessible without dumbing itself down?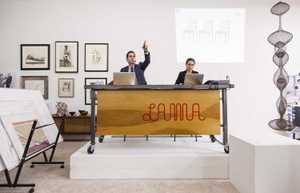 Bid sanctuary
Los Angeles
[AUCTION]
Los Angeles Modern Auctions'
Modern Art & Design Auction
21 February
When Peter Loughrey set up Los Angeles Modern Auctions (Lama) in 1992, the city's auction scene was comprised of mainly estate clearances and cheap, uninspiring sales. "There was a need on the West Coast for an expert-driven auction house," says Loughrey, who trained at Sotheby's in London and is on the acquisition committee for decorative arts and design at the LA County Museum of Art.
Under his leadership, Lama has become a specialist in all things modern, from furniture to fine art, catering to the growing appetite of the city's art-buyers who have refined their palate.
"The LA market is a bit like the Wild West," says Loughrey. "Many new collections are formed here and these young collectors, while tech savvy, tend to buy on impulse when good material is in front of them."
February's slate of about 400 lots in the Modern Art and Design Auction includes Lama's highest-value work: "Bedtime Story" by American painter-photographer Richard Prince. Part of Prince's Monochromatic Jokes series, the painting may look like little more than a few cheeky lines on a mustard canvas but is valued between $1m and $2m. "It connects the appropriation movement of the 1980s to the pop-art movement of the 1960s," says Loughrey.
lamodern.com
Richard Prince
"Bedtime Story", 1988
Estimate: $1m to $2m
(€900,000 to €1.8m)
Alex Katz
"Here's to You", 1962
Estimate: $80,000 to $120,000
(€73,000 to €110,000)