Report / Berlin
People's palace: Henselmann Tower
Karl-Marx-Allee was the most famous street in the GDR, lined with socialist-era 'palaces of the workers'.These apartment blocks are now attracting a discerning crowd and fostering a creative community – and the Henselmann Tower is the big red star.
New Berliners often gasp the first time they see Karl-Marx-Allee, a boulevard traversing what was once East Berlin, created in the early 1950s to celebrate socialism. Even 27 years after German unification, its monumental buildings unfold in a strange grandeur, one of a bygone utopia. It was in these Soviet-style socialist-realist Zuckerbäckerstil (wedding-cake style) apartment buildings that Communist party functionaries once lived.
Two symmetrical towers guard Strausberger Platz, a fountained roundabout and the Allee's western gateway. One of them, a 14-storey edifice at number 19, has become an urban icon. When it was completed in 1954 its creator, Hermann Henselmann, was chief architect of the German Democratic Republic (GDR). The building was one of the most desirable places to live in the gdr and it's still hot property more than 60 years later. Now, new and old residents make up a creative community that reflects post-wall Berlin's plurality.
Henselmann, known to be a proud, charismatic man, masterminded much of Karl-Marx-Allee (the street's original name was Stalinallee) and many of East Berlin's landmarks, including early drafts of its ultimate icon: the ball-on-a-stick TV tower. But Strausberger Platz 19 was the building he called home, as did his wife Irene and their eight children.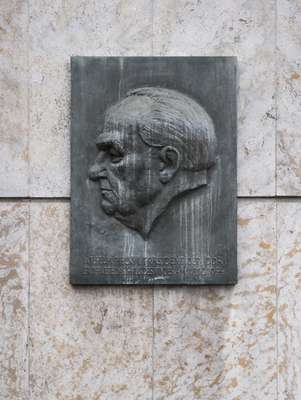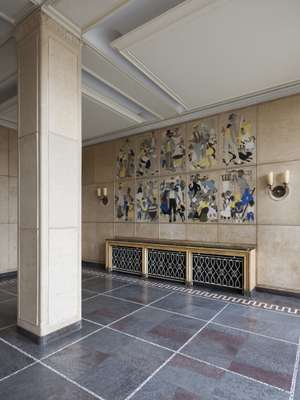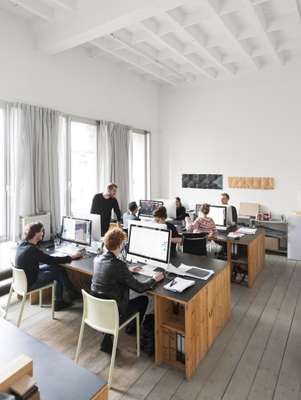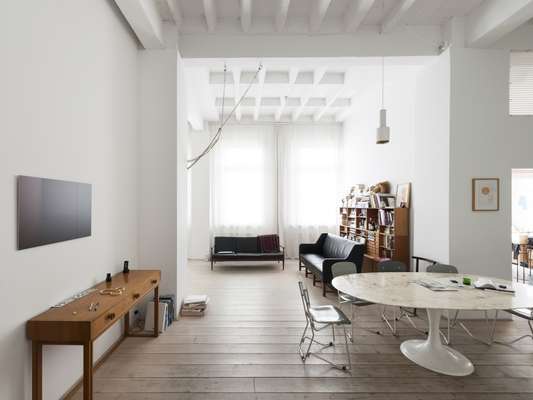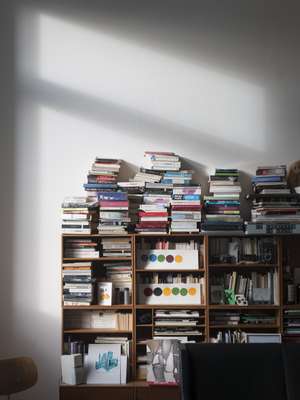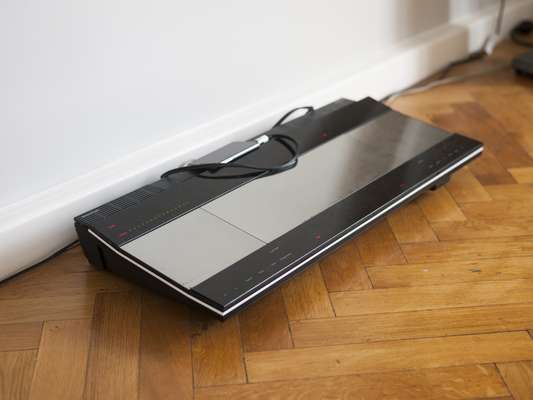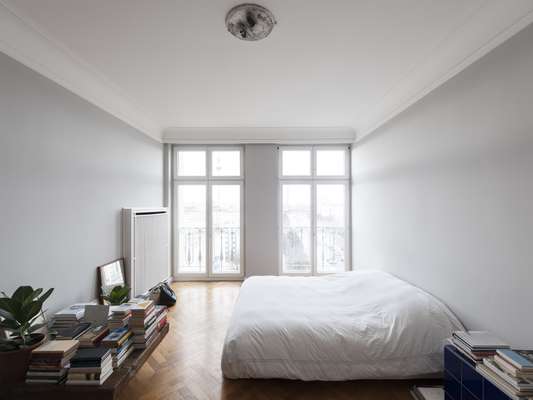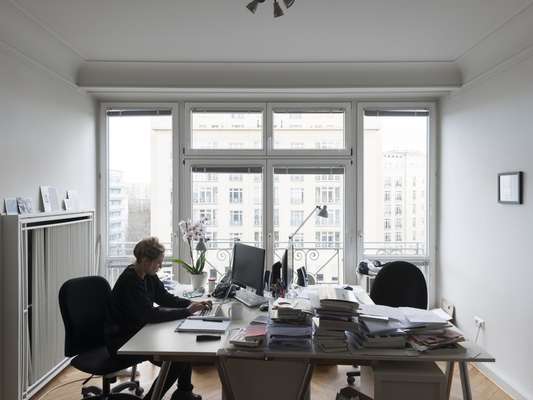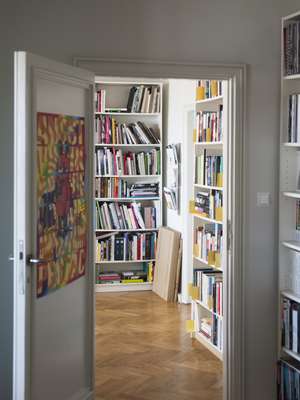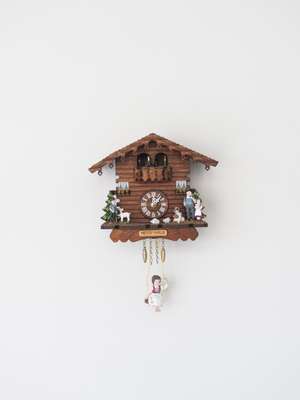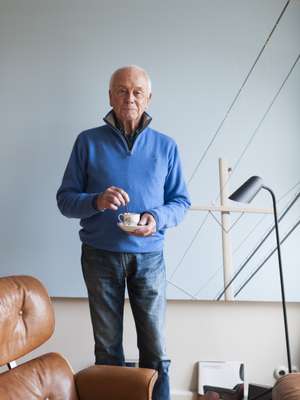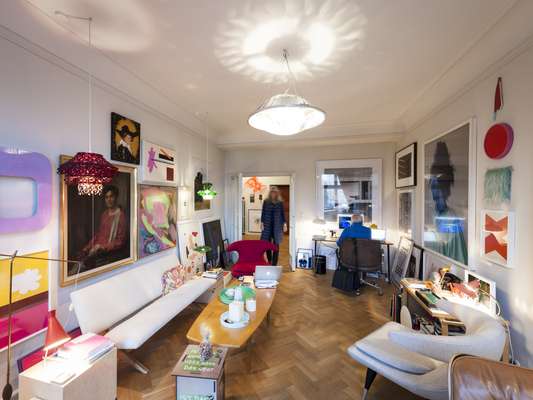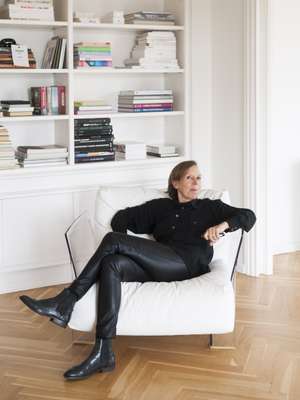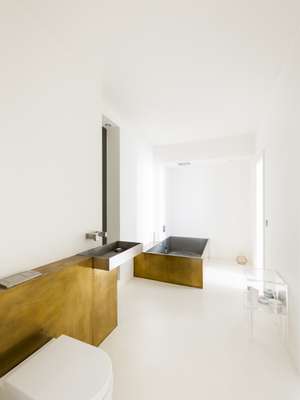 Originally called "Haus des Kindes" (House of the Child), it lived up to its name: the first two floors contained a children's department store (now a BoConcept furniture shop). There was also a children's cinema and a puppet theatre and on the upper storeys there was a kids' café (alas closed in the 1970s; later Stasi surveillance devices were found inside apartments that overlook the 90-metre-wide Allee). Lucky residents were selected in part via a special lottery or their positions in the party. The Henselmanns occupied two stately apartments on the seventh floor; one for the adults and an adjoining one for the kids. The building was dubbed the Henselmann Tower in 2005, which is how many Berliners know it today.
From afar the tower (with its mirror twin Haus Berlin across the square) is a study in neoclassical proportions; Henselmann was inspired by his Prussian forerunner, architect Karl Friedrich Schinkel. Up close there is plenty of evidence of the building's original mission: above the main colonnaded entrance is a quote from Goethe's Faust that refers to free people on free land. Near another entrance is a plaque with the name of the GDR's first president, Wilhelm Pieck. Inside in the foyer, mosaics depict happy families and scenes of Berlin. Two lifts speed up the building and even in the 1950s each unit had an intercom, central heating and each floor had a rubbish chute that carried waste to a basement.
Upstairs most storeys have generous landings and apartments have panelled wooden doors. Units vary in size and layout but some features are universal. In front of floor-to-ceiling French windows are curlicued metal railings by sculptor Fritz Kuehn. The milky windows in doors dividing adjoining rooms have a diamond pattern that plays with light on sunny days. Radiators are clad with sculptural slatted covers and many of the original Bakelite door handles are still here, as are built-in cabinets and herringbone-wood floors. Some of the kitchen cabinets are even ventilated to act as natural cooling boxes.
Each room has a different ceiling height, depending on function: with the intended living rooms highest; bedrooms and baths a few centimetres lower. Built-in ceiling grooves in front of windows are meant for curtain rods. Behind many of these features is Irene Henselmann, who was never certified as an architect but often worked with her husband, making sure that God stayed in the details.
The Berlin Wall, of course, fell in 1989. In the following 15 years or so the buildings on Karl-Marx-Allee were sold to banks and investors and renovated one by one. Around 2004, art and architecture aficionado Eva-Maria Steidel first visited Number 19 at a dinner party hosted by Isa Henselmann, one of the architect's daughters (Henselmann died in 1995; his widow Irene lived in the building until the late 2000s; Isa currently lives on the seventh floor). Steidel already owned two apartments that had belonged to Hans Scharoun, the West Berlin architect who designed the city's Philharmonic and Kulturforum. In the mid-2000s she snagged Henselmann's former apartment as well and moved in in 2009.
Steidel has been a quiet but diligent community-builder for the Henselmann Tower, as well as other parts of the Karl-Marx-Allee ensemble, ever since, bringing in people from Berlin's artistic and creative scenes whenever a space becomes free. Some apartments have longtime tenants from before the Wende (the fall of the wall) but many others have been purchased or rented by film-makers, journalists, art collectors, German pop stars, the Gonzalez Haase architecture office, the offices of art-theory magazine Texte zur Kunst and most recently the young art-world couple Constantin Thun and Marie-Christine Molitor, who moved into an 11th-floor, one-bed apartment in 2015.
In 1952, Henselmann said the "tower is for our people... an expression of steadfastness, endurance and strength". After all this time it remains rock solid, even if its original ideologies are from eras ago. Overlooking Europe's last grand boulevard (which these days feels more like an emerging Park Avenue than Soviet Moscow), the tower's grandeur and exquisite architecture are still sought after. Isa remembers shovelling postwar rubble as well as the luminaries who would visit her parents, such as Bertolt Brecht and Philip Johnson. A deep sense of quality, creativity and community are all, amazingly, still here.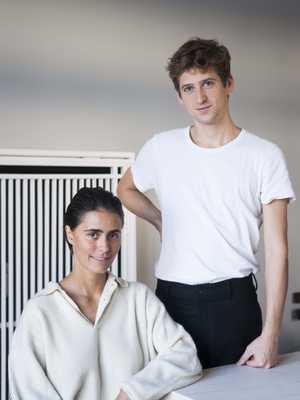 The residents 1
Marie-Christine Molitor and Constantin Thun
The couple waited six months to decide whether to move into an 11th-floor apartment, which they've been renting since November. But they are thrilled with the decision so far. "We can see all the way to the Teufelsberg," says Thun, looking through the floor-to-ceiiing bedroom windows at what was once an Allied spy station on a hill in West Berlin.
The couple, who work in the art world, sits at a table made by Henselmann's colleague Egon Eiermann; the work surface in the galley kitchen was originally Henselmann's desk. "The apartment is old but there are so many things here that are practical," she says, referring to a built-in kitchen cabinet with perforations to keep food and drinks cool. Both admit the surrounding area is a bit isolated, "but it doesn't matter", says Thun. "The neighbourhood is the building."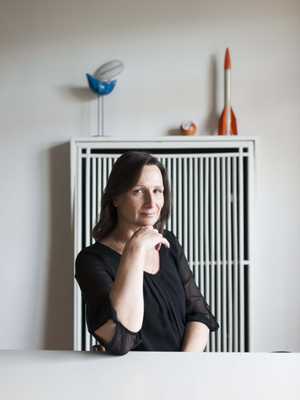 The resident 2
Sabine Ofenbach
Texte zur Kunst (Texts on Art), a quarterly art-theory journal that has just celebrated its 25th anniversary, has been produced on the sixth floor of the Henselmann Tower since 2008. "There is a real community in the building; the mixture of people is exciting," says Sabine Ofenbach, the magazine's managing director. The five-room apartment acts as the office and boasts comfortable, well-proportioned rooms, abundant natural light and typical Henselmann storage closets and shelving, as well as plenty of wall space for the art editions that are offered to subscribers and collectors. "It's fantastic to work here," says Ofenbach. "I especially love the sunsets in the evenings."
The resident 3
Eva-Maria Steidel
A Berlin resident since the 1970s, Eva-Maria Steidel was long intrigued by the Henselmann Tower, which she likens to a lighthouse. Now the building is an important part of her life's work. The architecture connoisseur has lived in Henselmann's former apartment since 2009; her minimalist decorative style, complete with transparent furniture, allows his architectural elements to serve as the main focal point.
Steidel restored the apartment using old photographs, including Henselmann's office that overlooks Karl-Marx-Allee, which she now uses as her own; only the bathroom was completely revamped. She's been pivotal in shaping the building's community and has even applied to Unesco so that Karl-Marx-Allee and its West Berlin counterpart, the Hansaviertel, might one day be recognised as a dual heritage site. "When I come home I'm extremely happy; I open the door and just say, 'Ah'."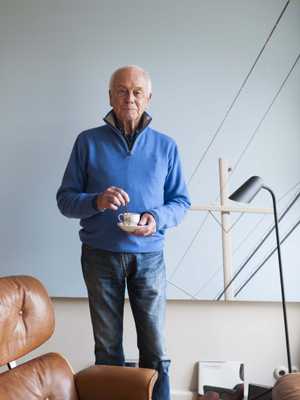 The residents 4
Ingrid Roosen-Trinks and Helmut Trinks
Ingrid Roosen-Trinks and her husband, Helmut, first bought their apartment here 11 years ago. When the original tenants moved out four years ago, Ingrid began a soft update. "When we renovated, we found all the wires that the Stasi had left," she says.
Now Ingrid fills the apartment with a portion of her vast art collection. A microphone near the door, a conceptual piece by Berlin-based artist Jason Dodge, alludes to East German surveillance. Walls and floors are packed with works by artists such as Taryn Simon, Olafur Eliasson, Jonathan Meese, Thorsten Brinkmann and Jorinde Voigt; furniture is mostly mid-century. The couple switched the position of the kitchen and bedroom but retained many of Henselmann's original details, such as the Bakelite door handles. There is a clear view from the living room that stretches along Karl-Marx-Allee's long axis; "From here you can see all the way to Moscow," says Ingrid, smiling.
The residents 5
Pierre Jorge Gonzalez and Judith Haase 
Architects Pierre Jorge Gonzalez and Judith Haase divided a larger space into an apartment for Gonzalez and an office where they work with their team. This was originally a commercial space; the ceilings are 4.7 metres high and there are oversized windows. The structural elements of the ceilings have been left exposed. "Filling these bones – and having this incredible light coming through the large windows – makes the space really unique," says Gonzalez.
He and Haase marvel at the tower. "The building is like a steamship," says Haase. Gonzalez adds: "You're right in the centre of the city but you remain isolated in the tower by its monumentality. This is a reminder of how architecture can be used to underline a political system."